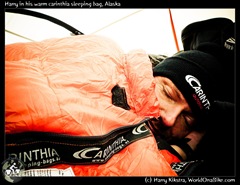 Carinthia supplied us with a warm sleeping bag. Owner Wolfgang was worried about the cold we would endure in Alaska & Canada, so he personally created a new mix of their ECC Expedition 600 & the even warmer ECC Expedition 800. It weighs only 1200 grams (though our weighed 100 grams more due to the extra filling), which is less than 3 pounds, while packing small, compressed they fit inside a large Ortlieb bags easily, leaving space for most of the clothes as well as the small mattress.
We are now in Mexico, but have had several freezing nights, waking up in a frozen tent in Alaska & Canada and even sleeping in the snow in Yosemite. Never did we have any cold problems, so the Carinthia bags have performed very well; even though they pack really small and are light, the construction and excellent down inside have proven themselves.
For the chilly evenings we had brought our light but warm Down jackets, the 'Downy Light'. Perfect for the nights out in the woods, the dinners in the wild and the cosy hours outside the tent after sunset. And at only 450 grams (one pound), this windproof warm wonder weighs less than most fleeces while offering double the warmth.
Yes, these are luxury items, but worth their weight in gold and we would definitely pack them again for this trip.
July 9, 2008 by Harry
Filed under
Gecko Climbing is a small importer of quality brands like Boreal and Carinthia and smaller specialized brands like Trango Bleastone, Elliot ST, Acun & beta stick as well as their own brand Gecko Climbing. Owner Jort veen is a great guy, a strong climber himself and very enthusiastic. He has gone out of his way to make sure all our gear arrived ok and on time, thanks Jort!
Their mission is to make climbing more safe and pleasant for both individual climbers as well as professionals who work on height like arborists. To reach this goal Gecko climbing has the policy to deliver their customers with all the information and service they need.
Boreal (www.e-boreal.com) has given us great discount on our boots, gracias Jesus!
Carinthia (www.carinthia-bags.com) has supplied us with specially made sleeping bags as well as great light downjackets that we have been using a lot. Owner Wolfgang personally has altered some models to make sure we will not be too cold! Vielen dank, Wolfgang!
SLEEPING BAGS

The first criterion for buying a sleeping bag is of cause the warmth performance, based on this we listed up our products on this side in comfort areas .
The Products are divide into synthetics or downy fillings . You can follow our sides by the quick menu on top or entering the detailed information over the following tables. Our actual catalogue could be downloaded as a PDF under downloads.
Please take notice of our hints for the use of sleeping bags and to the key for our products explanations
Important criterions for buying a sleeping bag

As there are warmth performance, packing size and weight as the three arguments mostly important for your decision. So they should be thought about thoroughly. The next argument that occurs is the filling. Should it be synthetic or downy.
For that decision there is an important link between the purpose of use and the chosen material.For helping you making the right decision for the CARINTHIA product that suits you most we offer a lot of different tools on this side to compare our wide range of products.
40 years CARINTHIA thermo isolation

Whether in the far north of Canada, the South Pole, the peaks of the Himalayas, the African desert or the Austrian Alps, having the right sleeping bag makes a big difference to the success of an expedition.
We are aware of the responsibility we bear.Our company, CARINTHIA, has been manufacturing synthetic and down fillings for more than 40 years.


Twenty years ago we started developing and producing high-performance sleeping bags. State-of-the-art production plant and decades of experience ensure our high quality standards – something that can not be guaranteed in distant, overseas factories. We took the decision therefore to keep our manufacturing facilities in Europe.
Trust in our products

Our close contacts with numerous experienced mountaineers, and our continuous dialogue with participants at expeditions of our partners DAV Summit Club, Hauser exkursionen international and others, helps us to design ultra-practical products. We keep improving our new product range until they meet exactly all the requirements of our outdoor experts. Only then we allow our products to be included into our sales
range. Of course cold cell tests are part of the procedure.We use only the best materials available.
In this catalogue again we proudly present our newest developments for our new product range CARINTHIA OUTDOOR WEAR and other current products.
SLEEPING BAGS AND OUTDOOR WEAR
40 years of experience in manufacturing synthetic- and downy fillings guaranties highest
standarts. With our new internet side we offer you a wide range of service and information.
CONTACT
Japan
E.I.A. Co.Ltd.
1-5-2 Hills SK Building 3F
153-0044 Ohashi Megur-Ku Tokyo/Japan
Tel: +813347630825
Fax: +81334760840
e-mail: eia@tkf.att.ne.jp

Denmark
AV EXPEDITIONSUDSTYR
Härbyvej 44
DK-8660 Skanderborg/Dänemark
Tel: +4586511535
Fax: +4586524013
e-mail: annalise@av-exp.dk

Germany/Austria
A.Mayer GmbH
GOLD-ECK AUSTRIA
Seebacherstraße 11-13
A-9871 Seeboden/Österreich
Tel: +434762510120
Fax: +434762510118
e-mail: office@carinthia-bags.com

Finland
GREENDOOR OY
Nuijamiestentie 5C
FI-00400 Helsinki/Finnland
Tel: +358956074223
Fax: +3589 56074224
e-mail: greendoor@greendoor.fi

France
L´AIR DE RIEN
74, chemin des Cerisiers
FR-38330 Montbonnot/Frankreich
Tel: +33607069127
Fax: +33476419189
e-mail: marc.tainturier@free.fr

PollandHANDLOWA "DAVIS"KAZIMIER HANUSIAK
Ul. Chelmonskiego 18
PL-43-300 Bielsko-Biala/Polen
Tel: +48338164890
Fax: + 48338164890
e-mail: davis@davis-bielsko.com.pl

Israel
SHLAGIM SKI & SPORT
Kfar Monash 42875
Israel
Tel: +97298940224
Fax: +97298940225
e-mail: sufa_tr@netvision.net.il

Netherlands
C.J.AGENCIES B.V.
P.O. Box 537
NL-3740 Am Baarn/Holland
Tel: +31355424200
Fax: +31355415277
e-mail: info@cjagencies.nl

Switzerland
KUNDERT VARIO AG
Huebstraße 3
CH-8633 Wolfhausen/Schweiz
Tel: +41552434320
Fax: +41552434322
e-mail: info@kundertvario.ch

Sweden
BUFFER MARIN
Fabriksvägen 9
S-18632 Vallentuna/Schweden
Tel: +46851170027
Fax: +46851170037
e-mail: peter.hallstrom@buffers.se

Slovakia
TATRA TEXTIL S.R.O.
Popradska 224
SK-05911 Hozelec/Slowakei
Tel: +421527894551
Fax: +421527881698
e-mail: bohumirzombek@tatratextil.sk

Turkey
MEYDAN AV MALZEMELERI
Karakoy Meydani Aksu Ishani
Kat 1 Karakoy
TR-34425 Karakoy – Istanbul/Türkei
Tel: +902122523420
Fax: +902122437588
e-mail: meydan@meydanav.com
July 3, 2008 by Harry
Filed under
A trip like ours needs a few basic things: first of all determination, but close second is good gear. It is no use trying to make do, for a good trip, you need good material.
Without the help of the following people and companies the trip would not have been possible. They have not only supplied us with the best gear available, but also have kept us focused on our first goal: to get started! Most if not all of the people are cyclists or sportsmen and -women and they have not just donated their products but also their time and enthusiasm, which is priceless .
We are still looking for financial support as our trip is very costly, not just our daily cost of living, but also internet access, server hosting etc. any donations are welcome, or if you want us to give special attention to our products (of course only if they are useful for cyclists!) contact us using the form above.
If you are interested in related products and links, check out the Google advertisements that appear on every page as you will help us at the same time