Our bikes are heavily loaded, so what is in all those bags?
Below is a list, with links to detailed pages, where we will tell if we liked the gear, or if we replaced it (and why!):
Our Bikes:
Bicycles/gear/racks: Santos Travelmaster with Rohloff gearhub, see the details page for all parts and technical specifications.
Panniers: Ortlieb panniers
Camping:
Sleeping bag: Carinthia ECC Expedition 600 (with extra filling courtesy of Carinthia!)
Tent: Big Agnes Copperspur UL 3
Mattresses: first semi-inflatable, now selfinflating Therm-A Rest, 120x51x2,5cm
Stove: MSR Whisperlite
Clothing:
Miscellaneous:
(more to come soon!)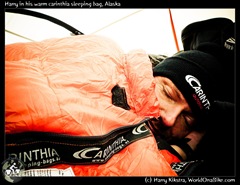 Carinthia supplied us with a warm sleeping bag. Owner Wolfgang was worried about the cold we would endure in Alaska & Canada, so he personally created a new mix of their ECC Expedition 600 & the even warmer ECC Expedition 800. It weighs only 1200 grams (though our weighed 100 grams more due to the extra filling), which is less than 3 pounds, while packing small, compressed they fit inside a large Ortlieb bags easily, leaving space for most of the clothes as well as the small mattress.
We are now in Mexico, but have had several freezing nights, waking up in a frozen tent in Alaska & Canada and even sleeping in the snow in Yosemite. Never did we have any cold problems, so the Carinthia bags have performed very well; even though they pack really small and are light, the construction and excellent down inside have proven themselves.
For the chilly evenings we had brought our light but warm Down jackets, the 'Downy Light'. Perfect for the nights out in the woods, the dinners in the wild and the cosy hours outside the tent after sunset. And at only 450 grams (one pound), this windproof warm wonder weighs less than most fleeces while offering double the warmth.
Yes, these are luxury items, but worth their weight in gold and we would definitely pack them again for this trip.