Where and When
Where are you going?
The plan is to cycle through America, from the North of Alaska to the South of Tierra del Fuego, Argentina. Note that America is not the same as the USA. We want to see America and the USA is one country on these two continents.
Straight down?
Well, straight down is impossible, you would hit water already in Alaska, but even in a straight line is not possible. The fastest route would be more or less straight to Panama, fly or sail to Colombia, then down the west coast of South America, over the PanAmericana.
So how far is that, 16.000km, about 10,000 miles?
It might be if you could go straight down. We think we will have cycled at least double that distance (about 35000km) as we want to visit every country on the mainland, so including all the small countries on Central America and all the larger countries in South America.
How much do you cycle every day?
Usually between 50 & 100km, depending on the wind, road surface, health, bike problems, interesting places and people.
We will not cycle every day, we will take longer rests in interesting places, so our average will likely be around 50km/day or even less.
How long will this trip take?
We think about 2.5 years, give or take a few months.
Why 2.5 years, why not 2 or 3 years?
We have to start in Alaskan summer, so July (June is considered Spring, August Fall, the rest is winter in Alaska). As the Southern hemisphere has reversed seasons and we want to arrive in summer as well, we need either 1.5, 2.5 or 3.5 years. 1.5 is too fast, 3.5 a bit slow…
Who & what
Who are you?
Argentina & The Netherlands? So where did you meet?
In Tibet. She was cycling from Malaysia to India, I was climbing Mt Everest. We got engaged two years later on the summit of Kilimanjaro, 3 weeks before the start of this cycle trip.
Tibet? Kilimanjaro? Eh, ok. So you like travelling. Where else have you cycled before?
Ivana has made one very long trip: first around New Zealand, then from Malaysia to India, passing Thailand, Cambodia, Vietnam, Laos, China, Tibet & Nepal on the way. Then she cycled for a month in Turkey and has also cycled in France.
Together we cycled in Italy for a month.
I (Harry) was raised in the Netherlands, so was practically born and raised on bicycles. Previously I have not made any very long cycle trips, but have done some shorter touring of 2-3 weeks per trip (Belgium – Normandy – Jersey -England; Wales, Ireland, Northern Ireland – Scotland; Amsterdam – Zermatt on a tandem).
What bicycles do you use?
We ride on the perfect travel bike: Dutch made to order Santos Travel master, aluminium frame, 26″ wheels. Tubus racks and Ortlieb bags see for more details the gear pages.
Website:
How does this website work?
well you found the FAQ, so you seem to have some idea already. On the homepage you see 4 tabs with a photo and shortcuts to the last 4 posts.
You can check older trip reports in may ways: check archives, trip reports, search for words, browse by categories (the second/lower top menu) or use the tags system, which is a bit more detailed than the categories.
You can contact us through the contact form and we love feedback on our posts, so please leave some comments when you read the posts. You will be asked to verify that you are a human being (and not a spam robot) by typing some random code. Though this might be difficult and annoying, it saves us hours of time and helps to control spam.
Will you write reports every day?
We will try but already know that it will not be possible as we will be too tired, to grumpy, too out of battery power, or too far away from any internet connection. So likely we will write in batches, whenever we have a few hours or day off and post them when needed.
So do I need to check every day to see if you updated something?
No, you can make it much easier to follow us: either add our RSS feed to your feed reader, so you get a notice when a new feed is available
If you have no idea what RSS is, just subscribe to our mailinglist and get a maximum of one email every day new updates are posted. You can do this on every page, see the box at the right side, near the top of the page or just click here.
Why does http://WorldOnABike.com change to http://harry.biketravellers.com ?
World On A Bike .com is just easier to remember and to tell people. It automatically forwards to the real website which is located at harry.biketravellers.com. On http://BikeTravellers.com everybody that cycles can open a free weblog (yourname.biketravellers.com), try it yourself, many others have already done so.
Where are Ivana's reports?
What are those 'Google Ads' I see on many pages?
These are small advertisements, supplied by Google. We do not choose them, the content is based on the content of the page, so a page about Alaska will give you ads about Alaska tours or land. It might show things we do not support, like drilling for oil in Alaska.
Every time somebody clicks on them, we get a few cents, which helps to pay for our website costs. So if you are interested in the ads, please check tem out as you are helping us.
Do not just click a lot of ads just to help us, as Google might ban our account if some people repeatedly click our ads from the same computer/IP address. So only check the ones that are interesting to you.
How & costs & support
How can you afford such a trip?
We spend much less than you think, we saved some money the past years and might make some more on the way.
So, how much will you spend?
North America will be the most expensive: until we reach Mexico, we will spend about $15 per day (together). This means less than $3000 in the first 6 months.
Then from Mexico down it will probable be less than half of that.
In total should be less than $10,000 together for the entire trip.
That is less than my parents spent on a luxury 2-week safari trip last year! How come you can live so cheap?
We do not need much. We have our tent, so we do not need to pay for hotels. We camp out in the wild or at people's lawn's, so do not pay for expensive campsites. We will stay in cheap hostels in cities -in central America, you can get these for a few dollars-, but will also do a lot of Couchsurfing/Hospitality clubbing/ WarmShowering: staying with people for free, in return we will host them later.
We cook ourselves, so all we need is some pasta, some veggies and some candy bars to get us through the day. We drink water we get from people or take it from streams and purify it with our Steripen. We recharge our batteries using our SolarSupra solar panel. We never buy bottled water, that is a waste of money and plastic.
We do not have an expensive taste and have no space for souvenirs on our bikes, so all we take home are pictures and memories.
Our sponsors supplied us with most of our gear, so we had little costs up front.
It is still a lot of money, don't you have any other costs as well?
We do not have kids, we do not have a car and have no debts, we never bought and will not buy anything we cannot afford. We have a house, but that is rented out so almost pays for itself.
So things we need to pay are: food & drinks. Sometimes camping fees (mostly we camp in the wild or on people's lawns); Internet connections along the way, spare parts for our bikes; replacements for clothes we wore out; park fees; visa fees; entry fees for places we want to visit etc.
It is hard to plan exactly how much we will spend, but we want to see things along the way and will buy some dinners or breakfasts along the way when we are too tired or lazy to cook or think we deserved it after cycling another 1000km or a tough day. Basically we are on a tight budget, but will not let this stop us from enjoying the places we visit.
Is there any way we can support your trip?
Yes! Many ways, first of all you can sign up for our newsletter or RSS feed. Forward them to others that might enjoy reading travel stories, stories about people and culture, cycling, environmental issues, America.
Leave comments on the posts. We love to read them, they keep us going. Small notes from friends and strangers are huge boosts for our confidence and can help us through rough and difficult times.
Just think of this website as a free interactive travel magazine subscription. If you enjoy reading our stories and seeing our photos, you can thank us by donating some money using the form on the right side of every post and page, using PayPal or credit card. Every small amount is welcome, just think what you would spend on a magazine or book.
Check out the Google ads if there is something interesting for you (do not click them all just to help, see notes above).
Link to our websites or specific reports or photos from your own website or blog. Add us to Stumble Upon, ReddIt, Digg etc. get the word out that it is possible to travel by bicycle!
Invite us to speak in your town. We can give presentations about our trips, about climbing the 7 summits, cycling Asia, Bike Travelling or a photo presentation of the culture and nature of the 7 continents . We can charge admission fees or just ask for donations. We love to tell about our trips and spread knowledge about cycling and the environment.
Buy something from our shops, see the links above. We get a small percentage of every item sold and you promote cycling!
Invite us for dinner or to stay at your place or recommend addresses to sleep (friends, family) or even just places to pitch our tent
Start cycling yourself!
T-shirts for Bike Travellers!
Surprise your kid, husband or wife with a great bicyle T-shirt!
In this little flash panel on the right, you can see a sample of our new BikeTravellers.com T-shirts. They are not just beautiful (you can still choose the size, colour and type of T-shirt etc), but they will also help you on the road: the designs and texts on them are irresistible for people around you :)!
Check them out here and get or customize your Biketravellers T-shirts here!.
Bike wear and gear deals for BikeTravellers
Rather have some well-known cycling brands but not for the full price? Good, as we just added this: here are some current deals on cycling gear and clothing, all 30% off or more:
(Mouseover for more details and click the 'next' & 'prev' buttons above to quickly see more offers!).
Show your love for The Bike!
All the designs below can be printed on demand on T-shirts, hoodies, sweatshirts, baby clothes, mousepads, mugs and much more. You can choose size, colour, model etc.
Choose your design and get the gear to show the world that you care about her! By buying here you will also support the BikeTravellers website, so you do two good things at once

ExposedPlanet.com Fine art prints
As some of you know, I run a photoblog, called ExposedPlanet.com, the world exposed in words & Vision. if you have not visited it, do so now

It contains images from all 7 continents, of culture and nature, with some of my thoughts and comments added.
All images are available as stock image or as enlargements for private use. A selection of the images can currently be ordered online on Imagekind as poster prints, with or without frame and in different sizes and paper types. You can scroll through the available categories and images below, click here to buy them:
Contact me if you want others and I will add them.
Here is an overview of the most commented images on ExposedPlanet.com: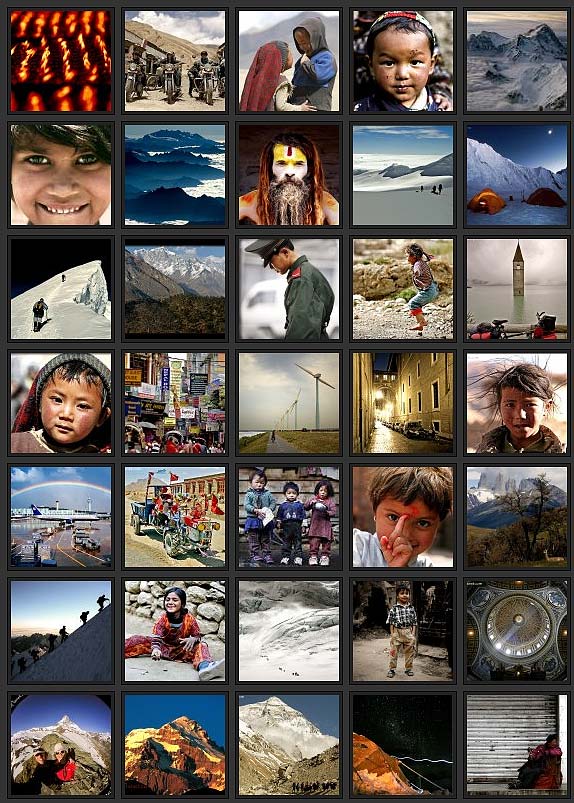 ExposedPlanet.com Fine Art Prints
Stock & Limited edition Fine art prints
Please contact me at info-at-exposedplanet.com for any special requests, like stock, book covers etc. All images are rights-managed and fee will depend on the usage, so please let me know: purpose, circulation, geography (country vs worldwide) etc.
Note that all poster and fine art prints do NOT have the URL in the picture as here on the ExposedPlanet.com site. This is just to prevent image theft and illegal copying and distributing of my online versions of the images, the prints will have the URL & image name printed on the coloured border only, not in the image, so if you want you can cut it off or put a matte over it.
Posters of wonderful cycle-inspired photos and paintings. You can choose the size, paper and framing yourself and even ship it as a present. Show your love for the bicycle!
ps: if you are interested in culture and mountains, you can also check out my own posters here: