Outdoordacht
()
Outdoordacht/Technolyt: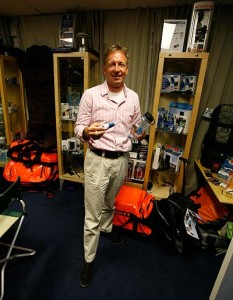 Peter Wayper is the boss of Outdoordacht. The name is a Dutch play on words: "Outdoor" is clear, but "doordacht"  means: well thought through. And so it is. All the gear Peter imports and sells is smart and useful. From famous brands like Sea to Summit to newer products like Steripen and Dobermann.
Peter is an avid cyclist himself and couldn't wait to leave his desk to take a spin on our Santos bikes. He has cycled in many countries and know what cyclists need and want.
One of the most interesting items he imports are Solar Supra solar panels: foldable solarpanels, that come with a smart battery. You can use the solarpanel directly (it comes with a range of adapters and plugs), or you can charge the battery first and then take power off it later, offering a voltage switcher, to use it with many appliances.
This is not only an excellent way to conserve solar energy, but offer many new possibilities: even with a relatively small solar panel, we can generate enough power to charge our laptop, batteries for the water purifier, headlamps, bike light, but also all cameras and mp3 player. It s a great feeling to be able to use the solar power and to be independent from any other power source for a long time.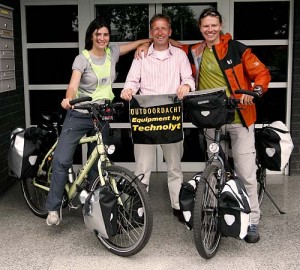 One other interesting product Peter supplied us with is the Steripen. We used to drag large water filters and pumps with us or all kinds of bad-tasting drops to purify the water of viruses & bacteria. Now we just take water from any source (we tested tab water everywhere in Zanzibar and Tanzania), press a button, stick the pen in and stir for 2 minutes. Ready to drink immediately!
A great weight saver and as the batteries are rechargeable, we can use it for a long time. One charge will purify about 100 liters/26 gallons and the light will last for about 4000 liters/1000 gallons.
For this and much more useful travel and cycle gear, go to www.outdoordacht.nl
Thanks Peter and we will definitely report back in detail on all the great gear.
Some of the products Outdoordacht sells:

OUTDOORDACHT
MARSOOPS
www.marsoop.com
SOLAR CHARGER