15th September 2008: Stewart to Bonus Lake, 81km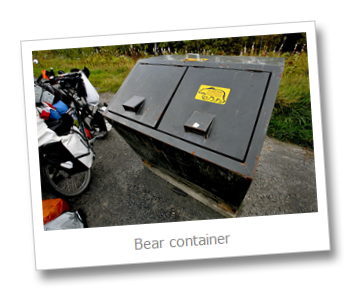 We could not resist George's offer to bring us back to the Meziadin junction. Though the ride from Stewart is beautiful, loosing a day –of which half would be uphill non-stop- cycling a stretch we had already done did not appeal. George was happy to get put of town and spend some more time with us, so we put the bikes in the back of the pick-up and 50 minutes later we got dropped off at the exact same spot where we had left the Cassiar Highway a few days before. Back to business!
After all the bear-less hours in Hyder, we got a pleasant surprise. I stopped to pick up CAD $3 in change from the shoulder: our total is now up to about 9 dollars in change found along the road, somehow people literally throw money away… Ivana came up to me and asked if I had stopped for the bear. Bear? Which bear? I looked ahead and saw a large black spot on the side of the road. Damn, she was right, a huge black bear was strolling in the grass. We filmed a bit and tried to warn a passing car, but he did not decease any speed and nearly hit the poor bear as he was crossing the road…
We had planned to stop for lunch and a few minutes ahead we rested near a so-called 'bear-container'. No it does not contain bears, though that would be funny (funny/interesting and funny/haha), but it is a strong trash container. These are useful in more ways than one: the lids cannot be opened by pear paws so bears cannot get to the trash and will not get used to human food remains. As the sticker on it says: 'be bear aware, a fed bear is a dead bear' as once a bear is used to human food, it will no longer be afraid of humans and will have to be hunted down.
The containers have another very useful feature: the backside can be opened and campers can place their food bag inside, next to the hanging plastic bags hat are inside as well. So the supplies are safe from bears and other scavengers, but outside the actual trashbag, so everything stays clean. The availability of a bear container was one of the most important reasons for us to stop at certain places along the highways of Canada & Alaska; even though most are on 'no overnight camping' rest areas, we rather be breaking a non-enforced law than attract and feed bears…
It was clear that we were getting into the last and warmer part of the Cassiar Highway. Not only were the glaciated and snowy peaks disappearing out of sight, but we also encountered new types of animals: small yellow and black-striped suicidal caterpillars (even though only a few cars pass the Cassiar per hour, it takes the critters longer to cross it) and some small garden snakes, though mostly in the flat and/or dead variety.
Ivana and I always use to joke that we are collecting airmiles when we are climbing yet another hill and Newton would probably kinda agree as basically we are gathering gravitational energy. The long sweet downhills we always refer to as 'free miles' , even though we were riding in Canada, which is a metric country. It was nice to see that after a day of collecting airmiles, we not only cashed in our accrued miles for some free miles, but we ended up at the aptly named hidden but beautiful 'Bonus Lake' rest area to top it off. Read more