Day 0: 11th July 2008: from Fairbanks to Deadhorse
Again, we had no sleep, but our bodies seem to have gotten used to that by now and anyway, it doesn't get dark here!
We left Ericka's place at about 4.30 in the morning as we wanted to be sure we would arrive in time and cycled through the empty streets of Fairbanks. It is strange but nice to be in a place where it never gets dark, it makes many things so much easier. We cycled past the airport until we found the office of the Northern Alaska Tour company. We were welcomed by a bunch of very friendly people, who were all interested in our trip. They mostly do trips to the Arctic circle and places like Wiseman & Coldfoot, but also regularly all the way to Deadhorse.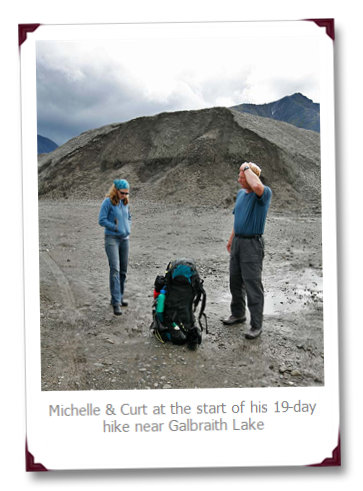 Our driver was Michelle, a great girl with much knowledge about everything. she had been driving the roads for many years and was a joy to talk to. Our other passengers were Dan & Curt. Dan was a politician, working for Condoleezza Rice -so unemployed soon- going to his family's cabin ear he Yukon River.
Curt was a tough outdoor guy, who was going on a 19-day solo hiking trip through the Brooks Range, until he hopefully would get picked up at a airstrip in the middle of nowhere. He was carrying a 40kg/90 pounds backpack with him which held a gun to hold off bears.
It was fun talking with them and we found out that 3 out of us 5 had been on Antarctica. I had been climbing, but Curt and Michelle had both worked there. Guess wild souls sail alike?
It took all day to get to Deadhorse, a 14 hour drive. Ivana slept most of the time in the back of the van and I also dozed off many times and missed most of the way. i had driven 2/3rds of the way in 2003, but cycling would be totally different. maybe it was good we both did not see much of the road, the surprise will be bigger, though that can be both negative as well as positive…
Deadhorse is not a permanent settlement of the traditional kind. It there for just one reason: oil dollars. All there is, is oil related. The few tourists that get here, either in one of the big tourist buses or by car of motorcycle (and the occasional cyclist!) are a minority among the 6000 oilworkers. Still they are catered for as there is the caribou Inn: a guesthouse with friendly staff and an excellent buffet as well as organised tours to the Arctic Ocean (technically the Beaufort Sea). We booked a spot on the next day's tour as this is the only way to get to the water, all land is owned by the oil companies and tight security prohibits cyclist from taking their bikes to the sea.
Michelle told us we could not camp near the buildings but that just out of 'town' would be no problem. When we drove out, we noticed a group of cyclists and stopped to talk to them. They introduced themselves and said that they were going to start the next day on their trip. Kayla, Fish and Ben would go to Fairbanks, but Nico and Jason would also go to Tierra del Fuego! Great, we could camp together and talk about the road ahead.
We picked a spot just off the road, close to a bend, so the trucks would slow down and we would have less chance of getting hit by flying rocks. The wind was ferocious, but as we would find out later, that is the only way to keep the mosquitos at bay… While we put up our tents a fox rushed by and a small herd of caribou passed between us and Deadhorse, as nothing out of the ordinary was happening…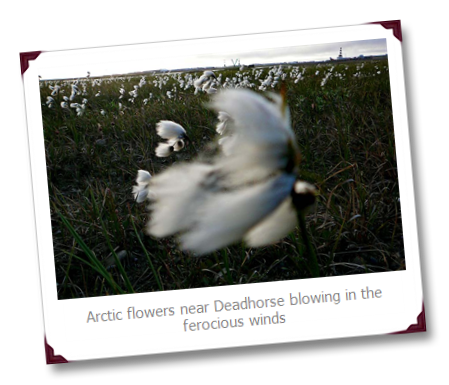 There are 5 grizzly bears living close to the town so we could not leave our food bags inside our tent. Though bears are naturally scared of humans, their curiosity and ever-present hunger combined with their excellent smell makes even a tube of toothpaste or a snickers bar inside your tent very dangerous. Normally you should leave your food high up in a tree, but unfortunately the nearest tree was about 400km South of here… So we dropped our bags on top of a small metal casing instead, so at least the foxes and squirrels would not get at our cyclist fuel… let's see if anything is still left in the morning..
You might also like