Day 160-204, 18Dec08 – 31Jan09: San Francisco. Part 3: Outside SF, Yosemite, Berkeley & Wine!
We did not only spend time in the city, but managed to get out. As my knee needed more rest, we were lucky that Alison had borrowed us her car, so we could head out of town for New Years. She had warned us that the tires were old and bald, so it would be better to avoid rain.
Right after we pulled the car out of the garage in Filbert St, we continued the road East, leading up and down a huge and steep hill. I think we found the steepest road in SF, and we both felt we were in a rollercoaster when we crossed the top..
Snow and champagne in Truckee, saying goodbye to 2008…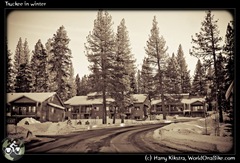 After my new camera had arrived (yes!) we packed our camping gear in the car and drove to Truckee, a few hours east. We arrived in the dark and noticed that most of the town was covered in knee deep snow and the car slid back and forth over the slippery roads.
It was so great to see Colie again. I had been climbing in Uganda 4 years ago together with Romke, Ali & Andy and now we had seen the entire team again, spread out over Amsterdam, Seattle, SF, Truckee and a bike! Colie took us on a tour of Lake Tahoe, which looked wonderful in the winter snow.
Finally after avoiding the snow since Northern Alaska, it was great to be surrounded by the cold white stuff!  We went for a nice winter hike with some of her friends and got ready for a new years Eve party with more friends and lots of great food and drinks.
Goodbye 2008, we will miss you..
We have no idea what 2009 will bring, but 2008 was again amazing. I had been on 6 continents (alas no Antarctica this year), hiked with friends in Australia, almost got scammed in Kuala Lumpur, proposed to Ivana on the summit of Kilimanjaro, witnessed by all 26 clients. We saw Machu Picchu with Ivana's mum, watched a lion grab a gazelle in the Serengeti and cycled 7000km through wonderful North America. It was not always easy, but it felt that we had been more alive in one year than most in their lives…
Off to Yosemite: big walls and black bear?!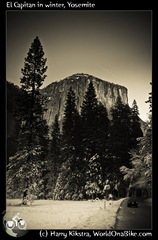 We had a great time in Truckee, but as bad weather was coming, and we wanted to see Yosemite park before it became impossible to get there, we headed out on New Years day.
The road to get to the valley was high and steep and there were several spots with snow and ice, but the views of famous walls like Half Dome & El Capitan made up for the nerves.
The final part into the village and campground was even completely covered in it, but I managed to reach the famous Camp 4, home of all Big Wall climbers. The camp was covered in deep snow, so we had to prepare a campspot by packing some snow.
Just when I was busy preparing the tent, I saw a big shape passing just behind it. It was almost dark, so I turned on my light and called Ivana. 'Look at that, a bear!'
Just as we though we had definitely left 'The Wild', we had the closest encounter with a black bear so far, less than 10m away. The big animal did not pay attention to us and slowly walked into the foggy forest…
.
We made sure to leave no food in our tent or car (Yosemite bears are known for 'opening' cars) and put everything safely in the special bear-proof containers. We managed to cook a nice pasta meal and finally sacrificed our last Adventure Food meal, before heading over to the restaurant for a cup of hot chocolate.
–
The night was cold and uncomfortable, but we got no more bear visits and the next morning we took the free shuttle around the village and walked back past great views of the Yosemite Falls and Half Dome.
Oakland and Berkeley
It was time to get out as more snow was expected. With much effort I managed to get the car back on the road and down to drier elevation before the rain hit hard. We contacted Mikelanjelo & Jessica, who had invited us already a long time ago and stayed a few days in their place in Oakland.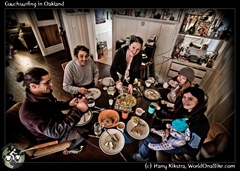 –
Together with their friend Kristan and her kids (including "I-love-you-Leif") and boyfriend they made us feel at home.
They showed us around in Berkeley as well, a nice college town with a friendly atmosphere, unlike Oakland which had an air of aggression, which was confirmed after the shooting of an unarmed boy on the subway a few days later…
We visited a multicultural fleamarket and were chased by fat squirrels in the park on yet another sunny winterday..
Ivana had left a comment on an Argentinean newssite, where bicycle touring was criticized, and soon after we were contacted by Ramiro, an Argentinean living in the US. he asked us to come over to his girlfriend Barbara's house for some great homemade empanadas! And he even invited us back the following week, so I guess we are not such bad guests after all 😉
The good life in wine country
Mitch had introduced us to his good friends Adriana & Gerard. It as fun to speak some Dutch again with expat Gerard and after inviting us in their home for a great meal, they asked if we already had seen the vineyards. We explained that we had been on the coastal road all the time, and they immediately made plans for a tour in the weekend.
We had a great day, cruising in Gerard's convertible in the warm winter sun. We visited many wineries, tasted some good wines and olive oils and thoroughly enjoyed the company and places we visited.
The good thing about a bicycle trip is that you sometimes get taken to places where you would never had gone yourself, but that are great anyway…
–
My knee was feeling a bit better and though I could not step down stairs properly, we decided that we would try and start cycling again. But first it was time to say goodbye to SF!
Next and final SF report coming very soon 🙂 : Critical mass, bellydancing B-day and many friends…
You might also like