1000 Americans: Tom & Sandy Hubbard, Vancouver, WA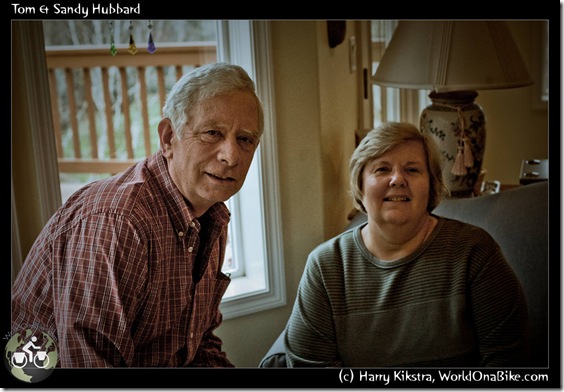 When I found out that Tom Hubbard and his wife Sandy were living on our path, I wanted to meet them.
As a photographer, it is a pleasure to talk to Tom, who has decades of experience as a photographer and has worked with all the other great photographers during his work as Director of the Time-Life Photo and Digital Image Lab. Most recently, he was the Pro Photo Business Development Manager for Hewlett Packard's new line of professional photographic pigment printers in North America.
Currently he is looking for new challenges. I told him that he should either start writing (e-)books or teach as he is filled with valuable information for beginning as well as professional photographers.
He has a –slightly confusing mix of- very useful websites, which are useful for BikeTravellers and other photographers:
And he is not finished, having many more ideas to share the wonderful world of photography.
He also finally got me to start organizing thousands of photos and was kind enough to give me a legal copy of Adobe's LightRoom, which after some learning curve already is making my photo life much easier and my images much more interesting 🙂
Thanks Tom & Sandy, for your hospitality and sharing your knowledge!
You might also like