1000 Americans: Willy Williams, Stikine River ranch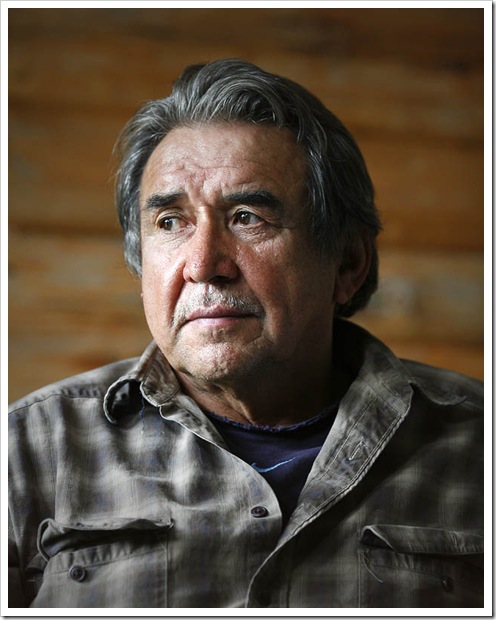 Holly Eden from Dease Lake had told us to visit Willie if we had the opportunity.
Willie is one of those persons that can fill a documentary all by himself. We arrived late, uninvited but were welcome and spend hours talking about his history, present and future. We talk about the history of the Tahltan people and the fights with the other first nations.
We verbally travel from the horror stories of the missionaries taking the First Nation children away to religious experiences of his friends, fights about lands and property to sharing very personal stories and advice about love & life. He lets us sleep in the first house he built, filled with more memories.
Besides being the host for a yearly 3-day gospel music festival at his ranch, Willie organises horseback riding trips through the wilderness of the nearby provincial parks: Stikine River, Spatsizi Plateau & Mount Edizia. Every trip is different and some clients come back regularly.
Willie showed us a book from a german photographer, about the area, almost completely shot during the trips he guided. No website, no email. "How do you get your clients?" I asked him. "I don't know, somehow people seem to find me", he replied.
More than a week later we would meet Willie again, in Smithers where we also met his wonderful wife Grace. Thanks for letting us into your life for a short moment Willie, it will last much longer than just the few hours we spent together.
ps: To make it a bit easier to get a special adventure that might just change your outlook on life, call Willie or Grace Williams in BC: 250-771-4301. Trips can take anything from a few hours to a few weeks.
You might also like