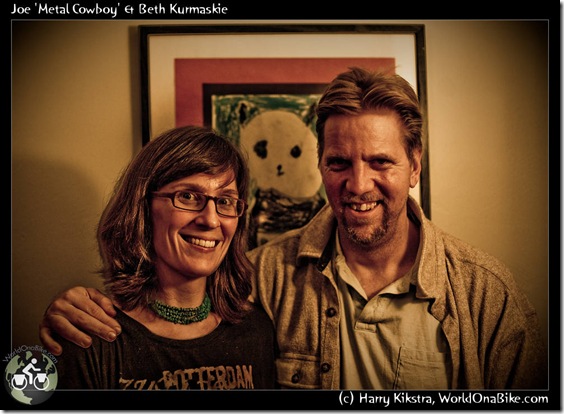 Joe Kurmaskie is a famous cyclist as he has written and published many stories about his travels, very recommended for cyclists as well as couch potatoes with a sense of humour and adventure.
He got the nickname "The Metal Cowboy" from a blind person he met on the way… He also met his wife Beth on one of his trips, and it is very nice to see them and their family (3 boys) together now!
Joe is trying to get 1000 1000 Americans to (re)start cycling again before August 9, 2009, see also the news announcement on BikeTravellers.com.
Richard has not only cycled a lot, he is known for having written numerous popular children's books, some together with his wife Magee. He is a great storyteller and still goes everywhere to capture audiences, though they live in Prince George, the crossing of the Yellowhead Highway, Cariboo Highway and the Fraser River.
Maggee teaches and her kids (she brings them home every now and then) seem to love her, but not as much as Richard does, as he is absolutely crazy about her!
Together they are one of the few households in Prince George that does not own or use a car for transportation. They are incredibly hospitable and wonderful people, have introduced us to their friends and family, helped out with medical problems and took us into their family.
Oh, and take a look here at Romke's blog to see how happy his kids Kira & Jelte were when they received two autographed books!