Photos: relaxing in Cancun
We started our holiday with a few days in a Hostel and some visits to the beach as well as the nice local park. The park is not visited much, but is basically a part of original jungle in the middle of the city. It has some great trails, a turtle pond, many lizards walking around and we even saw a snake.
Off to the Maya Ruins: Chichen Itza!
Of course you cannot visit Central America without visiting at least some of the ancient Maya cities. Cancun is quite close to Chichen Itza, maybe the most famous city of them all, especially after a huge marketing campaign managed to get it entered as one of the new 7 wonders of the world.
We had rented a cheap car for a week, so we could tour around for a while, leaving the beaches for later. Our mums experienced a hint of our way of life when we told them that they could only take 1/3 of their luggage –as more did not fit in the tiny car- and that they would see the rest only in a week 🙂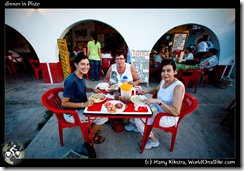 There is a wonderful new highway from Cancun to Chichen Itza, but we only found out why it was so deserted (we saw 2 cars in 200km), when we needed to pay over USD 20 in toll fees, close to the exit. Now we understand why Francisco and the other truckers all choose the 'Libre' road instead.
The mums got another taste of our trip when we booked them in a small but cheap guesthouse, with 3 beds in a dusty and very hot room in Piste, the town next to the old Maya City. We had arrived in the afternoon, so we had time to have some dinner and go to Chichen Itza for the evening show.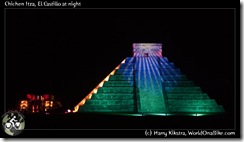 Most people do not see this as they come on day trips from Cancun & Merida, but every evening the main structures are illuminated at sunset, while a set of voices tell about the history and legends of Chichen Itza.
The Spanish whispering was a bit too much for me, but it was nice to sit in the fresh breeze while the most famous main structure, the temple of Kukulkan, better known as 'El Castillo' -the castle- turned form green to purple.
Here is a photo impression (click to enlarge, more photos in the photo section here).
Souvenirs & Cenotes
Of course the place is stuffed with souvenirs and other semi-local handicrafts. The sacbe number 1, the ancient Mayan road, leading to the 'cenote' was lined with vendors. The Yucatan peninsula is lined with Cenotes, which can be anything from a large pond to a huge underground cave filled with water. The soft limestone base of the peninsula combined with tropical rainfall had created these holes and many of them were either sacred or at least an important water source.
The cenote at Chichen Itza was found to contain several artefacts and bones, it was clearly used as a sacrificial place. Some more pix 🙂 :
Swimming in the Cenotes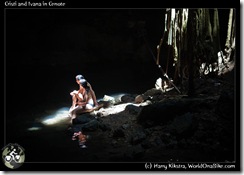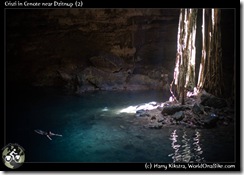 Not all cenotes are closed to the public. In fact there is a large tourism sector focused on either swimming in them or even exploring them while diving, as many are connected by underground rivers. We stuck to swimming in a couple, with the first one being close to the  town of Dzitnup.
The cenote is inside a huge a cave, but it had a hole on top where sunlight shines through. next to the hole grows a tree and it roots come all the way down to the water, a magic place for sure..
Jungle ruins: Ek Balam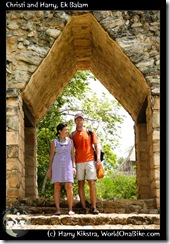 The ruins of Chichen Itza are the most famous, but its popularity has caused some downsides. You can no longer climb on El Castillo as a tourist had fallen to her death a few years ago and the sheer number of visitors can cause irreplaceable dame to the structure.
Also most of the other structures are off-limits now, meaning you can only see them from a (short) distance.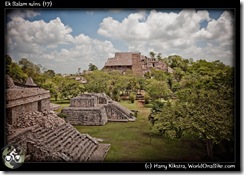 Therefore it was nice to visit a much 'newer' site, Ek Balam. Largely unknown for mass tourism, but with some impressive structures, of which the 2nd and 3rd largest are still unexcavated and buried by the force of nature.
The highest structure, known as the Acropolis, can be climbed on its narrow and sloping steps, offering great views over the site and the surrounding jungle.
Somehow, it felt more 'real' being here compared to Chichen Itza. An impression:
X'Canche & Genesis: Swimming and relaxing in Ek Balam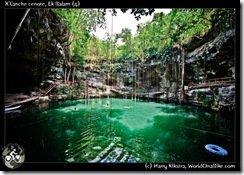 Ek Balam had one bonus: it has an open Cenote (meaning open to the public, you still have to pay an entrance fee) a 15 minute walk from the ruins.
This one was open, but also had many roots growing into it, as well as many fishes and plant and we enjoyed the cooling water as well as the collection of free hammocks nearby.
We had spent a few days in the wonderful Genesis Resort in the nearby village of Ek Balam, run by Lee Christie. A nice oasis in the dry surroundings, it had a great swimming pool and evens some bike for rent. In exchange for a discount on the price of the room, we cleaned and fixed the bikes, so that they were safe again 🙂
On the road again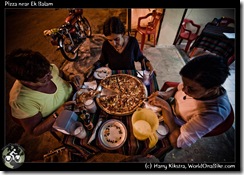 After a huge pizza in a nearby village, and some clothes testing for Pablito and Pedrito, it was time to hit the road again. Not to the ruins and beaches of Coba & Tulum as planned, but back to Cancun, this time on the libre road. Ivana had to undergo a second part of a dental treatment, as part of her tooth had broken off the day our mums arrived.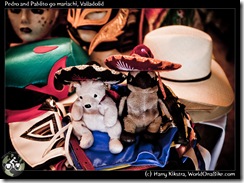 It was fixed ok, but the next problem was that both Cristi as well as myself developed a rash on our legs and arms, there must have been something in the Cenote water, though Ivana had no problems.
It was time to hit the other famous parts of the Yucatan Peninsula: the beaches!