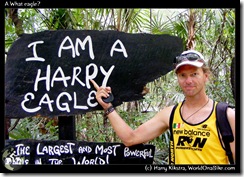 It was great to see my only sister Margriet and her daughter/my niece Dawn again, as it had been over a year since we had said goodbye in The Netherlands. She always wanted to go to Belize and as she was tied to my niece's vacation schedule, we were lucky that we could plan a few weeks together.
Her entry into Belize was not so easy as the airport personnel was so rude and aggressive that she was crying when she came out of the airport building. On top of that their luggage was delayed, so we had to spend an extra night in Jorge's place.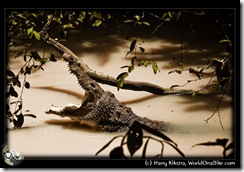 We spent the extra day in Belize City by visiting the famous Belize zoo. a small animal park, started as a shelter after animals were left after a film project.
Now they shelter more and more animals and though I generally dislike captive animals on display, this was not too bad.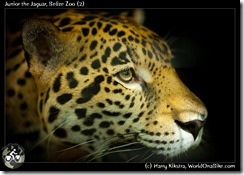 S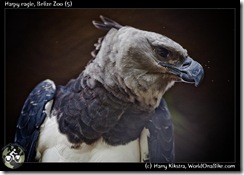 ome of the animals had very little space, others had more, but all were surrounded by a thick jungle, so you could feel like an explorer, meeting al 5 cats of Belize, the largest eagle in the world and much more..
To the West: Ruins, Horses and Parrots' Nests in San Ignacio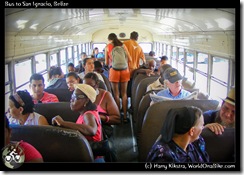 After the luggage finally arrived, we said our thanks and goodbyes to Jorge, who had patiently helped us out, and boarded a bus West. All 'public' buses are privately owned and they are all refurbished USA school buses. This means tights spaces, no luxury and loads of diesel fumes.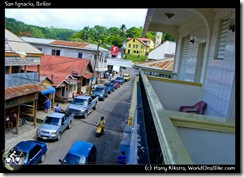 The fun thing is to see the diversity of people inside the buses: the Creoles, the Mennonites, the Mayas, the Guatemalans and the tourists all travel together for a few dollars.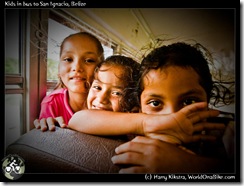 The Western Highway leads past the capital of Belmopan towards the main town of San Ignacio, just 20km from the Guatemalan border.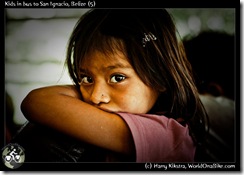 it is a well-known tourist spot, located in the hills and many foreign-owned eco-lodges are located here, in the midst of jungle, ruins and caves, while the famous Maya site of Tikal, Guatemala is only a few hours away.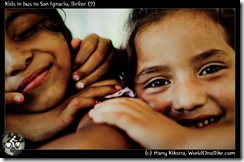 I had seen it 9 years ago when I first visited Guatemala and would have loved to see how it had changed. But due to the expensive (single entry!) visa for Ivana and the exit taxes we would all have to pay, we decided to skip Tikal in favour of some local sights.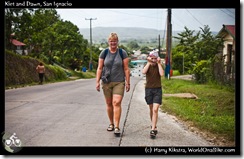 Just outside of town was a small Maya site named Cahal Pech, which was not much more than a few big buildings on top of a jungle covered hill, but that was exactly the charm.
No other visitors had hiked up the steep hill and we could explore the ruins alone and Margriet & Dawn enjoyed it tremendously.
CouchSurfing and horse riding around the Parrot's Nest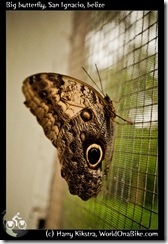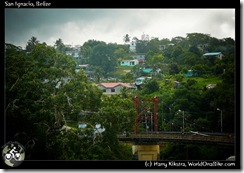 We had gotten in contact with yet another CouchSurfing host, Marcus. Originally from the US, he works as a teacher in a small town and enjoys the eco-lodge he runs with his wife Theo.
The Parrot's Nest is a great place to relax, float on the river, watch the giant lizards and butterflies and to awake at the sound of toucans chatting away.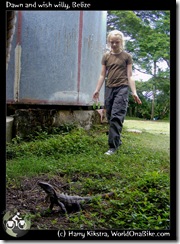 Dawn really wanted to ride a horse and so Margriet & I joined her on a nice ride of several hours.
We rode through thick jungle, up steep hills, past hidden ruins and friendly people.
Back to the North: Lamanai Ruins via Croc-land and Biscayne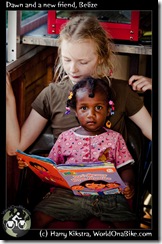 We had to get back to Belize City before we could take another us up the Northern Highway. Ivana & I had seen a place named Croc land, which seemed like a fun place: some crocodiles and the largest swimming pool of Belize ((without crocs :)).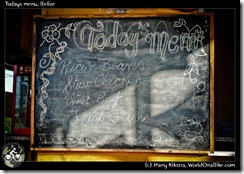 First we camped in another place we had scouted out: a small grocery store that had a camping space and a shower! Dawn spent time playing with the kids and we had our very first 'Rice & Beans' in Belize.
The swimming pool in Croc Land was indeed very nice, and we enjoyed it, but upon further inspection it turned out that Croc-Land not only housed a few dozen Crocodiles in horrible circumstances but also other animals including a mountain lion and even a jaguar, hidden away in a far corner; going mad in a concrete cage without shade. This place should be shut down immediately…
Back in time on the New River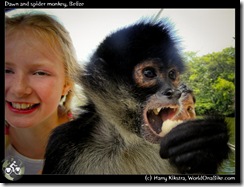 I wanted to show them at least one more bigger Maya site and we decided to go to Lamanai. This old Maya centre is located next to one of the largest rivers in Belize and though it boasts some very impressive grand buildings, the boat tour to get there is just as fun.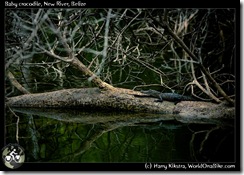 The captain clearly loved his job and pointed out every bird, baby crocs, bats and the Mennonite community along the way.
He slowly passed some Spider Monkeys, to give them a chance to grab some bananas off the boat and then went at full speed through some of the other curves of the river before showing us around the historical sites. It was hot and the bugs were attacking, but still a great day out.
Orange Walk to Sarteneja.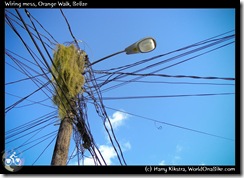 We returned too late to get to our next destination, so we decided to skip Corozal as planned and stayed another night in Orange Walk, enjoying Guatemalan tamales & Salvadorian pupusas off the street.
We skipped Corozal in favour of Sarteneja, an even smaller coastal town where two backpackers had opened up a small eco-place called The back-packer's Paradise.
We stayed 2 nights while swimming in the warm Corozal bay. ahh, the hard life of the Bike Travellers 🙂
Coming up: Belize with Family, part 2 (final): La Isla Bonita
It was time to head out to the pier and grab a boat to visit the best-known places in Belize.
Remember when Madonna sang about the place with the Tropical Breeze, this was where she wanted to be?
Next stop: San Pedro, "La Isla Bonita"…
As mentioned in the previous post, we have parked our bikes for a few weeks as both our mums are visiting us on the Yucatan Peninsula. After the ruins of Chichen Itza & Ek Balam, it is now time for the beach!
Playa del Carmen, overcrowded and overrated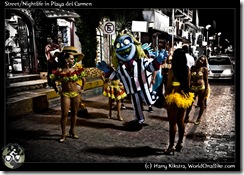 "Don't go to Cancun, move to Playa de Carmen!", was the advice of friends, websites and guidebooks. "More European, more relaxed, less commerce and more affordable than Cancun.", were the reasons given.
We arrived in our rental car and first could not park anywhere to find a hostel.
Finally we found a spot, only to find much more expensive hotels than in downtown Cancun. Once we found a decent room (3 beds, Ivana & I can share), we checked out the main street. It was filled to the top with souvenir shops and overpriced restaurants and hundreds of semi-relaxed tourists, many of them, yes, European. Large clubs and uber-cool lounge bars were promoted, while Guatemalan art was being sold for western art gallery prices.
Finally we discovered some real food for almost downtown Cancun prices, sold on the streets close to the Central Plaza. Great juice and tortas, the Mexican sandwiches with a choice of meat and/or vegetables and different types of very spicy and tasty sauces.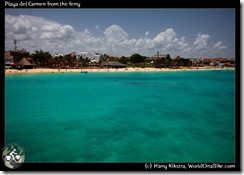 Just a bit ahead were the local fruit ladies selling nice big bags of mixed cut fruits for less than half of the price of a glass of water in a restaurant of the main street.
The beach is very nice at Playa and the water is green-blue as in the brochures, but it's like that all along the Costa Maya.
The girls were happy with the sea and sand, but I rather wanted to use the last day we had a car to see one more ancient Maya City and took off alone.
More ruins, Coba solo
Coba has the same charm that Ek Balam has and that Chichen Itza is lacking: the 'Indiana Jones' sense that you are discovering the ancient hidden cities yourself while strolling through the lush Jungle.
The structures of Coba are not as neatly organised and lined up as in Chichen Itza. From the first group, which contains the large 'Templo de las Iglesias', the temple of the Churches, it is more than a kilometre walk through the jungle if you want to see some of the other big ones.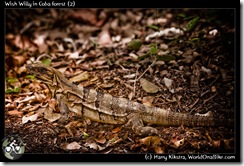 Several dozen sacbe's, ancient Mayan road crossed the surrounding jungle to get to Coba, an important hub in times gone by. Only a few percent of the estimated 6500 (!) structures of Coba have been excavated, and many of these not even fully and the jungle has remained intact, which is good news for the many different animals living there.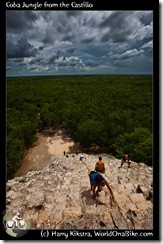 It is hot in Coba, even in the shade of the trees and for those who do not want to walk the sacbe's there are many eco-taxis handy: bicycles & rickshaws!
The largest Maya structure (of the entire Peninsula) is called Nohoch Mul, better known as the Great Pyramid and its eroded steps leading to the 42m (140ft) high top can fortunately still be climbed.
A thick rope is attached to help the brave people down that made it up and realized that it was quite high and the steps narrow and down-sloping 🙂
There will be several persons on the Pyramid, but the views are great: jungle as far as the eye can see. The sweet views are spiced with the knowledge of the thousands of hidden treasures still to be found.
Tulum: busy ruins and empty beach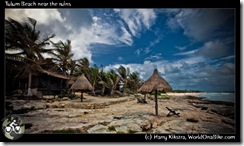 I was just too late to make a quick visit to the most popular Maya ruins: Tulum. As it is close to Cancun and Playa de Carmen, and the site is open and compact, bus loads of tourists come here every day.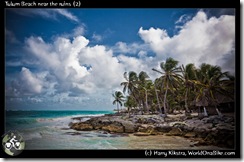 I saw a huge line of them coming out of the exit and caught a glimpse of the famous Castillo, with its postcard location on the edge of the sea. I was not allowed in, but used my time to view some nearby rough beaches, totally deserted.
It was time to return to Playa de Carmen and head over to our next destination: an island!
Isla Cozumel, CouchSurfing and anniversary on the divers and cruise-ship paradise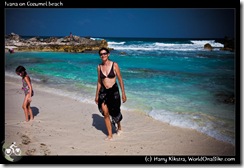 One part of our way of travelling that we wanted to share with our mums was the use of the CouchSurfing and WarmShowers network, where travellers host other travellers. We managed to find a great host on the Island of Cozumel, that agreed to host all 4 of us.
Ivan not only provided us with a great place to sleep, but also gave us a quick tour of the rough east side of the diver's paradise, with some great swimming beaches and blowholes. The next day he took Ivana, Cristi and myself for a nice little snorkel tour, while my mum relaxed in a hammock near a pool. Life should not get much harder than this 🙂
It was wonderful to have such a perfect example of a great CouchSurfing host to demonstrate to our mums a taste of the hospitality we have encountered all over Mexico, USA and Canada, made possible by the technology and the mentality of our generation, but which has spread far beyond that.
–
Cozumel is a popular stop for huge cruise-ships and we saw many pass during the few days we were there. But to see further than the shopping tours along the silver-shops and the basic restaurants, you need to spend some days there.
For example it gives you the chance to see the local Sunday dance on the main square, where the local couples dress up and play to the music of a live band, while the sun sets behind a blue and purple sky.
Next and final part of the Mother-ship series coming up: An Island of Women!
Stay tuned, it will be up and running soon as long as the Internet gods are willing 🙂
Photos: relaxing in Cancun
We started our holiday with a few days in a Hostel and some visits to the beach as well as the nice local park. The park is not visited much, but is basically a part of original jungle in the middle of the city. It has some great trails, a turtle pond, many lizards walking around and we even saw a snake.
Off to the Maya Ruins: Chichen Itza!
Of course you cannot visit Central America without visiting at least some of the ancient Maya cities. Cancun is quite close to Chichen Itza, maybe the most famous city of them all, especially after a huge marketing campaign managed to get it entered as one of the new 7 wonders of the world.
We had rented a cheap car for a week, so we could tour around for a while, leaving the beaches for later. Our mums experienced a hint of our way of life when we told them that they could only take 1/3 of their luggage –as more did not fit in the tiny car- and that they would see the rest only in a week 🙂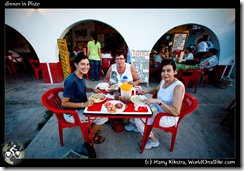 There is a wonderful new highway from Cancun to Chichen Itza, but we only found out why it was so deserted (we saw 2 cars in 200km), when we needed to pay over USD 20 in toll fees, close to the exit. Now we understand why Francisco and the other truckers all choose the 'Libre' road instead.
The mums got another taste of our trip when we booked them in a small but cheap guesthouse, with 3 beds in a dusty and very hot room in Piste, the town next to the old Maya City. We had arrived in the afternoon, so we had time to have some dinner and go to Chichen Itza for the evening show.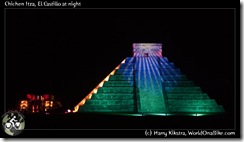 Most people do not see this as they come on day trips from Cancun & Merida, but every evening the main structures are illuminated at sunset, while a set of voices tell about the history and legends of Chichen Itza.
The Spanish whispering was a bit too much for me, but it was nice to sit in the fresh breeze while the most famous main structure, the temple of Kukulkan, better known as 'El Castillo' -the castle- turned form green to purple.
Here is a photo impression (click to enlarge, more photos in the photo section here).
Souvenirs & Cenotes
Of course the place is stuffed with souvenirs and other semi-local handicrafts. The sacbe number 1, the ancient Mayan road, leading to the 'cenote' was lined with vendors. The Yucatan peninsula is lined with Cenotes, which can be anything from a large pond to a huge underground cave filled with water. The soft limestone base of the peninsula combined with tropical rainfall had created these holes and many of them were either sacred or at least an important water source.
The cenote at Chichen Itza was found to contain several artefacts and bones, it was clearly used as a sacrificial place. Some more pix 🙂 :
Swimming in the Cenotes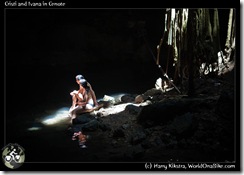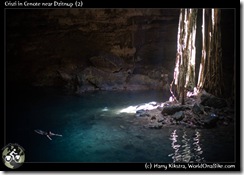 Not all cenotes are closed to the public. In fact there is a large tourism sector focused on either swimming in them or even exploring them while diving, as many are connected by underground rivers. We stuck to swimming in a couple, with the first one being close to the  town of Dzitnup.
The cenote is inside a huge a cave, but it had a hole on top where sunlight shines through. next to the hole grows a tree and it roots come all the way down to the water, a magic place for sure..
Jungle ruins: Ek Balam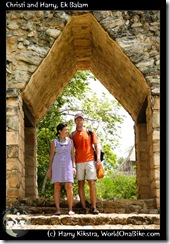 The ruins of Chichen Itza are the most famous, but its popularity has caused some downsides. You can no longer climb on El Castillo as a tourist had fallen to her death a few years ago and the sheer number of visitors can cause irreplaceable dame to the structure.
Also most of the other structures are off-limits now, meaning you can only see them from a (short) distance.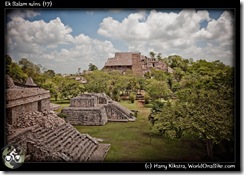 Therefore it was nice to visit a much 'newer' site, Ek Balam. Largely unknown for mass tourism, but with some impressive structures, of which the 2nd and 3rd largest are still unexcavated and buried by the force of nature.
The highest structure, known as the Acropolis, can be climbed on its narrow and sloping steps, offering great views over the site and the surrounding jungle.
Somehow, it felt more 'real' being here compared to Chichen Itza. An impression:
X'Canche & Genesis: Swimming and relaxing in Ek Balam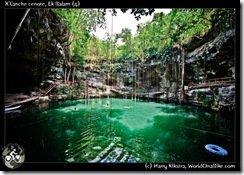 Ek Balam had one bonus: it has an open Cenote (meaning open to the public, you still have to pay an entrance fee) a 15 minute walk from the ruins.
This one was open, but also had many roots growing into it, as well as many fishes and plant and we enjoyed the cooling water as well as the collection of free hammocks nearby.
We had spent a few days in the wonderful Genesis Resort in the nearby village of Ek Balam, run by Lee Christie. A nice oasis in the dry surroundings, it had a great swimming pool and evens some bike for rent. In exchange for a discount on the price of the room, we cleaned and fixed the bikes, so that they were safe again 🙂
On the road again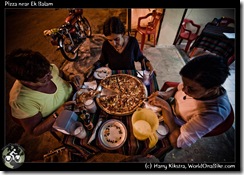 After a huge pizza in a nearby village, and some clothes testing for Pablito and Pedrito, it was time to hit the road again. Not to the ruins and beaches of Coba & Tulum as planned, but back to Cancun, this time on the libre road. Ivana had to undergo a second part of a dental treatment, as part of her tooth had broken off the day our mums arrived.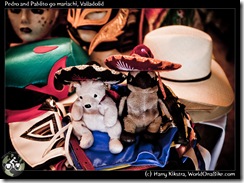 It was fixed ok, but the next problem was that both Cristi as well as myself developed a rash on our legs and arms, there must have been something in the Cenote water, though Ivana had no problems.
It was time to hit the other famous parts of the Yucatan Peninsula: the beaches!