"Tropical the island Breeze, all of nature wild and free, this is where I long to be, la isla Bonita…"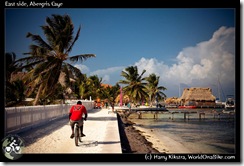 Madonna already sang it over 20 years ago: 'I used to dream of San Pedro…'. San Pedro is the town on Ambergris Caye, better known as La Isla Bonita from Madonna's hit-single.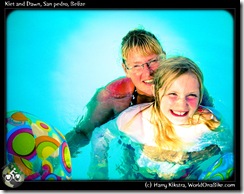 But that was in the 80-s when San Pedro probably still was the paradise she sang about. Since then it has been invaded by US tourists, many of which have bought a piece of land and/or built a house. The palms are still there and though there are no real beaches, the water is clear and the fish abundant in the corals reef just off the coast.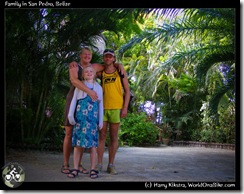 All of this new money has made the prices too high for the locals and at the same time has attracted a lot of shady people as we had already met in Belize City, who offer to 'help' you at every street corner.
Many of these call themselves 'Rastafari', but as they do everything that a true Rastafari would not (eat anything that basically was alive and walking or swimming at some point for example), it seems more an excuse for being lazy, which is just on the other side of the thin line separating it from 'relaxed'.
They also supply al possible drugs possible, which in return has attracted a less joyful crowd of young US teens visiting the island.
Meanwhile you cannot cross the once empty streets without getting run over by a golf-cart, the most popular way around, both for owners as well as visitors.
It is difficult to find a decent place for a decent price, but Pedro's Inn offered both including a swimming pool which of course is the best place to be during some of the short but torrential rains! Still, a tiny 2 person-room without bathroom costs B$ 20 (USD10) and eating out was expensive as well, so our budget went through the roof…
Here are some impressions:
Go Slow on Caye Caulker: this is where we want to be…
We quickly had enough of the busy San Pedro, and hopped on another boat which dropped us off on the next Island: Cay Caulker. It is much smaller, only a few km long and between 100m & 400m wide. At many places on the island you can stand in the middle and see the sea on both sides 🙂
What's more, the only pavement on the entire island is the small airstrip, the few other roads are all unpaved and sandy.
Everybody is either walking or cycling and the Island's motto is "Go Slow".
This is truly the paradise that Madonna was singing about, likely resembling San Pedro from the 80-s.
Sandy Lane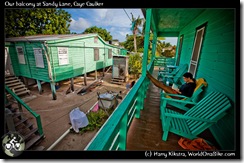 We found a cheap place at the Sandy Lane's guesthouse, which is unique in that it is probably the only place on the island without a sea view 🙂
But for B$25 per room (USD 12,50 for 4 persons together, not counting the in-house gecko which served as a ecological mosquito–trap), we were not complaining.
Besides, we had a front-row seat to the football matches and the sea was less than 100m away on both sides…
Here are some more pix of our 'area' and of some other, more expensive hotels on Cay Caulker:
Chilling at The Spit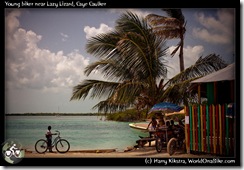 There is a small channel, separating the inhabited Southern Part from the uninhabited Northern part, called 'The Spit" and there is the only real beach. Accompanied by the beats of the nearby Lazy Lizard pub you can snorkel or relax.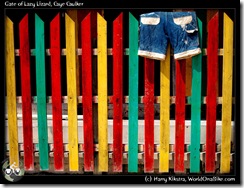 Then it is a maximum of 10 minutes walk back to your hostel, while on the way you can order some 'fry lobsta'.
We felt much more at home on Caye Caulker, without all the hustle and bustle and nightclubs of San Pedro.
The people living here seemed more friendly and truly relaxed, not the pushy fake 'relax, man, we just want your money'-attitude from San Pedro.
.
.
.
Here are some more pix of The Spit:
Playing with Stingrays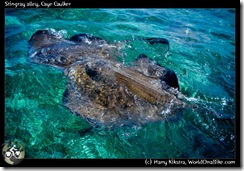 We wanted to go on at least one snorkelling tour and took the popular one that would take us to two of the reefs and to the Stingray alley.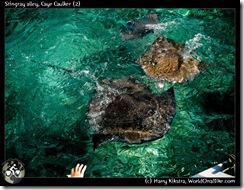 The tour was great and we all enjoyed snorkelling through clouds of colourful fish and corals.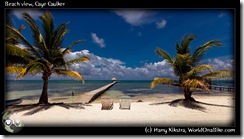 The special part was when we stopped at a shallow part, where stingrays up to several feet in diameter came up to us. You could touch them and even hold them which was wonderful.
Then of course: back to the hammock office and deciding which catch of the day we would eat…
Goodbye to my sister and niece, together alone again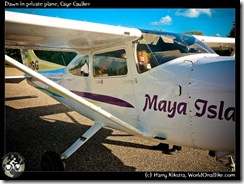 After spending nearly two weeks together, it was time to say goodbye.
To avoid the hassle and unfriendly crowds in Belize City, we decided it would be better if Margriet & Dawn used one of the small planes to get to the International airport. Besides, it would give them one more evening and night with us!
We were surprised to see that as they were the only 2 persons flying, only a small Cessna showed up: a private plane!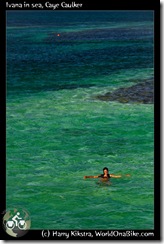 We said our goodbyes, not sure when and where we would see each other again…
We stayed another few days on the Island as we had to await for Jorge to come back from vacation, as our bikes were still stored at his place in Belize City.
But that was no hard thing to do, it was nice to have some extra time on the 'Go Slow' island, catching up with some work, swimming more and preparing mentally for the next part on the bike: down South through Belize towards Guatemala!
A final look at Caye Caulker: as always:
click to enlarge automagically, see the photos section for more pix of Belize and the islands!
Where other restaurant owners would be busy around lunch-time, Mr Marin took his time to read his newspaper in his restaurant on 'Go Slow' Caye Caulker, Belize.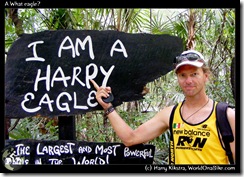 It was great to see my only sister Margriet and her daughter/my niece Dawn again, as it had been over a year since we had said goodbye in The Netherlands. She always wanted to go to Belize and as she was tied to my niece's vacation schedule, we were lucky that we could plan a few weeks together.
Her entry into Belize was not so easy as the airport personnel was so rude and aggressive that she was crying when she came out of the airport building. On top of that their luggage was delayed, so we had to spend an extra night in Jorge's place.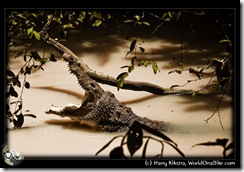 We spent the extra day in Belize City by visiting the famous Belize zoo. a small animal park, started as a shelter after animals were left after a film project.
Now they shelter more and more animals and though I generally dislike captive animals on display, this was not too bad.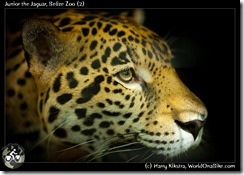 S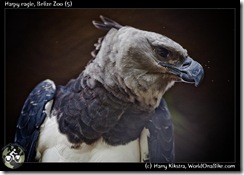 ome of the animals had very little space, others had more, but all were surrounded by a thick jungle, so you could feel like an explorer, meeting al 5 cats of Belize, the largest eagle in the world and much more..
To the West: Ruins, Horses and Parrots' Nests in San Ignacio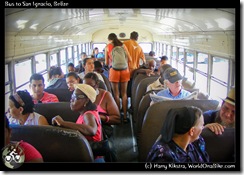 After the luggage finally arrived, we said our thanks and goodbyes to Jorge, who had patiently helped us out, and boarded a bus West. All 'public' buses are privately owned and they are all refurbished USA school buses. This means tights spaces, no luxury and loads of diesel fumes.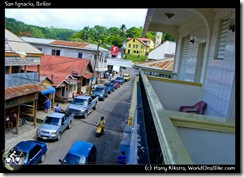 The fun thing is to see the diversity of people inside the buses: the Creoles, the Mennonites, the Mayas, the Guatemalans and the tourists all travel together for a few dollars.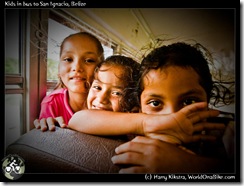 The Western Highway leads past the capital of Belmopan towards the main town of San Ignacio, just 20km from the Guatemalan border.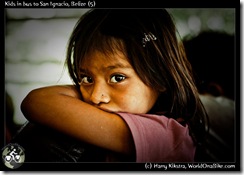 it is a well-known tourist spot, located in the hills and many foreign-owned eco-lodges are located here, in the midst of jungle, ruins and caves, while the famous Maya site of Tikal, Guatemala is only a few hours away.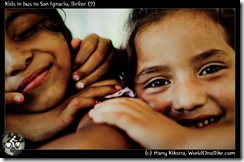 I had seen it 9 years ago when I first visited Guatemala and would have loved to see how it had changed. But due to the expensive (single entry!) visa for Ivana and the exit taxes we would all have to pay, we decided to skip Tikal in favour of some local sights.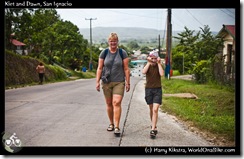 Just outside of town was a small Maya site named Cahal Pech, which was not much more than a few big buildings on top of a jungle covered hill, but that was exactly the charm.
No other visitors had hiked up the steep hill and we could explore the ruins alone and Margriet & Dawn enjoyed it tremendously.
CouchSurfing and horse riding around the Parrot's Nest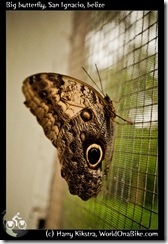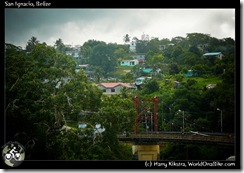 We had gotten in contact with yet another CouchSurfing host, Marcus. Originally from the US, he works as a teacher in a small town and enjoys the eco-lodge he runs with his wife Theo.
The Parrot's Nest is a great place to relax, float on the river, watch the giant lizards and butterflies and to awake at the sound of toucans chatting away.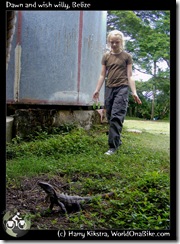 Dawn really wanted to ride a horse and so Margriet & I joined her on a nice ride of several hours.
We rode through thick jungle, up steep hills, past hidden ruins and friendly people.
Back to the North: Lamanai Ruins via Croc-land and Biscayne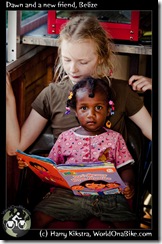 We had to get back to Belize City before we could take another us up the Northern Highway. Ivana & I had seen a place named Croc land, which seemed like a fun place: some crocodiles and the largest swimming pool of Belize ((without crocs :)).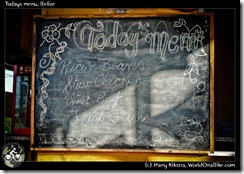 First we camped in another place we had scouted out: a small grocery store that had a camping space and a shower! Dawn spent time playing with the kids and we had our very first 'Rice & Beans' in Belize.
The swimming pool in Croc Land was indeed very nice, and we enjoyed it, but upon further inspection it turned out that Croc-Land not only housed a few dozen Crocodiles in horrible circumstances but also other animals including a mountain lion and even a jaguar, hidden away in a far corner; going mad in a concrete cage without shade. This place should be shut down immediately…
Back in time on the New River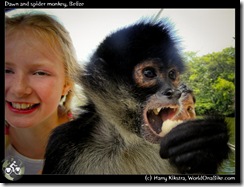 I wanted to show them at least one more bigger Maya site and we decided to go to Lamanai. This old Maya centre is located next to one of the largest rivers in Belize and though it boasts some very impressive grand buildings, the boat tour to get there is just as fun.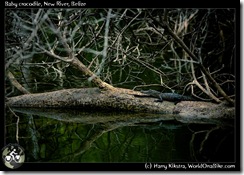 The captain clearly loved his job and pointed out every bird, baby crocs, bats and the Mennonite community along the way.
He slowly passed some Spider Monkeys, to give them a chance to grab some bananas off the boat and then went at full speed through some of the other curves of the river before showing us around the historical sites. It was hot and the bugs were attacking, but still a great day out.
Orange Walk to Sarteneja.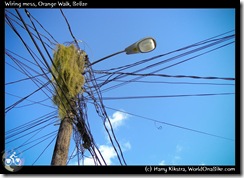 We returned too late to get to our next destination, so we decided to skip Corozal as planned and stayed another night in Orange Walk, enjoying Guatemalan tamales & Salvadorian pupusas off the street.
We skipped Corozal in favour of Sarteneja, an even smaller coastal town where two backpackers had opened up a small eco-place called The back-packer's Paradise.
We stayed 2 nights while swimming in the warm Corozal bay. ahh, the hard life of the Bike Travellers 🙂
Coming up: Belize with Family, part 2 (final): La Isla Bonita
It was time to head out to the pier and grab a boat to visit the best-known places in Belize.
Remember when Madonna sang about the place with the Tropical Breeze, this was where she wanted to be?
Next stop: San Pedro, "La Isla Bonita"…
Meeting old friends in Cancun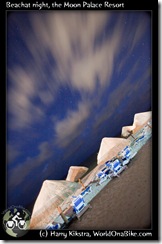 A few years ago, I was on my way to run the Amsterdam Dam-to-Dam run. Ivana was joining me to the start when we saw two biketravellers pass by; loaded bikes, with a Mexican flag on the back.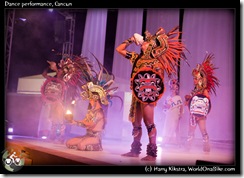 While I went to run, Ivana caught up with the cyclists and asked if they needed a place to sleep.
It turned out that they did and as there were problems with their ticket, the couple stayed 2 nights at our place, our first experience as a WarmShowers host. After we found out that hector & Veronika were living in Cancun, we told them: cool, you might be able to return the favour in about 2 years 🙂
Fast forward to June 2009…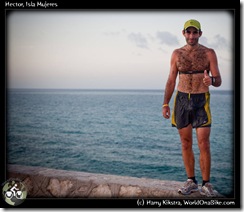 It was great to see Hector & Veronika again. They took us to their small apartment and the following week we spent most of the time together. They helped us out buying some new things, finding a hostel for our mums who would arrive at the end of the week and showed us around in Cancun.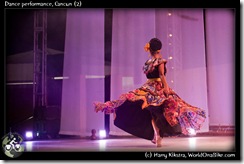 Hector repairs Computers and runs professionally, generating a large part of their income by winning prizes.
Veronika is an experienced massage therapist and a professional dancer in the famous Maria Felix dance company, performing several times per week in exclusive resorts. We managed to get smuggled in one night and saw their amazing performance, showing the dances and clothing of several regions of Mexico with an incredible power. Here are some photos from that show (more photos in the photo section here).
Relaxing at the beach
Though we had ridden the last part in a truck, we still felt we deserved a few relaxing days after 10,611km (6600mi) of cycling from Alaska. We had seen the beaches with Francisco and Daniel, but Hector took us for some quality time around and in the sea, here are some great photos he took of us:
The mother ship has landed…
It had had taken some planning and headaches, but we had managed.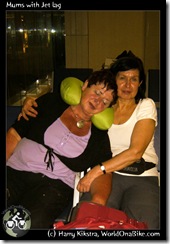 Both our mums thought that 2-3 years away from home was too long, so we had decided to invite them to meet us somewhere on our trip and show them a bit of our way of life.
Cancun seemed perfect as it was about as far from Argentina as from the Netherlands and it had a large international airport.
We had booked the flights (goodbye travel budget :)) just in the week before the announcement of the outbreak of the 'Swineflu', but by now most of the hype was gone and all seemed safe.
Both mums had no extra-continental travel experience but both had to change planes in strange countries (USA & Chile/Panama), which was far scarier than any flu. Lo and behold, within a few hours of each other both had arrived. Completely exhausted, but happy to see us. We had parked our bikes at Hector's house, time for some touring!
When we entered La Paz, we checked our CouchSurfing inbox for replies to our requests.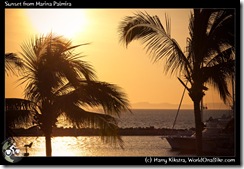 Actually a few people had replied positively, including Brian from the US, who had just left for California. Still he offered us the use of an empty apartment he owned and we gladly accepted as we had our own mattresses & stove. When we checked our email again to look up the directions, he had written us again:
'I decided to invite you to use my regular apartment… You need a good rest.'
Just a few simple words, but they turned out to mean a lot more. His 'regular apartment was not regular at all and perfect for us. Quiet, with a view of the sunset from the huge balcony, a swimming pool below and Wi-Fi to catch up with work. Coming from 1400km of dust and heat, we were literally overwhelmed and got again convinced that if you work hard enough good things will come your way…
R&R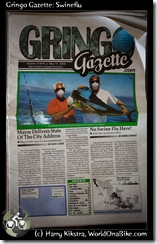 We spent the next days resting and recovering from the desert. Brian's apartment was at the Northern end of the Malecon, the nice stone pedestrian boardwalk that extends to 2km on each side of the centre.
We rode to town often, to eat (great tacos at El Rancho Viejo), to relax, to see the town and to prepare our trip to the Mexican mainland. Brian's blender worked overtime to make liquados from all the fruit we fed it.
We also visited Brian's friend Claude Vogel, who not only owns a great-looking restaurant called Capricho's (merci for the margarita's Claude!), but seems to singlehandedly have photographed all of the photos appearing on Baja Sur's postcards. He has published several great photo books, showing all the well- and unknown spots of the peninsula, it was fun to chat with a fellow-European living in Baja.
One night we entered the town square –as it is a few blocks away from the sea it is actually not visited much-, where we heard a strange succession of words through a speaker:
'El tortuga (the turtle)! El Negrito (the small black kid)! El borracho (the drunk)!'
first we thought it was a strange Spanish class, but we found out that the side of the plaza was lined with chain-smoking old ladies playing bingo, with pictures instead of numbers 🙂
Bike goodies!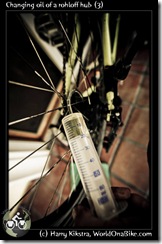 Robbert from Santos Bikes had sent us a package from The Netherlands, to a La Paz address of a friend of a fellow cyclist. It had arrived perfectly and not only contained new oil for our Rohloff gear hubs, but also a new headlight! Mine had already been wrecked in the plane to Fairbanks (a few centuries ago?), and though I managed to fix it a few times, it had definitely died. The new one works even better, so we can safely be caught out in the dark again.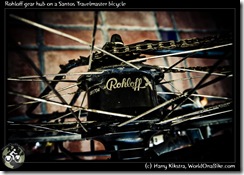 The 14-speed Rohloff gear hubs we use on our Santos Travelmasters are almost maintenance free, the only thing you need to do is change the internal gear oil every 5000km/3000mi. We were getting close to 10,000km, so we changed the oil for the 2nd time and also tightened our chains a bit.
I will write up a detailed manual when I have time, but basically it is very easy: inject cleaning oil, ride around to mix and clean, take out old oil and cleaning oil and inject new gear oil. Easy as that 🙂
Getting rides on the Net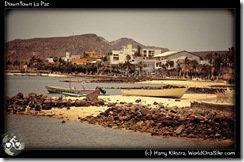 We had already gotten to know The Net in Juncalito. All cruisers get together on the VHF channel 22 every morning at 08.00 to discuss the weather, news, outgoing mail, stuff to trade and more. They answer questions for newcomers in the area and offer very useful info. One section is called: crew & rides, where the cruisers can mention if they need a crew and boat-less people like us can indicate they need a ride!
We preferred a boat ride to the ferry. Not just to save some money, but also so we could learn a bit more about the cruiser's way of life we had gotten to know the week before. Also it would be safer to watch our gear then when tucked away between large trucks on a ferry…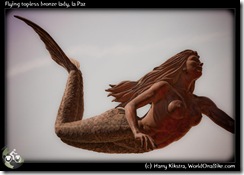 Brian had a handset he told us to use and we got on The Net several times with our story and a request to get a ride across the Sea of Cortez. We even left a note at the Club Cruceros clubhouse, where many cruisers come to exchange books, borrow DVD's, chitchat and drink coffee, but had little luck. The problem was that hurricane season was approaching and most cruisers were on their way North, back to the US or at least Baja Norte.
We met one couple that was till planning on crossing, but their boat, the "Good News", had a broken autopilot and were waiting on replacements parts to come from the US and had no idea when and if they were going ad if there would be space for us…
Free ferries for the next cyclist & more Good News!
Fellow cyclists Anna & Alister (http://www.thefuegoproject.com/) had kindly sent us a lot of information about the crossing. They were the first to point us to the fact that besides the well-known Baja Ferries, crossing to Mazatlan, there is another ferry company, called TMC (http://www.ferrytmc.com).
Though they are marketed as a cargo ferry, they also transport cars, RV's, foot passengers and cyclists! They charge quite a lot less than Baja Ferries (http://www.bajaferries.com), especially for cyclists with a fully loaded bike. We got in contact with them to see if they maybe would like to sponsor us in exchange for some exposure, here on our blog, so other (bike) travellers know about them.
They agreed quite quickly ad offered us a free crossing for us and our bikes! 🙂
But that same afternoon we got Good News! Literally, as captains Michael & Deborah told us that the spare parts would arrive in the next days and that they would like to invite us on their boat to get to know each-other.
We had a nice time and even though they already had agreed with another traveller to take him along, they said that we could fit as well on the 12m boat, though it was not yet clear where we would fit our bikes and gear…
We took the chance and told TMC Ferries that we appreciated the offer a lot, but that we were going to cross on a sailboat instead. I asked them if we could maybe offer the next cyclist a free crossing instead? Again, they agreed, so if you are a bike traveller reading this and are looking for a crossing from La Paz to Mazatlan? Leave a comment below, the first ones to comment (arriving in La Paz this year 🙂 will get a free crossing, we will put you in contact with the right persons.
We had to say goodbye to the swimming pool and the comfort of a home. It was time to start packing our bikes again, but this time not for the road, but for the sea…
Coming up next: WorldOnaBoat!