When we entered La Paz, we checked our CouchSurfing inbox for replies to our requests.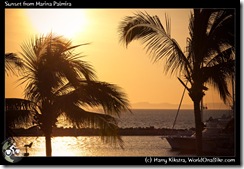 Actually a few people had replied positively, including Brian from the US, who had just left for California. Still he offered us the use of an empty apartment he owned and we gladly accepted as we had our own mattresses & stove. When we checked our email again to look up the directions, he had written us again:
'I decided to invite you to use my regular apartment… You need a good rest.'
Just a few simple words, but they turned out to mean a lot more. His 'regular apartment was not regular at all and perfect for us. Quiet, with a view of the sunset from the huge balcony, a swimming pool below and Wi-Fi to catch up with work. Coming from 1400km of dust and heat, we were literally overwhelmed and got again convinced that if you work hard enough good things will come your way…
R&R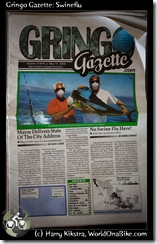 We spent the next days resting and recovering from the desert. Brian's apartment was at the Northern end of the Malecon, the nice stone pedestrian boardwalk that extends to 2km on each side of the centre.
We rode to town often, to eat (great tacos at El Rancho Viejo), to relax, to see the town and to prepare our trip to the Mexican mainland. Brian's blender worked overtime to make liquados from all the fruit we fed it.
We also visited Brian's friend Claude Vogel, who not only owns a great-looking restaurant called Capricho's (merci for the margarita's Claude!), but seems to singlehandedly have photographed all of the photos appearing on Baja Sur's postcards. He has published several great photo books, showing all the well- and unknown spots of the peninsula, it was fun to chat with a fellow-European living in Baja.
One night we entered the town square –as it is a few blocks away from the sea it is actually not visited much-, where we heard a strange succession of words through a speaker:
'El tortuga (the turtle)! El Negrito (the small black kid)! El borracho (the drunk)!'
first we thought it was a strange Spanish class, but we found out that the side of the plaza was lined with chain-smoking old ladies playing bingo, with pictures instead of numbers

Bike goodies!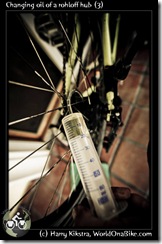 Robbert from Santos Bikes had sent us a package from The Netherlands, to a La Paz address of a friend of a fellow cyclist. It had arrived perfectly and not only contained new oil for our Rohloff gear hubs, but also a new headlight! Mine had already been wrecked in the plane to Fairbanks (a few centuries ago?), and though I managed to fix it a few times, it had definitely died. The new one works even better, so we can safely be caught out in the dark again.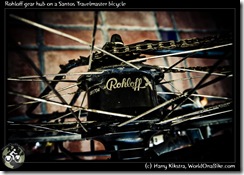 The 14-speed Rohloff gear hubs we use on our Santos Travelmasters are almost maintenance free, the only thing you need to do is change the internal gear oil every 5000km/3000mi. We were getting close to 10,000km, so we changed the oil for the 2nd time and also tightened our chains a bit.
I will write up a detailed manual when I have time, but basically it is very easy: inject cleaning oil, ride around to mix and clean, take out old oil and cleaning oil and inject new gear oil. Easy as that

Getting rides on the Net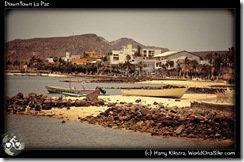 We had already gotten to know The Net in Juncalito. All cruisers get together on the VHF channel 22 every morning at 08.00 to discuss the weather, news, outgoing mail, stuff to trade and more. They answer questions for newcomers in the area and offer very useful info. One section is called: crew & rides, where the cruisers can mention if they need a crew and boat-less people like us can indicate they need a ride!
We preferred a boat ride to the ferry. Not just to save some money, but also so we could learn a bit more about the cruiser's way of life we had gotten to know the week before. Also it would be safer to watch our gear then when tucked away between large trucks on a ferry…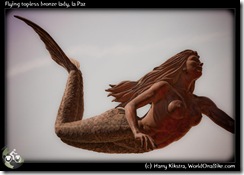 Brian had a handset he told us to use and we got on The Net several times with our story and a request to get a ride across the Sea of Cortez. We even left a note at the Club Cruceros clubhouse, where many cruisers come to exchange books, borrow DVD's, chitchat and drink coffee, but had little luck. The problem was that hurricane season was approaching and most cruisers were on their way North, back to the US or at least Baja Norte.
We met one couple that was till planning on crossing, but their boat, the "Good News", had a broken autopilot and were waiting on replacements parts to come from the US and had no idea when and if they were going ad if there would be space for us…
Free ferries for the next cyclist & more Good News!
Fellow cyclists Anna & Alister (http://www.thefuegoproject.com/) had kindly sent us a lot of information about the crossing. They were the first to point us to the fact that besides the well-known Baja Ferries, crossing to Mazatlan, there is another ferry company, called TMC (http://www.ferrytmc.com).
Though they are marketed as a cargo ferry, they also transport cars, RV's, foot passengers and cyclists! They charge quite a lot less than Baja Ferries (http://www.bajaferries.com), especially for cyclists with a fully loaded bike. We got in contact with them to see if they maybe would like to sponsor us in exchange for some exposure, here on our blog, so other (bike) travellers know about them.
They agreed quite quickly ad offered us a free crossing for us and our bikes!

But that same afternoon we got Good News! Literally, as captains Michael & Deborah told us that the spare parts would arrive in the next days and that they would like to invite us on their boat to get to know each-other.
We had a nice time and even though they already had agreed with another traveller to take him along, they said that we could fit as well on the 12m boat, though it was not yet clear where we would fit our bikes and gear…
We took the chance and told TMC Ferries that we appreciated the offer a lot, but that we were going to cross on a sailboat instead. I asked them if we could maybe offer the next cyclist a free crossing instead? Again, they agreed, so if you are a bike traveller reading this and are looking for a crossing from La Paz to Mazatlan? Leave a comment below, the first ones to comment (arriving in La Paz this year

will get a free crossing, we will put you in contact with the right persons.
We had to say goodbye to the swimming pool and the comfort of a home. It was time to start packing our bikes again, but this time not for the road, but for the sea…
Coming up next: WorldOnaBoat!
Our bikes are heavily loaded, so what is in all those bags?
Below is a list, with links to detailed pages, where we will tell if we liked the gear, or if we replaced it (and why!):
Our Bikes:
Bicycles/gear/racks: Santos Travelmaster with Rohloff gearhub, see the details page for all parts and technical specifications.
Panniers: Ortlieb panniers
Camping:
Sleeping bag: Carinthia ECC Expedition 600 (with extra filling courtesy of Carinthia!)
Tent: Big Agnes Copperspur UL 3
Mattresses: first semi-inflatable, now selfinflating Therm-A Rest, 120x51x2,5cm
Stove: MSR Whisperlite
Clothing:
Miscellaneous:
(more to come soon!)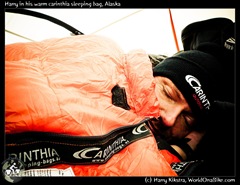 Carinthia supplied us with a warm sleeping bag. Owner Wolfgang was worried about the cold we would endure in Alaska & Canada, so he personally created a new mix of their ECC Expedition 600 & the even warmer ECC Expedition 800. It weighs only 1200 grams (though our weighed 100 grams more due to the extra filling), which is less than 3 pounds, while packing small, compressed they fit inside a large Ortlieb bags easily, leaving space for most of the clothes as well as the small mattress.
We are now in Mexico, but have had several freezing nights, waking up in a frozen tent in Alaska & Canada and even sleeping in the snow in Yosemite. Never did we have any cold problems, so the Carinthia bags have performed very well; even though they pack really small and are light, the construction and excellent down inside have proven themselves.
For the chilly evenings we had brought our light but warm Down jackets, the 'Downy Light'. Perfect for the nights out in the woods, the dinners in the wild and the cosy hours outside the tent after sunset. And at only 450 grams (one pound), this windproof warm wonder weighs less than most fleeces while offering double the warmth.
Yes, these are luxury items, but worth their weight in gold and we would definitely pack them again for this trip.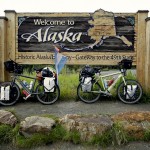 Our bikes are the most important parts of our gear that we are carrying. Better said: what is carrying us! So far (I am writing this after 9000 12000 16500km/ 5600 7500 10,000 miles) they have been excellent and we had zero problems.
At Santos, you can custom-build your bike. They produce the most praised travel bike, the Travelmaster series, available in Alu/ChoMo and 26/28 inch wheelsize, in several framesizes.
You can choose framesize, wheelsize, colours (about 26 now!) and almost all parts to suit your taste, functionality wishes or budget. Note that a bike is not just a collection of parts, the good builders of Santos are what have made the difference: the rims are still perfectly straight and no spoke has been broken (after 9000 16,500km).
The most important decisions will be the gear-system and the frame sizes:
The Rohloff internal gearhub
We have chosen for the Rohloff Gearhub. What is that? It means that all the gears are inside the back hub. There are 14 gears, evenly spaced and no derailleur, not in front, nor in the back. See this image for how this looks inside if you manage to open it up (and clean it :))
This has the following advantages over a regular say, 3×8 gears Shimano/Campagnolo system with derailleur:
Though there are 'only' 14 gears, all gears can be used and are different, unlike the regular Shimano systems. As you can not use the gears where the chain has to 'cross' on a Shimano system and there are many gears that overlap or are very close, effectively the 14 Rohloff gears are the same as the 24 with derailleur
There is only one grip-shift handle (on the right handle bar usually) 1-14 and you can go from one end to the other in one go if needed. No messing about with one hand shifting forward, the other back and then change everything if you need to go one gear lighter. Just go lighter or heavier, as simple as that.
You can change gears when standing still. Especially with a heavy loaded bike, this is a huge advantage, as you can shift back in a lighter gear and go after a stop for a traffic light, cow, pothole or cactus.
The chain never changes position and lasts much longer. We changed the first chains after 7000km (4500miles) only because I was tired of carrying 2 spare chains along, they were not finished by far. We use KMC chains, they are strong.
There is no 'loose part' like a derailleur, that will break off when transported in a plane, bus, train, chicken-truck or whatever. Everything is inside the black box.
The Rohloff system has some disadvantages as well:
It is more expensive up front. Usually it increases the costs of your bike with about $1000, depending on your alternative. But as they are guaranteed to 100.000km (60.000 miles), in the end you pay less than when replacing your Shimano's or Campi's when going the same distances. The Rohloff is cheaper at about 60,000km or more (See the calculations on the Santos site, in Dutch here).
It is literally a black box. If something breaks, you are screwed and will likely need to replace the entire hub.
It needs to be broken in. The heavier you are and more power you use, the quicker that goes, usually within 1000km/600miles all runs perfectly.
It needs maintenance, though not much: every 5000km (3000miles), you need to replace the oil inside the hub. This takes only a few minutes and is very simple though it can be hard to find the Rohloff oil that is needed, you might have to bring it (as we did) or have some sent ahead by your dealer (as we did as well).
I used the system on my previous bike and never want back to the derailleur system again, Rohloff makes life so much easier. No more cleaning or fixing of the derailleur, always easy to find the right gear.
Note that many other bike makers do not use all the advantages as they need a 'tension' wheel to keep the chain tight (as there is no derailleur to do so). Santos uses an excentric front axle, which can be changed (turned) easily to keep a worn-in chain at the right tension.
Frame
We use the size 19 inch Aluminium frame, with 26 inch wheels . 26 inch is simply the most used wheel size outside of Europe, and therefore it will be easier to find replacement tires.
Some people recommended against aluminium frames as they might be harder to fix when they break (though note that many of the current 'steel' frames might be so specialized that they also cannot be fixed easily). But Robbert from Santos told us: 'They do not break! And if there is any problem, we will send a new one'. Cool.
Tires
For serious touring cyclists there is only one real brand: Schwalbe. We use the Schwalbe Marathon XR. They are slow tires (not for racing), but so are we. Our main concern is flat and/or worn out tires.
After 9000km (5500 miles), Ivana had 4 flats, I had 2, one in each tire. They still look great. Nuff said.
Other parts:
Brakes: Magura HS33 hydraulic brakes. UPDATE: After 16,000km a metal casing of one of the brakes broke, while in Venezuela. Not sure why it cracked as there was no force, but maybe because of transport (boat/pick-up/truck) of the bikes had hit it repeatedly. Anyway, Magura replied to my email immediately, and had their USA part send a new part by UPS immediately, so about a week later we were good to go. No questions, asked, just excellent customer service and warranty (they said that similar problem had been reported only twice before during many years and hundreds of thousands of brakes sold).
For the rest we have really enjoyed our brakes, only replaced the first set of pads after 16,000km and zero problems with leaking etc. Simply the best.
Racks: front: lowrider Tubus Ergo Cr-mo, back: Santos PackRack (made by Tubus). Tubus are the only real choice for carefree biking. not light, but strong.
Ballhead: Chris King. I am not a bike expert. But if all people who are tell you this is the best, I accept it.
Bracket for crank: SKF (see comments for ballhead)
Cranks: Truvativ Five D single speed
Chain: KMC gold
Pedals: Shimano DX platform. Large and comfortable with boots or sandals, no click system. Note that after 8000km I changed these for dual-SPD pedals from Shimano, to try to improve my foot position, but Ivana still has them.
Handle bars: Trekking multiposition adjustable. + Ergon MP1 supports. We love the Ergon and the butterfly handle bars, but all the adjustable stuff is overkill and waste of weight and money, as we have never adjusted anything anytime.
Fork: TravelMaster Cr-Mo. We could have taken suspension, but decided not too; it can break and will be deadweight. We have a little seatpost suspension instead which works great.
Rims & spokes: travel rims (double, ceramic + Sapim Strong)
Saddle: Brooks B17 leather men.
Seatpost: Ritchey MTB with Cane Creek Short Travel (9cm) suspension.
Front Hub/dynamo: SON+SON (for headlight)
Pump: Topeak Roadmorph alu
Integrated lock, Amsterdam style: Axa Defender
Stands: Pletscher (back) + Low rider front stand
Online outdoor gear stores & special deals & discount coupons for cyclists.
Update: In addition to the special offers and deals from the great and trustworthy online outdoor stores below, there is now also a special online shop for BikeTravellers! Shop at CycloCamping.com for the best brands in the outdoor industry.
Check their latest deals out here:

Dear fellow adventurers, for a good and safe cycle trip (or hike/climb) you need good gear. We recommend that you support your local Outdoor Shop if possible, especially if you need advice, fitting etc. But not all have an Outdoor Store near or they overprice their items.
Unfortunately, good gear often means expensive gear and cyclists are not known for their fat wallet 😉 Most people do not realize that the biggest online Outdoor Shops often have cycling departments (and most outdoor gear can be used on a biketrip anyway) and offer big discounts on brand names as The North Face, Marmot, MSR, Patagonia, Arcteryx and many more. Some items and discounts are seasonal and the best deals change constantly.
Instead of searching the web for the best stores and clicking on advertisements for deals, just check this page, we use it ourselves

We have done all the searching, all you need to do is check what you need, click the links and buy it online.
Listed below are the current deals and coupons for gear from the following main Outdoor gear specialists we know you can trust, because we know them or used them ourselves:
On the left side of the page is a short description, with some RSS buttons, so you can subcribe to the feed if you want. If you have no idea what you just read, don't worry, just clicking the links on the right will get you to the deals

We had spend another night in Champagne, hung over from all the food! We headed out on the old Alaska Highway and took a look in the old Indian Village nearby. It is more like a museum, with some examples of how the people lived before the days of the Highway and the 'white men'. Though it was closed for the season, we wandered around, through the different huts. It had a very high 'Blair-witch-project' -level and Ivana wanted to leave quickly

It had started raining again and though it stopped for a while, it came down with full force when we were about 30km away from Whitehorse. I was freezing, but Ivana -who did not have any rainpants- was even worse. We went to the first open store and asked if we could make a call. 10 minutes later, Tracy picked us up and took us to her house..
Tracy is one of the 6000+ people on the Warm Showers list. These are biketravellers from all over the world, opening their house for other cyclists. This can mean anything from a place to pitch our tent to a spare bed. No money is exchanged, as in the end most hosts will get some Warm Shower elsewhere. As the host are cyclists, they know what other cyclist need: mostly a warm shower (hence the name), a place to wash and dry laundry but also a lot of food

If you want to meet some nice people on a bike, usually filled with stories, sign up yourself and host us or other biketravellers.. Read more
Where and When
Where are you going?
The plan is to cycle through America, from the North of Alaska to the South of Tierra del Fuego, Argentina. Note that America is not the same as the USA. We want to see America and the USA is one country on these two continents.
Straight down?
Well, straight down is impossible, you would hit water already in Alaska, but even in a straight line is not possible. The fastest route would be more or less straight to Panama, fly or sail to Colombia, then down the west coast of South America, over the PanAmericana.
So how far is that, 16.000km, about 10,000 miles?
It might be if you could go straight down. We think we will have cycled at least double that distance (about 35000km) as we want to visit every country on the mainland, so including all the small countries on Central America and all the larger countries in South America.
How much do you cycle every day?
Usually between 50 & 100km, depending on the wind, road surface, health, bike problems, interesting places and people.
We will not cycle every day, we will take longer rests in interesting places, so our average will likely be around 50km/day or even less.
How long will this trip take?
We think about 2.5 years, give or take a few months.
Why 2.5 years, why not 2 or 3 years?
We have to start in Alaskan summer, so July (June is considered Spring, August Fall, the rest is winter in Alaska). As the Southern hemisphere has reversed seasons and we want to arrive in summer as well, we need either 1.5, 2.5 or 3.5 years. 1.5 is too fast, 3.5 a bit slow…
Who & what
Who are you?
Argentina & The Netherlands? So where did you meet?
In Tibet. She was cycling from Malaysia to India, I was climbing Mt Everest. We got engaged two years later on the summit of Kilimanjaro, 3 weeks before the start of this cycle trip.
Tibet? Kilimanjaro? Eh, ok. So you like travelling. Where else have you cycled before?
Ivana has made one very long trip: first around New Zealand, then from Malaysia to India, passing Thailand, Cambodia, Vietnam, Laos, China, Tibet & Nepal on the way. Then she cycled for a month in Turkey and has also cycled in France.
Together we cycled in Italy for a month.
I (Harry) was raised in the Netherlands, so was practically born and raised on bicycles. Previously I have not made any very long cycle trips, but have done some shorter touring of 2-3 weeks per trip (Belgium – Normandy – Jersey -England; Wales, Ireland, Northern Ireland – Scotland; Amsterdam – Zermatt on a tandem).
What bicycles do you use?
We ride on the perfect travel bike: Dutch made to order Santos Travel master, aluminium frame, 26″ wheels. Tubus racks and Ortlieb bags see for more details the gear pages.
Website:
How does this website work?
well you found the FAQ, so you seem to have some idea already. On the homepage you see 4 tabs with a photo and shortcuts to the last 4 posts.
You can check older trip reports in may ways: check archives, trip reports, search for words, browse by categories (the second/lower top menu) or use the tags system, which is a bit more detailed than the categories.
You can contact us through the contact form and we love feedback on our posts, so please leave some comments when you read the posts. You will be asked to verify that you are a human being (and not a spam robot) by typing some random code. Though this might be difficult and annoying, it saves us hours of time and helps to control spam.
Will you write reports every day?
We will try but already know that it will not be possible as we will be too tired, to grumpy, too out of battery power, or too far away from any internet connection. So likely we will write in batches, whenever we have a few hours or day off and post them when needed.
So do I need to check every day to see if you updated something?
No, you can make it much easier to follow us: either add our RSS feed to your feed reader, so you get a notice when a new feed is available
If you have no idea what RSS is, just subscribe to our mailinglist and get a maximum of one email every day new updates are posted. You can do this on every page, see the box at the right side, near the top of the page or just click here.
Why does http://WorldOnABike.com change to http://harry.biketravellers.com ?
World On A Bike .com is just easier to remember and to tell people. It automatically forwards to the real website which is located at harry.biketravellers.com. On http://BikeTravellers.com everybody that cycles can open a free weblog (yourname.biketravellers.com), try it yourself, many others have already done so.
Where are Ivana's reports?
What are those 'Google Ads' I see on many pages?
These are small advertisements, supplied by Google. We do not choose them, the content is based on the content of the page, so a page about Alaska will give you ads about Alaska tours or land. It might show things we do not support, like drilling for oil in Alaska.
Every time somebody clicks on them, we get a few cents, which helps to pay for our website costs. So if you are interested in the ads, please check tem out as you are helping us.
Do not just click a lot of ads just to help us, as Google might ban our account if some people repeatedly click our ads from the same computer/IP address. So only check the ones that are interesting to you.
How & costs & support
How can you afford such a trip?
We spend much less than you think, we saved some money the past years and might make some more on the way.
So, how much will you spend?
North America will be the most expensive: until we reach Mexico, we will spend about $15 per day (together). This means less than $3000 in the first 6 months.
Then from Mexico down it will probable be less than half of that.
In total should be less than $10,000 together for the entire trip.
That is less than my parents spent on a luxury 2-week safari trip last year! How come you can live so cheap?
We do not need much. We have our tent, so we do not need to pay for hotels. We camp out in the wild or at people's lawn's, so do not pay for expensive campsites. We will stay in cheap hostels in cities -in central America, you can get these for a few dollars-, but will also do a lot of Couchsurfing/Hospitality clubbing/ WarmShowering: staying with people for free, in return we will host them later.
We cook ourselves, so all we need is some pasta, some veggies and some candy bars to get us through the day. We drink water we get from people or take it from streams and purify it with our Steripen. We recharge our batteries using our SolarSupra solar panel. We never buy bottled water, that is a waste of money and plastic.
We do not have an expensive taste and have no space for souvenirs on our bikes, so all we take home are pictures and memories.
Our sponsors supplied us with most of our gear, so we had little costs up front.
It is still a lot of money, don't you have any other costs as well?
We do not have kids, we do not have a car and have no debts, we never bought and will not buy anything we cannot afford. We have a house, but that is rented out so almost pays for itself.
So things we need to pay are: food & drinks. Sometimes camping fees (mostly we camp in the wild or on people's lawns); Internet connections along the way, spare parts for our bikes; replacements for clothes we wore out; park fees; visa fees; entry fees for places we want to visit etc.
It is hard to plan exactly how much we will spend, but we want to see things along the way and will buy some dinners or breakfasts along the way when we are too tired or lazy to cook or think we deserved it after cycling another 1000km or a tough day. Basically we are on a tight budget, but will not let this stop us from enjoying the places we visit.
Is there any way we can support your trip?
Yes! Many ways, first of all you can sign up for our newsletter or RSS feed. Forward them to others that might enjoy reading travel stories, stories about people and culture, cycling, environmental issues, America.
Leave comments on the posts. We love to read them, they keep us going. Small notes from friends and strangers are huge boosts for our confidence and can help us through rough and difficult times.
Just think of this website as a free interactive travel magazine subscription. If you enjoy reading our stories and seeing our photos, you can thank us by donating some money using the form on the right side of every post and page, using PayPal or credit card. Every small amount is welcome, just think what you would spend on a magazine or book.
Check out the Google ads if there is something interesting for you (do not click them all just to help, see notes above).
Link to our websites or specific reports or photos from your own website or blog. Add us to Stumble Upon, ReddIt, Digg etc. get the word out that it is possible to travel by bicycle!
Invite us to speak in your town. We can give presentations about our trips, about climbing the 7 summits, cycling Asia, Bike Travelling or a photo presentation of the culture and nature of the 7 continents . We can charge admission fees or just ask for donations. We love to tell about our trips and spread knowledge about cycling and the environment.
Buy something from our shops, see the links above. We get a small percentage of every item sold and you promote cycling!
Invite us for dinner or to stay at your place or recommend addresses to sleep (friends, family) or even just places to pitch our tent
Start cycling yourself!
14th July
Happy B-day Shaunie Shiny Shoes and PJW!
The first hour was flat but muddy, which made it hard going and slow. At least, there were not too many mosquitos while cycling, so we could leave the headnets off. Suddenly the hils were back in full force.
Dalton Highway Rule #8 for cyclists: if a hill has a name, it is mostly bad news as it will be very steep..
We were definitely nearing the Brooks Range now. The vague shapes we had seen in the distance were coming into focus and turned out to be nice mountains. The road meandered through but was already slowly going up as well. The road looked friendly, but the many remains of exploded tired reminded of what the Information booklet had told us: Read more
People who know me, know that I am generally quite laid back. I hate a few things though: intolerance, dishonesty, general stupidity. And mosquitos. Especially mosquitos.
The wind was gone and the air was filled with a low but constant buzzing noise. Millions of mosquitos were hovering above the tundra. In Alaska the mosquitos are not just annoying, they are annoying in very large quantities and sizes. We were warned about them and fortunately Peter from Outdoordacht had supplied us with some Sea to Summit head nets. It might sound excessive, but unless you have experienced this, you have no idea how crazy these bugs can drive you.
We had our breakfast inside our tent and then packed quickly and headed off. We noticed that as long as you were cycling, it was still reasonably doable, but when stopping, even for a moment, the mozzies would attack. we almost wished for the wind to return, not sure yet, which of the two makes the cycling the hardest. Read more

Mario Wolff is also someone who has turned his passion into his living. A climber by heart, he is nw the importer and dirtibutor for Vertical clothing as well as Stic-it (for rockclimbing) as well as Tear Aid, clever stuff that you can use to fix everything.
His main focus is on the wonderful Vertical clothing. Vertical (French website, Dutch website) uses the innovative material MP+. More breathable than Gore-Tex, stronger and more durable. The jackets he gave us are fully waterproof and weigh only 200grams!
Mario went throug a lot of trouble to make sure our new gear arrived on time, many thanks for your help Mario!
The gear is very nice and though primarily focused on climbers, very useful for cyclist and other travellers and adventurers as it is durable, functional but light and pretty as well

Mario Wolff | Bezoekadres: Stemerdingweg 7a 3769 CE Soesterberg | Tel nr 06-48172310 | E-mail: info@mariowolff.nl | kvk nr. 34247900 | Btw nr NL146386723B01