When we entered La Paz, we checked our CouchSurfing inbox for replies to our requests.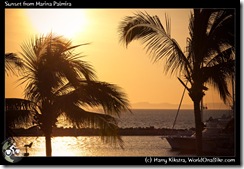 Actually a few people had replied positively, including Brian from the US, who had just left for California. Still he offered us the use of an empty apartment he owned and we gladly accepted as we had our own mattresses & stove. When we checked our email again to look up the directions, he had written us again:
'I decided to invite you to use my regular apartment… You need a good rest.'
Just a few simple words, but they turned out to mean a lot more. His 'regular apartment was not regular at all and perfect for us. Quiet, with a view of the sunset from the huge balcony, a swimming pool below and Wi-Fi to catch up with work. Coming from 1400km of dust and heat, we were literally overwhelmed and got again convinced that if you work hard enough good things will come your way…
R&R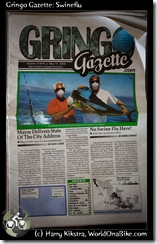 We spent the next days resting and recovering from the desert. Brian's apartment was at the Northern end of the Malecon, the nice stone pedestrian boardwalk that extends to 2km on each side of the centre.
We rode to town often, to eat (great tacos at El Rancho Viejo), to relax, to see the town and to prepare our trip to the Mexican mainland. Brian's blender worked overtime to make liquados from all the fruit we fed it.
We also visited Brian's friend Claude Vogel, who not only owns a great-looking restaurant called Capricho's (merci for the margarita's Claude!), but seems to singlehandedly have photographed all of the photos appearing on Baja Sur's postcards. He has published several great photo books, showing all the well- and unknown spots of the peninsula, it was fun to chat with a fellow-European living in Baja.
One night we entered the town square –as it is a few blocks away from the sea it is actually not visited much-, where we heard a strange succession of words through a speaker:
'El tortuga (the turtle)! El Negrito (the small black kid)! El borracho (the drunk)!'
first we thought it was a strange Spanish class, but we found out that the side of the plaza was lined with chain-smoking old ladies playing bingo, with pictures instead of numbers 🙂
Bike goodies!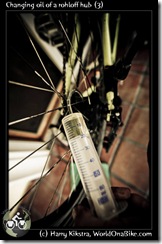 Robbert from Santos Bikes had sent us a package from The Netherlands, to a La Paz address of a friend of a fellow cyclist. It had arrived perfectly and not only contained new oil for our Rohloff gear hubs, but also a new headlight! Mine had already been wrecked in the plane to Fairbanks (a few centuries ago?), and though I managed to fix it a few times, it had definitely died. The new one works even better, so we can safely be caught out in the dark again.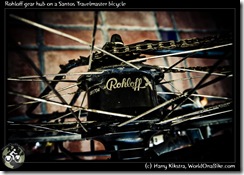 The 14-speed Rohloff gear hubs we use on our Santos Travelmasters are almost maintenance free, the only thing you need to do is change the internal gear oil every 5000km/3000mi. We were getting close to 10,000km, so we changed the oil for the 2nd time and also tightened our chains a bit.
I will write up a detailed manual when I have time, but basically it is very easy: inject cleaning oil, ride around to mix and clean, take out old oil and cleaning oil and inject new gear oil. Easy as that 🙂
Getting rides on the Net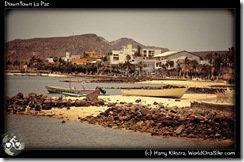 We had already gotten to know The Net in Juncalito. All cruisers get together on the VHF channel 22 every morning at 08.00 to discuss the weather, news, outgoing mail, stuff to trade and more. They answer questions for newcomers in the area and offer very useful info. One section is called: crew & rides, where the cruisers can mention if they need a crew and boat-less people like us can indicate they need a ride!
We preferred a boat ride to the ferry. Not just to save some money, but also so we could learn a bit more about the cruiser's way of life we had gotten to know the week before. Also it would be safer to watch our gear then when tucked away between large trucks on a ferry…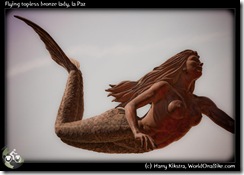 Brian had a handset he told us to use and we got on The Net several times with our story and a request to get a ride across the Sea of Cortez. We even left a note at the Club Cruceros clubhouse, where many cruisers come to exchange books, borrow DVD's, chitchat and drink coffee, but had little luck. The problem was that hurricane season was approaching and most cruisers were on their way North, back to the US or at least Baja Norte.
We met one couple that was till planning on crossing, but their boat, the "Good News", had a broken autopilot and were waiting on replacements parts to come from the US and had no idea when and if they were going ad if there would be space for us…
Free ferries for the next cyclist & more Good News!
Fellow cyclists Anna & Alister (http://www.thefuegoproject.com/) had kindly sent us a lot of information about the crossing. They were the first to point us to the fact that besides the well-known Baja Ferries, crossing to Mazatlan, there is another ferry company, called TMC (http://www.ferrytmc.com).
Though they are marketed as a cargo ferry, they also transport cars, RV's, foot passengers and cyclists! They charge quite a lot less than Baja Ferries (http://www.bajaferries.com), especially for cyclists with a fully loaded bike. We got in contact with them to see if they maybe would like to sponsor us in exchange for some exposure, here on our blog, so other (bike) travellers know about them.
They agreed quite quickly ad offered us a free crossing for us and our bikes! 🙂
But that same afternoon we got Good News! Literally, as captains Michael & Deborah told us that the spare parts would arrive in the next days and that they would like to invite us on their boat to get to know each-other.
We had a nice time and even though they already had agreed with another traveller to take him along, they said that we could fit as well on the 12m boat, though it was not yet clear where we would fit our bikes and gear…
We took the chance and told TMC Ferries that we appreciated the offer a lot, but that we were going to cross on a sailboat instead. I asked them if we could maybe offer the next cyclist a free crossing instead? Again, they agreed, so if you are a bike traveller reading this and are looking for a crossing from La Paz to Mazatlan? Leave a comment below, the first ones to comment (arriving in La Paz this year 🙂 will get a free crossing, we will put you in contact with the right persons.
We had to say goodbye to the swimming pool and the comfort of a home. It was time to start packing our bikes again, but this time not for the road, but for the sea…
Coming up next: WorldOnaBoat!
We had spend another night in Champagne, hung over from all the food! We headed out on the old Alaska Highway and took a look in the old Indian Village nearby. It is more like a museum, with some examples of how the people lived before the days of the Highway and the 'white men'. Though it was closed for the season, we wandered around, through the different huts. It had a very high 'Blair-witch-project' -level and Ivana wanted to leave quickly 🙂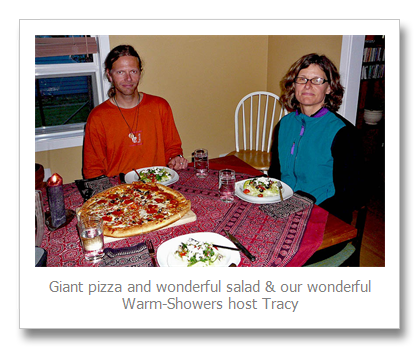 It had started raining again and though it stopped for a while, it came down with full force when we were about 30km away from Whitehorse. I was freezing, but Ivana -who did not have any rainpants- was even worse. We went to the first open store and asked if we could make a call. 10 minutes later, Tracy picked us up and took us to her house..
Tracy is one of the 6000+ people on the Warm Showers list. These are biketravellers from all over the world, opening their house for other cyclists. This can mean anything from a place to pitch our tent to a spare bed. No money is exchanged, as in the end most hosts will get some Warm Shower elsewhere. As the host are cyclists, they know what other cyclist need: mostly a warm shower (hence the name), a place to wash and dry laundry but also a lot of food 🙂
If you want to meet some nice people on a bike, usually filled with stories, sign up yourself and host us or other biketravellers.. Read more
14th July
Happy B-day Shaunie Shiny Shoes and PJW!
The first hour was flat but muddy, which made it hard going and slow. At least, there were not too many mosquitos while cycling, so we could leave the headnets off. Suddenly the hils were back in full force.
Dalton Highway Rule #8 for cyclists: if a hill has a name, it is mostly bad news as it will be very steep..
We were definitely nearing the Brooks Range now. The vague shapes we had seen in the distance were coming into focus and turned out to be nice mountains. The road meandered through but was already slowly going up as well. The road looked friendly, but the many remains of exploded tired reminded of what the Information booklet had told us: Read more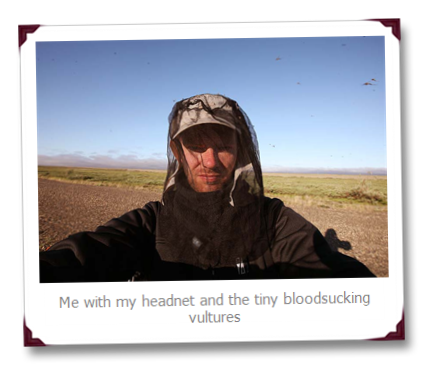 People who know me, know that I am generally quite laid back. I hate a few things though: intolerance, dishonesty, general stupidity. And mosquitos. Especially mosquitos.
The wind was gone and the air was filled with a low but constant buzzing noise. Millions of mosquitos were hovering above the tundra. In Alaska the mosquitos are not just annoying, they are annoying in very large quantities and sizes. We were warned about them and fortunately Peter from Outdoordacht had supplied us with some Sea to Summit head nets. It might sound excessive, but unless you have experienced this, you have no idea how crazy these bugs can drive you.
We had our breakfast inside our tent and then packed quickly and headed off. We noticed that as long as you were cycling, it was still reasonably doable, but when stopping, even for a moment, the mozzies would attack. we almost wished for the wind to return, not sure yet, which of the two makes the cycling the hardest. Read more