After I had asked the noisy neighbour to shut off their generator (which was outside their big RV!), we had a peaceful night, without any bears. Even the wind had stopped and in the morning we had a great view over the Meziadin Lake.
The way to Stewart is only about 65 km and with the sun in our face, it was a pleasant ride. The scenery is very impressive, with huge glaciers hanging on to steep walls. The road itself climbed steep for a while, but leveled out in front of the famous Bear Glacier.
Not only well-known for being one of the most accessible glaciers (the road passes right in front of the lake), but also as a backdrop in the movie Insomnia (with Al Pacino & Robin Williams). Though even in the short period since, it has retreated visibly and for the first time the glacier is no longer touching the lake directly.
The strong headwind was pretty cold and soon we continued our way: downhill! Through beautiful scenery, we freewheeled all the way back to sealevel, the first time since we started at Prudhoe Bay, Alaska, a few months before.. Read more
It was hard to leave Tracy & Sylvester as we had felt so much at home in their place, but we had to hit the road, winter was catching  up…
We managed to delay ourselves until about 16.00 in Whitehorse and then left in a terrible downpour, and as the first few km were steep uphill to get out of the valley, we were feeling down. But the sky stopped dumping water on us and soon we found ourselves going up and down over rolling hills besides more Wonderful Lakes. We had set ourselves a new goal: get to Scott's Anarchy Farm! We had met Scott in the Potlatch (see previous post here) and he had invited us to visit him when we would pass.
Unfortunately he was not in the Greenhouse: a big plastic covered collection of wonderful smelling flowers and vegetables. We waited outside for some moments and cycled around in the area, but as we did not had the directions to their house, we returned to the greenhouse. The rain started again, and we decided to sleep inside the greenhouse, setting up our inner tent only. It was by far the best smelling campsite on our entire trip.
In the middle of the night we heard some noises and Scott came in. He did not seem to surprised to see us sleeping in the middle of hundreds of flowers and added one more log to the slow burning woodstove, so the temperature stayed above freezing.
The next morning he came back with coffee. A few weeks later he sent us a great poem, please check it out here on his 1000 Americans page. We stayed close to the warm fire all morning and only after noon, we packed our tent and continued riding through the rainy Yukon lake District. The wind was friendly and even with our late starts we did over 100 km, ending up late at a deserted state campground, close to Teslin lake.
August 28 – 30: through the lake District with Mate & tortas
We had promised ourselves to start earlier, and actually managed to get on our bikes before 8 'o clock! We arrived quickly at the small place of Teslin, where we spend several hours in the library. We were surprised at the many small libraries we met, there is so much great stuff to see and hear, most offer Internet access and the ladies running them are without exception all nice and friendly, so support your local Library and get your kids to read!
We spend some time in the Teslin Motel, working on our reports and chatting with Heather, who was on her way North, on a big BMW motorbike (see her picture here). We fixed her iPhone for her and chatted with this lovely woman, who was in great spirit.. Do not pass the Motel without seeing the hidden gem: a small museum with stuffed animals in the gift shop (some of Ivana's images are on Flickr here). This sounds much worse than it is, they have done a wonderful job. Oh, and the Wifi is free at the Motel 🙂
Ivana managed to cross the scary and long bridge, which had a steel bottom, through which you could see water below. As with most rivers, we had to climb a steep hill to get out of the valley it had created, but during the climb a van stopped. Read more
It was time to leave our friend named Alaska and meet another partner for the next few months, named Canada. We had so many good times and many bad times. It is funny how even a fictional line on a map can define a relationship. We felt like we had to say goodbye to family…
We had stayed another day in Tok, it was just too perfect to camp for free, behind a 24/7 gasstation and next to the supermarket. We had to take care of our belongings as there was a group of drunk locals nearby. We have noticed this often lately: small groups of native Americans, who walk or sit around with paperbags or just with a bottle of scotch. It is a sad sight and a result of many bad political decisions in a long row.
We met a few other travelers who stayed the second night on the same camp; a young cyclist from Quebec, who was on his way home and a couple from Argentina (www.amunches.com) who were at the end of their 6 year journey. It was nice for Ivana to speak some Spanish and to drink some mate, but also interesting to see that they were clearly tired. Tired of travelling, tired of telling their story. The next morning they left early, but they had left Ivana some rainpants, though they were not really suitable for cycling as we would find out soon..
We left with dry weather, but quickly the hills and the rain started. Ivana's pants ripped and one leg came off. We stayed at a very wet campground near a lake that probably was very pretty if you could see it. Only a few days later (fortunately) we read the report of fellow cyclists Tim & Cindie, who had seen a bear while camping here. We had been less 'bearanoid' as we had simply not seen any bears in Alaska outside Denali park, which in some ways is more like the Serengeti than the 'real world'…
The next day we were completely soaked again and Ivana was ready to quit and fly home to sunny Argentina… Just in time we passed a visitor centre for the Tetlin National Wildlife refuge. Two ladies, who lived all their life in the native village of Northway and worked as volunteers, came to the rescue. They gave us tea, let us dry our clothes and even prepared a few delicious sandwiches with salmon. Just before we left, they even gave some chocolate. It is people like these that we will take with us in our heart when leaving Alaska.. Read more
after we woke up in our church, we noticed that it was actually dry! Not only that, but the weather improved during the day. Oh, how life is so much easier with some sun. I know we will curse it later when in the heat of central America, but for now it was very welcome.
We passed quite a few roadhouses and motels, that were either closed for the season or closed altogether. Seems that the combination of higher gas prices (increasing the costs for the generators and heating) and lower number of tourists (also partly because of higher gas prices) already has put many businesses out of business. Still some smaller business like the Cappucino house at the Gakona Junction seemed to survive. Shame that most clients never leave their car and stop to talk with the friendly ladies that run the wildly decorated place. Louise warned us for the many wild bears that were on the coming stretch and showed us some photos of a bear on the side of the road that apparently was not afraid of humans at all, taken a few days before…
We had stopped for some internet at Gakona Roadhouse, a nice historic place in a beautiful setting. It was comfortable to stay there, but the late evening sun convinced us to go a bit further and so we managed to see the beautiful sunsets over the Wrangell-StElias national park, with its 2 dominant peaks (from this side) Mt Drum and Mt Stanford. Read more
We both had a very strong love-hate relationship with the Denali Highway. It is a bit over 200km/130mi long, but 80% of this is unpaved. Sometimes tougher than the Dalton, wilder than the Denali park road, and wetter than the Netherlands :). ladies & gentlemen, we offer you: The Denali Highway in pictures, with some words as well…
It started out ok, with some nice roads from Cantwell, but soon the gravel came back with full force. Ivana had a bad day, so I just stayed away from her; I bit on front or a bit in the back. That is usually the best thing to do, when one of us has an 'angry day', when all roads are terrible, the legs won't work or rain seems to hit you every minute. I was actually enjoying this road a lot.
It was nice to be away from the main traffic again. almost no people live here, rental cars are not allowed to drive these roads and trucks have nowhere to go to here, so all cars you see are travellers or hunters. All of them wave back when we wave at them and many stop for a chat. The landscape is simply stunning: from high mountains (even though most were hidden in thick, rainy clouds) to taiga forests and age -old glaciers. We cycled through valleys, crossed big rivers, saw al kinds of wildlife and met friendly people. We got rained upon, almost froze our hands and feet, downhilled in the dark and found cyclists' heaven, all in a few days. Almost too much to process. Pictures do not do justice, but I will share a few, together with some short stories from the road: Read more
July 24 – July 29: resting & recovering in Fairbanks
We spent almost a week in Fairbanks, relaxing and catching up on resting, washing, shopping & working. Besides the overwhelming abundance of We were pleasantly surprised food-wise on two occasions. First the day after we arrived at Ericka's place, they celebrated Miles' b-day and we were invited to share the pizza, coke and pie and meet some of their family.
The next day we went out to see a bit more of Fairbanks and we cycled around the town visiting some places along the way like the lovely Farmer's market, selling extremely expensive but . There were no video camera batteries for my camcorder anywhere in the city, so not sure if and what I can film before the next big city, which is Vancouver, 4000km away…
At the end of the day we visited the Pioneer Park, a place for tourists and locals to hang out. It is a bit corny, but they preserved and moved some of the oldest houses of Fairbanks here. We noticed a lot of people eating and unconsciously followed them to the source. We ended up at a set of tables, covered with fresh fruit, salad, chocolate cake, chips and meat. Besides it were a few large containers filled with cans of soft drinks, it was biketravellers' heaven.
As the other cyclists were sound asleep and they would be faster, Ivana & I left before them. We were greeted by a very strong headwind, which promised not much good for the next 30 miles up to the pass. Fortunately it was still dry most of the time and further relief was brought by some friendly people on the road.
When I stopped to wait for Ivana, I met a few women, who worked at the Toolik Lake research center. They were intrigued by our trip and even more by the Solar Supra solarpanel I had on the back (which charges even when in cloudy conditions). They took some photos, to share with their class and treated us on some homemade cookies, yummm…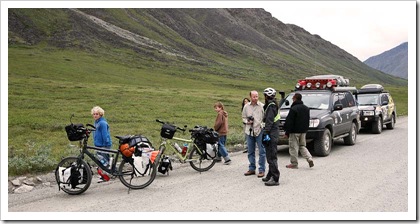 Just down the road I noticed two huge 4×4 vehicles coming our way. What struck me were not the many different stickers, but the Argentina- Alaska notice and I stopped them. It appeared to be the family of Hugo, which I will introduce in a separate post. we are starting to meet so many nice persons, that I am going to start a different category: 1000 Americans. Not sure if we will get to write about 1000 different people during this trip, but we will definitely meet them. For now let me just say that they gave what we needed most: a cup of coffee for Ivana and a Twix, Oreo cookies and some other treats for both of us!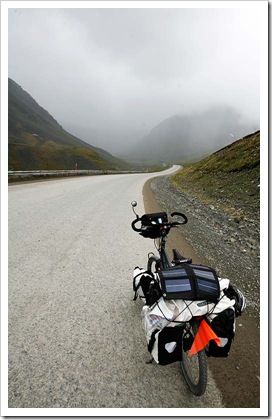 No more excuses now, we had to get up to the infamous Atigun Pass in order to cross the Brooks Range and the roads started to climb into the clouds. The rain came back as well and the final hours up to the pass were quite gruesome, chilling us to the bone.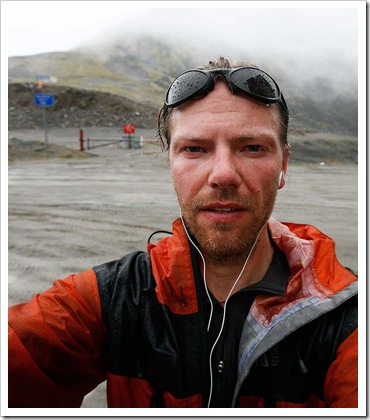 The last section was so steep that Ivana and I both had to walk for a bit. I arrived first on the pass, but as it is not a touristy road, there was no sign, no shelter & no place to hide from the storm. But luckily, a truck was parked and I could shelter behind, waiting for Ivana to appear from the mist.  Ok, into the wind and downhill! Read more
People who know me, know that I am generally quite laid back. I hate a few things though: intolerance, dishonesty, general stupidity. And mosquitos. Especially mosquitos.
The wind was gone and the air was filled with a low but constant buzzing noise. Millions of mosquitos were hovering above the tundra. In Alaska the mosquitos are not just annoying, they are annoying in very large quantities and sizes. We were warned about them and fortunately Peter from Outdoordacht had supplied us with some Sea to Summit head nets. It might sound excessive, but unless you have experienced this, you have no idea how crazy these bugs can drive you.
We had our breakfast inside our tent and then packed quickly and headed off. We noticed that as long as you were cycling, it was still reasonably doable, but when stopping, even for a moment, the mozzies would attack. we almost wished for the wind to return, not sure yet, which of the two makes the cycling the hardest. Read more
You lose all sense of time when it doesn't get darker at night. The sun doesn't set at 70 degrees North, but just circles around you like a vulture above a fresh kill. As we do not have watches, only our cycle computers and Lenny could tell us what time it was. The other cyclists were buys packing as they were on the 08.00 tour, but as our tour only started 6 hours later, we enjoyed the extra hours to relax for the first time in weeks.
When we finally headed over to the Caribou Inn, they had already finished and were preparing for their trip. As a biketraveller, you have to take care with your money, as you never know where you might need it. That is why we were hesitant to attack the $18 lunch buffet that the cyclists had raved about. Once we took our group picture outside and said goodbye to the others, we had made up our mind to feast; but we were too late as lunch was over.
Only then we found the hidden secret of the Caribou Inn: the packed lunch. For $10 you could take a quite large paper bag and fill it with whatever you like. I am sure they had no idea how many salmonburgers, hamburgers, ham/cheese & salami sandwiches, chocolate cake, yogurt, fruit juice and potato salad a pair of cyclists could fit in just one bag 🙂 Read more
Amsterdam & Vries, Drenthe
We have rented out our house for the next few years and are effectively homeless. A great feeling 🙂
Now we are talking with our gear sponsors to see what they can arrange. It is great to see the faith they have in us and our trip and the wonderful support they are giving. Soon we will talk about them some more and we will set up the special sponsor pages.
For now we are enjoying testing out our new Santos bikes. Wonderful machines. Mine will be called Kowalski, but Ivana's green yak still needs a name, any suggestions?


More later, now we are packing for a short Istanbul trip, when we are coming back in a few days, we are supposed to either see a lot better or see nothing at all. Laser surgery, here we come!