14th June, From Puebla to Tlachichuca: dust devils and up the slopes of the volcano. 52km, about 500m up
After our goodbyes to Hiram's family, we found our way through the busy streets of Puebla, heading North East to to the exit of the city, the main highway towards Veracruz on the Gulf coast. Our mums would arrive in Cancun, more than 1600km away via busy highways, in 2 weeks and we had to be there several days before to arrange accommodation, trips etc. We needed to make at least 150km per day, either cycling or taking a ride. Still there was one thing left to do, before heading for the Mexican Riviera Maya…
The toll road was busy and noisy as was to be expected and during the day we took 2 rides until we arrived at a slightly less busy road heading North (no!!!). After turning East again, we headed in the direction of a huge pile of clouds. The road looked flat, but in reality it was gently but constantly sloping up. It felt like we were cycling with our brakes stuck, or with a flat tire.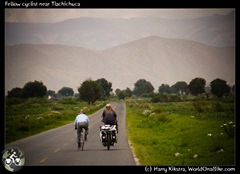 Ivana was just 100m behind when I stopped in a small town to wait for her, but she got right in a path of a dust devil, sweeping through the streets and depositing Madre Tierra all over her. There were dust devils everywhere on the fields and we had to sprint a few times to avoid one.
At about 2400m altitude we reached our goal for the day: Tlachichuca, a slightly depressing town, with just one real benefit for us: it is the starting pint for ascents of the highest mountain of Mexico: Citlaltepetl, better known as Pico de Orizaba! Depending on the source, it is between 5611 & 5700m (approx 18,700ft) high.
This makes it not only the highest point of Mexico, but also after Denali (Alaska) and Mount Logan (Canada), the 3rd highest peak in North America. It is not a technical climb, merely a long hike, but still crampons and ice-axe are needed as even though it is shrinking rapidly, there is still a glacier on the upper part.
As I have many US clients for my organised 7summits.com expeditions to Kilimanjaro, Aconcagua & Elbrus, the summits of Africa, South America and Europe, it would be nice to offer a climb of Pico de Orizaba as well. It is very close to the US, affordable and a good way to test how you are doing on ice, and at a similar altitude and you can use it as pre-acclimatisation, making the other climbs a lot easier.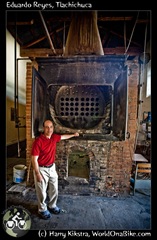 I had gotten in contact with the best-known local organisation, led by the Reyes family. For many generations, this family has been an important factor for the town of Tlachichuca as well as for the exploration of the Pico.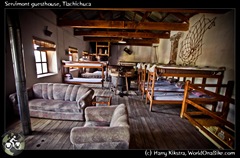 I met up with Gerardo Reyes, who showed me around their family mansion, a former soap factory, where we spent the night.
Though he could not arrange a guide at short notice, we arranged that his driver would take us to and from the base camp hut the next day, so I could climb it by myself.
15th June: Tlachichuca – Base camp Pico de Orizaba, 2400m – 4200m (8000-14,000ft)
Gerardo was kind enough to borrow me some climbing gear as I had almost nothing with me besides our camping gear. Ivana had decided that she would not climb the mountain, but she would accompany me in to the base camp for support.
The huge 4wheel drive took us through small mountain towns, through pine forests over a very bumpy sandy road. I had read that sometime people attempt to drive up here in regular cars, but it seemed completely impossible to me. It would make a nice downhill, but only on full suspension bikes; Kowalski would get a heart attack here and maybe even break something.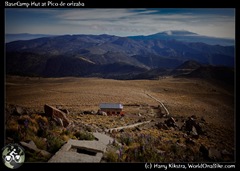 The main climbing season is in winter when the hut is often completely packed with people camping outside as well. Now the hut was totally empty, leaving us to choose from the few dozen wooden spaces. We felt the altitude difference and I only went for short hike up the remains of the old defunct concrete aquaduct before heading down to the cold hut, removing several Coca Cola cans from the trail on the way down.
The driver had shown us a small source of fresh and clear water and we spent the rest of the afternoon reading, cooking, eating and drinking tea and soups to hydrate well in order to prevent altitude disease.
16th June: Base camp to the glacier: 4200-5100m (14,000-17,000ft)
I woke up early for a hike up the mountain. The route description I had read and heard were very broad and vague and also outdated as the glacier had retreated considerably in recent years. For the climb to the summit I would have to find my route in the dark in order to come safely down during the day time, so today I was going to find my way up to the glacier.
The start was very easy as the concrete remains and the well-beaten path were clear. But then the path split several times forcing me to check several variations before deciding on the best one.
The last section before the glacier had been covered by ice not so many years ago, but now it was a rocky mess. There were little 'stone men' and other route pointers everywhere, rendering all of them useless. This section is now called The Labyrinth, as it is easy to loose the way; that is, if you know it in the first place 🙂
Still it was not to steep and with some scrambling I found a quite straightforward way up to the plateau, where some soft sandy ridged led me to the glacier. It looked sad, more like a thin crusty snowfield than a mighty glacier. I guess that in only a matter of decades, maybe even years, it will be reduced to some scattered snow patches before disappearing forever.
It felt good to be in the mountains again. Even on a relatively easy mountain like the Pico, the fresh air, the views, the excitement, the thin air and the exercise all made me feel very alive as always. It was nice to be the only one on the mountain, the solitude makes the experience stronger.
The strong cold wind and the upcoming clouds reminded me of the force of the mountains and I hid behind some rocks to eat some sandwiches and drink more, staying as long as possible without cooling down too much, to maximise the acclimatisation effects of this reconnaissance trip. Even with searching it had taken less than 3 hours to the glacier, and from here the route would be straightforward to the summit, so I felt good about trying for the next day.
The way down through the cloudy Labyrinth turned out to be difficult to find than the way up. Several times I found myself on top of a steep drop, before the not so obvious, but much easier route down opened itself up for me.
Later that afternoon I heard a car coming and soon we were surprised by 3 new visitors: Anabel, a young climber from Spain, her boyfriend Victor and a local guide named Guadalupe.Victor was not climbing, but Anabel and her guide were going to try for the summit this night as well, so we decided to climb up together for safety and for the company.
17 June 2009: climbing in the dark
We woke up at 01.00, had our breakfast, packed everything and headed into the dark night before 2Am. It was cold outside, but at least the rainy clouds from the day before had disappeared, making way for thousands of stars. We chatted about our climbs and the mountains and time passed quickly. We went slower than I had done the day before, but as Guadalupe knew his way without any hesitation, we made it to the start of the glacier in about the same time as the day before.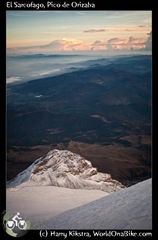 Anabel was feeling the altitude and was slowing down. After we had put on our crampons, Guadalupe tied her to his rope and went first. I followed shortly after, but did not go on the rope. I liked the feeling of climbing alone and it gave me time and space to stop for pictures without bothering anybody.
The climb up the glacier was straightforward as expected. We slowly switch-backed our way up, while the sky in the east slowly turned purple, then orange as the sun rose behind the storm clouds of the Gulf coast, showing the mountains, clouds, cities and fields around us.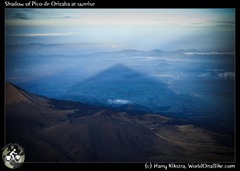 Anabel was almost grinding to a halt and was not sure if she was going to make it, but with encouragement from two sides, she continued slowly but steadily.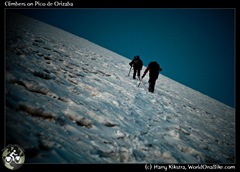 The shadow of Pico de Orizaba projecting on the fields appeared on our right when the sun made it above the clouds and with the sun came a new energy, pushing us up the glacier to the rocks of the crater rim.
The summit of Mexico!
It was almost 07.20 when we walked along the Crater edge to the mangled iron that once was a summit cross.
Even with the many stops on the glacier, it had taken less than 5.5 hours, which was very good.
We congratulated each other with being the highest people between Alaska & the Andes.
The weather was great and we took our time to eat, drink and take plenty of pictures, before heading down the glacier, here is a selection ( click to enlarge, more photos are in the photo section here).
Running down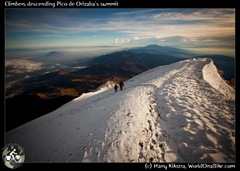 It was a quick walk down, as the snow already was softening and with the thicker air, Anabel's energy returned. We sped down the rocks and were greeted outside the hut by Ivana & Victor, who were barely awake. They wondered if we had made it as it was only 10 'o clock!
The others went down quickly, but we had to await our ride back, that was scheduled for the afternoon. After another bumpy ride down we arrived back at the Reyes mansion, where a warm shower was our reward.
18th June: to the lowlands!
I would not have liked to miss the great days in the mountains, but now we really had to hurry to get to Cancun in time, we had to get moving! We need to get a lot of rides or take a bus, but still there was one more section to cycle that we did not want to miss: downhill 🙂
Kowalski! Status report!
Knees are doing quite ok, and with the upcoming break in Cancun I am positive that we are able to continue cycling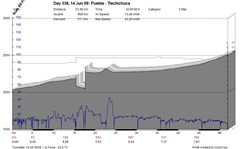 .
Here are some figures you might enjoy:
Distance cycled: 10,241 km (6363 Miles)
Days on the road since Prudhoe Bay, Alaska: 341
Days actually cycling (riding days: more than 25km/15miles): 146
Time really spent cycling (not including stops, waits, lunches etc): 695 hours for Harry, probably 750 or so for Ivana, as she cycles a bit slower.
Average real riding time on the riding days: 4 hours and 46 minutes per day
Average speed for Harry since Alaska: 15km/hr or 9.3mi/hr
Flat tires: we did not really keep count, but I think about 6 for Ivana and about 5 for Harry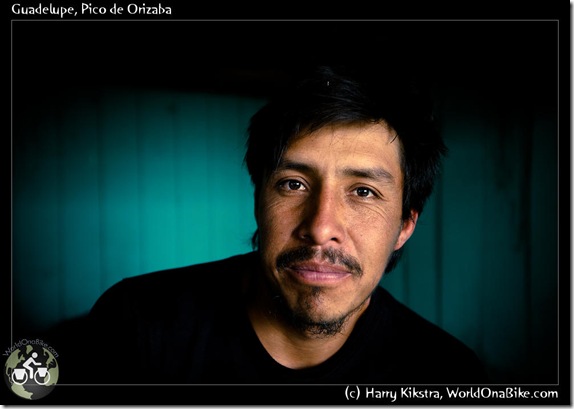 Guadalupe is a mountain guide and has climbed the highest mountain of Mexico, Pico de Orizaba, more than a hundred times. Still he enjoys the climb and the views from the mountain and is always cautious when climbing up, knowing that the conditions on any mountain can change quickly.
This picture was taken in the base camp hut after yet another successful climb to and from the summit.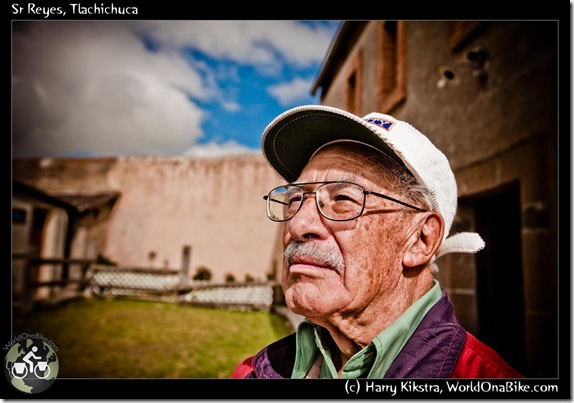 Don Francisco Reyes is looking at the summit of Pico de Orizaba, from the yard of his mansion, the former soap factory in Tlachichuca.
The family Reyes has been involved with the exploration of Pico de Orizaba, the highest mountain of Mexico, for decades and is still offering services for climbers, both commercial as well as rescue services, using their Red-Cross Unimog.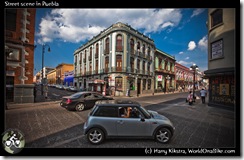 It was less than 10km from Cholula to Puebla and the cities are basically connected. With 1.5 million people the city is huge (3rd largest of the country), but the historic centre has remained largely intact and is very attractive.
We had been invited by CouchSurfing host Hiram and his family, who own and run a very popular Mexican restaurant together. Still he had time to do a quick city tour with us and gave us a lot of tips of where to go while he was at work.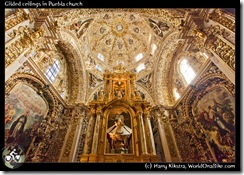 One impressive place he pointed out is the fully gilded Rosary Chapel of the Templo de Santo Domingo, which is so shiny, you almost need sunglasses.
The zocalo or main square is the courtyard of the huge Cathedral, with Mexico's highest towers. Rich people see it regularly as it appears on the 500 pesos note (about USD$ 40, more value than most Mexicans see in one bank note).
But maybe the best part of Puebla is just strolling around the centre, through colourful streets lined with colonial houses, with patios and balconies.
Tourists and locals are enjoying themselves everywhere on the terraces and restaurants and in the many shops lining the streets.
Fiesta
Puebla has always been a Catholic stronghold and this has resulted in many religious celebrations, many of which have the benefit that a lively street market will take place, just a few blocks away from the zocalo.
We enjoyed the different foods for sale, the fair rides for kids, the artesanias, the music and the general positive atmosphere. Had I said before that everybody should visit Mexico? Just in case I'll do it now: do not let biased political media scare you away from a wealth of culture, nature, gastronomy and friendliness, visit Mexico.
There, I said it.
Now, I invite you to take a look at some impressions of the market and the city. (Click for a larger version, these and more photos of Puebla are also in the photo section here).
Mexican treats in El Balcon
We arrived back late at 'El Balcon', the restaurant of Hiram's family. Late at night it was still completely packed and several people were waiting outside. No, it is not (yet) in the Lonely Planet as it is (just) 7 blocks away from the centre, but the locals clearly know where to go. Even when they changed locations a while ago, the clients followed for the clear and honest food.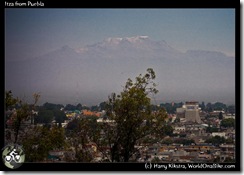 Hiram also took us up the Cerro de Guadeloupe, which is not only the place where the French were defeated on 5th may 1862 (hence all the street names all over Mexico named 5 de Mayo), but on clear days you can also see the silhouette of Izta, the mountain known as the sleeping woman.
He introduced us to his friend and fellow CouchSurfer Leandro. We did not have time to visit his place, but had some good discussions about life and saw some more hidden gems of the city together.
Hiram's parents were worried about our trip and hugged us close and shed some tears when praying for our safe journey. We are not religious ourselves, but the care and love of people that were strangers 3 days before keeps on surprising and warming us. So maybe the prayers do help as we will take care, so we can meet more great people like them and maybe one day return the favour.
Back on the road again..
Fortunately we found the way around the steep hill when we left Puebla, sooner than we would have liked. If we'd hurry, we would maybe have time for one more activity before we really had to get to Cancun.
Our mums were already getting very worried that there would be nobody to pick them up when arriving in 2 weeks. But before we would leave the Mexican highlands to get back down to sea-level, there was one place far from it that I wanted to visit…
More soon 🙂
Cycling through the outskirts of Metepec was still ok, but when we reached the main road from Toluca to Mexico, we had to use all senses we had to stay alive. We stopped at a gas station 20km out of town, as it was no use to try to cycle into the city any farther. There was a big climb ahead, the toll roads was completely full with cars and the free road even fuller, but then with trucks as well, neither having a decent shoulder for cycling.
We got a ride from a nice guy who worked for a TV station in the city. He took us over the high pass and down to one of the biggest cities in the world: depending on your definition, around 20 million people live in the valley!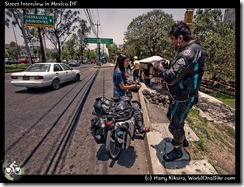 He dropped us off at his office, conveniently situated near the 'periferico', the huge highway, circling all around the centre of Mexico City. We were on our way to Ulises, yet another CouchSurfing host. According to the map, it was only about 10km to his house.
The periferico was the logical and fastest way, but filled with fast traffic as well, which we were not. Luckily, there was another road right beside it, with traffic lights and less hurry. As we still had some leftover free miles, we made it to Ulises' area quickly, only interrupted by a taxi strike that had blocked some roads. Just after passing the blocked area, a TV reporter on a motorcycle did a quick interview with us, right on the street, not sure if it made it to the evening news.
We made it safely to Ulises' house, but could have had some serious trouble as several metal drain covers were missing on the road, exposing holes without visible bottom, and 60cm/2ft across.
Ulises and his family welcomed us with open arms and treated us to some more Mexican dishes. Forget about Taco Bell, if you love real food (duh), you need to visit Mexico sometimes, as every region has its own different tasty specialties.
Ulises is studying engineering, specializing in the movements of the earth underneath the large buildings in the historic centre. he could as well been a professional guide if he wanted, as he shared his encyclopaedic knowledge about the culture and history of the City.
It was a shame that we had to rush, as there are many things to see in the city, that actually consists of many smaller towns and neighbourhoods, all absorbed into the giant metropolis, but with their own character and attractions.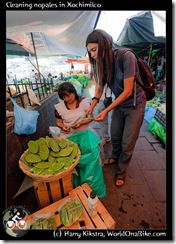 We ate a great and cheap lunch at the huge UNAM University complex, actually a city in itself, where the future of Mexico is being shaped. In the afternoon we visited the market and historic centre of Xochimilco, in the South part of the city.
Ivana took a quick lesson how to prepare the nopales, the flat cactus leaves that is a popular vegetable. We relaxed and took a Gondola tour through the ancient canals that are still open and of course enjoyed more paletas and drank a 'pulque, the ancient fermented drink that is still popular.
For about USD $10 you get a private boat for an hour, complete with a gondolier slowly pushing the boat through canals lined with nice houses & lush green trees.
It was low season and not busy, but besides a few other boats with tourists, there are usually also boats selling food, drinks and souvenirs, and even some Mariachi boats with a complete orchestra that will play a song for a small charge. There are party boats where the youth come to drink and dance and complete families have reunions and a good and relaxed time, while floating slowly on the ancient waters.
You would have no idea that you are in one of the largest cities in the world, that was completely shut down a few weeks before because of fear for the 'swineflu'.
Life in the city
There are enough sights, museums and monuments to keep you busy for weeks, if not months in Mexico City. The centre is well-known, the main square (where photographer Spencer Tunick once captured a record 18,000 nude people, a shock to the Catholic country) with the nearby ruins, government buildings, huge flag and the grand cathedral. As we had little time to do the city justice, we opted to see some of the lesser known pretty places where people actually live and work. There are parks, a small Chinatown, many big office buildings and all kinds of museums and interesting buildings.
We walked and rode the bus and the infamous subway between all of them and noticed that:
nobody was wearing the mouth covers we saw in the news, just some people serving in restaurants &
we did not get robbed, pick pocketed, kidnapped or molested once, how weird is that!
In the evening we visited some older towns that had been swallowed by the city. Friendly Tlalpan was as quiet as any small country town and beautiful Coyoacan should be one of the Pueblos Magicos, as pretty and relaxed as it is. Nope, again, no robberies and the air was clean.
10th June 2009: Interview and into thin air!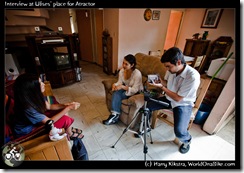 The next morning we were interviewed by some nice guys, for a new online magazine, called Atractor; the interview can be seen online here.
We had told Ulises that we wanted to see the Paso de Cortez, the famous mountain pass between the mountains Izta & Popo, where Cortez made his way to the valley. Ulises advised against cycling out of the city and as he loved the place, he offered to bring us there with his small car.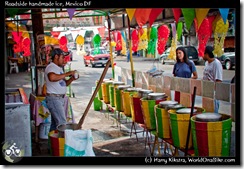 After lunch (Chicken with green mole!) we loaded our bikes on the bike rack, just fit all the bags inside and headed out the city. We stopped at one of the many handmade ice-cream stalls and continued up and over several nice little towns, situated on grassy fields.
The actual road up to the pass was steep, but paved and even though it rained, we slowly rose above most of the clouds, feeling happy we were not cycling/pushing our bikes through the rainy forest. The pass and a visitor centre are at about 3500m/12,000ft altitude, but the huts and camping spaces are higher.
We continued on a slippery and rocky unpaved road and made it all the way up to a large hut. It seemed deserted, but after knocking repeatedly, the guardian Miguel opened up and let us in. We had brought our tent, but for a few pesos, we could stay in the cozy hut, so we opted for that instead, enjoying the sunset behind Popocatepetl ('Popo'), with 5452m/18,000ft the 2nd highest mountain of Mexico.
Miguel enjoys living between the mountains and had taken thousands of pictures of the mountains and the wildlife on it and showed us many great ones on his laptop, while we ate some snacks together for dinner.
Popo, the warrior and Izta, the sleeping woman
Popo can no longer be climbed, as it is still very active and the constant fumes are lethal. Popocatepetl means 'smoking mountain' and only 4 years ago a large eruption shot 5km into the air keeping 30 million people that will be impacted by a larger blast awake…
Iztacihuatl ('Izta') on the North side of the pass and with 5220m only a few hundred meters lower, is dormant and still climbable, though the glaciers are shrinking. We did not have any glacier gear so just stuck to enjoying the magnificent mountains from the pass.
There are a lot of variations on the legend of Popo & Izta. Basically warrior Popo was in love with Izta, but was told by her parents that she had died when he was in battle. Izta was told the same about Popo and died of grief. Popo returned to find his loved one dead and laid her on the land, while resting sadly besides her.
This is why Iztacihuatl is known as 'The Sleeping Lady', as on clear days after snow, the mountain scarily resembles a woman lying down on her back, with the classic Volcanoe-shaped Popo at her feet. The several summits are known as the Knees, the Head and the breast.
The next morning we woke up early to see the sunrise with Miguel. It was cloudy, but far away we could see the perfect shape of the summit of Pico de Orizaba, the highest mountain of Mexico (and 3rd of North America, after Denali & Mount Logan). As to salute the sun, Popo shot a small eruption into the multicoloured sky.
We love seeing the cities and how the people live in faraway countries, but natural shows like these always impress more than anything else…
.
To protect the bike as well as the car, we mountain-biked down to the pass while Ulises drove the car with the luggage down. We loaded our bikes up at the pass and said our goodbyes and thank-you's to Ulises who had helped us out so much.
The east side of the Paso de Cortez is unpaved but the first few kilometres the smooth volcanic road was gentle enough. However, once we entered the forest again the road became horrible, slowing us down to protect the bikes, luggage and our spines. Big rocks were on the road and it was impossible to go fast, even though it was so steep we had to brake constantly. This lasted an hour or so, and if you ever are thinking about it: do NOT try to cycle up this side unless you are a professional mountainbiker without luggage…
We had lost a lot of altitude, but luckily there were a few free miles left when we hit the pavement and we zoomed through the fields towards Cholula. Usually we aim for the church if we want a place to have lunch as usually the Catholics have claimed the best and culturally richest parts of all Latin cities and normally the places are very beautiful.
In Cholula we had to search a bit for the pretty zocalo as Conquistador Cortes had almost 40 churches built after taking the city, but we ended up in the park, eating and relaxing from the downhill, only disturbed by a series of processions that came with terrible music and loud bomba's, very noisy explosives shot into the air.
We had aimed to get to Puebla but stayed in Cholula that night with another CouchSurfer that offered a last-minute couch. We almost passed the giant Piramida Tepanapa, unnoticed as it is so big and covered with grass, that it looks like a huge hill. As often, there is a Catholic Church built on top, but they also might not have known that there was the largest pyramid on earth underneath.
Cholula is nowadays connected with Puebla, but in order to see more of the latter, we decided to move to Puebla, to see the often acclaimed city with our own eyes… We still had to rush, but my feet had started itching when I had seen the highest mountain in Mexico from afar… Would there maybe be time to… ? Tune back in to WorldOnaBike next time 🙂
Kowalski! Status report!
Our bikes survived the downhill, though Ivana got a flat tire on the sharp rocks there.
Knees and back are ok, but we are getting a bit nervous as we have to be in Cancun within 2 weeks…
Total km cycled (excluding rides): 10,370 (about 6500 miles)
More pictures of Xochimilco and Popocatepetl can be found on the picture page: http://harry.biketravellers.com/photos . as always, larger versions of the images appear automagically when clicking on the small versions (when reading this on http://WorldOnaBike.com). Try it!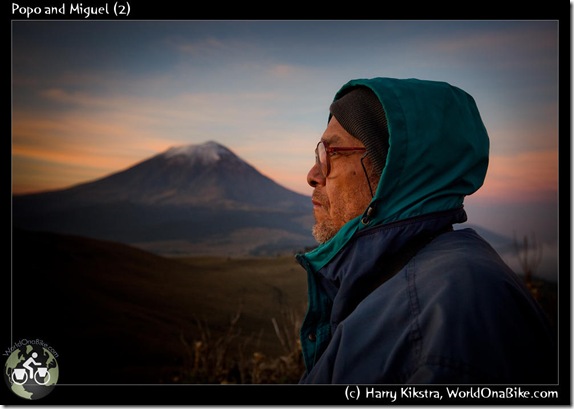 Popocatepetl is the active volcano close to Mexico City.
Miguel has been living close to the volcano for many years and has captured the many eruptions as well as the beautiful flora and fauna surrounding the volcano with his camera, rising before dawn in the hut he is guarding and living in, at 3800m/13,000ft altitude.
First of all: did you know that if you click on the images in the posts, that a larger version will appear on top of the page, all automagically? try it, it is quite cool (pictures need some time to load as they are now 1000pixels wide!).
We had planned to stay maybe a week in Seattle, but it turned out we would stay for 2.5 weeks… Seattle is mostly known for Grunge, Microsoft, Boeing & coffee and it generally considered a nice place to live. I hade been working for a small company in Bothell, close to Seattle, about 8 years ago and had been in the area a few times. The great thing is that the city is huge, but spread out over several peninsulas and islands and that the mountains and nature are never far away…
It was great to see Andy again, after meeting in Uganda and Amsterdam before. He was very busy filming a documentary, connected to the upcoming elections, but still he took us out to see some live music and we went for a great hike up Mt Pilchuk. Not a difficult climb -though it was quite icy & slippery near the top-, but very rewarding, with nice views over the  Cascade mountains. It is wonderful to live so close to the nature and especially snow-capped mountains, something I miss in Amsterdam.
On our way out we stopped for a beer in a typical loggers bar. Neither the beer, nor the people and especially the decoration wasn't very tasteful 🙂
Time flies when you're having pain..
The days went passed quickly. We had a lot of rain, but also some nicer days. We walked around the neighbourhoods and went for some short rides. Only once we went out for a real ride; even though there are some biketrails, you really have to look for them and most are not so scenic, mostly just designated parts of the road.
We had been travelling in fall colours since the Yukon, 3000km north, and Seattle was no different. The shots that make up this image were shot in just one street, close to Andy's place.
My back was starting to hurt again and as my diclophenac pills were finished and I could not get more without a prescription, I switched to an Ibuprofen-rich diet… Read more
Of course we took the road less travelled 🙂 Highway 37, The Stewart Cassiar Highway, or simply The Cassiar Highway. All names for this infamous road, almost 1000km long, known for the lack of services, bad weather, bears and gravel patches. The latter issue had been solved we had been promised, but the other?
2nd September: Nugget City – French Creek, 58km
The adventure started sunny, but dark clouds appeared, especially on Ivana's face when she noticed the first set of hills. "is this going to be like that for the rest of the road?" she asked. I truly did not know, but suspected that this was just the beginning…
Fortunately some nice people made our day by donating a full bag of cut-up watermelon, just what the doctor ordered as the sun had come out. Unfortunately the wind had come to and after a week of tailwind, we were not happy to have it in our face again, slowing us down.
Ivana spotted a black bear, right beside the road, I must have raced right past him on the downhill. At least that made her a bit happier and when we also found a nice deserted rest area called French Creek where we -after hanging our foodbags in the trees- could relax near a good campfire.
We were in the Yukon now. Most people we had met on the way told us that if we had not seen any bears in Alaska, we surely would in Yukon… Not sure if that is good or bad news yet.
We took a rest day in Beaver Creek. It was still raining most of the day and we could use the Wifi Internet at the 1202 motel for free, so we could update the website and do some work. The next day we were off and found that the wind was almost blowing in our backs, hurray! The wind is maybe the biketraveller's biggest friend or foe. It makes such a difference if the downhills can be done without any pedaling, it makes the following uphill look a lot easier, saving physical and mental strength.
When we stopped at a campground for some lunch we were almost attacked by a very persistent squirrel. He used all possible ways to get on our table and to try to steal our food and when chased away, made angry sounds from the top of a nearby tree! Guess he was also getting ready for winter, as it was still getting colder every day..
A little
down the road we spotted 2 big moose. It is still hard to imagine how tall they actually are; as we stay at a safe distance, we never get the chance to check if they really are about 2 meters (6-7 feet) at the shoulders and fortunately our bikes also do not have to test if they are really about 700 kilos each..
We were warned by the lady in the Beaver Creek tourist office not to stop at the White River lodge, apparently they had been very rude to travellers. When we arrived there, the rainclouds were just about to engulf us with full force, so we stopped to put on our rain pants. Immediately a guy came outside and told us to continue, as the owner apparently hates cyclists!
The rain was unavoidable, so we headed right in and got totally wet in about 10 minutes, when we arrived at a small diner and gas station, called Cook's. The office slash 'restaurant' was a complete mess, filled with all kinds of junk, rocks, canned foods and miscellaneous items. We got off on a wrong start when I paid for the can of Irish Stew and a big 1 kilo package of cookies. Read more
after we woke up in our church, we noticed that it was actually dry! Not only that, but the weather improved during the day. Oh, how life is so much easier with some sun. I know we will curse it later when in the heat of central America, but for now it was very welcome.
We passed quite a few roadhouses and motels, that were either closed for the season or closed altogether. Seems that the combination of higher gas prices (increasing the costs for the generators and heating) and lower number of tourists (also partly because of higher gas prices) already has put many businesses out of business. Still some smaller business like the Cappucino house at the Gakona Junction seemed to survive. Shame that most clients never leave their car and stop to talk with the friendly ladies that run the wildly decorated place. Louise warned us for the many wild bears that were on the coming stretch and showed us some photos of a bear on the side of the road that apparently was not afraid of humans at all, taken a few days before…
We had stopped for some internet at Gakona Roadhouse, a nice historic place in a beautiful setting. It was comfortable to stay there, but the late evening sun convinced us to go a bit further and so we managed to see the beautiful sunsets over the Wrangell-StElias national park, with its 2 dominant peaks (from this side) Mt Drum and Mt Stanford. Read more