Hi all, apologies for not posting before, we were too busy cycling, getting fed by friendly Canadians, watching bears and visiting doctors. I wil write about all of that soon, but first as promised, our day in Champagne:
We woke up to a nice day, which means: no rain 🙂 Before heading out towards the seductions of Whitehorse, we decided to cycle around in Champagne, which appeared to be a ghost town. We spotted some good campsites near the community hall, wondering why our 'hosts' had not pointed these out. Just when we were turning around to start our trip towards Whitehorse, noticed some smoke coming out of a building. We checked it out and found a few ladies cooking in a large kitchen.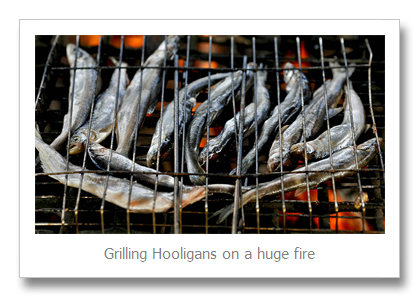 'Do you want some breakfast?' One asked.
Letmethink-yes!
'Sit down, you can stay for the Potlatch.'
We had no idea what the Potlatch (often called Potluck) was, but we found out during this wonderful day. It was one year ago that one elder of the Champagne-Aishihik First nation had died. Now, one year later, a spirit house was built on her grave and all friends and family came together for the celebration of this occasion and to remember her.
So during the day a row of people came into the huge community hall, from very young to very old.. We were happy that we could help out during the day. I helped making al the tables and chairs ready for 200 persons and grilled several hundred of 'Hooligans': some small type of fish. Ivana helped serving the people, there were many courses. We got fed ourselves as well: from Moosejaw soup to fish eggs to salad and salmon. Ivana convinced teh shy children that she could turn them into animals by painting their faces. We talked with the elders as well as the younger generations. It was all great.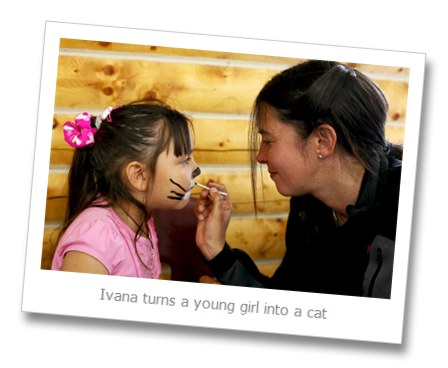 I spoke a while with Yoyo, one of the elders.
'So you can tell your friends that you were with the Indians and that they all wore feathers and such', Yoyo remarked.
I told him that that stereotype was not my impression of the First Nation people we had met so far. He looked at me, decided that I was good and started to talk about his past.
'You know, the younger generation cannot speak our language anymore. I am one of the last ones to speak it. Our language is lower to the ground, closer to the earth. If I forgot my gloves near a tree in a big forest 60 miles away, I could explain a friend where to look for them in a few minutes. In the high speech, this is impossible'. Read more
We were in the Yukon now. Most people we had met on the way told us that if we had not seen any bears in Alaska, we surely would in Yukon… Not sure if that is good or bad news yet.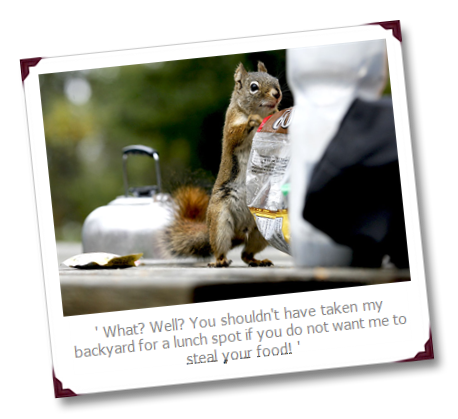 We took a rest day in Beaver Creek. It was still raining most of the day and we could use the Wifi Internet at the 1202 motel for free, so we could update the website and do some work. The next day we were off and found that the wind was almost blowing in our backs, hurray! The wind is maybe the biketraveller's biggest friend or foe. It makes such a difference if the downhills can be done without any pedaling, it makes the following uphill look a lot easier, saving physical and mental strength.
When we stopped at a campground for some lunch we were almost attacked by a very persistent squirrel. He used all possible ways to get on our table and to try to steal our food and when chased away, made angry sounds from the top of a nearby tree! Guess he was also getting ready for winter, as it was still getting colder every day..
A little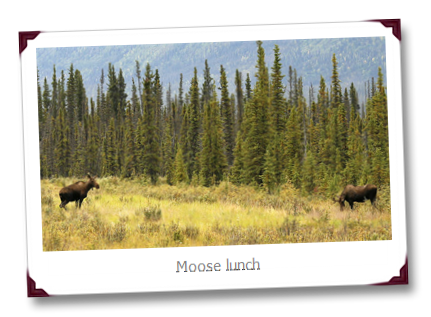 down the road we spotted 2 big moose. It is still hard to imagine how tall they actually are; as we stay at a safe distance, we never get the chance to check if they really are about 2 meters (6-7 feet) at the shoulders and fortunately our bikes also do not have to test if they are really about 700 kilos each..
We were warned by the lady in the Beaver Creek tourist office not to stop at the White River lodge, apparently they had been very rude to travellers. When we arrived there, the rainclouds were just about to engulf us with full force, so we stopped to put on our rain pants. Immediately a guy came outside and told us to continue, as the owner apparently hates cyclists!
The rain was unavoidable, so we headed right in and got totally wet in about 10 minutes, when we arrived at a small diner and gas station, called Cook's. The office slash 'restaurant' was a complete mess, filled with all kinds of junk, rocks, canned foods and miscellaneous items. We got off on a wrong start when I paid for the can of Irish Stew and a big 1 kilo package of cookies. Read more
August 2: Resting, Denali info & Huskies
We woke up late, still exhausted from the previous 2 days. It was nice to relax again, while catching up on some work, emails and laundry. In the afternoon we checked out the visitor centres at the beginning of the only road into the park. The Denali park road (not to be confused with the Denali Highway, which we will cycle the next week), is a dead-end road that goes on for about 90 miles. It is forbidden for regular vehicles (cars, RV's) after mile 15, but cyclists are allowed, as long as they pay the park fees. There are special camper buses that can take two bicycles as well as a lot of backpackers and it is actually cheaper to take that bus to the end of the road than a regular tourbus.
We decided that we would catch the Camper Bus into the park and then cycle back down the road. There are two options to camp along the road: you can reserve a paid spot on one of the 3 or 4 official campsites or you can go 'backcountry camping': The wilderness areas next to the road is divided into different sections and you can get a free permit to hike and camp in one of the sections, as long as there are still spaces, as they limit the impact on nature.
This is a great way to see the park, you can meet bears and caribou on every corner. The sections where there are known families of wildlife, like bears with cubs or a fox-den, are closed off for camping and hiking. We reserved the bus out and two sectors for backcountry camping, so we could stay in the park for 3 days.