Day 39 – 42: August 19-22, Beaver Creek to Champagne: wildlife & fall colours and modern totems..
We were in the Yukon now. Most people we had met on the way told us that if we had not seen any bears in Alaska, we surely would in Yukon… Not sure if that is good or bad news yet.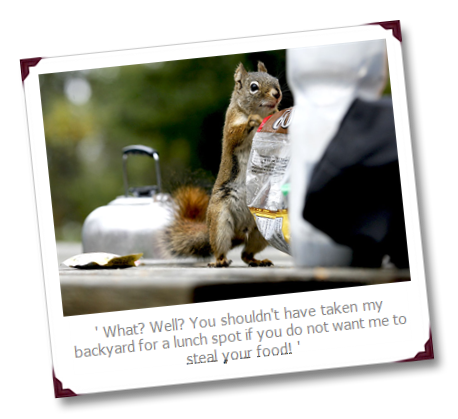 We took a rest day in Beaver Creek. It was still raining most of the day and we could use the Wifi Internet at the 1202 motel for free, so we could update the website and do some work. The next day we were off and found that the wind was almost blowing in our backs, hurray! The wind is maybe the biketraveller's biggest friend or foe. It makes such a difference if the downhills can be done without any pedaling, it makes the following uphill look a lot easier, saving physical and mental strength.
When we stopped at a campground for some lunch we were almost attacked by a very persistent squirrel. He used all possible ways to get on our table and to try to steal our food and when chased away, made angry sounds from the top of a nearby tree! Guess he was also getting ready for winter, as it was still getting colder every day..
A little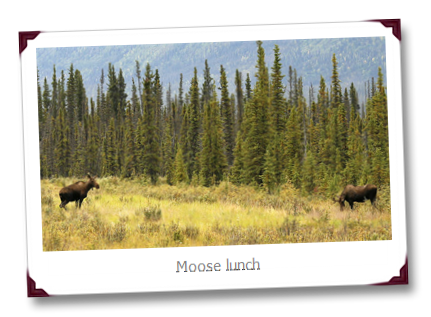 down the road we spotted 2 big moose. It is still hard to imagine how tall they actually are; as we stay at a safe distance, we never get the chance to check if they really are about 2 meters (6-7 feet) at the shoulders and fortunately our bikes also do not have to test if they are really about 700 kilos each..
We were warned by the lady in the Beaver Creek tourist office not to stop at the White River lodge, apparently they had been very rude to travellers. When we arrived there, the rainclouds were just about to engulf us with full force, so we stopped to put on our rain pants. Immediately a guy came outside and told us to continue, as the owner apparently hates cyclists!
The rain was unavoidable, so we headed right in and got totally wet in about 10 minutes, when we arrived at a small diner and gas station, called Cook's. The office slash 'restaurant' was a complete mess, filled with all kinds of junk, rocks, canned foods and miscellaneous items. We got off on a wrong start when I paid for the can of Irish Stew and a big 1 kilo package of cookies.
'Ah, she had coffee as well? That is $1 more.'
'But your wife invited us for a coffee?! We thought it was free!'. A discussion started about free coffee (everywhere in Alaska), but soon the conversation warmed up a bit. They told us about their life and the hard winters; in the end Mr Cook came out with a roll of tape to try to fix Ivana's rainpants. It did not work, but we appreciated the gesture. Meanwhile a couple came in, totally amazed about two motorcyclists they had talked to outside. They were going all the way to Argentina! I casually remarked that we were doing the same, but on bicycles and their eyes opened even wider. The man wrote for a local newspaper and wanted to interview us outside.
After the interview I went back in to say goodbye to the Cooks.
'What are you having for dinner?' Mr Cook asked me.
'Spaghetti probably, like every night. But tonight we have this Irish Stew to mix with it!' I replied.
'Do you like Moose meat?'
I told that that I wouldn't know as I had never tried it. 'Wait a minute.', e said and stumbled out the back.  A few moments later he came out with a pound of moose minced meat.
'We shot it a while ago, I just grounded the meat. Here, take it and have a safe trip!'
It was great to see how an irritated discussion turned to sharing food and stories within one hour… (See their picture here on the '1000 Americans' category).
Just an hour ahead we stopped at a government campsite. As we are on a budget, we asked the first couple we saw if we could share their spot. We could and we had a pleasant evening with them, sitting around the fire, sharing moosemeat, our travel stories and knowledge of foreign cultures and their life in Alaska and Northern Canada.
The next morning David and Karen even made us pancakes, but I had to take care when eating them as the hungry squirrels were even smarter over here, see this video that Ivana took:
[flickr video=2831079839]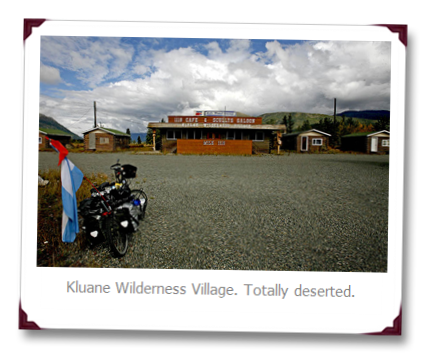 The rain stopped and it turned out to be quite a nice day. The wind was in our back and the hills not too bad. We passed quite a few empty lodges, either deserted for the season and some seemed just totally abandoned. This makes it a lot easier to find a shelter to camp in, but the food and water planning does need a lot more careful planning now as this situation will not change as the season is ending..
We ended up along the shores of Kluane Lake. The friendly owner of the Talbot Arm motel let us camp for free behind the Motel and we could use the Wifi and power to do some more writing.
The ending season is also very visible in nature: some hills look like it has been desaturated in Photoshop: dark green trees turn light green, before they become bright yellow. As different trees are in different stages, a nice colourful palette is created.
The next day we found out that it was good we had not continued a bit to the next camprground as there was a big sign that tenting was not allowed due to bear danger! So where are all those bears, we still had not seen anything…
Just a bit further down the road we got a free ride of 7 km, on the back of a truck. Not that we had asked for it, but we had no choice. At the end of Kluane lake, they were redoing the road and as they were blasting rocks, we we forced to take a break. Unfortunately they did not take us up the long steep hill that followed…
The day was nice though and the evening was actually very sunny, while we were cycling next to the gorgeous Kluane national park, home of Mt Logan, Canada's highest peak (and 2nd highest of North America, after Denali). We didn't know if we could make it all the way to Haines Junction though as we had been on the road for long. Also another Biketraveller we met told us that the next 7 km would be uphill. In fact it turned out to be almost 10km of slowly ascending, but then we got a 10km downhill as a reward!. Totally unexpected we zoomed a few hundred vertical meters down, without pedaling once and we arrived in one of the few junctions on the Alaska Highway and the first traffic light since Denali Park…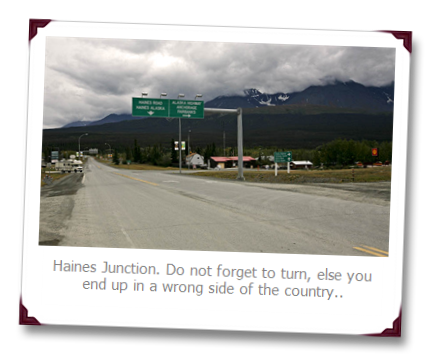 We stayed at the actual junction, camped behind the Shell station. The next morning we visited the famous bakery. The bread was actually not as nice as anticipated, but the cozy room with free Wifi was very much appreciated! We spend all morning there and after a needed visit to the first Supermarket since Tok, Alaska, it was already quite late before we hit the road..
Before we even reached the airport, located 2km out of town, I noticed something moving in the corner of my eye. A huge wolf was walking besides the road in the same direction as me. I proved that I am a better fiancee than a photographer, by grabbing the can of bearspray and not my camera and waited for Ivana, who was 100m behind me. The wolf looked at me, he was beautiful, different shades of grey with big piercing eyes. Before Ivana reached me, a truck passed, stopped and turned back to see -or maybe shoot- the wolf and the gracious animal smartly ran into the bush, Ivana never saw it.. Suddenly we were reminded of the wild we were in. The thin line calledd the Alaska Highway was just a small but deep scar in the huge wilderness where animals and native people had been living side by side for centuries..
We were not quite sure where we wanted to go, but somewhere halfway to Whitehorse, 160km away. Like often, we would just go and see what we would meet on our way. We had noticed that there was a small town called Champagne, which was on the old Alaksa Highway, cut off when the highway was redone a few decades ago. We decided to take the only possible road less traveled and ended up in Champagne. What we saw and experienced there was very special, so special it deserves its own post, so stay tuned to www.worldonabike.com for updates…
Meanwhile here is a picture of a very weird place in the town:
Kowalski! Status report!
The tailwind definitely helped our average speed, which was about 3-4km per hour higher than the headwind days. It made a few days of 100km possible, even when still climbing at least 500m per day, sometimes more. Kowalski & Greeny are still in top shape, Santos rules 🙂
You might also like