18 June 2009: Election tricks, graffiti & handwork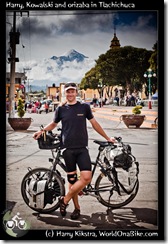 We did a quick tour around the central Plaza in Tlachichuca for some Wi-Fi search and some posing for pictures. I noticed a huge truck unloading hundreds of boxes with a growing crowd gathering around.
The boxes contained live chickens and were handed out to the villagers. The magazine salesman that had just treated us to some tacos viewed the scene with a look of disgust.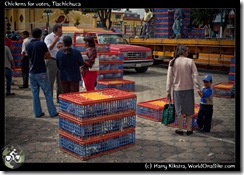 "It is the PRI, buying votes. People sell their right to vote for the short term benefit of a chicken. Afterwards they will endure another 4 years of suppression by the rich folks that run the party."
Welcome to the Mexican elections, where votes are bought with live chickens!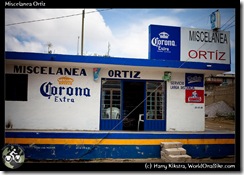 We had already seen signs of the election everywhere. Mexicans in general seem to have a morbid fear of white surfaces, as every wall, of every house, compound or fence always contains graffiti, without exception.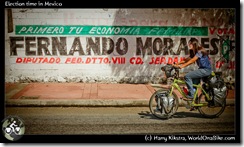 Some times it is just marketing, with the name of the shop or the biggest brands they sell, many times it is just defacing stupid graffiti.
But in the last months before the general elections in July, the majority of all walls have been taken over by the election marketeers promoting their candidates with populist slogans: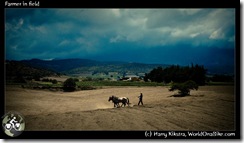 "Your Household Economy comes first!", "Only we want more jobs for you!" and the classic "Cheaper gasoline for everybody!".
We cycled through fields of corn, where old famers were working without any motorized means. All waved when we passed them, on our way to one of the biggest downhills of our entire journey…
After rounding the Ciudad Serdan and climbing some minor hills, we reached the main highway again. The tollbooth attendants did not even see us and so we found ourselves back on the 'Quota'!
From the highlands to sea level: 400m up, 2500m down in 133km!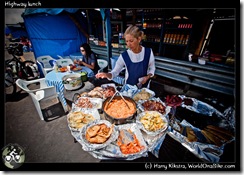 After a quick roadside lunch we started our descent. It was not as relaxed as imagined beforehand as the road was busy and the shoulder filled with rocks and debris of tires and other car parts. Worst of all, we headed into a chilly thick fog, limiting the view in front and behind us to about 40 meters, so we had to brake all the way, wearing our reflective jackets for safety and our rain jackets for warmth.
The drop-off is so steep that when the highway had to be expanded due to increasing traffic, they basically had to built a new highway as the existing one could not be broadened in most places. The only times when there was some extra room, long emergency gravel pits were built, to save truckers going down with faulty brakes.Fortunately when going down we followed the original one, which went just straight down instead of up, down, around and over like the new variation.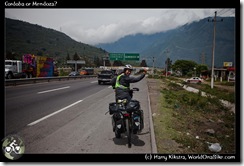 Ivana wanted a picture with the turn-off to Cordoba and Mendoza, both two cities near her province in Argentina and soon after we got the first of several flat tires.
During the downhill Ivana had not managed to avoid al exploded tires and her tires were punctured with several thin but strong parts of steel wire that strengthen the truck tires. Fixing tires on the side of a busy highway is not my favourite thing to do, but there was no other option.
We had lost enough altitude to be in the warmer air of the tropics again. We also got treated to our first heavy tropical rain shower. Actually, when thinking about it, it was the first rain since Central California, USA!
The slope eased, but still we were going down. The view of mighty Pico de Orizaba must be wonderful from this side, but all we could see behind us was a big pile of tropical clouds. We ended our day after 133km, about 4 flat tires and 2500m of downhills in a wet garden next to the highway, with mangos falling from the trees and chickens scaring Ivana.
19/20th June: the long ride to Cancun: World On a Truck
The downhill had ended and we rollercoastered to the junction of the toll roads. Ahead was Veracruz, we turned right towards the east, as we had to get to Cancun with a few days, so we needed some good place for our hitchhiking.
It took about 50km, but we found a gas station where we could ask refuelling pickups for a ride. Then things went fast.
The first ride took us about 200km down the road. We cycled a few minutes to a toll booth and got another ride quickly, which took us 60km. When we left them we noticed a big truck we had seen before. The friendly driver, who had waived at us when he had passed us before, asked us where we were going.
We replied that we were trying to get rides to get North-East.
"I am going to Cancun, want to join?".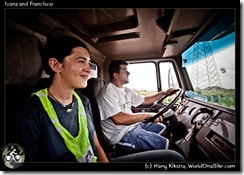 Cancun! It still was about 1100km/700miles away. We introduced ourselves properly to Francisco, a gentle man who runs a moving company from the border with Texas. He has a fleet of about 20 trucks and regularly drives himself as well. His truck was already half empty, with 2 loads left to drop off: one in Merida and one in Cancun!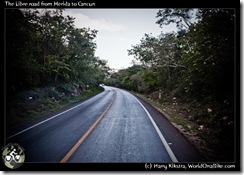 We put our bikes in the back and joined him in the cabin for a long ride to the Yucatan peninsula. After a roadside dinner he parked the truck at a truck-stop and while he slept in the cabin, we slept in the back of the truck, inside the tent against the mosquitoes, but the sweaty heat kept us awake.
As the toll roads are too expensive, Francisco took the 'libres', meaning extra kilometres and much extra traffic. We slowly passed through the states of Tabasco & Campeche and ended up in Merida. The city is known for it beautiful centre, but we had to unload the possessions of a family that had worked in the US for a while in a less scenic part of town, where the roads were littered with trash.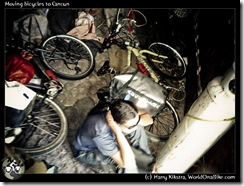 Francisco hired a few guys at the entrance of the city to help us unload in the heat. After getting paid, they bought 6 bottles of beer, which were emptied and thrown out of the window before we could take them back to where we had picked them up.
It was time to cross the Yucatan state. There is a huge and expensive new quota, so we took the dark and windy libre instead. The road passes through every little town and we had to stop hundreds of times to carefully cross the many 'topes', speed bumps.
We arrived late at night but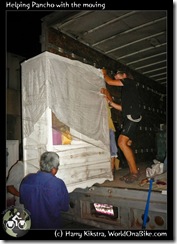 still had one load to deliver before we could find a place to sleep.
After we finished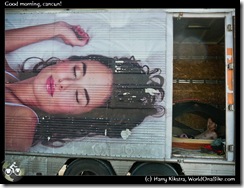 Francisco parked the car in the centre and went to sleep in a friends house, while we erected the tent again, inside the truck.
We had been rushing the past weeks, but now we had made it to Cancun a week earlier than planned. It took a huge load off our shoulders as we now had some time to check out the city and prepare the visit of our mums.
Cancun
Francisco came back to his truck in the morning, and his friend Daniel invited us to come over and stay in his house. We had friends in Cancun, but as we had arrived so quickly, we had not been able to contact them and gladly accepted Daniel's offer.
He not only put us up for the night, but also gave us some tours, which helped a lot to understand the city. We visited the touristic places as Francisco had to buy some jewellery for his wife and drank some "raspados", shaved ice with sweet fruit flavours.
Cancun proper: the beach!
The city were we were is actually not the Cancun that is so famous. The downtown area is where the people live and go for their Sunday dance, the tourists go to a 25km/16mi long peninsula, totally covered with big expensive hotels, clubs and restaurants.
Though all beaches are public and thus open to everybody by law, in practice it is very hard to get to them, as the hotel properties are private and they are all built next to each other.
Daniel had worked in the hotel business before and took us to see the "Zona Hotelera".  We visited a few of  the smaller public beaches, with did have easy  access, but we also checked out a large hotel. It was something we will never be able to afford, but it was fun to pretend 🙂
Kowalski! Status report!
All is well. We will park our bikes soon as our mums will arrive and we will be semi-proper tourists for a while. But still there are plenty of things to show, so stay tuned…
Pain, ethics & Doctors: getting treated in SF
Once we arrived in San Francisco, my knee got some rest, but it did not get better. After we moved to Bradley & Saskia's place, I could not even walk and we spent X-mas inside the house.
I asked around and a friend of Ali referred us to a private clinic in town. I contacted them and could get a quick appointment with a doctor. She was an osteopath and very friendly and though she could not do much for my knee, she diagnosed my back and started treating immediately.
Apparently some of my vertebrae were a little 'off', causing the constant inflammation to the connected ribs and the pain that comes with it. As she is both a medic (she could prescribe me new medication, which helped to ease the pain) as well as a chiropractor, she could start fixing me right away.
Doctors are expensive and private clinics are even worse, but as I was a tourist, they waived the 'membership fee' and the doctor told me that she would see what could be done about the size of the bill. Even though we are covered by our WorldNomads insurance, it is always unclear when and how much I could get back, so I appreciated that.
She was a sportswoman herself and wanted to support our trip and offered me a free 2nd consultation a few days later. I gratefully accepted and after the 2nd treatment my back felt much better, though my knee was still incredibly painful and useless.
She told me that I could come back for another free treatment after our little road trip, but the night before our appointment I received an email. Apparently she had been reprimanded for offering free services.
(…) I have just finished a conversation with my employer who suggested that my offering to treat you here in this office "pro-bono" (for free) is ethically unsound. He has asked that I request that you not come by the office tomorrow, January 6th. The other visit that has already taken place is in the past, is "OK", but no further visits should be allowed.(…)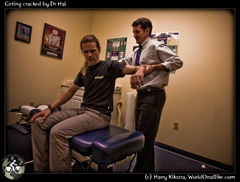 I always thought that helping patients was the thing that was ethically sound for doctors (something about oath and Hippocrates?), but I guess I was wrong. I wrote her back that I would have gladly paid for the service anyway, but after this message I would go elsewhere.
I know it was not her choice to refuse me, but for me it is ethically unsound to pay very expensive treatments just because you might get it back from the insurance.. I even paid for a $20 membership of the Walgreen pharmacy, so my medication would be (much) cheaper, even though I will get it back from WorldNomads.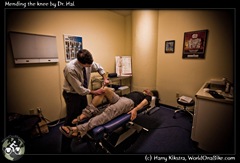 Mitch's friend Adriana told me that her friend Hal Rosenberg was a famous Chiropractor and I should call him to schedule an appointment.
I ended up in his office a few days later and got treated right away, both for my shoulder as well as my knee. Using the Crafton technique and electronic stimulation he removed a lot of scar tissue from the knee and though the pain remained during the treatments, I could use it again.
Though I felt at times that he was aiming to kill me, the twisting and crunching of the neck and back improved the back a lot as well, though when not taking the anti-inflammatories the pain would come back quickly.
I also had a few sessions with Bobby and Steve, the in-house physical therapists, and they gave me specific exercises to strengthen the core and leg muscles that were influencing the movement of the knees. In total I had 6 appointments and though more probably would have been good, we felt that it was time to try to move on, going South again!
San Francisco: cultural diversity, faded flowerpower and civil rights
The bus and streetcars must be some of SF's greatest and cheapest attractions. Unlike the 'clean' BART underground, the public transport that runs above the surface is the best way to see another face of SF. It is a continuous show of people of all types and colours: tourists, homeless people; some youth dressed-up in party gear, others completely off the planet. Some people were on their way to work, others were doing their business on the bus itself.
It reminded us about Weird Al Yankovic's Another One Rides The Bus (video & lyrics here), especially the streetcar going down Market Street was great fun 🙂
Other well-known aspects of San Francisco are the birth of Flower Power and the civil rights movement, especially the gay rights.
We visited Haight & Ashbury, the famous area where Janis Joplin, Jimi Hendrix and many other musicians and artists once lived, but got depressed by its current state: a lot of so-called cool shops, selling stuff for smoking weed and 'spiritual' goodies, one of the few McDonalds visible in the city, and homeless kids on the streets, many of them who look like they are there by choice and that it took a long time or a lot of money to get those clothes look 'alternative' and worn.
More interesting is the nearby Castro District, birthplace of Gay Rights and still the gay capital of the USA. It has nice streets, friendly people and good little restaurants.
It is were the movie 'Milk' was filmed as the historic events depicted all took place in this part of town. Not only is Sean Penn's acting phenomenal, it was especially great to be able to see the movie in a fully packed famous Castro Theatre, which even features in the film 🙂
They included a slideshow about Harvey Milk, and an original organ player playing music while the crowds came in. The cinema was filled with locals, as every reference to local places and events were met with chuckles and comments.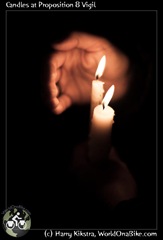 It is strange that exactly in the liberal and generally intelligent state of California a law passed on election day, which basically made it impossible for gays to get married anymore. This 'Proposition 8' turned back a lot of civil rights that Milk had been fighting for and we went out to join a candlelight vigil to show our support.
Imagine that your partner you have been living with for 20 years gets ill and you are not allowed into the Hospital for visits, or if he or she dies, and you will not be entitled to receive any of the shared memorabilia you gathered together.
Somehow millions of people, who would not be harmed by equal civil rights thought that they should impose their 'morals' onto others, so let's hope that this situation will be rectified and California is recognized as a forward-thinking State again…
Kiva: opportunities for entrepreneurs in developing countries
On a more positive note, we got introduced by Nate & Kim to their friend Jeremy. Coincidentally he works at Kiva, an organisation we have been supporting during our trip, so we visited their office in SF.
It was great to see the heart of the small company that has already made such a huge impact (they loaned over 60 million dollars to mostly one men/women businesses in developing countries on 5 continents).
We talked with Matt, the founder and CEO and took a look at the worldwide volunteers map, all very inspiring.
Read more about Kiva and their work here on our blog and lend (not donate) some money yourself!
San Francisco is great in many ways, but there were many things to see outside the city as well… next part, coming up soon: Snow in Truckee, bears & rocks in Yosemite, music in Berkeley and wine in Napa!
First of all: did you know that if you click on the images in the posts, that a larger version will appear on top of the page, all automagically? try it, it is quite cool (pictures need some time to load as they are now 1000pixels wide!).
We had planned to stay maybe a week in Seattle, but it turned out we would stay for 2.5 weeks… Seattle is mostly known for Grunge, Microsoft, Boeing & coffee and it generally considered a nice place to live. I hade been working for a small company in Bothell, close to Seattle, about 8 years ago and had been in the area a few times. The great thing is that the city is huge, but spread out over several peninsulas and islands and that the mountains and nature are never far away…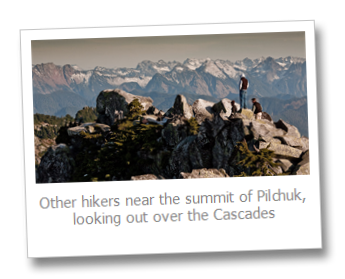 It was great to see Andy again, after meeting in Uganda and Amsterdam before. He was very busy filming a documentary, connected to the upcoming elections, but still he took us out to see some live music and we went for a great hike up Mt Pilchuk. Not a difficult climb -though it was quite icy & slippery near the top-, but very rewarding, with nice views over the  Cascade mountains. It is wonderful to live so close to the nature and especially snow-capped mountains, something I miss in Amsterdam.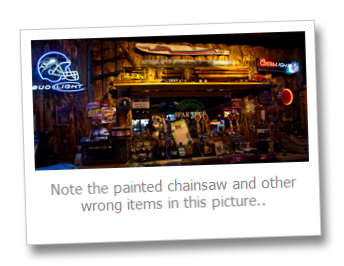 On our way out we stopped for a beer in a typical loggers bar. Neither the beer, nor the people and especially the decoration wasn't very tasteful 🙂
Time flies when you're having pain..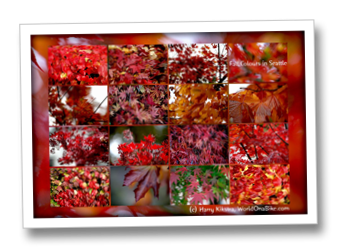 The days went passed quickly. We had a lot of rain, but also some nicer days. We walked around the neighbourhoods and went for some short rides. Only once we went out for a real ride; even though there are some biketrails, you really have to look for them and most are not so scenic, mostly just designated parts of the road.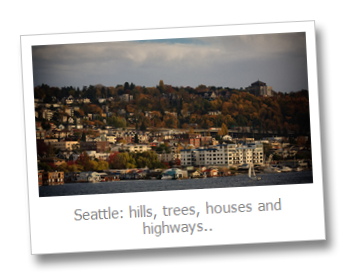 We had been travelling in fall colours since the Yukon, 3000km north, and Seattle was no different. The shots that make up this image were shot in just one street, close to Andy's place.
My back was starting to hurt again and as my diclophenac pills were finished and I could not get more without a prescription, I switched to an Ibuprofen-rich diet… Read more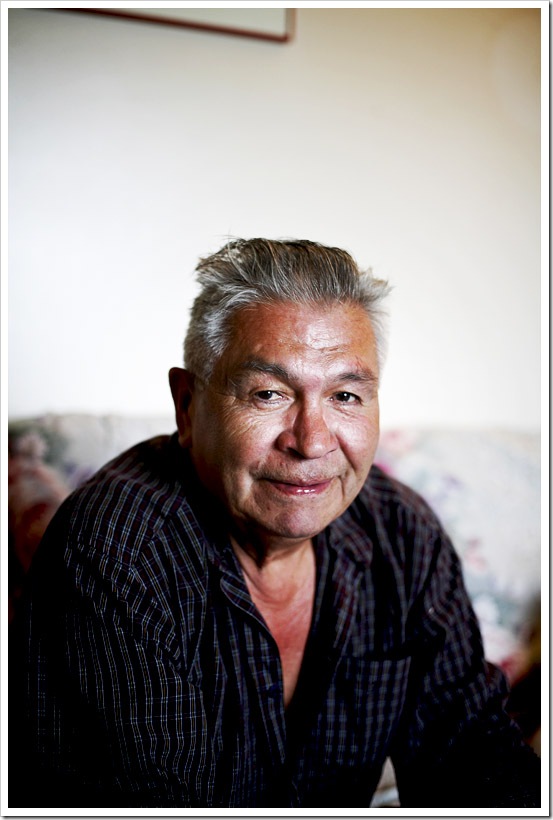 For the First Peoples, the land is the source of Life- a Gift from the Creator. "Mother Earth" is the center of their universe, the core of their culture , the origin of their identity as a people, the provider of their material needs.

"The land cannot be given or taken away, we belong to the Land; our birth does not sever the cord of life which comes from the Land, our spirituality, our culture, and our social life depend on it".

Respect for all life – animals, insects, plans, mountains, rivers, skies & seas are inseparably interconnected. First peoples do not consider the land merely an economic resource. Their land depends on lives, and in relationship to the environment around them. They know that the land is to be shared. If you misuse the land, you are killing yourself. Remember the earth will survive long after you're gone.

Traditional people think the land is there for everyone to use, the way our hand is there, the grass, the trees and animals are our flesh. nature is our religion, thank the Creator for what he has given us all."

Roger A. Johnson, 30 august 1991.
'Nii t'am lax ooks by', is Roger's original Gitxsan name, meaning 'care for the people' as well as describing 'a frog on a lily pad'. His generation was influenced by residential schools, church and government, making them loose their mother tongue and culture. Roger still speaks the old language and works as a interpreter in discussions and court cases between government, mining companies and the First Nation elders.
Nowadays the Gitxsan youth is depressed and suicide rate is very high.
"We can't cry over spilt milk! We must maintain our culture and our language. We need a huge cultural center to teach our culture and language to young and old."
While we were talking with Roger, a car drove up. A very conservatively woman stepped out and gave Roger a booklet and drove off again. The others in her car did not come out. The cover of the booklet depicted a nice drawing of a traditional Indian sky burial. But the rest of it basically said that that was nice in the old days, but against the bible and all First Nations should switch to 'modern' Christian values and culture…
"I remember my Grandparents often saying to me, 'You are my cane, You are my sunshine, You are my flower".
Roger gave me a Gitxsan First nation flag, which has been on my bike since. Then he waved us goodbye from the stairs leading up to his frontdoor. 'Do not forget to wake up every morning, and shout to the world: Good Morning Canada!'.
(Sources: our meeting with Roger; Partly quoted from the local article 'Wisdom of the Elders' by Zanna Ove; Speech of Roger A Johnson transcribed by Julian Burge)
Hi all, apologies for not posting before, we were too busy cycling, getting fed by friendly Canadians, watching bears and visiting doctors. I wil write about all of that soon, but first as promised, our day in Champagne:
We woke up to a nice day, which means: no rain 🙂 Before heading out towards the seductions of Whitehorse, we decided to cycle around in Champagne, which appeared to be a ghost town. We spotted some good campsites near the community hall, wondering why our 'hosts' had not pointed these out. Just when we were turning around to start our trip towards Whitehorse, noticed some smoke coming out of a building. We checked it out and found a few ladies cooking in a large kitchen.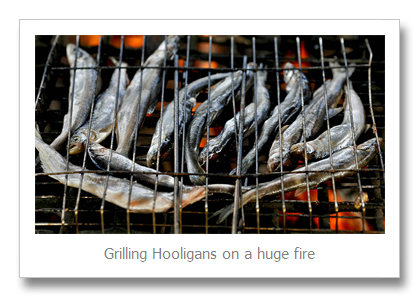 'Do you want some breakfast?' One asked.
Letmethink-yes!
'Sit down, you can stay for the Potlatch.'
We had no idea what the Potlatch (often called Potluck) was, but we found out during this wonderful day. It was one year ago that one elder of the Champagne-Aishihik First nation had died. Now, one year later, a spirit house was built on her grave and all friends and family came together for the celebration of this occasion and to remember her.
So during the day a row of people came into the huge community hall, from very young to very old.. We were happy that we could help out during the day. I helped making al the tables and chairs ready for 200 persons and grilled several hundred of 'Hooligans': some small type of fish. Ivana helped serving the people, there were many courses. We got fed ourselves as well: from Moosejaw soup to fish eggs to salad and salmon. Ivana convinced teh shy children that she could turn them into animals by painting their faces. We talked with the elders as well as the younger generations. It was all great.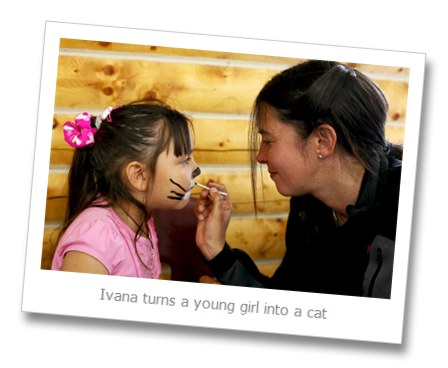 I spoke a while with Yoyo, one of the elders.
'So you can tell your friends that you were with the Indians and that they all wore feathers and such', Yoyo remarked.
I told him that that stereotype was not my impression of the First Nation people we had met so far. He looked at me, decided that I was good and started to talk about his past.
'You know, the younger generation cannot speak our language anymore. I am one of the last ones to speak it. Our language is lower to the ground, closer to the earth. If I forgot my gloves near a tree in a big forest 60 miles away, I could explain a friend where to look for them in a few minutes. In the high speech, this is impossible'. Read more
'I have been living in Wiseman since 1971, when I was 13. I have to go to Fairbanks to get supplies every 3-4 months, but hate it.'
Jack Reakoff is one of Wiseman's famous faces and voices. he seems to know a lot about a lot and works part-time as a tourguide, showing busloads of tourists around Wiseman and telling all about its history. Whenever there is a radio discussion about a current topic, Jack calls in and he has been featured in books, videos and guides. he sells fur from animals he hunts and traps and beads to make necklaces and jewelry.
He has a clear opinion about the oil industry and the thoughts behind the pressure to start drilling in the last remaining wilderness in the arctic:
'It's all political. Due to new drilling methods there is actually more oil in the North Slope available than there was when they started drilling a few decades ago. But they have to lower the output, which serves them for several reasons: firstly, the pipeline will not break. It is old and corrosion has lowered the maximum pressure that can go through. Read more