Critical Mass
Though my knee was still painful, I could cycle slowly again. It was time to move on, and leave our new home for new adventures down the road. We invited our new friends for a dinner in a cosy Lebanese bar to celebrate our departure and Ivana's b-day the next day. But first we had some other cycling to do!
San Francisco is the birthplace of the Critical Mass. It is a monthly event where hundreds, maybe thousands of cyclists group together and ride through the city, reclaiming the streets from the cars that have no other choice that to wait until all the cyclists have passed 🙂
It is a great event and I urge everybody to join the Critical Masses, in SF or elsewhere. It is not just to make a firm statement, but also a great way to see the city, without being bothered by cars and red lights.
Besides, it is a big party with all types of cyclists, music and general fun. It was Ivana's best B-day present and we enjoyed it thoroughly.
Saying goodbye on Ivana's B-day
We had to hurry back though as we had a party appointment! Adriana had picked the nice place with relaxed people and Lebanese snacks as well as fruity hookahs and even a belly dancer!
We had a great time and though many people could not make it to the the last minute invite, we were happy to spend some of our last hours in SF with our new friends.
New and old friends, thank you for making San Francisco our home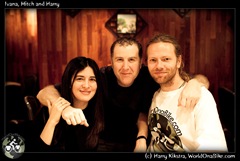 as with most places, it is not the Golden Gate or any other famous landmark that makes SF special. It is the never-ending stream of friendly, helpful and generous people.
We met many new friends, some of them (Mitch, Adriana, Gerard, Kourtney & Brian, Fiona & Jeremy, Kim & Nate & Jessica & Mikelanjelo) are listed on the "1000 Americans" category, others whom we did not capture with our cameras we owe just as much.
We could write full page stories about each of them, but for now here are some simple thank you's
Thanks to Kristan& Rhasaan for opening their house in Oakland and showing us Berkeley as well.
Thanks to Jan and Wandralee for opening their house and giving us time to relax and re-organize. Jan is off to to the ride from SF to LA for Aids, she is a brave and strong woman!
Muchas Gracias to Barbara & Ramiro, who invited us for a wonderful dinner in their new home twice! Ramiro never forgets his roots and makes great empanadas.
Thanks to Yaffa and her roommate, who shared their house with us for a few nights.
We even met some old friends again, some we had met earlier on the trip, others we had met many years ago.
Thank you all, more than words can express, for making San Francisco a special place for us.
–
Next report: on the road again, off to LA! how will the knees hold out with the Devils' Slide, Big Sur and many more challenges ahead? Tune in next time, same channel, unreliable time 😉

–
We did not only spend time in the city, but managed to get out. As my knee needed more rest, we were lucky that Alison had borrowed us her car, so we could head out of town for New Years. She had warned us that the tires were old and bald, so it would be better to avoid rain.
Right after we pulled the car out of the garage in Filbert St, we continued the road East, leading up and down a huge and steep hill. I think we found the steepest road in SF, and we both felt we were in a rollercoaster when we crossed the top..
Snow and champagne in Truckee, saying goodbye to 2008…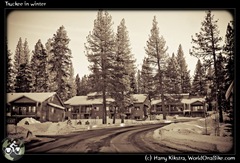 After my new camera had arrived (yes!) we packed our camping gear in the car and drove to Truckee, a few hours east. We arrived in the dark and noticed that most of the town was covered in knee deep snow and the car slid back and forth over the slippery roads.
It was so great to see Colie again. I had been climbing in Uganda 4 years ago together with Romke, Ali & Andy and now we had seen the entire team again, spread out over Amsterdam, Seattle, SF, Truckee and a bike! Colie took us on a tour of Lake Tahoe, which looked wonderful in the winter snow.
Finally after avoiding the snow since Northern Alaska, it was great to be surrounded by the cold white stuff!  We went for a nice winter hike with some of her friends and got ready for a new years Eve party with more friends and lots of great food and drinks.
Goodbye 2008, we will miss you..
We have no idea what 2009 will bring, but 2008 was again amazing. I had been on 6 continents (alas no Antarctica this year), hiked with friends in Australia, almost got scammed in Kuala Lumpur, proposed to Ivana on the summit of Kilimanjaro, witnessed by all 26 clients. We saw Machu Picchu with Ivana's mum, watched a lion grab a gazelle in the Serengeti and cycled 7000km through wonderful North America. It was not always easy, but it felt that we had been more alive in one year than most in their lives…
Off to Yosemite: big walls and black bear?!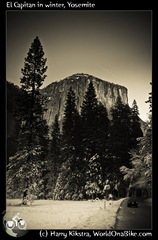 We had a great time in Truckee, but as bad weather was coming, and we wanted to see Yosemite park before it became impossible to get there, we headed out on New Years day.
The road to get to the valley was high and steep and there were several spots with snow and ice, but the views of famous walls like Half Dome & El Capitan made up for the nerves.
The final part into the village and campground was even completely covered in it, but I managed to reach the famous Camp 4, home of all Big Wall climbers. The camp was covered in deep snow, so we had to prepare a campspot by packing some snow.
Just when I was busy preparing the tent, I saw a big shape passing just behind it. It was almost dark, so I turned on my light and called Ivana. 'Look at that, a bear!'
Just as we though we had definitely left 'The Wild', we had the closest encounter with a black bear so far, less than 10m away. The big animal did not pay attention to us and slowly walked into the foggy forest…
.
We made sure to leave no food in our tent or car (Yosemite bears are known for 'opening' cars) and put everything safely in the special bear-proof containers. We managed to cook a nice pasta meal and finally sacrificed our last Adventure Food meal, before heading over to the restaurant for a cup of hot chocolate.
–
The night was cold and uncomfortable, but we got no more bear visits and the next morning we took the free shuttle around the village and walked back past great views of the Yosemite Falls and Half Dome.
Oakland and Berkeley
It was time to get out as more snow was expected. With much effort I managed to get the car back on the road and down to drier elevation before the rain hit hard. We contacted Mikelanjelo & Jessica, who had invited us already a long time ago and stayed a few days in their place in Oakland.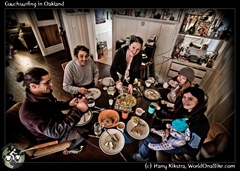 –
Together with their friend Kristan and her kids (including "I-love-you-Leif") and boyfriend they made us feel at home.
They showed us around in Berkeley as well, a nice college town with a friendly atmosphere, unlike Oakland which had an air of aggression, which was confirmed after the shooting of an unarmed boy on the subway a few days later…
We visited a multicultural fleamarket and were chased by fat squirrels in the park on yet another sunny winterday..
Ivana had left a comment on an Argentinean newssite, where bicycle touring was criticized, and soon after we were contacted by Ramiro, an Argentinean living in the US. he asked us to come over to his girlfriend Barbara's house for some great homemade empanadas! And he even invited us back the following week, so I guess we are not such bad guests after all 😉
The good life in wine country
Mitch had introduced us to his good friends Adriana & Gerard. It as fun to speak some Dutch again with expat Gerard and after inviting us in their home for a great meal, they asked if we already had seen the vineyards. We explained that we had been on the coastal road all the time, and they immediately made plans for a tour in the weekend.
We had a great day, cruising in Gerard's convertible in the warm winter sun. We visited many wineries, tasted some good wines and olive oils and thoroughly enjoyed the company and places we visited.
The good thing about a bicycle trip is that you sometimes get taken to places where you would never had gone yourself, but that are great anyway…
–
My knee was feeling a bit better and though I could not step down stairs properly, we decided that we would try and start cycling again. But first it was time to say goodbye to SF!
Next and final SF report coming very soon 🙂 : Critical mass, bellydancing B-day and many friends…
Kourtney & Brian (and the cuddly cat) work from their home office in the nice Fillmore area, renting out offices to companies worldwide. The time they save on commuting is spent on more work, but they also like to travel and see the world.
KP had contacted us through our the contact form and it was a pleasure to stay with them for a few days. They are a positive and generous couple and we enjoyed their first CouchSurfing with them 🙂
Pain, ethics & Doctors: getting treated in SF
Once we arrived in San Francisco, my knee got some rest, but it did not get better. After we moved to Bradley & Saskia's place, I could not even walk and we spent X-mas inside the house.
I asked around and a friend of Ali referred us to a private clinic in town. I contacted them and could get a quick appointment with a doctor. She was an osteopath and very friendly and though she could not do much for my knee, she diagnosed my back and started treating immediately.
Apparently some of my vertebrae were a little 'off', causing the constant inflammation to the connected ribs and the pain that comes with it. As she is both a medic (she could prescribe me new medication, which helped to ease the pain) as well as a chiropractor, she could start fixing me right away.
Doctors are expensive and private clinics are even worse, but as I was a tourist, they waived the 'membership fee' and the doctor told me that she would see what could be done about the size of the bill. Even though we are covered by our WorldNomads insurance, it is always unclear when and how much I could get back, so I appreciated that.
She was a sportswoman herself and wanted to support our trip and offered me a free 2nd consultation a few days later. I gratefully accepted and after the 2nd treatment my back felt much better, though my knee was still incredibly painful and useless.
She told me that I could come back for another free treatment after our little road trip, but the night before our appointment I received an email. Apparently she had been reprimanded for offering free services.
(…) I have just finished a conversation with my employer who suggested that my offering to treat you here in this office "pro-bono" (for free) is ethically unsound. He has asked that I request that you not come by the office tomorrow, January 6th. The other visit that has already taken place is in the past, is "OK", but no further visits should be allowed.(…)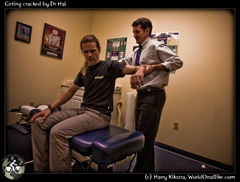 I always thought that helping patients was the thing that was ethically sound for doctors (something about oath and Hippocrates?), but I guess I was wrong. I wrote her back that I would have gladly paid for the service anyway, but after this message I would go elsewhere.
I know it was not her choice to refuse me, but for me it is ethically unsound to pay very expensive treatments just because you might get it back from the insurance.. I even paid for a $20 membership of the Walgreen pharmacy, so my medication would be (much) cheaper, even though I will get it back from WorldNomads.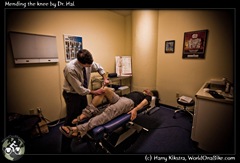 Mitch's friend Adriana told me that her friend Hal Rosenberg was a famous Chiropractor and I should call him to schedule an appointment.
I ended up in his office a few days later and got treated right away, both for my shoulder as well as my knee. Using the Crafton technique and electronic stimulation he removed a lot of scar tissue from the knee and though the pain remained during the treatments, I could use it again.
Though I felt at times that he was aiming to kill me, the twisting and crunching of the neck and back improved the back a lot as well, though when not taking the anti-inflammatories the pain would come back quickly.
I also had a few sessions with Bobby and Steve, the in-house physical therapists, and they gave me specific exercises to strengthen the core and leg muscles that were influencing the movement of the knees. In total I had 6 appointments and though more probably would have been good, we felt that it was time to try to move on, going South again!
San Francisco: cultural diversity, faded flowerpower and civil rights
The bus and streetcars must be some of SF's greatest and cheapest attractions. Unlike the 'clean' BART underground, the public transport that runs above the surface is the best way to see another face of SF. It is a continuous show of people of all types and colours: tourists, homeless people; some youth dressed-up in party gear, others completely off the planet. Some people were on their way to work, others were doing their business on the bus itself.
It reminded us about Weird Al Yankovic's Another One Rides The Bus (video & lyrics here), especially the streetcar going down Market Street was great fun 🙂
Other well-known aspects of San Francisco are the birth of Flower Power and the civil rights movement, especially the gay rights.
We visited Haight & Ashbury, the famous area where Janis Joplin, Jimi Hendrix and many other musicians and artists once lived, but got depressed by its current state: a lot of so-called cool shops, selling stuff for smoking weed and 'spiritual' goodies, one of the few McDonalds visible in the city, and homeless kids on the streets, many of them who look like they are there by choice and that it took a long time or a lot of money to get those clothes look 'alternative' and worn.
More interesting is the nearby Castro District, birthplace of Gay Rights and still the gay capital of the USA. It has nice streets, friendly people and good little restaurants.
It is were the movie 'Milk' was filmed as the historic events depicted all took place in this part of town. Not only is Sean Penn's acting phenomenal, it was especially great to be able to see the movie in a fully packed famous Castro Theatre, which even features in the film 🙂
They included a slideshow about Harvey Milk, and an original organ player playing music while the crowds came in. The cinema was filled with locals, as every reference to local places and events were met with chuckles and comments.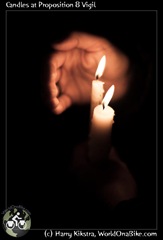 It is strange that exactly in the liberal and generally intelligent state of California a law passed on election day, which basically made it impossible for gays to get married anymore. This 'Proposition 8' turned back a lot of civil rights that Milk had been fighting for and we went out to join a candlelight vigil to show our support.
Imagine that your partner you have been living with for 20 years gets ill and you are not allowed into the Hospital for visits, or if he or she dies, and you will not be entitled to receive any of the shared memorabilia you gathered together.
Somehow millions of people, who would not be harmed by equal civil rights thought that they should impose their 'morals' onto others, so let's hope that this situation will be rectified and California is recognized as a forward-thinking State again…
Kiva: opportunities for entrepreneurs in developing countries
On a more positive note, we got introduced by Nate & Kim to their friend Jeremy. Coincidentally he works at Kiva, an organisation we have been supporting during our trip, so we visited their office in SF.
It was great to see the heart of the small company that has already made such a huge impact (they loaned over 60 million dollars to mostly one men/women businesses in developing countries on 5 continents).
We talked with Matt, the founder and CEO and took a look at the worldwide volunteers map, all very inspiring.
Read more about Kiva and their work here on our blog and lend (not donate) some money yourself!
San Francisco is great in many ways, but there were many things to see outside the city as well… next part, coming up soon: Snow in Truckee, bears & rocks in Yosemite, music in Berkeley and wine in Napa!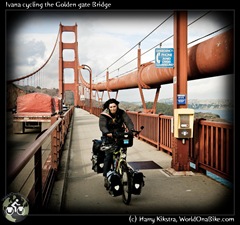 It has been a long time between updates, but this week we will be catching up a bit, so you can see where we have been this year, what happened with my knee and much more!
We spent about 6 weeks in and around San Francisco, a wonderful city in many ways. I will write a few posts about this as I want to share many pictures, so we will be hopping back and forth in time a bit 🙂
SF: entering and viewing the city
After crossing the Golden Gate we stuck to the shoreline, not only to avoid the heavy traffic, but also the steep hills! Yes, it is true: due to the fact that some smart city planner placed the standard grid-model on top of a hilly place, some of the roads are incredibly steep, a few more than 30%! Still the place is bicycle friendly, with bike lanes and-routes and off the main roads, the traffic is much more relaxed and there are many cyclists.
Touring SF
We had met our new host Mitch at a CouchSurfing meeting and he not only offered us a place to stay, but also took us on some city tours, so we could get an idea of the place. As he is a great photographer, we also finally got some images of ourselves!
.
Views from the Twin Peaks (we summited :), the old but still running Streetcars and the famous Lombard Street, though it is not the curviest street nor the steepest, it is fun to go down it. We spent the evening playing 'Rockband' with Mitch, which was fun 🙂
.
Later, in January, we spent some more time with Mitch. We drank Belgian beers, ate in Chinatown, walked to his friends house Downtown and we had some great 'mate' on one of the western beaches before dinner in a Burmese restaurant. SF is great, it is small enough to be able to cycle around, but every neighbourhood is different and there are many nice places to hang out or relax.
Culture & science
We also stayed a few days with Nate & Kim, who lived quite close to Mitch, also in the Latino-flavoured lively Mission District. Besides taking us to one of the best Mexican restaurants, we also took advantage of the free museum day in SF, visiting the small Yerba Buena, the huge MOMA and the tiny Cartoon Museum before heading back on the bus.
.
Ivana managed to get into the new Academy of Science Museum on the free Wednesday (otherwise $25), but when I arrived an hour later after seeing the doctor, the line was so long that it was no use. She enjoyed it a lot and will post pictures on her blog soon.
We also spent time (drinking Belgian beers) in Little Italy, Japan town, Chinatown and Bernal Heights; every part has its own culture and diversity of people and places, while being completely free of strip-malls and McDonalds and such, SF is a good as a US city gets.
Tomorrow, in the next part: pain, ethics and doctors, civil rights and microcredits!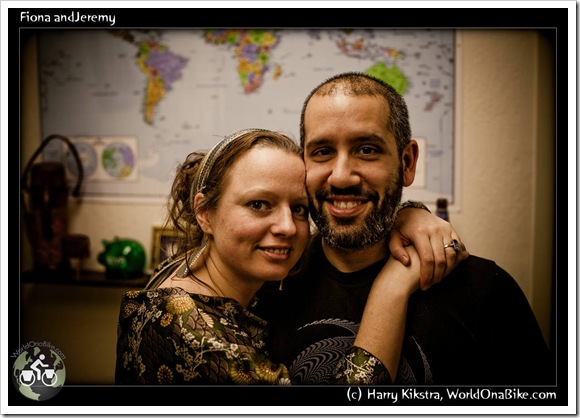 Fiona is Kiva's Public Relations Director, responsible for Kiva's exposure & communication. She lives with Kiva's Technology Director Jeremy and together they have sacrificed much time, money and effort to get Kiva up and running, being two of the first employees.
They both love to travel the world when possible and have seen the need for and success of microcredit with their own eyes.
Read more about Kiva and how you can support them, here on our blog.
Jeremy (Technology Director of Kiva) was one of the first people to work for Kiva after Matt  (CEO of Kiva) had started the company in 2005.
Of course they both did not know then that it would mean long hours with no pay, but due to dedication of the first key people like them, Kiva survived and is now one of the most praised companies in the US, facilitating microcredit lending to entrepreneurs in developing countries.
Read more about Kiva and how you can support them, here on our blog.
Dr Hal Rosenberg is a well-known Chiropractor in SF. having worked on the medical staff of the USA Triathlon Team.
It takes a sportsman to help one and though I sometimes felt he was trying to kill me, the crunching of the back and neck helped 🙂
Adriana was born in Colombia and her heart is still divided between there and San Francisco. She is a nanny and enjoys cooking wonderful meals, spending time with her friends, enjoying life and promoting peace… And of course her boyfriend Gerard 🙂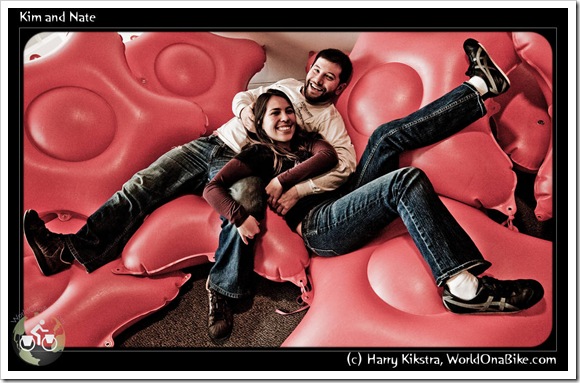 Nate & Kim enjoy life, and are avid Couchsurfers, having hosted dozens of travellers. Kim is also known as DJ Kimpo, spinning the nights away…
Currently they are on a round the world trip, read their reports and see their images on http://www.anotherfuckingtravelblog.com/
The photo above was taken in the Yerba Buena Museum, one of the few museums they took us to.