We are busy in the Inn at the Spanish Garden Hotel. We fill the tub, relax on the huge bed, ask room service for a movie and some popcorn, skip the swimming pool today and enjoy the good life. BikeTravelling is not so bad after all…
Oh, I am sorry, I did not notice you reading this! Of course I meant to say: we battled against the wind, pitched our tent on a muddy slope and cooked up some salty pasta! But that would have been a lie:
.
So what happened with our budget? Well actually we did not pay a dime for these rooms. Last year I was approached my Matt from the Broughton Hospitality Magazine, a glossy magazine used in a small hotel company.
He had seen my photos on ExposedPlanet.com and wanted to use one in the magazine for the '1000 Words' section, highlighting photojournalism (you can see the issue here, check page 10-11). My images can be used freely for educational and non-commercial purposes (Creative Commons license) but as this is a commercial magazine, a license/payment is required.
So I proposed to trade it for 2 nights in one of their hotels 🙂
And as matt was impressed with my other images, we agreed that after the USA part of the trip, I would write another article with images in exchange for a few more nights. I had kept it a bit secret for Ivana, and thought it would be a nice valentine surprise!
12 Feb 2009: Buellton – Santa Barbara, 73km
Santa Barbara is a great place to spend a few days and the arrangements with the hotel worked out perfectly. Our first night would be in the most luxurious hotel, The Inn at the Spanish Garden, which turned out to be a beautiful small boutique hotel with very friendly staff and a great included breakfast 🙂
To maximize the time in the hotel, we had left early and made it into Santa Barbara just after 13.00, 73km, not bad! We were helped by one hill with a giant descent, good wind in the back, busy roads and the thought of our big bed…
13 Feb 2009: Santa Barbara: from the Inn at the Spanish Garden – The Inn at East Beach, 3km
It was a tough day, riding 2 miles from one hotel to the other. Actually we got stuck in a giant downpour and arrived soaking wet! The next hotel was a lot more basic, but the friendly general Manager Frank made up for it (upon arrival he already brought us the remaining muffins from the breakfast) and the room was nice.
In the afternoon it cleared up and we went to explore the town on our bikes. SB is very touristy, but has a really nice old historic centre and the beach is lined with nice palm. It definitely is a nice place to visit for a few days.
14/15 Feb 2009: Santa Barbara – Santa Monica via a field past Oxnard.. 73+68km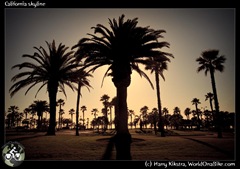 We enjoyed another nice breakfast and then headed out through the nice outskirts of Santa Barbara. The route 101 was very busy, and there were huge traffic jams, but of course, on a bike you just cruise along. We passed Ventura, where we talked with a nice cyclist and continued along the coast. The wind was still friendly, which helped my knees a lot and they did not hurt much.
There are many military zones here and it would be difficult to find a place to pitch our tent. We found a place in a field close to the highway and so after 2 nights in a hotel, we were back on our comfortable mats!
The next morning the wind had turned on us and we had to pound the pedals hard; it only took us about 5 hours to get to the next hotel, in Santa Monica!
On our way we passed some of the rich areas like Malibu. It is actually quite ugly and the oversized houses are all built on places where they will slide of sooner or later, we could not quite see the point. It seemed more like a place to show off than actually enjoy, which was enforced by the 5 Ferraris that were parked near the beach.
Some guy saw me taking these photos and asked if I would want to trade Kowalski for one of these race monsters. I said no.
15-18 Feb 2009: Chillin' in Santa Monica
We stayed 3 nights in the restored Georgian Hotel. We rode our bikes up to our room as it was the easies way to carry 6 panniers/bags per person, but then just left them there as we could see the place on foot.
We had a view of the beach and could see the sunset from our room on the 7th floor. It was a perfect place to check out the famous pier, the Boulevard and the pedestrian zone with musicians and street artists and doing some work on Lenny in the room.
We found an all you can eat Sushi buffet which -unlike the online reviews would make you believe- was actually pretty good 🙂
18-22 February: Into the heart of Los Angeles.
We had been invited by another Argentinean to stay with his family for a few days. Diego picked us up in the front of the hotel and took us over a concrete maze to his 'hood. We were definitely in a poorer part of LA, but as Ivana remarked, it looked better and richer than many 'good' parts in Argentina.
We spent several days in LA and I even went to see Dr Man Tran, a Chinese Chiropractor/Acupuncturist; but like every other doctor so far, the treament he gave me felt good, but the inflammation in my knee never goes away.
Diego and his wife Claudia took great care of us. They refused to let us sleep on the ground and made us sleep in their bedroom. We had some great meals together and enjoyed the work he was doing for the local soccer teams. Small kids like these were putting their hearts and soul into becoming great at their sports, something what might give them enough self-esteem to keep them out of the gang-scene..
22 Feb 2009: Oscar night in Hollywood!
We did not care much for the expensive theme parks, but as an avid movie lover I was excited to find out we would be in town for the Academy Awards, better knows as Oscars. We went to take a look with the Sarraseca family and though we could not see any 'star' up close, we enjoyed the atmosphere and just the feeling of 'being there' as well as the giant pizza that Diego treated us to…
Next steps: back in a car to do some 'parking'
We decided that it would be a shame to miss out on the South Western USA treasures and as time was limited, we decided to rent a car for a week to see the national parks… More photo's and stories about horse racing and Horseshoe- and other canyons, snow and old friends, stay tuned, as we slowly catch up with reality 🙂
ps: let us know if you enjoy these reports by leaving some comments below. if you are reading this on the website, do not forget to click the images above as it will automagically show you a 1000px wide larger version!
Pain, ethics & Doctors: getting treated in SF
Once we arrived in San Francisco, my knee got some rest, but it did not get better. After we moved to Bradley & Saskia's place, I could not even walk and we spent X-mas inside the house.
I asked around and a friend of Ali referred us to a private clinic in town. I contacted them and could get a quick appointment with a doctor. She was an osteopath and very friendly and though she could not do much for my knee, she diagnosed my back and started treating immediately.
Apparently some of my vertebrae were a little 'off', causing the constant inflammation to the connected ribs and the pain that comes with it. As she is both a medic (she could prescribe me new medication, which helped to ease the pain) as well as a chiropractor, she could start fixing me right away.
Doctors are expensive and private clinics are even worse, but as I was a tourist, they waived the 'membership fee' and the doctor told me that she would see what could be done about the size of the bill. Even though we are covered by our WorldNomads insurance, it is always unclear when and how much I could get back, so I appreciated that.
She was a sportswoman herself and wanted to support our trip and offered me a free 2nd consultation a few days later. I gratefully accepted and after the 2nd treatment my back felt much better, though my knee was still incredibly painful and useless.
She told me that I could come back for another free treatment after our little road trip, but the night before our appointment I received an email. Apparently she had been reprimanded for offering free services.
(…) I have just finished a conversation with my employer who suggested that my offering to treat you here in this office "pro-bono" (for free) is ethically unsound. He has asked that I request that you not come by the office tomorrow, January 6th. The other visit that has already taken place is in the past, is "OK", but no further visits should be allowed.(…)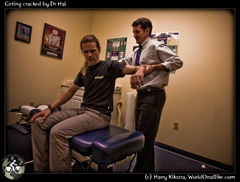 I always thought that helping patients was the thing that was ethically sound for doctors (something about oath and Hippocrates?), but I guess I was wrong. I wrote her back that I would have gladly paid for the service anyway, but after this message I would go elsewhere.
I know it was not her choice to refuse me, but for me it is ethically unsound to pay very expensive treatments just because you might get it back from the insurance.. I even paid for a $20 membership of the Walgreen pharmacy, so my medication would be (much) cheaper, even though I will get it back from WorldNomads.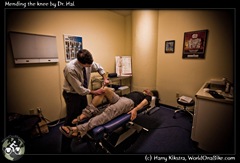 Mitch's friend Adriana told me that her friend Hal Rosenberg was a famous Chiropractor and I should call him to schedule an appointment.
I ended up in his office a few days later and got treated right away, both for my shoulder as well as my knee. Using the Crafton technique and electronic stimulation he removed a lot of scar tissue from the knee and though the pain remained during the treatments, I could use it again.
Though I felt at times that he was aiming to kill me, the twisting and crunching of the neck and back improved the back a lot as well, though when not taking the anti-inflammatories the pain would come back quickly.
I also had a few sessions with Bobby and Steve, the in-house physical therapists, and they gave me specific exercises to strengthen the core and leg muscles that were influencing the movement of the knees. In total I had 6 appointments and though more probably would have been good, we felt that it was time to try to move on, going South again!
San Francisco: cultural diversity, faded flowerpower and civil rights
The bus and streetcars must be some of SF's greatest and cheapest attractions. Unlike the 'clean' BART underground, the public transport that runs above the surface is the best way to see another face of SF. It is a continuous show of people of all types and colours: tourists, homeless people; some youth dressed-up in party gear, others completely off the planet. Some people were on their way to work, others were doing their business on the bus itself.
It reminded us about Weird Al Yankovic's Another One Rides The Bus (video & lyrics here), especially the streetcar going down Market Street was great fun 🙂
Other well-known aspects of San Francisco are the birth of Flower Power and the civil rights movement, especially the gay rights.
We visited Haight & Ashbury, the famous area where Janis Joplin, Jimi Hendrix and many other musicians and artists once lived, but got depressed by its current state: a lot of so-called cool shops, selling stuff for smoking weed and 'spiritual' goodies, one of the few McDonalds visible in the city, and homeless kids on the streets, many of them who look like they are there by choice and that it took a long time or a lot of money to get those clothes look 'alternative' and worn.
More interesting is the nearby Castro District, birthplace of Gay Rights and still the gay capital of the USA. It has nice streets, friendly people and good little restaurants.
It is were the movie 'Milk' was filmed as the historic events depicted all took place in this part of town. Not only is Sean Penn's acting phenomenal, it was especially great to be able to see the movie in a fully packed famous Castro Theatre, which even features in the film 🙂
They included a slideshow about Harvey Milk, and an original organ player playing music while the crowds came in. The cinema was filled with locals, as every reference to local places and events were met with chuckles and comments.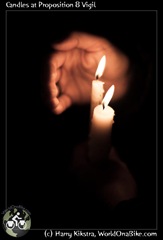 It is strange that exactly in the liberal and generally intelligent state of California a law passed on election day, which basically made it impossible for gays to get married anymore. This 'Proposition 8' turned back a lot of civil rights that Milk had been fighting for and we went out to join a candlelight vigil to show our support.
Imagine that your partner you have been living with for 20 years gets ill and you are not allowed into the Hospital for visits, or if he or she dies, and you will not be entitled to receive any of the shared memorabilia you gathered together.
Somehow millions of people, who would not be harmed by equal civil rights thought that they should impose their 'morals' onto others, so let's hope that this situation will be rectified and California is recognized as a forward-thinking State again…
Kiva: opportunities for entrepreneurs in developing countries
On a more positive note, we got introduced by Nate & Kim to their friend Jeremy. Coincidentally he works at Kiva, an organisation we have been supporting during our trip, so we visited their office in SF.
It was great to see the heart of the small company that has already made such a huge impact (they loaned over 60 million dollars to mostly one men/women businesses in developing countries on 5 continents).
We talked with Matt, the founder and CEO and took a look at the worldwide volunteers map, all very inspiring.
Read more about Kiva and their work here on our blog and lend (not donate) some money yourself!
San Francisco is great in many ways, but there were many things to see outside the city as well… next part, coming up soon: Snow in Truckee, bears & rocks in Yosemite, music in Berkeley and wine in Napa!
Dr Hal Rosenberg is a well-known Chiropractor in SF. having worked on the medical staff of the USA Triathlon Team.
It takes a sportsman to help one and though I sometimes felt he was trying to kill me, the crunching of the back and neck helped 🙂