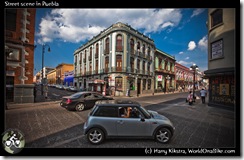 It was less than 10km from Cholula to Puebla and the cities are basically connected. With 1.5 million people the city is huge (3rd largest of the country), but the historic centre has remained largely intact and is very attractive.
We had been invited by CouchSurfing host Hiram and his family, who own and run a very popular Mexican restaurant together. Still he had time to do a quick city tour with us and gave us a lot of tips of where to go while he was at work.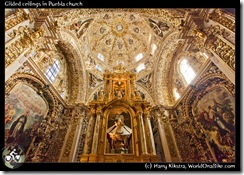 One impressive place he pointed out is the fully gilded Rosary Chapel of the Templo de Santo Domingo, which is so shiny, you almost need sunglasses.
The zocalo or main square is the courtyard of the huge Cathedral, with Mexico's highest towers. Rich people see it regularly as it appears on the 500 pesos note (about USD$ 40, more value than most Mexicans see in one bank note).
But maybe the best part of Puebla is just strolling around the centre, through colourful streets lined with colonial houses, with patios and balconies.
Tourists and locals are enjoying themselves everywhere on the terraces and restaurants and in the many shops lining the streets.
Fiesta
Puebla has always been a Catholic stronghold and this has resulted in many religious celebrations, many of which have the benefit that a lively street market will take place, just a few blocks away from the zocalo.
We enjoyed the different foods for sale, the fair rides for kids, the artesanias, the music and the general positive atmosphere. Had I said before that everybody should visit Mexico? Just in case I'll do it now: do not let biased political media scare you away from a wealth of culture, nature, gastronomy and friendliness, visit Mexico.
There, I said it.
Now, I invite you to take a look at some impressions of the market and the city. (Click for a larger version, these and more photos of Puebla are also in the photo section here).
Mexican treats in El Balcon
We arrived back late at 'El Balcon', the restaurant of Hiram's family. Late at night it was still completely packed and several people were waiting outside. No, it is not (yet) in the Lonely Planet as it is (just) 7 blocks away from the centre, but the locals clearly know where to go. Even when they changed locations a while ago, the clients followed for the clear and honest food.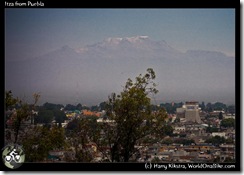 Hiram also took us up the Cerro de Guadeloupe, which is not only the place where the French were defeated on 5th may 1862 (hence all the street names all over Mexico named 5 de Mayo), but on clear days you can also see the silhouette of Izta, the mountain known as the sleeping woman.
He introduced us to his friend and fellow CouchSurfer Leandro. We did not have time to visit his place, but had some good discussions about life and saw some more hidden gems of the city together.
Hiram's parents were worried about our trip and hugged us close and shed some tears when praying for our safe journey. We are not religious ourselves, but the care and love of people that were strangers 3 days before keeps on surprising and warming us. So maybe the prayers do help as we will take care, so we can meet more great people like them and maybe one day return the favour.
Back on the road again..
Fortunately we found the way around the steep hill when we left Puebla, sooner than we would have liked. If we'd hurry, we would maybe have time for one more activity before we really had to get to Cancun.
Our mums were already getting very worried that there would be nobody to pick them up when arriving in 2 weeks. But before we would leave the Mexican highlands to get back down to sea-level, there was one place far from it that I wanted to visit…
More soon 🙂
29 April 2009: Mulege – Buenaventura beach, 43km, 500m up and down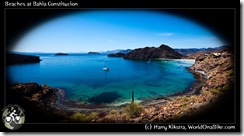 Once we managed to leave Mulege, we quickly started climbing, cutting off a rough piece of coastline. The moment the sea-breeze was out of our face, the heat took its place and we had to stop often to drink and recuperate.
The reward was the first view of Bahia Concepcion, breeding place of whales and lined with small beaches, sometimes accompanied by hotels or loncherias, but just as often completely empty.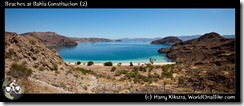 We had enough of the heat after 43km and entered a restaurant in Buenaventura Beach for our siesta. They had Wi-Fi, so as always we stayed too long, and decided to camp out on the beach.
We were accompanied by a French couple, that we had met a few times before. They were living & teaching on Martinique, but had bought a large campervan and, together with their 3 kids, were slowly heading South.
In fact, as we had seen them several times, they appeared to go the same speed as us, enjoying all the small places on the way, instead of rushing through them as most other Baja visitors do on their way to Cabo San Lucas.
30th April 2009: Buenaventura beach – Bahia Concepcion South, 20 km, 150 m up/down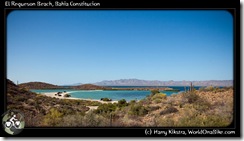 We stuck around the restaurant all day, reading stories online about this strange swine-flu disease that was bothering the rest of Mexico, but Baja was still 'clear'.
Before we were really packed, it was already to hot to start cycling and therefore we went swimming instead, checking out the small stingrays and fishes near the beach.
Only 2 hours before dusk it started to get bearable and we started cycling after all. Google Earth had been friendly enough to warn us for some big climbs coming up once we would leave the Bay, so we thought it best to save that for the cool of the early morning and went looking for a place to pitch our tent.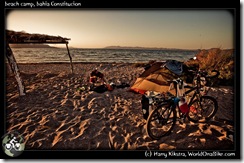 We happily cruised over the empty road while in the distance a large group of dolphins passed by, heading North.
At the most Southern point of the Bay, we found the remains of an old RV park and though there was nothing usable left, the dirt access road was smooth and led straight to the beach, where we pitched our tent.
We watched the sunset with our bowls of pasta in our hand while a few wandering cows passed. Queen's Day (In the Netherlands); It cannot get much better than this.
1st May 2009: Bahia Concepcion – Juncalito, 106km, 918m up/down, average temperature: 30,2C/86F…
Though we did not leave at sunrise as planned –there is something unnatural about waking up in the dark, even when it is the International Day of Labour- we managed to get up the steep first hills before the heat caught up with us. The road was windy and therefore dangerous, as trucks could not see us from far. So we walked and pushed our bikes on the steepest bits, so we could get out of the way quickly when needed, while saving our knees.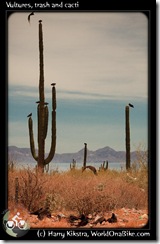 The day seemed to progress nicely when we were treated by a nice slow downhill the next 20km, but then it turned into a hellish experience. No shade for a rest, the hot headwind slowed us to a halt, while small hills were followed by a 13km constant climb with the temperature cheerfully climbing to above 35C/95F as well. It cannot get much worse than this.
All the places that were marked on the map were either no longer there or closed and/or decaying, so no refrescos could be bought. We had both run out of water and stopped a passing ambulance for some water (we got about half a litre), to prevent further rehydration.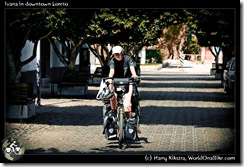 Finally, after 65km (40mi) and almost 6 hours on the road we could start the downhill towards Loreto, a dusty town with a friendly old centre, including one more mission.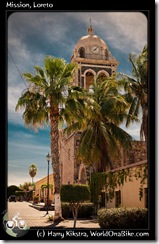 What was more important was the water filtering shop in the beginning of town (the friendly owner donated 2 litres of cool water, where can I sent the recommendations for sainthood?), an overpriced supermarket and the juice bar in downtown selling fresh OJ by the litre and a nearby hose to wash the salt of our faces.
Once our body temperature had lowered enough to approach that of the air surrounding it, we headed out for  our last section towards a small town named Juncalito. We passed some ugly new housing projects, with unnaturally green lawns and fake ponds. Meanwhile the temperature finally dropped a bit. Even with the cool morning and the freshening evening we clocked an average temperature of 30,2C/86F, during the 12 hours we had spend on & around our bikes; too much for comfort and we were ready for some rest.
It took 2 small but nasty hills before we reached the house of Roberta, a WarmShowers host in Juncalito. She lives with Smooch the cat in this small town, off the grid, but powered by solar panels and the caring of the neighbours, who immediately came out to greet us and to hand us all kinds of vegetables.
Roberta had even prepared a wonderful dinner for us; we felt we rolled from a hellish nightmare of a day into a cyclist's dream and soon after our feast we started a well-earned rest…
2-4 May 2009: In Juncalito: sea critters & festive cruisers.
We stayed 3 days in Juncalito as there were too many fun things to do to rush and we enjoyed Roberta's company.
One of her neighbours borrowed us 2 kayaks for a few hours, so we could circle a nearby island to check out the pelicans, crabs and fish. We will need to cross the high mountains in the back soon, but for now we enjoyed being at sea-level.
It was a great trip and a welcome change from the bike, finally some upper body exercise…
Festive Cruisers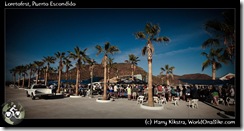 It also turned out to be the time for the "Loretofest", a yearly gathering of cruisers, i.e. people living and travelling on their boats. Most cruisers seemed to be in their fifties, but there were also younger and older ones as well as kids travelling.
They had all come to Puerto Escondido ("Hidden Port", 5km from Juncalito), to meet up and celebrate their lifestyle together, while raining funds for the less fortunate local youth.
Ivana and I entered a bubblegum-blowing contest on the 50's night, enjoyed the cooking of the cruisers at the tasty potlatch and caught up on some work using the harbour office's Wi-Fi. It was interesting to see this totally different subculture, that actually had quite a lot in common with us BikeTravellers, living and travelling outside the lines…
We were happy we had found Roberta's little piece of paradise to rest, but we had to leave her, Smooch and the dozens of hummingbirds circling her balcony, to get on the road again. One more long stretch separated us from La Paz, gateway to mainland Mexico!
Kowalski! Status report!
Total km: 9225. Knees and back were ok, though slightly overcooked. I pushed the bike when it got too steep and that seems to help prevent further injuries. So far no more flat tires in Baja California (after the one the first day in the North), so that is above expectation. Bikes are doing well, but they are looking forward to the 2nd oil change in La Paz…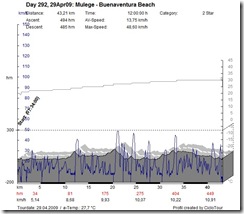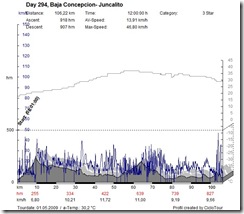 We did not only spend time in the city, but managed to get out. As my knee needed more rest, we were lucky that Alison had borrowed us her car, so we could head out of town for New Years. She had warned us that the tires were old and bald, so it would be better to avoid rain.
Right after we pulled the car out of the garage in Filbert St, we continued the road East, leading up and down a huge and steep hill. I think we found the steepest road in SF, and we both felt we were in a rollercoaster when we crossed the top..
Snow and champagne in Truckee, saying goodbye to 2008…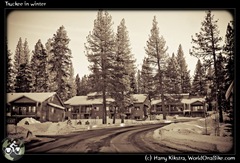 After my new camera had arrived (yes!) we packed our camping gear in the car and drove to Truckee, a few hours east. We arrived in the dark and noticed that most of the town was covered in knee deep snow and the car slid back and forth over the slippery roads.
It was so great to see Colie again. I had been climbing in Uganda 4 years ago together with Romke, Ali & Andy and now we had seen the entire team again, spread out over Amsterdam, Seattle, SF, Truckee and a bike! Colie took us on a tour of Lake Tahoe, which looked wonderful in the winter snow.
Finally after avoiding the snow since Northern Alaska, it was great to be surrounded by the cold white stuff!  We went for a nice winter hike with some of her friends and got ready for a new years Eve party with more friends and lots of great food and drinks.
Goodbye 2008, we will miss you..
We have no idea what 2009 will bring, but 2008 was again amazing. I had been on 6 continents (alas no Antarctica this year), hiked with friends in Australia, almost got scammed in Kuala Lumpur, proposed to Ivana on the summit of Kilimanjaro, witnessed by all 26 clients. We saw Machu Picchu with Ivana's mum, watched a lion grab a gazelle in the Serengeti and cycled 7000km through wonderful North America. It was not always easy, but it felt that we had been more alive in one year than most in their lives…
Off to Yosemite: big walls and black bear?!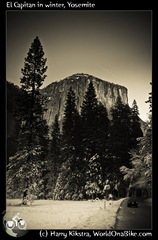 We had a great time in Truckee, but as bad weather was coming, and we wanted to see Yosemite park before it became impossible to get there, we headed out on New Years day.
The road to get to the valley was high and steep and there were several spots with snow and ice, but the views of famous walls like Half Dome & El Capitan made up for the nerves.
The final part into the village and campground was even completely covered in it, but I managed to reach the famous Camp 4, home of all Big Wall climbers. The camp was covered in deep snow, so we had to prepare a campspot by packing some snow.
Just when I was busy preparing the tent, I saw a big shape passing just behind it. It was almost dark, so I turned on my light and called Ivana. 'Look at that, a bear!'
Just as we though we had definitely left 'The Wild', we had the closest encounter with a black bear so far, less than 10m away. The big animal did not pay attention to us and slowly walked into the foggy forest…
.
We made sure to leave no food in our tent or car (Yosemite bears are known for 'opening' cars) and put everything safely in the special bear-proof containers. We managed to cook a nice pasta meal and finally sacrificed our last Adventure Food meal, before heading over to the restaurant for a cup of hot chocolate.
–
The night was cold and uncomfortable, but we got no more bear visits and the next morning we took the free shuttle around the village and walked back past great views of the Yosemite Falls and Half Dome.
Oakland and Berkeley
It was time to get out as more snow was expected. With much effort I managed to get the car back on the road and down to drier elevation before the rain hit hard. We contacted Mikelanjelo & Jessica, who had invited us already a long time ago and stayed a few days in their place in Oakland.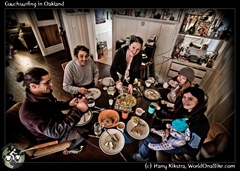 –
Together with their friend Kristan and her kids (including "I-love-you-Leif") and boyfriend they made us feel at home.
They showed us around in Berkeley as well, a nice college town with a friendly atmosphere, unlike Oakland which had an air of aggression, which was confirmed after the shooting of an unarmed boy on the subway a few days later…
We visited a multicultural fleamarket and were chased by fat squirrels in the park on yet another sunny winterday..
Ivana had left a comment on an Argentinean newssite, where bicycle touring was criticized, and soon after we were contacted by Ramiro, an Argentinean living in the US. he asked us to come over to his girlfriend Barbara's house for some great homemade empanadas! And he even invited us back the following week, so I guess we are not such bad guests after all 😉
The good life in wine country
Mitch had introduced us to his good friends Adriana & Gerard. It as fun to speak some Dutch again with expat Gerard and after inviting us in their home for a great meal, they asked if we already had seen the vineyards. We explained that we had been on the coastal road all the time, and they immediately made plans for a tour in the weekend.
We had a great day, cruising in Gerard's convertible in the warm winter sun. We visited many wineries, tasted some good wines and olive oils and thoroughly enjoyed the company and places we visited.
The good thing about a bicycle trip is that you sometimes get taken to places where you would never had gone yourself, but that are great anyway…
–
My knee was feeling a bit better and though I could not step down stairs properly, we decided that we would try and start cycling again. But first it was time to say goodbye to SF!
Next and final SF report coming very soon 🙂 : Critical mass, bellydancing B-day and many friends…
July 24 – July 29: resting & recovering in Fairbanks
We spent almost a week in Fairbanks, relaxing and catching up on resting, washing, shopping & working. Besides the overwhelming abundance of We were pleasantly surprised food-wise on two occasions. First the day after we arrived at Ericka's place, they celebrated Miles' b-day and we were invited to share the pizza, coke and pie and meet some of their family.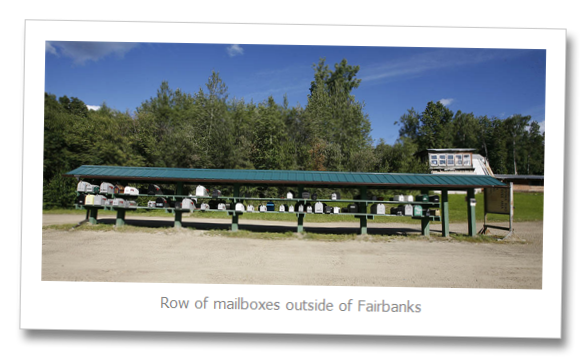 The next day we went out to see a bit more of Fairbanks and we cycled around the town visiting some places along the way like the lovely Farmer's market, selling extremely expensive but . There were no video camera batteries for my camcorder anywhere in the city, so not sure if and what I can film before the next big city, which is Vancouver, 4000km away…
At the end of the day we visited the Pioneer Park, a place for tourists and locals to hang out. It is a bit corny, but they preserved and moved some of the oldest houses of Fairbanks here. We noticed a lot of people eating and unconsciously followed them to the source. We ended up at a set of tables, covered with fresh fruit, salad, chocolate cake, chips and meat. Besides it were a few large containers filled with cans of soft drinks, it was biketravellers' heaven.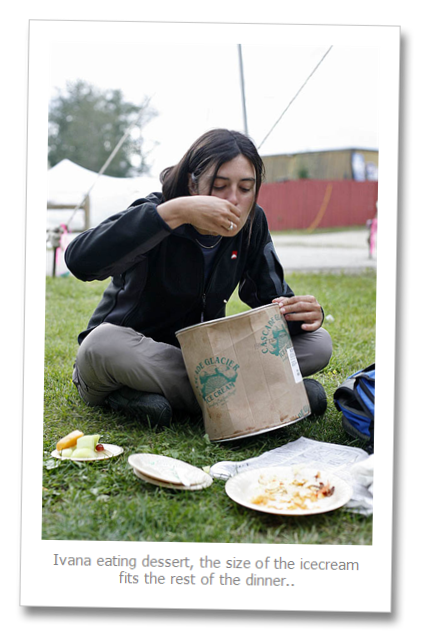 21st July, a long and tough B-day party!
I went to sleep at the Arctic circle age 37 and woke up being 38, great place for a b-day. The road that Ivana had spotted had a name, which is always bad news. It was called the 'Beaver Slide' which could be pleasant in different contexts, but in our case it meant 3km of steep uphill cycling at a 10% grade. The asphalt had ended, so we were back on mud and gravel and the returning rain made it even more difficult.
The rain and hills did not stop all day but still we were in a good mood. Just when we thought we had enough hills, we entered the area which was called 'The Rollercoaster' and it deserved its name. We had been warned beforehand by some people as the big trucks cannot slow down on these hills and cannot avoid us well. In order to get up the next hill, they have to go full speed down, else they will not make it.
Well, on a fully loaded bike you cannot go down at full speed as you will break it, so we usually start braking at about 50km (30mi)/hrs speeds when on the mud and gravel as there are potholes everywhere. This means that we cannot make it back uphill, and many times we had to get off the bike and push it up.
Just when I was pushing my bike on part of the Rollercoaster, called the Sand Hill, I noticed something moving on the side of the road and I stopped pushing. A large dark brown shape swiftly crossed the muddy road, some 20 meters/70 feet in front of us. Read more