Critical Mass
Though my knee was still painful, I could cycle slowly again. It was time to move on, and leave our new home for new adventures down the road. We invited our new friends for a dinner in a cosy Lebanese bar to celebrate our departure and Ivana's b-day the next day. But first we had some other cycling to do!
San Francisco is the birthplace of the Critical Mass. It is a monthly event where hundreds, maybe thousands of cyclists group together and ride through the city, reclaiming the streets from the cars that have no other choice that to wait until all the cyclists have passed

It is a great event and I urge everybody to join the Critical Masses, in SF or elsewhere. It is not just to make a firm statement, but also a great way to see the city, without being bothered by cars and red lights.
Besides, it is a big party with all types of cyclists, music and general fun. It was Ivana's best B-day present and we enjoyed it thoroughly.
Saying goodbye on Ivana's B-day
We had to hurry back though as we had a party appointment! Adriana had picked the nice place with relaxed people and Lebanese snacks as well as fruity hookahs and even a belly dancer!
We had a great time and though many people could not make it to the the last minute invite, we were happy to spend some of our last hours in SF with our new friends.
New and old friends, thank you for making San Francisco our home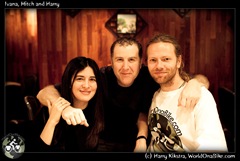 as with most places, it is not the Golden Gate or any other famous landmark that makes SF special. It is the never-ending stream of friendly, helpful and generous people.
We met many new friends, some of them (Mitch, Adriana, Gerard, Kourtney & Brian, Fiona & Jeremy, Kim & Nate & Jessica & Mikelanjelo) are listed on the "1000 Americans" category, others whom we did not capture with our cameras we owe just as much.
We could write full page stories about each of them, but for now here are some simple thank you's
Thanks to Kristan& Rhasaan for opening their house in Oakland and showing us Berkeley as well.
Thanks to Jan and Wandralee for opening their house and giving us time to relax and re-organize. Jan is off to to the ride from SF to LA for Aids, she is a brave and strong woman!
Muchas Gracias to Barbara & Ramiro, who invited us for a wonderful dinner in their new home twice! Ramiro never forgets his roots and makes great empanadas.
Thanks to Yaffa and her roommate, who shared their house with us for a few nights.
We even met some old friends again, some we had met earlier on the trip, others we had met many years ago.
Thank you all, more than words can express, for making San Francisco a special place for us.
–
Next report: on the road again, off to LA! how will the knees hold out with the Devils' Slide, Big Sur and many more challenges ahead? Tune in next time, same channel, unreliable time 😉

–
Where and When
Where are you going?
The plan is to cycle through America, from the North of Alaska to the South of Tierra del Fuego, Argentina. Note that America is not the same as the USA. We want to see America and the USA is one country on these two continents.
Straight down?
Well, straight down is impossible, you would hit water already in Alaska, but even in a straight line is not possible. The fastest route would be more or less straight to Panama, fly or sail to Colombia, then down the west coast of South America, over the PanAmericana.
So how far is that, 16.000km, about 10,000 miles?
It might be if you could go straight down. We think we will have cycled at least double that distance (about 35000km) as we want to visit every country on the mainland, so including all the small countries on Central America and all the larger countries in South America.
How much do you cycle every day?
Usually between 50 & 100km, depending on the wind, road surface, health, bike problems, interesting places and people.
We will not cycle every day, we will take longer rests in interesting places, so our average will likely be around 50km/day or even less.
How long will this trip take?
We think about 2.5 years, give or take a few months.
Why 2.5 years, why not 2 or 3 years?
We have to start in Alaskan summer, so July (June is considered Spring, August Fall, the rest is winter in Alaska). As the Southern hemisphere has reversed seasons and we want to arrive in summer as well, we need either 1.5, 2.5 or 3.5 years. 1.5 is too fast, 3.5 a bit slow…
Who & what
Who are you?
Argentina & The Netherlands? So where did you meet?
In Tibet. She was cycling from Malaysia to India, I was climbing Mt Everest. We got engaged two years later on the summit of Kilimanjaro, 3 weeks before the start of this cycle trip.
Tibet? Kilimanjaro? Eh, ok. So you like travelling. Where else have you cycled before?
Ivana has made one very long trip: first around New Zealand, then from Malaysia to India, passing Thailand, Cambodia, Vietnam, Laos, China, Tibet & Nepal on the way. Then she cycled for a month in Turkey and has also cycled in France.
Together we cycled in Italy for a month.
I (Harry) was raised in the Netherlands, so was practically born and raised on bicycles. Previously I have not made any very long cycle trips, but have done some shorter touring of 2-3 weeks per trip (Belgium – Normandy – Jersey -England; Wales, Ireland, Northern Ireland – Scotland; Amsterdam – Zermatt on a tandem).
What bicycles do you use?
We ride on the perfect travel bike: Dutch made to order Santos Travel master, aluminium frame, 26″ wheels. Tubus racks and Ortlieb bags see for more details the gear pages.
Website:
How does this website work?
well you found the FAQ, so you seem to have some idea already. On the homepage you see 4 tabs with a photo and shortcuts to the last 4 posts.
You can check older trip reports in may ways: check archives, trip reports, search for words, browse by categories (the second/lower top menu) or use the tags system, which is a bit more detailed than the categories.
You can contact us through the contact form and we love feedback on our posts, so please leave some comments when you read the posts. You will be asked to verify that you are a human being (and not a spam robot) by typing some random code. Though this might be difficult and annoying, it saves us hours of time and helps to control spam.
Will you write reports every day?
We will try but already know that it will not be possible as we will be too tired, to grumpy, too out of battery power, or too far away from any internet connection. So likely we will write in batches, whenever we have a few hours or day off and post them when needed.
So do I need to check every day to see if you updated something?
No, you can make it much easier to follow us: either add our RSS feed to your feed reader, so you get a notice when a new feed is available
If you have no idea what RSS is, just subscribe to our mailinglist and get a maximum of one email every day new updates are posted. You can do this on every page, see the box at the right side, near the top of the page or just click here.
Why does http://WorldOnABike.com change to http://harry.biketravellers.com ?
World On A Bike .com is just easier to remember and to tell people. It automatically forwards to the real website which is located at harry.biketravellers.com. On http://BikeTravellers.com everybody that cycles can open a free weblog (yourname.biketravellers.com), try it yourself, many others have already done so.
Where are Ivana's reports?
What are those 'Google Ads' I see on many pages?
These are small advertisements, supplied by Google. We do not choose them, the content is based on the content of the page, so a page about Alaska will give you ads about Alaska tours or land. It might show things we do not support, like drilling for oil in Alaska.
Every time somebody clicks on them, we get a few cents, which helps to pay for our website costs. So if you are interested in the ads, please check tem out as you are helping us.
Do not just click a lot of ads just to help us, as Google might ban our account if some people repeatedly click our ads from the same computer/IP address. So only check the ones that are interesting to you.
How & costs & support
How can you afford such a trip?
We spend much less than you think, we saved some money the past years and might make some more on the way.
So, how much will you spend?
North America will be the most expensive: until we reach Mexico, we will spend about $15 per day (together). This means less than $3000 in the first 6 months.
Then from Mexico down it will probable be less than half of that.
In total should be less than $10,000 together for the entire trip.
That is less than my parents spent on a luxury 2-week safari trip last year! How come you can live so cheap?
We do not need much. We have our tent, so we do not need to pay for hotels. We camp out in the wild or at people's lawn's, so do not pay for expensive campsites. We will stay in cheap hostels in cities -in central America, you can get these for a few dollars-, but will also do a lot of Couchsurfing/Hospitality clubbing/ WarmShowering: staying with people for free, in return we will host them later.
We cook ourselves, so all we need is some pasta, some veggies and some candy bars to get us through the day. We drink water we get from people or take it from streams and purify it with our Steripen. We recharge our batteries using our SolarSupra solar panel. We never buy bottled water, that is a waste of money and plastic.
We do not have an expensive taste and have no space for souvenirs on our bikes, so all we take home are pictures and memories.
Our sponsors supplied us with most of our gear, so we had little costs up front.
It is still a lot of money, don't you have any other costs as well?
We do not have kids, we do not have a car and have no debts, we never bought and will not buy anything we cannot afford. We have a house, but that is rented out so almost pays for itself.
So things we need to pay are: food & drinks. Sometimes camping fees (mostly we camp in the wild or on people's lawns); Internet connections along the way, spare parts for our bikes; replacements for clothes we wore out; park fees; visa fees; entry fees for places we want to visit etc.
It is hard to plan exactly how much we will spend, but we want to see things along the way and will buy some dinners or breakfasts along the way when we are too tired or lazy to cook or think we deserved it after cycling another 1000km or a tough day. Basically we are on a tight budget, but will not let this stop us from enjoying the places we visit.
Is there any way we can support your trip?
Yes! Many ways, first of all you can sign up for our newsletter or RSS feed. Forward them to others that might enjoy reading travel stories, stories about people and culture, cycling, environmental issues, America.
Leave comments on the posts. We love to read them, they keep us going. Small notes from friends and strangers are huge boosts for our confidence and can help us through rough and difficult times.
Just think of this website as a free interactive travel magazine subscription. If you enjoy reading our stories and seeing our photos, you can thank us by donating some money using the form on the right side of every post and page, using PayPal or credit card. Every small amount is welcome, just think what you would spend on a magazine or book.
Check out the Google ads if there is something interesting for you (do not click them all just to help, see notes above).
Link to our websites or specific reports or photos from your own website or blog. Add us to Stumble Upon, ReddIt, Digg etc. get the word out that it is possible to travel by bicycle!
Invite us to speak in your town. We can give presentations about our trips, about climbing the 7 summits, cycling Asia, Bike Travelling or a photo presentation of the culture and nature of the 7 continents . We can charge admission fees or just ask for donations. We love to tell about our trips and spread knowledge about cycling and the environment.
Buy something from our shops, see the links above. We get a small percentage of every item sold and you promote cycling!
Invite us for dinner or to stay at your place or recommend addresses to sleep (friends, family) or even just places to pitch our tent
Start cycling yourself!
after we woke up in our church, we noticed that it was actually dry! Not only that, but the weather improved during the day. Oh, how life is so much easier with some sun. I know we will curse it later when in the heat of central America, but for now it was very welcome.
We passed quite a few roadhouses and motels, that were either closed for the season or closed altogether. Seems that the combination of higher gas prices (increasing the costs for the generators and heating) and lower number of tourists (also partly because of higher gas prices) already has put many businesses out of business. Still some smaller business like the Cappucino house at the Gakona Junction seemed to survive. Shame that most clients never leave their car and stop to talk with the friendly ladies that run the wildly decorated place. Louise warned us for the many wild bears that were on the coming stretch and showed us some photos of a bear on the side of the road that apparently was not afraid of humans at all, taken a few days before…
We had stopped for some internet at Gakona Roadhouse, a nice historic place in a beautiful setting. It was comfortable to stay there, but the late evening sun convinced us to go a bit further and so we managed to see the beautiful sunsets over the Wrangell-StElias national park, with its 2 dominant peaks (from this side) Mt Drum and Mt Stanford. Read more
July 24 – July 29: resting & recovering in Fairbanks
We spent almost a week in Fairbanks, relaxing and catching up on resting, washing, shopping & working. Besides the overwhelming abundance of We were pleasantly surprised food-wise on two occasions. First the day after we arrived at Ericka's place, they celebrated Miles' b-day and we were invited to share the pizza, coke and pie and meet some of their family.
The next day we went out to see a bit more of Fairbanks and we cycled around the town visiting some places along the way like the lovely Farmer's market, selling extremely expensive but . There were no video camera batteries for my camcorder anywhere in the city, so not sure if and what I can film before the next big city, which is Vancouver, 4000km away…
At the end of the day we visited the Pioneer Park, a place for tourists and locals to hang out. It is a bit corny, but they preserved and moved some of the oldest houses of Fairbanks here. We noticed a lot of people eating and unconsciously followed them to the source. We ended up at a set of tables, covered with fresh fruit, salad, chocolate cake, chips and meat. Besides it were a few large containers filled with cans of soft drinks, it was biketravellers' heaven.
21st July, a long and tough B-day party!
I went to sleep at the Arctic circle age 37 and woke up being 38, great place for a b-day. The road that Ivana had spotted had a name, which is always bad news. It was called the 'Beaver Slide' which could be pleasant in different contexts, but in our case it meant 3km of steep uphill cycling at a 10% grade. The asphalt had ended, so we were back on mud and gravel and the returning rain made it even more difficult.
The rain and hills did not stop all day but still we were in a good mood. Just when we thought we had enough hills, we entered the area which was called 'The Rollercoaster' and it deserved its name. We had been warned beforehand by some people as the big trucks cannot slow down on these hills and cannot avoid us well. In order to get up the next hill, they have to go full speed down, else they will not make it.
Well, on a fully loaded bike you cannot go down at full speed as you will break it, so we usually start braking at about 50km (30mi)/hrs speeds when on the mud and gravel as there are potholes everywhere. This means that we cannot make it back uphill, and many times we had to get off the bike and push it up.
Just when I was pushing my bike on part of the Rollercoaster, called the Sand Hill, I noticed something moving on the side of the road and I stopped pushing. A large dark brown shape swiftly crossed the muddy road, some 20 meters/70 feet in front of us. Read more
After all the planning, we were anxious to get on the plane. Romke again suffered sleep deprivation because of our trip and woke up with us and took our bikes and all bags to Schiphol airport at 5 in the morning. It was raining cats and dogs (or lions and hyenas as we use to say in Tanzania, but that is a different post about our preparations that we still have to write

We had booked with Condor airlines, but the first leg (Amsterdam to Frankfurt) is executed by Lufthansa. It was a messy check-in, but while we were busy preparing our bikes for the transport, we were pleasantly surprised to meet up with our friend Bas. He works on a project at the airport, heard we were leaving and came in a few hours early to boost our sense of humour as always

Condor had been nice to us by allowing extra luggage, free transportation of our bicycles and the lowest ticket price.
One of the best things they offer is cheap international one way tickets. somehow all major airlines charge more for a one way ticket than a return ?!? Anyway, as we try to minimize our flying because of environmental impact, we were also happy to find out that Condor flies directly from Europe to Canada/Alaska instead of going through major hubs in the lower 48. This makes the trip shorter and therefore cleaner.
The Lufthansa part was great, the check-in easy and the on board service friendly. We could check our luggage all the way through to Fairbanks, so at the huge -and customer unfriendly- Frankfurt airport, all we had to do is get new boarding passes for the 2nd flight. Well, it turned out that is was lucky that we had a 3 hour lay-over, as we needed it between walking from one end to another and queuing up at Condor..
The flight itself was basic, no personalized TV, but I can live with that in exchange for a few hundred euros saved. Besides, we crashed (no pun intended) in our seats the moment we sat down and only woke up for drinks and meals… The food was nice and the views (perfectly announced by the friendly pilot when applicable) were outstanding, seeing the Norwegian coastline, Jan Mayen island & volcano, Greenland and Northern Canada, before we stopped for a while in Whitehorse, Canada. Another hour later we touched down in Fairbanks, Alaska, just a few degrees south of the polar circle.
We were delighted to see that not only our bikes, but also our bags made it. Less happy I was when I noticed that some baggage handler along the way had roughly turned my front wheel in such a rough manner that it had scratched my frame and destroyed my front light. Immigration was very friendly here and very interested in our trip and gave us no trouble.
While we were reorganizing our gear and fixing our bikes a huge rainshower passed and Ivana and I looked at each other with a frightened look and started looking for our Vertical raingear. Our bikes were heavy and we were both grumpy, until we saw the campy roadsign that welcomed us.
We had been in contact with Ericka *& Miles through the excellent Couchsurfing community, offering hospitality between/to travellers. Her house was easy to find and we were welcomed to our own room where the packages I had ordered were already waiting: a new lens for my camera, some memory cards, a new stove and a big box from Big Agnes/Honey Stinger with our new tent and a lot of energy gels and bars.
Ericka let us call to Matt at the Northern Alaska Tour company and we were pleased to hear that one of their vans was leaving the next morning, and they were offering us free seats for us and our bikes and gear, all the way to Deadhorse! This is the name of the community near Prudhoe Bay, close to the Arctic ocean as we could get and the start of the Dalton Highway. This was perfect!
Ericka helped enormously by driving us from one store to another to get some last minute supplies lie some spare inner tubes, dinner and breakfast and bearspray! (As I mentioned in my first post, they did not have after-bear..).
Fairbanks is 10 hours later than Amsterdam, so our day was already 34 hours long. We were tired after all the lack of sleep but as we would leave in a few hours, time to sort our stuff again: what would we not need the first 2 weeks? Mistakes can be fatal for us or our bikes on one of the roughest roads imaginable…
We are now several days on the road and have some time to write some proper reports. Frankly I am amazed I can type this, as I was sure that the constant bumping of our bikes and bags over the very rough roads would have destroyed Lenny (Our Lenovo X300 laptop), but surprisingly it still works as always, long live the solid state harddisks. If you can actually read this, then it means it has survived all 2 weeks of Dalton Highway, one of the most infamous pieces of dirt road in the world…
But let's go back a few weeks, back to the lowlands and share our journey with you in words and images.
I am not sure if it is me (us) or is there just no way to properly prepare for a 2.5 year trip? We had been planning since a year ago and still many things had to be done in literally the last minute. At least you can get a lot more done if you use the 8 hours we normally waste on sleeping on working and preparing

As our house was already rented out, we moved back and forth between my mom's house and Romke & Anouks place. R&A have two wonderful kids and they were happy to assist in sorting out all the gear we received from our wonderful sponsors, this is Kira, checking out the Ortlieb and Carrera gear that Jacobsons sent us.
and this is how part of their livingroom looked during their vacation:
Thanks again, Romke & Anouk & Kira & Jelte, we would not have made it without you.
We took the train up North to say goodbye to my Mother and Sister. By the way, in The Netherlands we have a great railway system, which will get you everywhere in no time. of course people like to complain about the train service, but i think it is perfect, there are even a lot of special spaces for bicycles in every carriage, very useful to do some last minute fine-tuning:
My Mum helped us with some last things and we even managed to make a mess in her place. She was very sad; even though I have been away for many months at a time in the past, this will be the longest period away so far.
My sister lives close and we also visited her to say goodbye. We had a nice dinner at a organic Indonesian restaurant in Assen, with great food and service and we could even park our bikes inside. As with my mom, she was in tears when we waved goodbye from the train, but again somehow I was not sad, maybe we will see each other soon again.
Ivana had already said goodbye to her family in March, when she came to Amsterdam. But thanks to the wonders of skype and broadband Internet, she had been talking/videoconferencing with her mum and sister (that almost have the same names as mine) every evening for hours, while packing and sorting stuff.
Going on all these adventures is selfish in a way as we are worrying our friends and family. But I think we can repay their concerns and affection with stories and images and knowledge that we are following our hearts.
ps: we also had a nice going away slash b-day party, but i will post the images in a separate post once we find the images again

It was time to say goodbye to Wiseman and 8-Ball, even though we could have stayed much longer. He asked us not to tell everybody he was such a nice guy, but we said that we could not do this.
Just when we were cycling out of town, we heard an engine behind us and 8-ball appeared on a small 4×4 vehicle that every Alaskan seems to have nowadays. 8-ball stopped besides me.
'I forgot my manners. As you were going to Coldfoot for some lunch, I just thought, maybe I can make you some soup! Do you want some?'
The we did something that biketravellers normally never do: we turned him down.
'Thanks for the offer 8-ball, much appreciated, but you already have done so much for us. We have to go.'
And off we went. The road was not as bad as we had left it 2 days before and soon we arrived in Coldfoot, the leftover from the Pipeline and mining town. Now it is mainly a truckstop, serving Alaskan-sized portions of food. as mentioned, most cyclist do not have epiphanies when cycling. The only deep thoughts that cross our minds are usually either:
When can we eat again? I am hungry..
Damn, that wind is again slowing me down, when will we get tailwind?!? Is that another rain cloud up there?
Should we stop for lunch now and push another mile or two?
20 miles cycled today, so that is 32km, so almost 11km per hour. Seems it is time to stop for a snack, but maybe then it will take too long until dinner..
As you can see, the thoughts of a biketraveller are mostly about basic subjects: food and cycling, distance and weather. Ivana and I both admitted to eachother that we increased our speed when approaching Coldfoot, making non-stop calculations: 'Coldfoot is at Mile 175, this is Mile 171, so 4 miles, that is 6.4km. We go 13km per hour now, so almost 30 minutes to lunch. Oh no, uphill, 40 minutes to lunch. Great going down again, only 10 minutes to lunch now.'
Suddenly we both realised independently a horrible possibility: what if the other cyclist had come to Coldfoot before us and had already bought al the snickers bars!?! Read more
You lose all sense of time when it doesn't get darker at night. The sun doesn't set at 70 degrees North, but just circles around you like a vulture above a fresh kill. As we do not have watches, only our cycle computers and Lenny could tell us what time it was. The other cyclists were buys packing as they were on the 08.00 tour, but as our tour only started 6 hours later, we enjoyed the extra hours to relax for the first time in weeks.
When we finally headed over to the Caribou Inn, they had already finished and were preparing for their trip. As a biketraveller, you have to take care with your money, as you never know where you might need it. That is why we were hesitant to attack the $18 lunch buffet that the cyclists had raved about. Once we took our group picture outside and said goodbye to the others, we had made up our mind to feast; but we were too late as lunch was over.
Only then we found the hidden secret of the Caribou Inn: the packed lunch. For $10 you could take a quite large paper bag and fill it with whatever you like. I am sure they had no idea how many salmonburgers, hamburgers, ham/cheese & salami sandwiches, chocolate cake, yogurt, fruit juice and potato salad a pair of cyclists could fit in just one bag

Read more