Oepie was born in the Netherlands and had worked in the dark dusty mines of Southern Limburg. He had a hard time getting used to Canada, but now he feels it is his home, even though half the town he lives in is either Dutch or has Dutch parents. But he was very happy, he could show off his Dutch 'uniform' for my picture.
He has a great diner and service station, just outside Smithers, stop by and say Hi!
Rita and Willie Hofsink live outside of busy Smithers, in a great house in the fields, overlooking a great mountain. As many people in this area, they have a Dutch background. The entire family loves to hunt, but they teach their children, not to shoot more than they can eat…
July 9, 2008 by Harry
Filed under
World Nomads Insurance.
Insurance approved and tested by 7summits.com
Most insurances have lots of restrictions in their small print, almost always excluding most sports. Even with so-called 'active' policies, most real adventure is not covered.
My company 7summits.com is now a preferred partner of WorldNomads/IHI insurance. We use this insurance ourselves and recommend it to our clients. We have tested it on Everest and have used it to insure our Vinson climbs as well as for just a few dollars you are covered for all emergency rescues. Please always check what is covered as some countries (like UK, Canada, Australia & USA) have different restrictions like max altitude or climbing in general, tough cycle touring seems always covered.
Keep Travelling safely with World Nomads.
At worldnomads.com you get so much more than travel insurance. Get your own online travel journal and destination guides, World Nomads keeps you travelling safely.
Travel insurance: it's simple & flexible.

You can buy, extend and claim online from anywhere, even after you've already left home! Recommended by Lonely Planet, World Nomads travel insurance is designed for adventurous independent travellers and covers overseas medical, evacuation and luggage such as iPods and digital cameras.

World Nomads partners with some of the best travel brands online.
So what does it cost.

To get a quote or buy a policy, select your country of permanent residence. Please always check what is covered as some countries (like UK, Canada, Australia & USA) have different restrictions like max altitude or climbing in general.

If your country is not listed below, please click here to select another country.

Top 5 questions.

World Nomads works with some of the best insurers in the world.
Stay in touch & Learn to speak like a local!

It's free to use.
Write travel tales and tag your content.
Unlimited photo galleries.
Quick and easy image uploading.
Allow guests to comment on your posts.
RSS News aggregator feeds.
No banner or text advertising.

Learn the lingo!

Stay out of trouble with our free language guides for your iPod or MP3 player…

Click on the country's flag to download the language guide.
Leave a positive Footprint

Make a tangible difference. When you buy a World Nomads policy you have the chance to donate a small amount to a sustainable travel project. You can then follow the progress of this project, from the raising of funds all the way through to completion, through the Footprints web site.

We can make a donation on your behalf, see the discount codes to the right

100% of funds raised through the Footprints program go directly to the projects.
See our latest projects

Special 7summits.com promotional discount code: 5% off all insurance

Especially for the 7summits.com visitors and clients we are allowed to give you a discount of 5%. Just use the WorldNomads promotional code 'seven' when applying for a quote (you will see the discount before you have to pay anything).

Use the Worldnomads promotional code for a 2 week Kilimanjaro climb or a full year's insurance for your biketrip!



7summits.com Worldnomads Promotional discount Code for 5% off all
insurances:

'seven'

If you use the discount code '7feet' instead, then your discount will be donated by us to the charity you chose in the Footprints network instead.

Safe travels and happy climbing or cycling!
July 9, 2008 by Harry
Filed under

Mario Wolff is also someone who has turned his passion into his living. A climber by heart, he is nw the importer and dirtibutor for Vertical clothing as well as Stic-it (for rockclimbing) as well as Tear Aid, clever stuff that you can use to fix everything.
His main focus is on the wonderful Vertical clothing. Vertical (French website, Dutch website) uses the innovative material MP+. More breathable than Gore-Tex, stronger and more durable. The jackets he gave us are fully waterproof and weigh only 200grams!
Mario went throug a lot of trouble to make sure our new gear arrived on time, many thanks for your help Mario!
The gear is very nice and though primarily focused on climbers, very useful for cyclist and other travellers and adventurers as it is durable, functional but light and pretty as well

Mario Wolff | Bezoekadres: Stemerdingweg 7a 3769 CE Soesterberg | Tel nr 06-48172310 | E-mail: info@mariowolff.nl | kvk nr. 34247900 | Btw nr NL146386723B01
July 8, 2008 by Harry
Filed under
De Vakantiefietser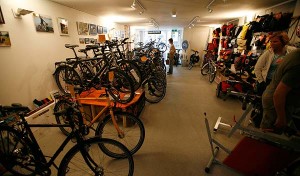 Eric Schuit is one of those people that has turned his hobby into work, but in a good way 😉
He is an avid cyclist, has written several books and uses all his accumulated knowledge about bicycles in one of the most fun stores in the Netherlands: De Vakantiefietser.
All types and brands of bicycles can be bought as well as a range of books, maps, Ortlieb bags and other great gear you need for a perfect trip.
But the best Eric has to offer is his knowledge: as he still goes away to cycle in faraway places a few months every year, he definitely knows what he is talking about.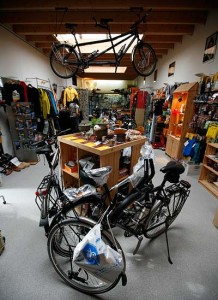 Thanks Eric for the advice and help you gave us!
From his website:
De specialist voor je fietsvakantie
uitrusting – fietsen – reizen
English
The Holiday biker
The specialist for your bicycle trekking holiday
equipment, trekkingbicycles, travelinformation
Cycling is fun!
An increasing amount of people choose a sportive holiday under one's own power. With the wind blowing trough your hair, enjoying the beauty surrounding you, you feel free as a bird on your bicycle. De Vakantiefietser helps you along with enthusiastic stories, a well fitted bike, practical equipment, advice and expertise.
Bicycle trekking equipment
From waterproof panniers to cycle maps, from gasoline burner to
down sleeping bags, from unbreakable carrier racks to self-inflating
mattresses and from breathable rain jackets to puncture proof tires, we
have everything in the house.
What to think of a headlight, waterproof socks, compact tool, bicycle
trailer, synthetic towels, luggage net, water bag, first aid set,
universal bath stop or camera stand for on your handlebar.
Holiday bicycles
What
kind of bicycle is suitable for you not only depends on the duration of your trip and the destination, but also on your budget. It makes quite a difference whether you are going on a world trip, or go on bike holiday to France.
That is why we have bicycles in different qualities and price
categories: idworx, Koga Miyata, Koga Signature, Santos, Snel, Van Nicholas and VSF. Besides that we are the specialist in The Netherlands for a trekking bike with Rohloff speed hub.
Delivery for a new bike is from one to eight weeks.
Cycle guides, maps and travels
In our book cupboards are hundreds of bicycle guides. Apart from Dutch guides, we also have German and English guides and travel stories. Our maps are especially selected for cyclists. So you will not leave our shop with a walking or car map.
On our coffee table there are (next to the 'negerzoenen') brochures of a number of cycle travel companies. We do not sell travels, but we can help you finding the most suitable travel organisation for you.
About Eric Schuijt

Eric Schuijt cycled through more than eighty countries and wrote four books about these travels.
In his shop, De Vakantiefietser, you can find your trekking bike, as
well as your complete bike trekking equipment and travels. All the
employees at De Vakantiefieter cycled all over the world. Eric and
his staff can serve you with their expertise because of many years of
experience with bike trekking.
Friend-of-Eric-card
You don't want back and neck pains or painful wrists? On our
measuring frame we find your ideal frame size and the most convenient
adjustment of your bicycle. If you're busy during our opening
hours, we can also serve you at a time that suits you better.
Every customer who buys a bicycle receives the Friend-of-Eric-card.
This entitles you to a discount on your travel equipment. And if you
have problems with your bicycle while you are on holiday, we will send
you the necessary parts.
Activities
Almost every Tuesday-evening we organise an activity in the shop like:
Bicycle maintenance for when you're on the way;
Basic course bicycle maintenance;
Workshop 'preparations for a bicycle holiday';
Workshop 'preparations for a long bicycle trip';
Readings about bicycle trekking from enthusiastic bicycle travellers
On this website
you can find information on
Advise about equipment, bicycles and bicycle clothing,
Tips for buying a trekking bicycle,
Packing list,
Agenda of activities,
Travel impressions,
Books and maps via internet,
Links to websites which are interesting for trekking cyclists.
Everything is written in Dutch, but with the help of Babelfish, you can at least understand what I have written.
Address
De Vakantiefietser is located in the centre and is not far from the Central Station.
De Vakantiefietser
Westerstraat 216
1015 MS Amsterdam
Telephone 00-31-(0)20-616 4091
info@vakantiefietser.nl
Opening hours
Tuesday from 10:00 – 18:00 hrs
Wednesday from 10:00 – 18:00 hrs
Thursday from 10:00 – 21:00 hrs
Friday from 10:00 – 18:00 hrs
Saturday from 09:00 -17:00 hrs.
Due to Eric's continuing cycle trips, the shop has limited opening hours in the months of november en december.
Free parking for cyclists
If you visit us, you can park your (trekking) bicycle save inside!
Route
Public transport from Amsterdam Central Station, tram 17, get off at stop Westerkerk, it's a 400 m walk to our shop.
On cycling or walking-distance from Amsterdam Central Station.
July 8, 2008 by Harry
Filed under
Adventure Food
www.adventurefood.nl
You need a real adventurer to tell how food tastes in extreme conditions like high altitude, freezing temperatures, blizzards or all mixed together. Hans van der Meulen is more than just a climber, he scaled Mount Everest & K2, Cho Oyu and Shishapangma as well as many other high peaks. He also went to the North and South Pole (both the long way).
He started his company AdventureFood as there was no tasteful freezedried food available for climbers and other adventurers. He designed new menus, mixes them all himself in his in-house factory and ships them all over Europe. I tested his food on Everest and many other mountains myself and can't get enough of his easy to prepare but still very tasty meals.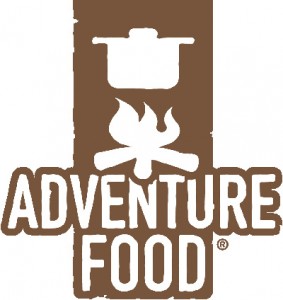 Especially in Northern Alaska his meals are useful as there are no trees there to hang our food in. So we need sealed and relatvely odourless food, while still being tasty and plentoful. Adventurefood is the solution

Adventure Food, powered by Hans van der Meulen
It was my interest in nutrition and my experience of expeditions
which prompted me to put my heart and soul into Adventure Food. I learned the hard way, from first hand experience, about nutritional requirements in such extreme conditions, and I make constant use of this knowledge to make the range the best it can possibly be. You don't realise how important nutrition is until you find yourself on a 70-day trek to the North Pole (the first Dutch expedition to the North Pole,
in 1997) or climbing an 8000m-high mountain (the first Dutch person to climb Mount Everest without additional oxygen, in 2002). I realise like no other that nutritional value, taste and ease of use are crucial to
completing such challenges. And now 'everyday' sportsmen and women can profit from this knowledge too by choosing Adventure Food! For more information about my expeditions go to:
Meals with meat

Vegetarian Meals

Breakfast, Lunch and Dessert

Sundries
Varied menu
Crunchy Muesli or a warm breakfast with cereals, fruit and nuts?
Would you like for lunch a substantial omelet? How about Walnut Pasta for dinner, or perhaps something more exotic like Rice Satay? For dessert, do you prefer Chocolate mousse?
With Adventure Food you will be able to create a different menu every day. Outdoor adventuring with the benefits of great cuisine!
Diets
Adventure Food also provides a selection of vegetarian, vegan, or gluten-free dishes. After indicating your diet preferences an adapted menu will be shown.
You can indicate that you don't eat:
All products may contain traces of milk, nuts and peanuts.
July 4, 2008 by Harry
Filed under
Outdoordacht/Technolyt: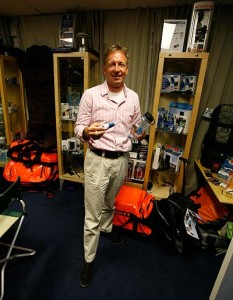 Peter Wayper is the boss of Outdoordacht. The name is a Dutch play on words: "Outdoor" is clear, but "doordacht"  means: well thought through. And so it is. All the gear Peter imports and sells is smart and useful. From famous brands like Sea to Summit to newer products like Steripen and Dobermann.
Peter is an avid cyclist himself and couldn't wait to leave his desk to take a spin on our Santos bikes. He has cycled in many countries and know what cyclists need and want.
One of the most interesting items he imports are Solar Supra solar panels: foldable solarpanels, that come with a smart battery. You can use the solarpanel directly (it comes with a range of adapters and plugs), or you can charge the battery first and then take power off it later, offering a voltage switcher, to use it with many appliances.
This is not only an excellent way to conserve solar energy, but offer many new possibilities: even with a relatively small solar panel, we can generate enough power to charge our laptop, batteries for the water purifier, headlamps, bike light, but also all cameras and mp3 player. It s a great feeling to be able to use the solar power and to be independent from any other power source for a long time.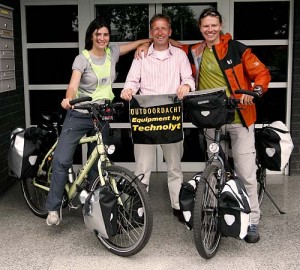 One other interesting product Peter supplied us with is the Steripen. We used to drag large water filters and pumps with us or all kinds of bad-tasting drops to purify the water of viruses & bacteria. Now we just take water from any source (we tested tab water everywhere in Zanzibar and Tanzania), press a button, stick the pen in and stir for 2 minutes. Ready to drink immediately!
A great weight saver and as the batteries are rechargeable, we can use it for a long time. One charge will purify about 100 liters/26 gallons and the light will last for about 4000 liters/1000 gallons.
For this and much more useful travel and cycle gear, go to www.outdoordacht.nl
Thanks Peter and we will definitely report back in detail on all the great gear.
Some of the products Outdoordacht sells:

OUTDOORDACHT
MARSOOPS
www.marsoop.com
SOLAR CHARGER
July 3, 2008 by Harry
Filed under
Santos Bikes:
When we first contacted Robbert Rutgrink from Santos (www.santosbikes.com), we had not much idea about his background. We only knew that Santos bikes were loved and praised by many Dutch and international biketravellers. He is a simply a bike lover and his passion is to design and build the best bikes available. He supplies mountainbikes to the police, builds all kinds of racing, road and city bikes, tandembikes and most importantly: travel bikes.
Though his sponsor budget was exhausted and he had no plans for supplying any new bikes, he became enthusiastic and in the end supplied us with the best bike a traveler can wish for: the Santos Travelmaster.
The Santos Travelmaster series has won several European contests for best travel bike. They are strong, functional and beautiful, a practical work of art. They come in two materials (Aluminium and CroMo /steel) and in two basic versions: with 26" weels (mountainbike size) and 28" wheels (citybike size).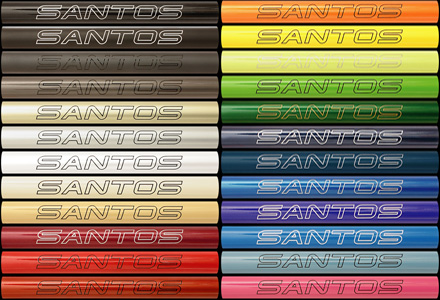 But those are only the basic configurations, using the online configuration tool on www.santosbikes.com, you can create your own perfect bike, including important aspects like gears and frame size, but also smaller details like handlebars, pump and stand. You can even choose from 24 different frame colours, to personalize your bike completely. While using, you can see the results in price and weight for every component and total.
We used the tool and together with the expert advice of Robbert we designed our dreambikes. The bikes are all build in the Netherlands, by a team of very skillful people. A sSantos bike demands to be ridden, the only dust they will gather is on desert roads…
So here they are: Kowalski & Greeny!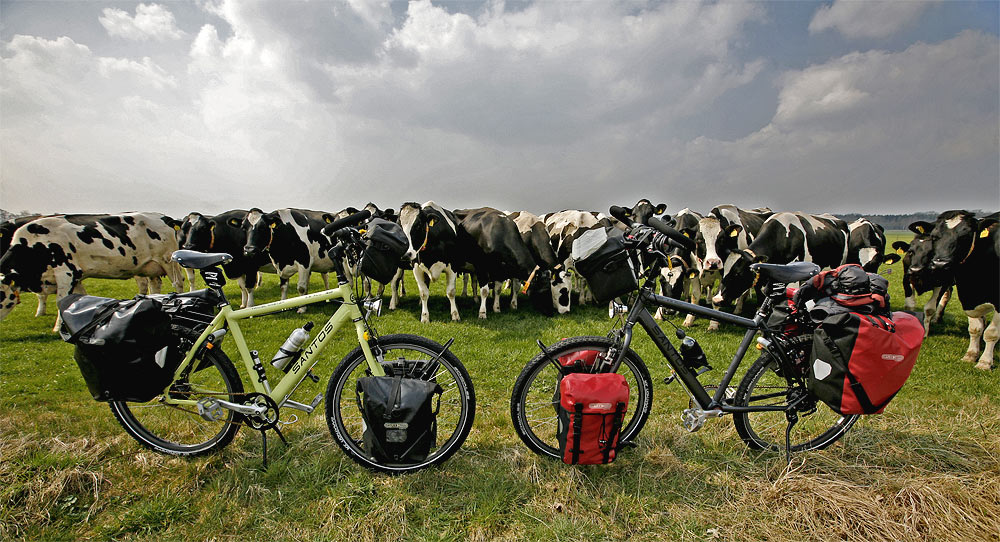 Thank you Robert and all the team at Santos bikes. We are going to test the bikes properly, but we already love them like family

Update: today we noticed this review of the Santos Travelmaster on Bikeradar.com, of course I added my user comments:
I am currently testing it on our ride from Alaska to Argentina. The bike is great, no problems whatsoever. My girlfriend, riding the same bike, and me were in a big Vancouver bikeshop after finishing the first 5000km, including about 800-1000km unpaved (Dalton Highway, Denali Highway and Cassiar Highway).

'What do we need for our bikes?' we asked eachother, looking hungry at all the nice gear and tools.

'Ehhhh?'

In the end we realized we have to change the oil (recommended after 5000km) and as we already had the spare Rohloff oil with us, we bought nothing.

And once you have tried the Rohloff, you will never want to go back

(tripreports can be found on http://WorldOnABike.com)."

Update:
Right now James Bowthorpe will try to beat the record on his round-the-world bicycle trip. He is using a Santo Travelmaster with Beltdrive.
See the article on BikeTravellers.com for more background.
Comments Off on Vries, Drenthe: Getting our act together
Amsterdam & Vries, Drenthe
We have rented out our house for the next few years and are effectively homeless. A great feeling

Now we are talking with our gear sponsors to see what they can arrange. It is great to see the faith they have in us and our trip and the wonderful support they are giving. Soon we will talk about them some more and we will set up the special sponsor pages.
For now we are enjoying testing out our new Santos bikes. Wonderful machines. Mine will be called Kowalski, but Ivana's green yak still needs a name, any suggestions?


More later, now we are packing for a short Istanbul trip, when we are coming back in a few days, we are supposed to either see a lot better or see nothing at all. Laser surgery, here we come!