November 12, 2008 by Harry
Filed under
We just made another loan to someone in the developing world using a revolutionary new website called Kiva (www.kiva.org). We support Kiva as we believe in their way of making the world a better place: not bound by religions or nations, non-profit. Kiva is about microfinance (small loans), not donations.
You can go to Kiva's website and lend to someone in the developing world who needs a loan for their business – like raising goats, selling vegetables at market or making bricks. We even found somebody selling bicycles!
Each loan has a picture of the entrepreneur, a description of their business and how they plan to use the loan so you know exactly how your money is being spent – and you get updates letting you know how the entrepreneur is going.
The best part is, when the entrepreneur pays back their loan you get your money back. Then you can withdraw your funds or lend them to someone else. These are not donations, but small loans. Kiva's loans are managed by microfinance institutions on the ground who have a lot of experience doing this, so you can trust that your money is being handled responsibly.
It's finally easy to actually do something about poverty – using Kiva I know exactly who my money is loaned to and what they're using it for.  And most of all, I know that I'm helping them build a sustainable business that will provide income to feed, clothe, house and educate their family long after my loan is paid back.
Join me in changing the world – one loan at a time.
The Long Distance Cyclist (BikeTravellers) lending team!
We want to recruit you to my lending team, Long Distance Bicyclists. If you join our lending team, we can work together to alleviate poverty. Once you're a part of the team, you can choose to have a future loan on Kiva "count" towards our team's impact. The loan is still yours, and repayments still come to you – but you can also choose to have the loan show up in our team's collective portfolio, so our team's overall impact will grow!
Let's show the world that Biketravellers care about the world 😀
Check out the Long Distance Bicyclists lending team, and learn more about lending teams on Kiva in general, by clicking here.
What Is Kiva?
We Let You Loan to the Working Poor
Kiva's mission is to connect people through lending for the sake of alleviating poverty.
Kiva is the world's first person-to-person micro-lending website, empowering individuals to lend directly to unique entrepreneurs in the developing world.
The people you see on Kiva's site are real individuals in need of funding – not marketing material. When you browse entrepreneurs' profiles on the site, choose someone to lend to, and then make a loan, you are helping a real person make great strides towards economic independence and improve life for themselves, their family, and their community. Throughout the course of the loan (usually 6-12 months), you can receive email journal updates and track repayments. Then, when you get your loan money back, you can relend to someone else in need.
Kiva partners with existing expert microfinance institutions. In doing so, we gain access to outstanding entrepreneurs from impoverished communities world-wide. Our partners are experts in choosing qualified entrepreneurs. That said, they are usually short on funds. Through Kiva, our partners upload their entrepreneur profiles directly to the site so you can lend to them. When you do, not only do you get a unique experience connecting to a specific entrepreneur on the other side of the planet, but our microfinance partners can do more of what they do, more efficiently.
Kiva provides a data-rich, transparent lending platform. We are constantly working to make the system more transparent to show how money flows throughout the entire cycle, and what effect it has on the people and institutions lending it, borrowing it, and managing it along the way. To do this, we are using the power of the internet to facilitate one-to-one connections that were previously prohibitively expensive. Child sponsorship has always been a high overhead business. Kiva creates a similar interpersonal connection at much lower costs due to the instant, inexpensive nature of internet delivery. The individuals featured on our website are real people who need a loan and are waiting for socially-minded individuals like you to lend them money.
How Kiva Works
Choose an Entrepreneur, Lend, Get Repaid
The below diagram shows briefly how money gets from you to a developing-world entrepreneur, and back.
1) Lenders like you browse profiles of entrepreneurs in need, and choose someone to lend to. When they lend, using PayPal or their credit cards, Kiva collects the funds and then passes them along to one of our microfinance partners worldwide.
2) Kiva's microfinance partners distribute the loan funds to the selected entrepreneur. Often, our partners also provide training and other assistance to maximize the entrepreneur's chances of success.
3) Over time, the entrepreneur repays their loan. Repayment and other updates are posted on Kiva and emailed to lenders who wish to receive them.
4) When lenders get their money back, they can re-lend to someone else in need, donate their funds to Kiva (to cover operational expenses), or withdraw their funds.
None of your loan gets used up by Kiva itself. They are paid by grants, donations of 3rd parties, including Lenovo, our laptop sponsor. 100% of your loan gets to the local microfinance partner.
Do More
When you buy these books, through these links, you will support Kiva (they get a percentage).
August 15, 2008 by Harry
Filed under
Where and When
Where are you going?
The plan is to cycle through America, from the North of Alaska to the South of Tierra del Fuego, Argentina. Note that America is not the same as the USA. We want to see America and the USA is one country on these two continents.
Straight down?
Well, straight down is impossible, you would hit water already in Alaska, but even in a straight line is not possible. The fastest route would be more or less straight to Panama, fly or sail to Colombia, then down the west coast of South America, over the PanAmericana.
So how far is that, 16.000km, about 10,000 miles?
It might be if you could go straight down. We think we will have cycled at least double that distance (about 35000km) as we want to visit every country on the mainland, so including all the small countries on Central America and all the larger countries in South America.
How much do you cycle every day?
Usually between 50 & 100km, depending on the wind, road surface, health, bike problems, interesting places and people.
We will not cycle every day, we will take longer rests in interesting places, so our average will likely be around 50km/day or even less.
How long will this trip take?
We think about 2.5 years, give or take a few months.
Why 2.5 years, why not 2 or 3 years?
We have to start in Alaskan summer, so July (June is considered Spring, August Fall, the rest is winter in Alaska). As the Southern hemisphere has reversed seasons and we want to arrive in summer as well, we need either 1.5, 2.5 or 3.5 years. 1.5 is too fast, 3.5 a bit slow…
Who & what
Who are you?
Argentina & The Netherlands? So where did you meet?
In Tibet. She was cycling from Malaysia to India, I was climbing Mt Everest. We got engaged two years later on the summit of Kilimanjaro, 3 weeks before the start of this cycle trip.
Tibet? Kilimanjaro? Eh, ok. So you like travelling. Where else have you cycled before?
Ivana has made one very long trip: first around New Zealand, then from Malaysia to India, passing Thailand, Cambodia, Vietnam, Laos, China, Tibet & Nepal on the way. Then she cycled for a month in Turkey and has also cycled in France.
Together we cycled in Italy for a month.
I (Harry) was raised in the Netherlands, so was practically born and raised on bicycles. Previously I have not made any very long cycle trips, but have done some shorter touring of 2-3 weeks per trip (Belgium – Normandy – Jersey -England; Wales, Ireland, Northern Ireland – Scotland; Amsterdam – Zermatt on a tandem).
What bicycles do you use?
We ride on the perfect travel bike: Dutch made to order Santos Travel master, aluminium frame, 26″ wheels. Tubus racks and Ortlieb bags see for more details the gear pages.
Website:
How does this website work?
well you found the FAQ, so you seem to have some idea already. On the homepage you see 4 tabs with a photo and shortcuts to the last 4 posts.
You can check older trip reports in may ways: check archives, trip reports, search for words, browse by categories (the second/lower top menu) or use the tags system, which is a bit more detailed than the categories.
You can contact us through the contact form and we love feedback on our posts, so please leave some comments when you read the posts. You will be asked to verify that you are a human being (and not a spam robot) by typing some random code. Though this might be difficult and annoying, it saves us hours of time and helps to control spam.
Will you write reports every day?
We will try but already know that it will not be possible as we will be too tired, to grumpy, too out of battery power, or too far away from any internet connection. So likely we will write in batches, whenever we have a few hours or day off and post them when needed.
So do I need to check every day to see if you updated something?
No, you can make it much easier to follow us: either add our RSS feed to your feed reader, so you get a notice when a new feed is available
If you have no idea what RSS is, just subscribe to our mailinglist and get a maximum of one email every day new updates are posted. You can do this on every page, see the box at the right side, near the top of the page or just click here.
Why does http://WorldOnABike.com change to http://harry.biketravellers.com ?
World On A Bike .com is just easier to remember and to tell people. It automatically forwards to the real website which is located at harry.biketravellers.com. On http://BikeTravellers.com everybody that cycles can open a free weblog (yourname.biketravellers.com), try it yourself, many others have already done so.
Where are Ivana's reports?
What are those 'Google Ads' I see on many pages?
These are small advertisements, supplied by Google. We do not choose them, the content is based on the content of the page, so a page about Alaska will give you ads about Alaska tours or land. It might show things we do not support, like drilling for oil in Alaska.
Every time somebody clicks on them, we get a few cents, which helps to pay for our website costs. So if you are interested in the ads, please check tem out as you are helping us.
Do not just click a lot of ads just to help us, as Google might ban our account if some people repeatedly click our ads from the same computer/IP address. So only check the ones that are interesting to you.
How & costs & support
How can you afford such a trip?
We spend much less than you think, we saved some money the past years and might make some more on the way.
So, how much will you spend?
North America will be the most expensive: until we reach Mexico, we will spend about $15 per day (together). This means less than $3000 in the first 6 months.
Then from Mexico down it will probable be less than half of that.
In total should be less than $10,000 together for the entire trip.
That is less than my parents spent on a luxury 2-week safari trip last year! How come you can live so cheap?
We do not need much. We have our tent, so we do not need to pay for hotels. We camp out in the wild or at people's lawn's, so do not pay for expensive campsites. We will stay in cheap hostels in cities -in central America, you can get these for a few dollars-, but will also do a lot of Couchsurfing/Hospitality clubbing/ WarmShowering: staying with people for free, in return we will host them later.
We cook ourselves, so all we need is some pasta, some veggies and some candy bars to get us through the day. We drink water we get from people or take it from streams and purify it with our Steripen. We recharge our batteries using our SolarSupra solar panel. We never buy bottled water, that is a waste of money and plastic.
We do not have an expensive taste and have no space for souvenirs on our bikes, so all we take home are pictures and memories.
Our sponsors supplied us with most of our gear, so we had little costs up front.
It is still a lot of money, don't you have any other costs as well?
We do not have kids, we do not have a car and have no debts, we never bought and will not buy anything we cannot afford. We have a house, but that is rented out so almost pays for itself.
So things we need to pay are: food & drinks. Sometimes camping fees (mostly we camp in the wild or on people's lawns); Internet connections along the way, spare parts for our bikes; replacements for clothes we wore out; park fees; visa fees; entry fees for places we want to visit etc.
It is hard to plan exactly how much we will spend, but we want to see things along the way and will buy some dinners or breakfasts along the way when we are too tired or lazy to cook or think we deserved it after cycling another 1000km or a tough day. Basically we are on a tight budget, but will not let this stop us from enjoying the places we visit.
Is there any way we can support your trip?
Yes! Many ways, first of all you can sign up for our newsletter or RSS feed. Forward them to others that might enjoy reading travel stories, stories about people and culture, cycling, environmental issues, America.
Leave comments on the posts. We love to read them, they keep us going. Small notes from friends and strangers are huge boosts for our confidence and can help us through rough and difficult times.
Just think of this website as a free interactive travel magazine subscription. If you enjoy reading our stories and seeing our photos, you can thank us by donating some money using the form on the right side of every post and page, using PayPal or credit card. Every small amount is welcome, just think what you would spend on a magazine or book.
Check out the Google ads if there is something interesting for you (do not click them all just to help, see notes above).
Link to our websites or specific reports or photos from your own website or blog. Add us to Stumble Upon, ReddIt, Digg etc. get the word out that it is possible to travel by bicycle!
Invite us to speak in your town. We can give presentations about our trips, about climbing the 7 summits, cycling Asia, Bike Travelling or a photo presentation of the culture and nature of the 7 continents . We can charge admission fees or just ask for donations. We love to tell about our trips and spread knowledge about cycling and the environment.
Buy something from our shops, see the links above. We get a small percentage of every item sold and you promote cycling!
Invite us for dinner or to stay at your place or recommend addresses to sleep (friends, family) or even just places to pitch our tent
Start cycling yourself!
We are now several days on the road and have some time to write some proper reports. Frankly I am amazed I can type this, as I was sure that the constant bumping of our bikes and bags over the very rough roads would have destroyed Lenny (Our Lenovo X300 laptop), but surprisingly it still works as always, long live the solid state harddisks. If you can actually read this, then it means it has survived all 2 weeks of Dalton Highway, one of the most infamous pieces of dirt road in the world…
But let's go back a few weeks, back to the lowlands and share our journey with you in words and images.
I am not sure if it is me (us) or is there just no way to properly prepare for a 2.5 year trip? We had been planning since a year ago and still many things had to be done in literally the last minute. At least you can get a lot more done if you use the 8 hours we normally waste on sleeping on working and preparing

As our house was already rented out, we moved back and forth between my mom's house and Romke & Anouks place. R&A have two wonderful kids and they were happy to assist in sorting out all the gear we received from our wonderful sponsors, this is Kira, checking out the Ortlieb and Carrera gear that Jacobsons sent us.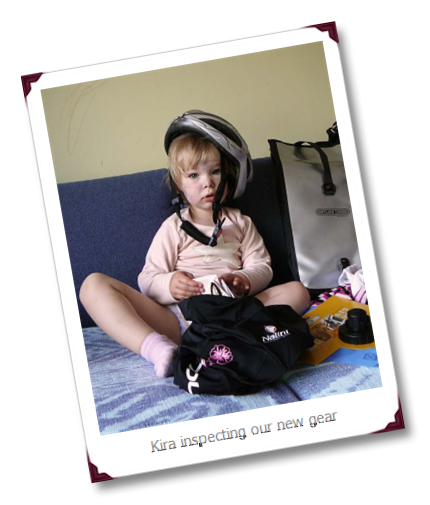 and this is how part of their livingroom looked during their vacation:
Thanks again, Romke & Anouk & Kira & Jelte, we would not have made it without you.
We took the train up North to say goodbye to my Mother and Sister. By the way, in The Netherlands we have a great railway system, which will get you everywhere in no time. of course people like to complain about the train service, but i think it is perfect, there are even a lot of special spaces for bicycles in every carriage, very useful to do some last minute fine-tuning: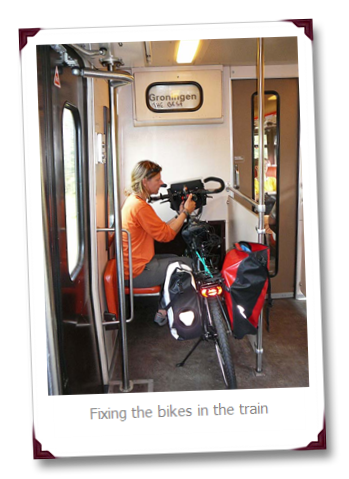 My Mum helped us with some last things and we even managed to make a mess in her place. She was very sad; even though I have been away for many months at a time in the past, this will be the longest period away so far.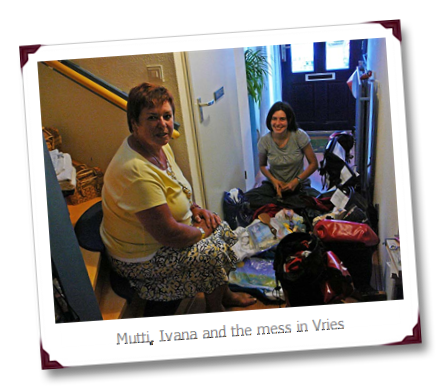 My sister lives close and we also visited her to say goodbye. We had a nice dinner at a organic Indonesian restaurant in Assen, with great food and service and we could even park our bikes inside. As with my mom, she was in tears when we waved goodbye from the train, but again somehow I was not sad, maybe we will see each other soon again.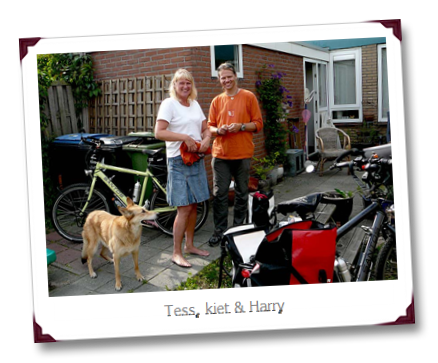 Ivana had already said goodbye to her family in March, when she came to Amsterdam. But thanks to the wonders of skype and broadband Internet, she had been talking/videoconferencing with her mum and sister (that almost have the same names as mine) every evening for hours, while packing and sorting stuff.
Going on all these adventures is selfish in a way as we are worrying our friends and family. But I think we can repay their concerns and affection with stories and images and knowledge that we are following our hearts.
ps: we also had a nice going away slash b-day party, but i will post the images in a separate post once we find the images again

Nowadays a cycle trip is so much more than just a way to go from A-B. We make photos, maintain blogs, and film. All this digital material can get lost, broken or stolen, the nightmare of a photographer/filmer & writer like me.
I do have a small external harddrive, but likely it will get broken or stolen together with the gear it was trying to back-up. If you have sensitive data (who hasn't?) the first thing to do is to download security software to Lock folders in Windows Vista, XP, NT, ME and 98 – this will prevent stolen data/drives being abused.
But then you still lost it yourself, so you will also need an additional back-up. After searching (and testing a few that did not work very well) I found the easiest and best online back-up solution.
Michael Fisher from ElephantDrive was intrigued with our trip and offered me a free Elephant drive for a year. I love how the system works and how you can just use your online drive as if it was part of your laptop.
I have no problem making some more promotion for it as it is a great solution for everybody and I definitely think that ElephanDrive is the best there is.
ElephantDrive is a simple, secure, and powerful online backup and storage service. Here is how it works:
First – Create an Account
You begin to use ElephantDrive online backup and storage first by creating your
ElephantDrive account
Second – Download the ElephantDesktop
Once you've created your account, download the easy-to-install
ElephantDesktop.
Third – Access and Manage Your Data
You can use the ElephantDesktop to quickly, easily, and securely upload or backup your files and folders.
Your uploaded files are protected by strong encryption and stored in hardened, professionally managed datacenters with state of the art security and environmental protections. You can access your files from
anywhere in the world, at anytime.
Learn more about our security policies and practices!
Learn more about the pricing and features of Home users!
Learn more about the pricing and features of Business Users!
My hard drive failed. I freaked. I had all the pictures and video of my
son on that computer. Thank God for ElephantDrive – I was able to get them all back.
— Inge I.
Marina Del Rey, CA
SIMPLE, SAFE AND SECURE BACK UPS
How we keep your data safe and secure

How we keep it moving fast

How sub-accounts work

Do more than store!

Secure 128-bit SSL transferInformation sent from you to ElephantDrive is protected by the same
system that banks and financial institutions use to secure their
transactions.
Advanced 256-bit AES encryptionBefore transfer, your files are encrypted with the preferred algorithm of the U.S. government (approved for "Top Secret" use by the NSA).

Innovative delivery technologyOur engineers have designed an advanced, proprietary system for
maximizing your available bandwidth while minimizing the effects on
your system
Differential backupsElephantDrive recognizes which files are new or have been modified so
that after your first backup competes, all future backup will go much
faster.

Workgroup Sub-AccountsThe Workgroup sub-accounts are ideal for sharing information among a
small team or organization. Each one has its own credentials but
all can see the shared data.
Independent Sub-AccountsThe Independent sub-accounts are totally private. They draw from
the same storage allocation, but only the Independent account holder
can see the data.

Secure SharingUse ElephantDrive to transfer large files securely to your colleagues, friends, and family.
Universal accessEvery file you store at ElephantDrive is available in real time, all
the time. Unlike other services that archive your data away, you
can get anything you need immediately!

1GB Free storage. No credit cards, no monthly payment, no expiration.
Unlimited Online Backup and Storage
For Home Users


Unlimited online storage for your photos, music, video, documents, and all other valuable files you have! Pre-made categories and our simple wizard make sure that all your important data gets automatically backed up!

Plans start at $4.95/month
Learn More


For Business Users
Leading solution for automating the protection and secure access of critical data for businesses. Pro Edition is ideal solution for firms that need to the security of off-site backup or the flexibility of multiple accounts.

Plans start at $34.95/month
Learn More
July 8, 2008 by Harry
Filed under
Lenovo Computers
Lenovo is part of IBM computers. Their Thinkpad series is well known all over the world. When researching our optimal road warrior's laptop, we stumbled upon a pressrelease announcing the new X300. It was light (3 pounds/1.5 kgs), had a solid state disk (so no spinning harddisk), but still managed to pack 3 USB ports, a DVD-reader/burner, a 1400x900px screen, 2gb RAM, a core duo processor, a fingerprint reader, an integrated webcam and much more under the hood (go here to see a full list of specifications). Connectivity is important and the combination of a HSDPA modem, WIFI and an Ethernet connection will be vital for us.
We noticed Lenovo also in another positive way. They are leaders in green computing:
Read more about the green program below.
When Bernie Pruissen, head of Marketing Europe, heard of our plans, he immediately supported us as lenovo is dedicated to 'green computing'. The result: Lenny, our faithful recipient of thoughts and rants and hardworking processor of photograps and videos. This is what others say about Lenny
Beyond thin and light
Lenovo's amazing new ThinkPad X300 ultraportable notebook is the thinnest ThinkPad ever – less than
19mm at its thinnest. It's light too, just 1.4 kg.
But the X300 is more than ultra-thin and ultra-light. It's
ultra-functional, too, thanks for available performance and convenience
features like these:
Integrated DVD burner – Hard to find in an ultraportable

Extended-life batteries –
Get up to 10 hours unplugged

Easy connectivity –
Advanced wireless options plus Gigabit Ethernet

Convenience – 3 USB ports, line in/line out, and more
Advanced
components on the X300 include Solid State storage drives (with no moving parts, they consume less power and are considered less likely to break down than traditional hard drives). The X300 also offers several wireless connectivity options including integrated Wireless WAN and Wlan.

Style-wise, the X300 is closer to the size of an actual paper notebook than a ThinkPad notebook has ever been. And it offers numerous design flourishes including a glossy bottom bezel, select illuminated buttons, and – for the first time in X Series – an integrated camera option and stereo speakers.
'Greenest' ThinkPad ever
In addition, ThinkPad X300 is the first Lenovo notebook rated EPEAT Gold
for low energy use and minimal impact on the environment. It also
meets the European Union's Reduction of Hazardous Substances
standards. And it is Energy Star 4.0 qualified.

The X300 uses 25% less energy than previous X Series models. What else makes the ThinkPad X300 so "green"?

Energy-saving low voltage processors, LED backlit displays and solid state storage drives
Arsenic-free glass / Mercury-free displays
90% recyclable packaging (by weight)
And much more
Why choose energy efficient products
Environmental issues are becoming important to organisations and individuals alike. Energy efficient choices can reduce greenhouse gas emissions and save energy costs for the user, without sacrificing features, style or comfort.
Lenovo's role in combating climate changes
Lenovo is committed to providing environmentally responsible, energy-efficient technology choices. In 2007 Lenovo joined the Board of Climate Savers Computing to support the efforts in reducing the IT CO2 emissions by 50% by 2010¹.
Move your mouse over the arrows to learn more

This is how we do it:

All Lenovo ThinkPad notebooks, ThinkVision monitors and many ThinkCentre products launched from 2008 are Energy Star 4.0 compliant and have up to 70% energy efficiency improvement compared to older generation PCs.
Lenovo systems that achieved EPEAT Gold rating also contain up to 90% re-usable and recyclable materials and their packaging is 90% recyclable.
Lenovo Power Manager and BatteryStretch² technologies provide adjustable power management for better performance and longer battery life.

Our end-to-end solution

Lenovo in partnership with our alliances offer a complete environmentally responsible solution from buying back and recycling customers' old PCs to providing them with new energy efficient Lenovo systems that help reduce energy consumption and electricity costs.
Energy efficient products
Lenovo has a range of energy efficient EPEAT Gold systems and monitors to suit the requirements of different types of customers.
Your choice
A small office network of just 2 PCs can use as little as 130 kWh or as much as 1300 kWh annually³. Consider the environmental impact and achievable cost savings by switching older generation PCs to the Lenovo Energy Star 4.0 compliant products.
By choosing to purchase more energy-efficient PCs, consumers and organisations can do their part to reduce carbon emissions and combat climate change while also saving money.
July 3, 2008 by Harry
Filed under
A trip like ours needs a few basic things: first of all determination, but close second is good gear. It is no use trying to make do, for a good trip, you need good material.
Without the help of the following people and companies the trip would not have been possible. They have not only supplied us with the best gear available, but also have kept us focused on our first goal: to get started! Most if not all of the people are cyclists or sportsmen and -women and they have not just donated their products but also their time and enthusiasm, which is priceless .
We are still looking for financial support as our trip is very costly, not just our daily cost of living, but also internet access, server hosting etc. any donations are welcome, or if you want us to give special attention to our products (of course only if they are useful for cyclists!) contact us using the form above.
If you are interested in related products and links, check out the Google advertisements that appear on every page as you will help us at the same time