We are now several days on the road and have some time to write some proper reports. Frankly I am amazed I can type this, as I was sure that the constant bumping of our bikes and bags over the very rough roads would have destroyed Lenny (Our Lenovo X300 laptop), but surprisingly it still works as always, long live the solid state harddisks. If you can actually read this, then it means it has survived all 2 weeks of Dalton Highway, one of the most infamous pieces of dirt road in the world…
But let's go back a few weeks, back to the lowlands and share our journey with you in words and images.
I am not sure if it is me (us) or is there just no way to properly prepare for a 2.5 year trip? We had been planning since a year ago and still many things had to be done in literally the last minute. At least you can get a lot more done if you use the 8 hours we normally waste on sleeping on working and preparing

As our house was already rented out, we moved back and forth between my mom's house and Romke & Anouks place. R&A have two wonderful kids and they were happy to assist in sorting out all the gear we received from our wonderful sponsors, this is Kira, checking out the Ortlieb and Carrera gear that Jacobsons sent us.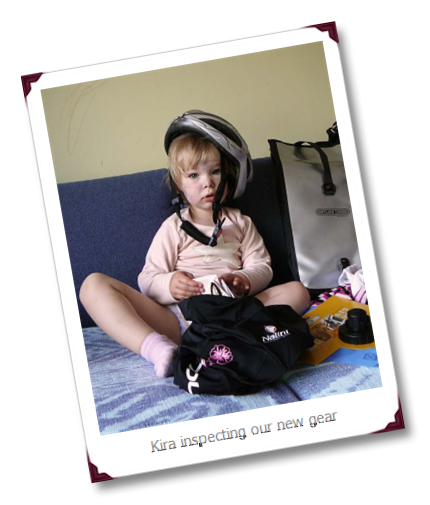 and this is how part of their livingroom looked during their vacation:
Thanks again, Romke & Anouk & Kira & Jelte, we would not have made it without you.
We took the train up North to say goodbye to my Mother and Sister. By the way, in The Netherlands we have a great railway system, which will get you everywhere in no time. of course people like to complain about the train service, but i think it is perfect, there are even a lot of special spaces for bicycles in every carriage, very useful to do some last minute fine-tuning: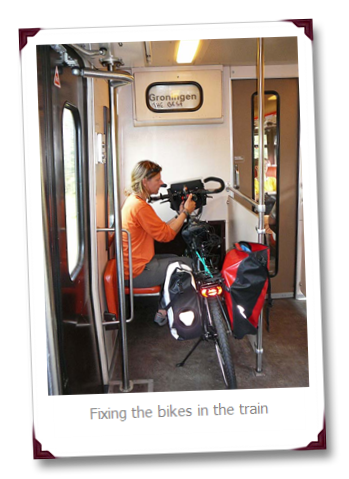 My Mum helped us with some last things and we even managed to make a mess in her place. She was very sad; even though I have been away for many months at a time in the past, this will be the longest period away so far.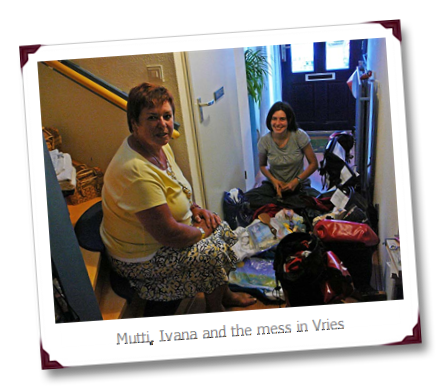 My sister lives close and we also visited her to say goodbye. We had a nice dinner at a organic Indonesian restaurant in Assen, with great food and service and we could even park our bikes inside. As with my mom, she was in tears when we waved goodbye from the train, but again somehow I was not sad, maybe we will see each other soon again.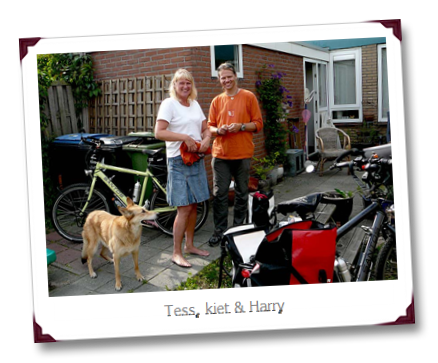 Ivana had already said goodbye to her family in March, when she came to Amsterdam. But thanks to the wonders of skype and broadband Internet, she had been talking/videoconferencing with her mum and sister (that almost have the same names as mine) every evening for hours, while packing and sorting stuff.
Going on all these adventures is selfish in a way as we are worrying our friends and family. But I think we can repay their concerns and affection with stories and images and knowledge that we are following our hearts.
ps: we also had a nice going away slash b-day party, but i will post the images in a separate post once we find the images again

As the other cyclists were sound asleep and they would be faster, Ivana & I left before them. We were greeted by a very strong headwind, which promised not much good for the next 30 miles up to the pass. Fortunately it was still dry most of the time and further relief was brought by some friendly people on the road.
When I stopped to wait for Ivana, I met a few women, who worked at the Toolik Lake research center. They were intrigued by our trip and even more by the Solar Supra solarpanel I had on the back (which charges even when in cloudy conditions). They took some photos, to share with their class and treated us on some homemade cookies, yummm…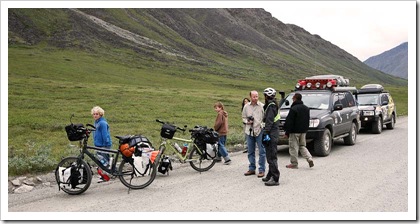 Just down the road I noticed two huge 4×4 vehicles coming our way. What struck me were not the many different stickers, but the Argentina- Alaska notice and I stopped them. It appeared to be the family of Hugo, which I will introduce in a separate post. we are starting to meet so many nice persons, that I am going to start a different category: 1000 Americans. Not sure if we will get to write about 1000 different people during this trip, but we will definitely meet them. For now let me just say that they gave what we needed most: a cup of coffee for Ivana and a Twix, Oreo cookies and some other treats for both of us!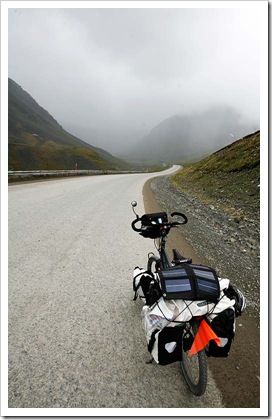 No more excuses now, we had to get up to the infamous Atigun Pass in order to cross the Brooks Range and the roads started to climb into the clouds. The rain came back as well and the final hours up to the pass were quite gruesome, chilling us to the bone.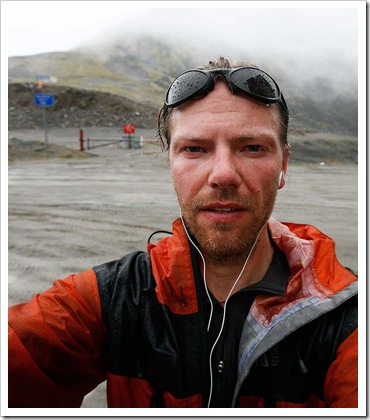 The last section was so steep that Ivana and I both had to walk for a bit. I arrived first on the pass, but as it is not a touristy road, there was no sign, no shelter & no place to hide from the storm. But luckily, a truck was parked and I could shelter behind, waiting for Ivana to appear from the mist.  Ok, into the wind and downhill! Read more
Nowadays a cycle trip is so much more than just a way to go from A-B. We make photos, maintain blogs, and film. All this digital material can get lost, broken or stolen, the nightmare of a photographer/filmer & writer like me.
I do have a small external harddrive, but likely it will get broken or stolen together with the gear it was trying to back-up. If you have sensitive data (who hasn't?) the first thing to do is to download security software to Lock folders in Windows Vista, XP, NT, ME and 98 – this will prevent stolen data/drives being abused.
But then you still lost it yourself, so you will also need an additional back-up. After searching (and testing a few that did not work very well) I found the easiest and best online back-up solution.
Michael Fisher from ElephantDrive was intrigued with our trip and offered me a free Elephant drive for a year. I love how the system works and how you can just use your online drive as if it was part of your laptop.
I have no problem making some more promotion for it as it is a great solution for everybody and I definitely think that ElephanDrive is the best there is.
ElephantDrive is a simple, secure, and powerful online backup and storage service. Here is how it works:
First – Create an Account
You begin to use ElephantDrive online backup and storage first by creating your
ElephantDrive account
Second – Download the ElephantDesktop
Once you've created your account, download the easy-to-install
ElephantDesktop.
Third – Access and Manage Your Data
You can use the ElephantDesktop to quickly, easily, and securely upload or backup your files and folders.
Your uploaded files are protected by strong encryption and stored in hardened, professionally managed datacenters with state of the art security and environmental protections. You can access your files from
anywhere in the world, at anytime.
Learn more about our security policies and practices!
Learn more about the pricing and features of Home users!
Learn more about the pricing and features of Business Users!
My hard drive failed. I freaked. I had all the pictures and video of my
son on that computer. Thank God for ElephantDrive – I was able to get them all back.
— Inge I.
Marina Del Rey, CA
SIMPLE, SAFE AND SECURE BACK UPS
How we keep your data safe and secure

How we keep it moving fast

How sub-accounts work

Do more than store!

Secure 128-bit SSL transferInformation sent from you to ElephantDrive is protected by the same
system that banks and financial institutions use to secure their
transactions.
Advanced 256-bit AES encryptionBefore transfer, your files are encrypted with the preferred algorithm of the U.S. government (approved for "Top Secret" use by the NSA).

Innovative delivery technologyOur engineers have designed an advanced, proprietary system for
maximizing your available bandwidth while minimizing the effects on
your system
Differential backupsElephantDrive recognizes which files are new or have been modified so
that after your first backup competes, all future backup will go much
faster.

Workgroup Sub-AccountsThe Workgroup sub-accounts are ideal for sharing information among a
small team or organization. Each one has its own credentials but
all can see the shared data.
Independent Sub-AccountsThe Independent sub-accounts are totally private. They draw from
the same storage allocation, but only the Independent account holder
can see the data.

Secure SharingUse ElephantDrive to transfer large files securely to your colleagues, friends, and family.
Universal accessEvery file you store at ElephantDrive is available in real time, all
the time. Unlike other services that archive your data away, you
can get anything you need immediately!

1GB Free storage. No credit cards, no monthly payment, no expiration.
Unlimited Online Backup and Storage
For Home Users


Unlimited online storage for your photos, music, video, documents, and all other valuable files you have! Pre-made categories and our simple wizard make sure that all your important data gets automatically backed up!

Plans start at $4.95/month
Learn More


For Business Users
Leading solution for automating the protection and secure access of critical data for businesses. Pro Edition is ideal solution for firms that need to the security of off-site backup or the flexibility of multiple accounts.

Plans start at $34.95/month
Learn More
July 8, 2008 by Harry
Filed under
Lenovo Computers
Lenovo is part of IBM computers. Their Thinkpad series is well known all over the world. When researching our optimal road warrior's laptop, we stumbled upon a pressrelease announcing the new X300. It was light (3 pounds/1.5 kgs), had a solid state disk (so no spinning harddisk), but still managed to pack 3 USB ports, a DVD-reader/burner, a 1400x900px screen, 2gb RAM, a core duo processor, a fingerprint reader, an integrated webcam and much more under the hood (go here to see a full list of specifications). Connectivity is important and the combination of a HSDPA modem, WIFI and an Ethernet connection will be vital for us.
We noticed Lenovo also in another positive way. They are leaders in green computing:
Read more about the green program below.
When Bernie Pruissen, head of Marketing Europe, heard of our plans, he immediately supported us as lenovo is dedicated to 'green computing'. The result: Lenny, our faithful recipient of thoughts and rants and hardworking processor of photograps and videos. This is what others say about Lenny
Beyond thin and light
Lenovo's amazing new ThinkPad X300 ultraportable notebook is the thinnest ThinkPad ever – less than
19mm at its thinnest. It's light too, just 1.4 kg.
But the X300 is more than ultra-thin and ultra-light. It's
ultra-functional, too, thanks for available performance and convenience
features like these:
Integrated DVD burner – Hard to find in an ultraportable

Extended-life batteries –
Get up to 10 hours unplugged

Easy connectivity –
Advanced wireless options plus Gigabit Ethernet

Convenience – 3 USB ports, line in/line out, and more
Advanced
components on the X300 include Solid State storage drives (with no moving parts, they consume less power and are considered less likely to break down than traditional hard drives). The X300 also offers several wireless connectivity options including integrated Wireless WAN and Wlan.

Style-wise, the X300 is closer to the size of an actual paper notebook than a ThinkPad notebook has ever been. And it offers numerous design flourishes including a glossy bottom bezel, select illuminated buttons, and – for the first time in X Series – an integrated camera option and stereo speakers.
'Greenest' ThinkPad ever
In addition, ThinkPad X300 is the first Lenovo notebook rated EPEAT Gold
for low energy use and minimal impact on the environment. It also
meets the European Union's Reduction of Hazardous Substances
standards. And it is Energy Star 4.0 qualified.

The X300 uses 25% less energy than previous X Series models. What else makes the ThinkPad X300 so "green"?

Energy-saving low voltage processors, LED backlit displays and solid state storage drives
Arsenic-free glass / Mercury-free displays
90% recyclable packaging (by weight)
And much more
Why choose energy efficient products
Environmental issues are becoming important to organisations and individuals alike. Energy efficient choices can reduce greenhouse gas emissions and save energy costs for the user, without sacrificing features, style or comfort.
Lenovo's role in combating climate changes
Lenovo is committed to providing environmentally responsible, energy-efficient technology choices. In 2007 Lenovo joined the Board of Climate Savers Computing to support the efforts in reducing the IT CO2 emissions by 50% by 2010¹.
Move your mouse over the arrows to learn more

This is how we do it:

All Lenovo ThinkPad notebooks, ThinkVision monitors and many ThinkCentre products launched from 2008 are Energy Star 4.0 compliant and have up to 70% energy efficiency improvement compared to older generation PCs.
Lenovo systems that achieved EPEAT Gold rating also contain up to 90% re-usable and recyclable materials and their packaging is 90% recyclable.
Lenovo Power Manager and BatteryStretch² technologies provide adjustable power management for better performance and longer battery life.

Our end-to-end solution

Lenovo in partnership with our alliances offer a complete environmentally responsible solution from buying back and recycling customers' old PCs to providing them with new energy efficient Lenovo systems that help reduce energy consumption and electricity costs.
Energy efficient products
Lenovo has a range of energy efficient EPEAT Gold systems and monitors to suit the requirements of different types of customers.
Your choice
A small office network of just 2 PCs can use as little as 130 kWh or as much as 1300 kWh annually³. Consider the environmental impact and achievable cost savings by switching older generation PCs to the Lenovo Energy Star 4.0 compliant products.
By choosing to purchase more energy-efficient PCs, consumers and organisations can do their part to reduce carbon emissions and combat climate change while also saving money.