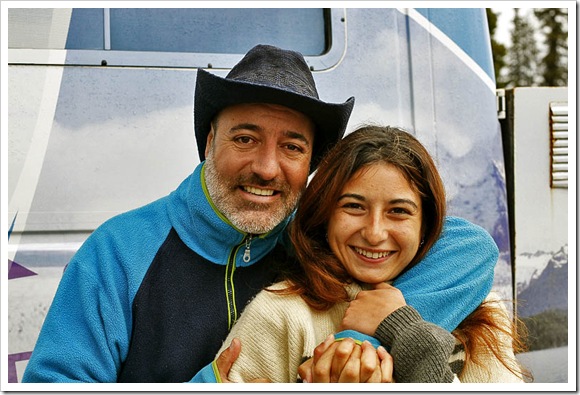 My Spanish is still limited, but fortunately it is a bit better than Claudia's and Ariel's English. "No speakin inglis", was about it and I am not joking here 😉
With this they had managed not only to travel from Southern Argentina to the Arctic Circle, but they were the happiest people we met so far. They were having so much fun, showed us videos and photos told us about all the marmots they saw (which upon closer inspection turned out to be ground squirrels) and how they passed the borders (with others acting as impromptu translators) and how they managed to stay in campsites for many days while only paying one: "No speaking English"!
See their blog and some photos here (Spanish only

As the other cyclists were sound asleep and they would be faster, Ivana & I left before them. We were greeted by a very strong headwind, which promised not much good for the next 30 miles up to the pass. Fortunately it was still dry most of the time and further relief was brought by some friendly people on the road.
When I stopped to wait for Ivana, I met a few women, who worked at the Toolik Lake research center. They were intrigued by our trip and even more by the Solar Supra solarpanel I had on the back (which charges even when in cloudy conditions). They took some photos, to share with their class and treated us on some homemade cookies, yummm…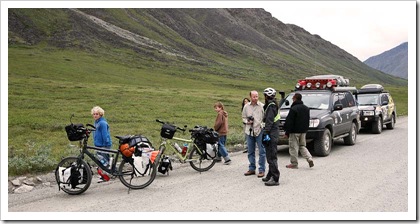 Just down the road I noticed two huge 4×4 vehicles coming our way. What struck me were not the many different stickers, but the Argentina- Alaska notice and I stopped them. It appeared to be the family of Hugo, which I will introduce in a separate post. we are starting to meet so many nice persons, that I am going to start a different category: 1000 Americans. Not sure if we will get to write about 1000 different people during this trip, but we will definitely meet them. For now let me just say that they gave what we needed most: a cup of coffee for Ivana and a Twix, Oreo cookies and some other treats for both of us!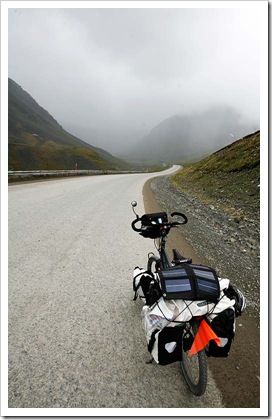 No more excuses now, we had to get up to the infamous Atigun Pass in order to cross the Brooks Range and the roads started to climb into the clouds. The rain came back as well and the final hours up to the pass were quite gruesome, chilling us to the bone.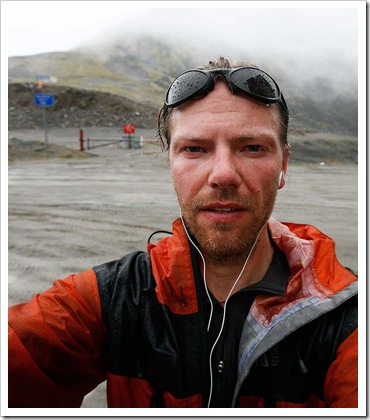 The last section was so steep that Ivana and I both had to walk for a bit. I arrived first on the pass, but as it is not a touristy road, there was no sign, no shelter & no place to hide from the storm. But luckily, a truck was parked and I could shelter behind, waiting for Ivana to appear from the mist.  Ok, into the wind and downhill! Read more
July 9, 2008 by Harry
Filed under
World Nomads Insurance.
Insurance approved and tested by 7summits.com
Most insurances have lots of restrictions in their small print, almost always excluding most sports. Even with so-called 'active' policies, most real adventure is not covered.
My company 7summits.com is now a preferred partner of WorldNomads/IHI insurance. We use this insurance ourselves and recommend it to our clients. We have tested it on Everest and have used it to insure our Vinson climbs as well as for just a few dollars you are covered for all emergency rescues. Please always check what is covered as some countries (like UK, Canada, Australia & USA) have different restrictions like max altitude or climbing in general, tough cycle touring seems always covered.
Keep Travelling safely with World Nomads.
At worldnomads.com you get so much more than travel insurance. Get your own online travel journal and destination guides, World Nomads keeps you travelling safely.
Travel insurance: it's simple & flexible.

You can buy, extend and claim online from anywhere, even after you've already left home! Recommended by Lonely Planet, World Nomads travel insurance is designed for adventurous independent travellers and covers overseas medical, evacuation and luggage such as iPods and digital cameras.

World Nomads partners with some of the best travel brands online.
So what does it cost.

To get a quote or buy a policy, select your country of permanent residence. Please always check what is covered as some countries (like UK, Canada, Australia & USA) have different restrictions like max altitude or climbing in general.

If your country is not listed below, please click here to select another country.

Top 5 questions.

World Nomads works with some of the best insurers in the world.
Stay in touch & Learn to speak like a local!

It's free to use.
Write travel tales and tag your content.
Unlimited photo galleries.
Quick and easy image uploading.
Allow guests to comment on your posts.
RSS News aggregator feeds.
No banner or text advertising.

Learn the lingo!

Stay out of trouble with our free language guides for your iPod or MP3 player…

Click on the country's flag to download the language guide.
Leave a positive Footprint

Make a tangible difference. When you buy a World Nomads policy you have the chance to donate a small amount to a sustainable travel project. You can then follow the progress of this project, from the raising of funds all the way through to completion, through the Footprints web site.

We can make a donation on your behalf, see the discount codes to the right

100% of funds raised through the Footprints program go directly to the projects.
See our latest projects

Special 7summits.com promotional discount code: 5% off all insurance

Especially for the 7summits.com visitors and clients we are allowed to give you a discount of 5%. Just use the WorldNomads promotional code 'seven' when applying for a quote (you will see the discount before you have to pay anything).

Use the Worldnomads promotional code for a 2 week Kilimanjaro climb or a full year's insurance for your biketrip!



7summits.com Worldnomads Promotional discount Code for 5% off all
insurances:

'seven'

If you use the discount code '7feet' instead, then your discount will be donated by us to the charity you chose in the Footprints network instead.

Safe travels and happy climbing or cycling!