After all the planning, we were anxious to get on the plane. Romke again suffered sleep deprivation because of our trip and woke up with us and took our bikes and all bags to Schiphol airport at 5 in the morning. It was raining cats and dogs (or lions and hyenas as we use to say in Tanzania, but that is a different post about our preparations that we still have to write

We had booked with Condor airlines, but the first leg (Amsterdam to Frankfurt) is executed by Lufthansa. It was a messy check-in, but while we were busy preparing our bikes for the transport, we were pleasantly surprised to meet up with our friend Bas. He works on a project at the airport, heard we were leaving and came in a few hours early to boost our sense of humour as always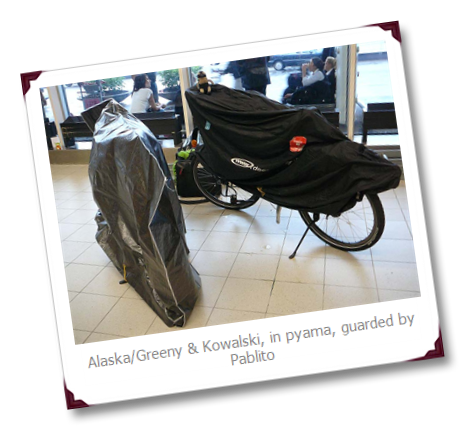 Condor had been nice to us by allowing extra luggage, free transportation of our bicycles and the lowest ticket price.
One of the best things they offer is cheap international one way tickets. somehow all major airlines charge more for a one way ticket than a return ?!? Anyway, as we try to minimize our flying because of environmental impact, we were also happy to find out that Condor flies directly from Europe to Canada/Alaska instead of going through major hubs in the lower 48. This makes the trip shorter and therefore cleaner.
The Lufthansa part was great, the check-in easy and the on board service friendly. We could check our luggage all the way through to Fairbanks, so at the huge -and customer unfriendly- Frankfurt airport, all we had to do is get new boarding passes for the 2nd flight. Well, it turned out that is was lucky that we had a 3 hour lay-over, as we needed it between walking from one end to another and queuing up at Condor..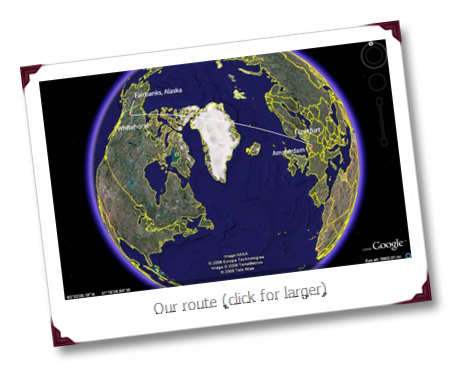 The flight itself was basic, no personalized TV, but I can live with that in exchange for a few hundred euros saved. Besides, we crashed (no pun intended) in our seats the moment we sat down and only woke up for drinks and meals… The food was nice and the views (perfectly announced by the friendly pilot when applicable) were outstanding, seeing the Norwegian coastline, Jan Mayen island & volcano, Greenland and Northern Canada, before we stopped for a while in Whitehorse, Canada. Another hour later we touched down in Fairbanks, Alaska, just a few degrees south of the polar circle.
We were delighted to see that not only our bikes, but also our bags made it. Less happy I was when I noticed that some baggage handler along the way had roughly turned my front wheel in such a rough manner that it had scratched my frame and destroyed my front light. Immigration was very friendly here and very interested in our trip and gave us no trouble.
While we were reorganizing our gear and fixing our bikes a huge rainshower passed and Ivana and I looked at each other with a frightened look and started looking for our Vertical raingear. Our bikes were heavy and we were both grumpy, until we saw the campy roadsign that welcomed us.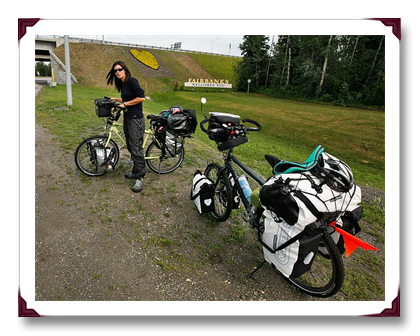 We had been in contact with Ericka *& Miles through the excellent Couchsurfing community, offering hospitality between/to travellers. Her house was easy to find and we were welcomed to our own room where the packages I had ordered were already waiting: a new lens for my camera, some memory cards, a new stove and a big box from Big Agnes/Honey Stinger with our new tent and a lot of energy gels and bars.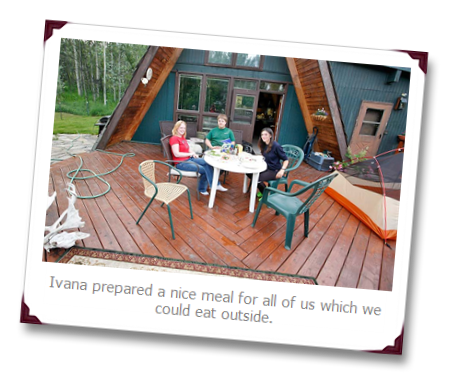 Ericka let us call to Matt at the Northern Alaska Tour company and we were pleased to hear that one of their vans was leaving the next morning, and they were offering us free seats for us and our bikes and gear, all the way to Deadhorse! This is the name of the community near Prudhoe Bay, close to the Arctic ocean as we could get and the start of the Dalton Highway. This was perfect!
Ericka helped enormously by driving us from one store to another to get some last minute supplies lie some spare inner tubes, dinner and breakfast and bearspray! (As I mentioned in my first post, they did not have after-bear..).
Fairbanks is 10 hours later than Amsterdam, so our day was already 34 hours long. We were tired after all the lack of sleep but as we would leave in a few hours, time to sort our stuff again: what would we not need the first 2 weeks? Mistakes can be fatal for us or our bikes on one of the roughest roads imaginable…
As the other cyclists were sound asleep and they would be faster, Ivana & I left before them. We were greeted by a very strong headwind, which promised not much good for the next 30 miles up to the pass. Fortunately it was still dry most of the time and further relief was brought by some friendly people on the road.
When I stopped to wait for Ivana, I met a few women, who worked at the Toolik Lake research center. They were intrigued by our trip and even more by the Solar Supra solarpanel I had on the back (which charges even when in cloudy conditions). They took some photos, to share with their class and treated us on some homemade cookies, yummm…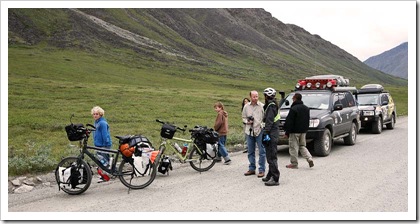 Just down the road I noticed two huge 4×4 vehicles coming our way. What struck me were not the many different stickers, but the Argentina- Alaska notice and I stopped them. It appeared to be the family of Hugo, which I will introduce in a separate post. we are starting to meet so many nice persons, that I am going to start a different category: 1000 Americans. Not sure if we will get to write about 1000 different people during this trip, but we will definitely meet them. For now let me just say that they gave what we needed most: a cup of coffee for Ivana and a Twix, Oreo cookies and some other treats for both of us!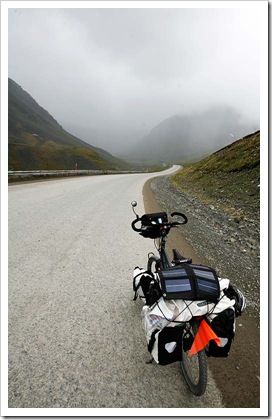 No more excuses now, we had to get up to the infamous Atigun Pass in order to cross the Brooks Range and the roads started to climb into the clouds. The rain came back as well and the final hours up to the pass were quite gruesome, chilling us to the bone.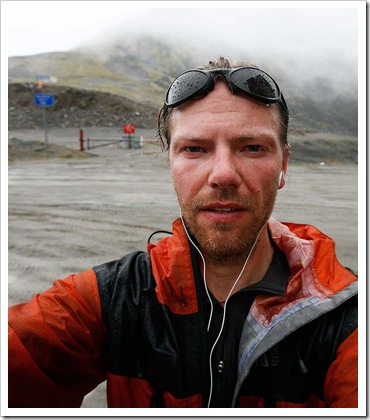 The last section was so steep that Ivana and I both had to walk for a bit. I arrived first on the pass, but as it is not a touristy road, there was no sign, no shelter & no place to hide from the storm. But luckily, a truck was parked and I could shelter behind, waiting for Ivana to appear from the mist.  Ok, into the wind and downhill! Read more
July 9, 2008 by Harry
Filed under

Mario Wolff is also someone who has turned his passion into his living. A climber by heart, he is nw the importer and dirtibutor for Vertical clothing as well as Stic-it (for rockclimbing) as well as Tear Aid, clever stuff that you can use to fix everything.
His main focus is on the wonderful Vertical clothing. Vertical (French website, Dutch website) uses the innovative material MP+. More breathable than Gore-Tex, stronger and more durable. The jackets he gave us are fully waterproof and weigh only 200grams!
Mario went throug a lot of trouble to make sure our new gear arrived on time, many thanks for your help Mario!
The gear is very nice and though primarily focused on climbers, very useful for cyclist and other travellers and adventurers as it is durable, functional but light and pretty as well

Mario Wolff | Bezoekadres: Stemerdingweg 7a 3769 CE Soesterberg | Tel nr 06-48172310 | E-mail: info@mariowolff.nl | kvk nr. 34247900 | Btw nr NL146386723B01
July 3, 2008 by Harry
Filed under
A trip like ours needs a few basic things: first of all determination, but close second is good gear. It is no use trying to make do, for a good trip, you need good material.
Without the help of the following people and companies the trip would not have been possible. They have not only supplied us with the best gear available, but also have kept us focused on our first goal: to get started! Most if not all of the people are cyclists or sportsmen and -women and they have not just donated their products but also their time and enthusiasm, which is priceless .
We are still looking for financial support as our trip is very costly, not just our daily cost of living, but also internet access, server hosting etc. any donations are welcome, or if you want us to give special attention to our products (of course only if they are useful for cyclists!) contact us using the form above.
If you are interested in related products and links, check out the Google advertisements that appear on every page as you will help us at the same time