Day 4-6: 16/17/18 July: Galbraith lake – Wiseman
As the other cyclists were sound asleep and they would be faster, Ivana & I left before them. We were greeted by a very strong headwind, which promised not much good for the next 30 miles up to the pass. Fortunately it was still dry most of the time and further relief was brought by some friendly people on the road.
When I stopped to wait for Ivana, I met a few women, who worked at the Toolik Lake research center. They were intrigued by our trip and even more by the Solar Supra solarpanel I had on the back (which charges even when in cloudy conditions). They took some photos, to share with their class and treated us on some homemade cookies, yummm…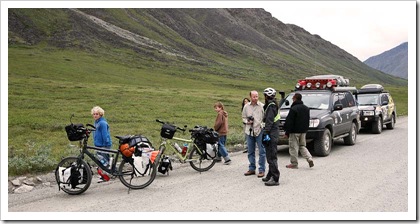 Just down the road I noticed two huge 4×4 vehicles coming our way. What struck me were not the many different stickers, but the Argentina- Alaska notice and I stopped them. It appeared to be the family of Hugo, which I will introduce in a separate post. we are starting to meet so many nice persons, that I am going to start a different category: 1000 Americans. Not sure if we will get to write about 1000 different people during this trip, but we will definitely meet them. For now let me just say that they gave what we needed most: a cup of coffee for Ivana and a Twix, Oreo cookies and some other treats for both of us!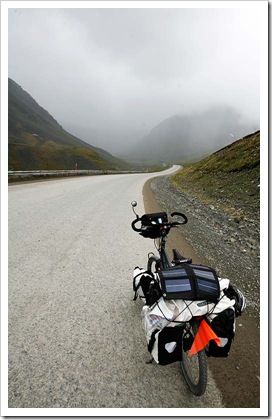 No more excuses now, we had to get up to the infamous Atigun Pass in order to cross the Brooks Range and the roads started to climb into the clouds. The rain came back as well and the final hours up to the pass were quite gruesome, chilling us to the bone.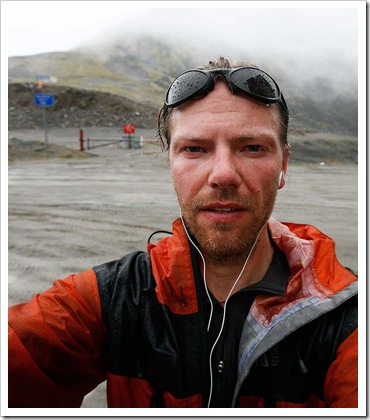 The last section was so steep that Ivana and I both had to walk for a bit. I arrived first on the pass, but as it is not a touristy road, there was no sign, no shelter & no place to hide from the storm. But luckily, a truck was parked and I could shelter behind, waiting for Ivana to appear from the mist.  Ok, into the wind and downhill!
The descent was scary, the road was slippery, it was only just above freezing, we were very cold and we could only see a few meters ahead. It was so nice to come out of the clouds again and the downhill seemed endless.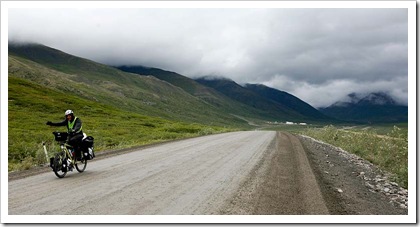 After a quick little climb we could continue down the Chandalar Shelf and into the first forest we had seen in about a week.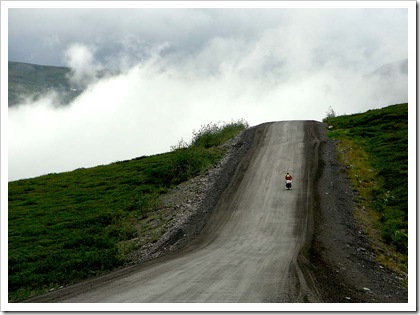 We passed the famous last Spruce Tree, with a clear sign next to it. What is less clear, is that some idiot has tried to cut down the tree and killed it by cutting all around its base. There are remains of duct tape (!) that somebody used to fix it with and on the sign somebody wrote, with an arrow to the 'Do Not Cut'-part: Learn to F*cking read!
Time to call it a day and camp right beside a nice little river with some trees and hills surrounding us. We were visible from the road, but we did not see the other cyclists.
Kowalski! Status report!
On the graph you can see the Atigun Pass clearly. Note that the starting altitude is wrong, so everything should be about 800m higher…
July 17: To Wiseman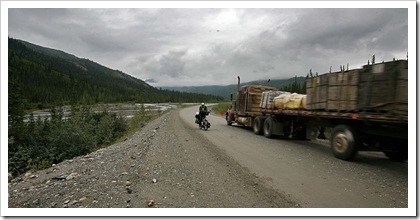 The next day felt like a rest day even though we covered 83km, our longest day so far in distance. The roads were reasonably flat, we slowly lost a few hundred meters of altitude and the weather was nice. At least, until the end of the day.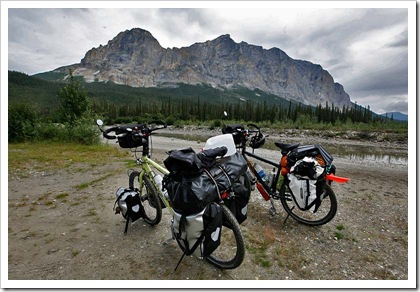 Suddenly the clouds and rain came down with full force. The roads turned muddy and sticky in minutes and we almost grinded to a halt. We switch-backed from left to right over the road, to find any firm spots, but to no avail. When we finally reached the turn-off for the small town of Wiseman, we were totally done with this road and the weather. Wiseman is an old mining town and the Northernmost real town along the Dalton Highway. Population is about 12 people, but many tourists stop by to see the old cabins and collections of strange stuff the people have.
Our shuttle driver Michelle had told us to see Jack Reakoff, but when we reached his house, he was not very welcoming and we went to find a place to pitch our tent. A beautiful old building was facing us and we went inside, the door of the Wiseman Trading Company was open. There was nobody inside, but besides a huge collection of old stuff and mining artifacts, there was some food!
Some snacks, soda's in a fridge, cans of beans and a big jar of sweets. There was a sign saying that here the honour system was applied, meaning that if you took anything, you had to leave the money in a glass jar. On the glass jar, which had several notes and coins inside it said: if you need change, stand in the doorway and call '8-Ball' or go across the lawn to his cabin.
We walked to his house and shouted '8-Ball' and a grumpy looking man came out. When we asked him where we could pitch our tent, he looked at us, up to the sky and back at us.
'Yes, the General Store is mine. I bought it a few years ago, when the guy owning it moved out. I am not really using it, but wanted to prevent some tourist company buying it and making it into a tourist attraction.

This is no weather for pitching a tent! You are only staying for the night, right? Hmm, wait, let me open the cabin up for you..'
We looked at eachother, but 8-Ball already walked to small cabin, next to the store and started working on the combination lock. Moments later, he opened the door and switched on a light.
'It ain't much, but it is better than camping in the rain.'
It was heaven. A queensize bed and just enough space to put all our bags. 8-ball went back into his house and came back out with a large ziplock bag filled with lettuce.
'I am not going to eat this much, so you might as well take it. Do you need some dressing?'
This grumpy looking man turned out to be one more angel in disguise. Only after eating and when we touched the mattress, we felt how tired we were after the first week in Alaska. We fell into a deep sleep, in Wiseman, Alaska, Pop. 12.
Kowalski! Status report!
Ah, the joy of downhill…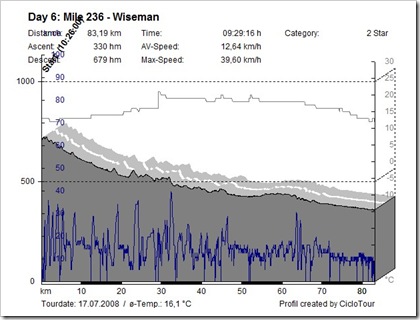 18th July: Wiseman, Alaska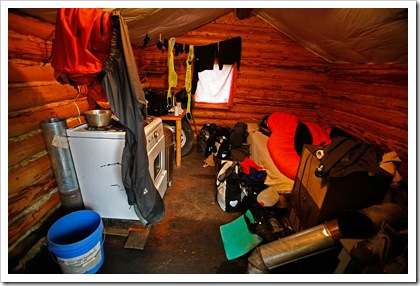 We woke up to yet another rainy day. When we went out, we bumped into 8-ball.
'If you want, you can stay another day, no problem. Do you want a heater?'
And before we could say anything, he went away and came back with an extension cord and an electric heater.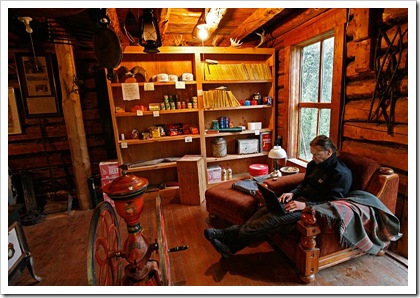 The rest of the day I spent mostly inside the Trading Company/General Store to write these updates. What a great office, sitting in a comfy chair, between antique things and a fridge full with soda, writing on my X300 Laptop.
Jack came by, he was guiding a large group of tourists and told them about the history of Wiseman and the store. He apologized for being a bit rude yesterday and invited us over for a cup of tea later that day.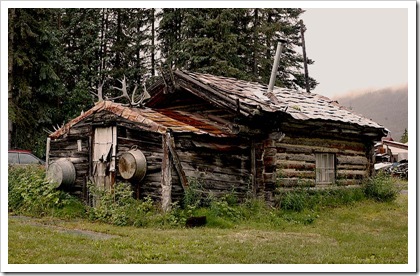 Ivana and I went for a walk across town. There are only a few houses, but most of them are interesting. We also visited the cemetery, a few hundred meters out of town, up a small hill. It is always a bit strange to see your own name on a grave, but this was a strange place anyway…
We also saw a huge pile of empty cans, apparently somebody had taken the effort to collect all the cans he had emptied during a loooong period.
Alaska Humor: a sign with Whitehorse, Deadhorse and Ourhorse, with respective distances 🙂
Jack appeared to be a very friendly guy. He is a trapper and hunter and sells fur, but also lives from his work for the tourist companies. Meanwhile he helps some biologists out with their scientific research and seems to know everything about everything, though he only goes down to  Fairbanks once every 3-4 months and that is still too much for him.
He lived in Wiseman since 1971, age 13 and his mother is one of the 11 other people living here. He told us about the oil business, the heart of current day's Alaska's economy, I will put his story into a separate post.
It was so nice to recover in the warm cabin and have some time to edit some pictures and write some stories. Only after our first full rest day, we felt how tired we had become after all the hasty preparations, the rough roads and long cycling days. 8-ball has done more for us than he might realize, thanks again 8-ball!
You might also like