After all the planning, we were anxious to get on the plane. Romke again suffered sleep deprivation because of our trip and woke up with us and took our bikes and all bags to Schiphol airport at 5 in the morning. It was raining cats and dogs (or lions and hyenas as we use to say in Tanzania, but that is a different post about our preparations that we still have to write

We had booked with Condor airlines, but the first leg (Amsterdam to Frankfurt) is executed by Lufthansa. It was a messy check-in, but while we were busy preparing our bikes for the transport, we were pleasantly surprised to meet up with our friend Bas. He works on a project at the airport, heard we were leaving and came in a few hours early to boost our sense of humour as always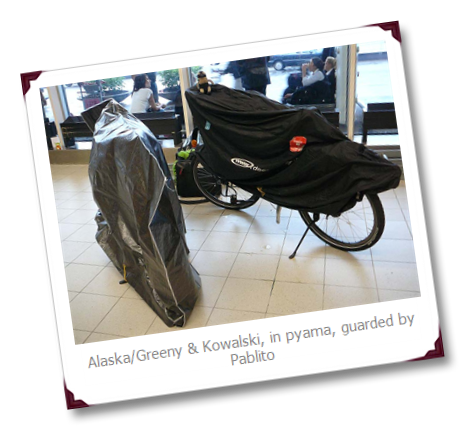 Condor had been nice to us by allowing extra luggage, free transportation of our bicycles and the lowest ticket price.
One of the best things they offer is cheap international one way tickets. somehow all major airlines charge more for a one way ticket than a return ?!? Anyway, as we try to minimize our flying because of environmental impact, we were also happy to find out that Condor flies directly from Europe to Canada/Alaska instead of going through major hubs in the lower 48. This makes the trip shorter and therefore cleaner.
The Lufthansa part was great, the check-in easy and the on board service friendly. We could check our luggage all the way through to Fairbanks, so at the huge -and customer unfriendly- Frankfurt airport, all we had to do is get new boarding passes for the 2nd flight. Well, it turned out that is was lucky that we had a 3 hour lay-over, as we needed it between walking from one end to another and queuing up at Condor..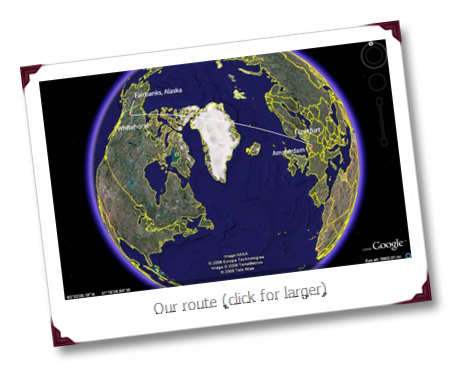 The flight itself was basic, no personalized TV, but I can live with that in exchange for a few hundred euros saved. Besides, we crashed (no pun intended) in our seats the moment we sat down and only woke up for drinks and meals… The food was nice and the views (perfectly announced by the friendly pilot when applicable) were outstanding, seeing the Norwegian coastline, Jan Mayen island & volcano, Greenland and Northern Canada, before we stopped for a while in Whitehorse, Canada. Another hour later we touched down in Fairbanks, Alaska, just a few degrees south of the polar circle.
We were delighted to see that not only our bikes, but also our bags made it. Less happy I was when I noticed that some baggage handler along the way had roughly turned my front wheel in such a rough manner that it had scratched my frame and destroyed my front light. Immigration was very friendly here and very interested in our trip and gave us no trouble.
While we were reorganizing our gear and fixing our bikes a huge rainshower passed and Ivana and I looked at each other with a frightened look and started looking for our Vertical raingear. Our bikes were heavy and we were both grumpy, until we saw the campy roadsign that welcomed us.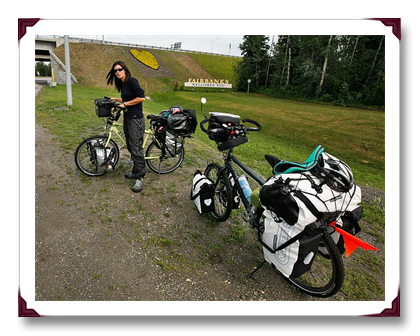 We had been in contact with Ericka *& Miles through the excellent Couchsurfing community, offering hospitality between/to travellers. Her house was easy to find and we were welcomed to our own room where the packages I had ordered were already waiting: a new lens for my camera, some memory cards, a new stove and a big box from Big Agnes/Honey Stinger with our new tent and a lot of energy gels and bars.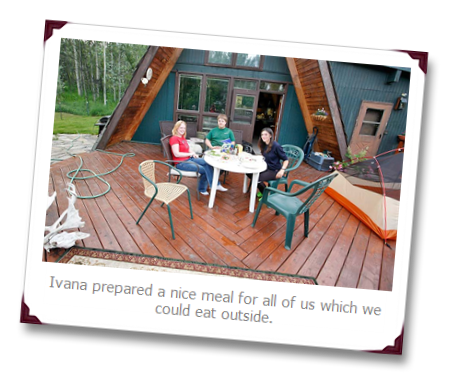 Ericka let us call to Matt at the Northern Alaska Tour company and we were pleased to hear that one of their vans was leaving the next morning, and they were offering us free seats for us and our bikes and gear, all the way to Deadhorse! This is the name of the community near Prudhoe Bay, close to the Arctic ocean as we could get and the start of the Dalton Highway. This was perfect!
Ericka helped enormously by driving us from one store to another to get some last minute supplies lie some spare inner tubes, dinner and breakfast and bearspray! (As I mentioned in my first post, they did not have after-bear..).
Fairbanks is 10 hours later than Amsterdam, so our day was already 34 hours long. We were tired after all the lack of sleep but as we would leave in a few hours, time to sort our stuff again: what would we not need the first 2 weeks? Mistakes can be fatal for us or our bikes on one of the roughest roads imaginable…
July 8, 2008 by Harry
Filed under
De Vakantiefietser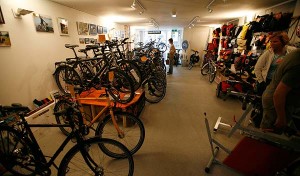 Eric Schuit is one of those people that has turned his hobby into work, but in a good way 😉
He is an avid cyclist, has written several books and uses all his accumulated knowledge about bicycles in one of the most fun stores in the Netherlands: De Vakantiefietser.
All types and brands of bicycles can be bought as well as a range of books, maps, Ortlieb bags and other great gear you need for a perfect trip.
But the best Eric has to offer is his knowledge: as he still goes away to cycle in faraway places a few months every year, he definitely knows what he is talking about.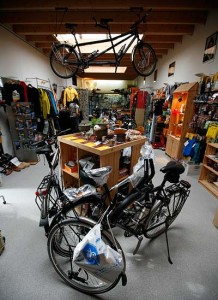 Thanks Eric for the advice and help you gave us!
From his website:
De specialist voor je fietsvakantie
uitrusting – fietsen – reizen
English
The Holiday biker
The specialist for your bicycle trekking holiday
equipment, trekkingbicycles, travelinformation
Cycling is fun!
An increasing amount of people choose a sportive holiday under one's own power. With the wind blowing trough your hair, enjoying the beauty surrounding you, you feel free as a bird on your bicycle. De Vakantiefietser helps you along with enthusiastic stories, a well fitted bike, practical equipment, advice and expertise.
Bicycle trekking equipment
From waterproof panniers to cycle maps, from gasoline burner to
down sleeping bags, from unbreakable carrier racks to self-inflating
mattresses and from breathable rain jackets to puncture proof tires, we
have everything in the house.
What to think of a headlight, waterproof socks, compact tool, bicycle
trailer, synthetic towels, luggage net, water bag, first aid set,
universal bath stop or camera stand for on your handlebar.
Holiday bicycles
What
kind of bicycle is suitable for you not only depends on the duration of your trip and the destination, but also on your budget. It makes quite a difference whether you are going on a world trip, or go on bike holiday to France.
That is why we have bicycles in different qualities and price
categories: idworx, Koga Miyata, Koga Signature, Santos, Snel, Van Nicholas and VSF. Besides that we are the specialist in The Netherlands for a trekking bike with Rohloff speed hub.
Delivery for a new bike is from one to eight weeks.
Cycle guides, maps and travels
In our book cupboards are hundreds of bicycle guides. Apart from Dutch guides, we also have German and English guides and travel stories. Our maps are especially selected for cyclists. So you will not leave our shop with a walking or car map.
On our coffee table there are (next to the 'negerzoenen') brochures of a number of cycle travel companies. We do not sell travels, but we can help you finding the most suitable travel organisation for you.
About Eric Schuijt

Eric Schuijt cycled through more than eighty countries and wrote four books about these travels.
In his shop, De Vakantiefietser, you can find your trekking bike, as
well as your complete bike trekking equipment and travels. All the
employees at De Vakantiefieter cycled all over the world. Eric and
his staff can serve you with their expertise because of many years of
experience with bike trekking.
Friend-of-Eric-card
You don't want back and neck pains or painful wrists? On our
measuring frame we find your ideal frame size and the most convenient
adjustment of your bicycle. If you're busy during our opening
hours, we can also serve you at a time that suits you better.
Every customer who buys a bicycle receives the Friend-of-Eric-card.
This entitles you to a discount on your travel equipment. And if you
have problems with your bicycle while you are on holiday, we will send
you the necessary parts.
Activities
Almost every Tuesday-evening we organise an activity in the shop like:
Bicycle maintenance for when you're on the way;
Basic course bicycle maintenance;
Workshop 'preparations for a bicycle holiday';
Workshop 'preparations for a long bicycle trip';
Readings about bicycle trekking from enthusiastic bicycle travellers
On this website
you can find information on
Advise about equipment, bicycles and bicycle clothing,
Tips for buying a trekking bicycle,
Packing list,
Agenda of activities,
Travel impressions,
Books and maps via internet,
Links to websites which are interesting for trekking cyclists.
Everything is written in Dutch, but with the help of Babelfish, you can at least understand what I have written.
Address
De Vakantiefietser is located in the centre and is not far from the Central Station.
De Vakantiefietser
Westerstraat 216
1015 MS Amsterdam
Telephone 00-31-(0)20-616 4091
info@vakantiefietser.nl
Opening hours
Tuesday from 10:00 – 18:00 hrs
Wednesday from 10:00 – 18:00 hrs
Thursday from 10:00 – 21:00 hrs
Friday from 10:00 – 18:00 hrs
Saturday from 09:00 -17:00 hrs.
Due to Eric's continuing cycle trips, the shop has limited opening hours in the months of november en december.
Free parking for cyclists
If you visit us, you can park your (trekking) bicycle save inside!
Route
Public transport from Amsterdam Central Station, tram 17, get off at stop Westerkerk, it's a 400 m walk to our shop.
On cycling or walking-distance from Amsterdam Central Station.