Our bikes are heavily loaded, so what is in all those bags?
Below is a list, with links to detailed pages, where we will tell if we liked the gear, or if we replaced it (and why!):
Our Bikes:
Bicycles/gear/racks: Santos Travelmaster with Rohloff gearhub, see the details page for all parts and technical specifications.
Panniers: Ortlieb panniers
Camping:
Sleeping bag: Carinthia ECC Expedition 600 (with extra filling courtesy of Carinthia!)
Tent: Big Agnes Copperspur UL 3
Mattresses: first semi-inflatable, now selfinflating Therm-A Rest, 120x51x2,5cm
Stove: MSR Whisperlite
Clothing:
Miscellaneous:
(more to come soon!)
May 1, 2009 by Harry
Filed under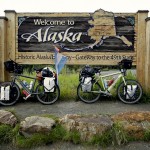 Our bikes are the most important parts of our gear that we are carrying. Better said: what is carrying us! So far (I am writing this after 9000 12000 16500km/ 5600 7500 10,000 miles) they have been excellent and we had zero problems.
At Santos, you can custom-build your bike. They produce the most praised travel bike, the Travelmaster series, available in Alu/ChoMo and 26/28 inch wheelsize, in several framesizes.
You can choose framesize, wheelsize, colours (about 26 now!) and almost all parts to suit your taste, functionality wishes or budget. Note that a bike is not just a collection of parts, the good builders of Santos are what have made the difference: the rims are still perfectly straight and no spoke has been broken (after 9000 16,500km).
The most important decisions will be the gear-system and the frame sizes:
The Rohloff internal gearhub
We have chosen for the Rohloff Gearhub. What is that? It means that all the gears are inside the back hub. There are 14 gears, evenly spaced and no derailleur, not in front, nor in the back. See this image for how this looks inside if you manage to open it up (and clean it :))
This has the following advantages over a regular say, 3×8 gears Shimano/Campagnolo system with derailleur:
Though there are 'only' 14 gears, all gears can be used and are different, unlike the regular Shimano systems. As you can not use the gears where the chain has to 'cross' on a Shimano system and there are many gears that overlap or are very close, effectively the 14 Rohloff gears are the same as the 24 with derailleur
There is only one grip-shift handle (on the right handle bar usually) 1-14 and you can go from one end to the other in one go if needed. No messing about with one hand shifting forward, the other back and then change everything if you need to go one gear lighter. Just go lighter or heavier, as simple as that.
You can change gears when standing still. Especially with a heavy loaded bike, this is a huge advantage, as you can shift back in a lighter gear and go after a stop for a traffic light, cow, pothole or cactus.
The chain never changes position and lasts much longer. We changed the first chains after 7000km (4500miles) only because I was tired of carrying 2 spare chains along, they were not finished by far. We use KMC chains, they are strong.
There is no 'loose part' like a derailleur, that will break off when transported in a plane, bus, train, chicken-truck or whatever. Everything is inside the black box.
The Rohloff system has some disadvantages as well:
It is more expensive up front. Usually it increases the costs of your bike with about $1000, depending on your alternative. But as they are guaranteed to 100.000km (60.000 miles), in the end you pay less than when replacing your Shimano's or Campi's when going the same distances. The Rohloff is cheaper at about 60,000km or more (See the calculations on the Santos site, in Dutch here).
It is literally a black box. If something breaks, you are screwed and will likely need to replace the entire hub.
It needs to be broken in. The heavier you are and more power you use, the quicker that goes, usually within 1000km/600miles all runs perfectly.
It needs maintenance, though not much: every 5000km (3000miles), you need to replace the oil inside the hub. This takes only a few minutes and is very simple though it can be hard to find the Rohloff oil that is needed, you might have to bring it (as we did) or have some sent ahead by your dealer (as we did as well).
I used the system on my previous bike and never want back to the derailleur system again, Rohloff makes life so much easier. No more cleaning or fixing of the derailleur, always easy to find the right gear.
Note that many other bike makers do not use all the advantages as they need a 'tension' wheel to keep the chain tight (as there is no derailleur to do so). Santos uses an excentric front axle, which can be changed (turned) easily to keep a worn-in chain at the right tension.
Frame
We use the size 19 inch Aluminium frame, with 26 inch wheels . 26 inch is simply the most used wheel size outside of Europe, and therefore it will be easier to find replacement tires.
Some people recommended against aluminium frames as they might be harder to fix when they break (though note that many of the current 'steel' frames might be so specialized that they also cannot be fixed easily). But Robbert from Santos told us: 'They do not break! And if there is any problem, we will send a new one'. Cool.
Tires
For serious touring cyclists there is only one real brand: Schwalbe. We use the Schwalbe Marathon XR. They are slow tires (not for racing), but so are we. Our main concern is flat and/or worn out tires.
After 9000km (5500 miles), Ivana had 4 flats, I had 2, one in each tire. They still look great. Nuff said.
Other parts:
Brakes: Magura HS33 hydraulic brakes. UPDATE: After 16,000km a metal casing of one of the brakes broke, while in Venezuela. Not sure why it cracked as there was no force, but maybe because of transport (boat/pick-up/truck) of the bikes had hit it repeatedly. Anyway, Magura replied to my email immediately, and had their USA part send a new part by UPS immediately, so about a week later we were good to go. No questions, asked, just excellent customer service and warranty (they said that similar problem had been reported only twice before during many years and hundreds of thousands of brakes sold).
For the rest we have really enjoyed our brakes, only replaced the first set of pads after 16,000km and zero problems with leaking etc. Simply the best.
Racks: front: lowrider Tubus Ergo Cr-mo, back: Santos PackRack (made by Tubus). Tubus are the only real choice for carefree biking. not light, but strong.
Ballhead: Chris King. I am not a bike expert. But if all people who are tell you this is the best, I accept it.
Bracket for crank: SKF (see comments for ballhead)
Cranks: Truvativ Five D single speed
Chain: KMC gold
Pedals: Shimano DX platform. Large and comfortable with boots or sandals, no click system. Note that after 8000km I changed these for dual-SPD pedals from Shimano, to try to improve my foot position, but Ivana still has them.
Handle bars: Trekking multiposition adjustable. + Ergon MP1 supports. We love the Ergon and the butterfly handle bars, but all the adjustable stuff is overkill and waste of weight and money, as we have never adjusted anything anytime.
Fork: TravelMaster Cr-Mo. We could have taken suspension, but decided not too; it can break and will be deadweight. We have a little seatpost suspension instead which works great.
Rims & spokes: travel rims (double, ceramic + Sapim Strong)
Saddle: Brooks B17 leather men.
Seatpost: Ritchey MTB with Cane Creek Short Travel (9cm) suspension.
Front Hub/dynamo: SON+SON (for headlight)
Pump: Topeak Roadmorph alu
Integrated lock, Amsterdam style: Axa Defender
Stands: Pletscher (back) + Low rider front stand
After all the planning, we were anxious to get on the plane. Romke again suffered sleep deprivation because of our trip and woke up with us and took our bikes and all bags to Schiphol airport at 5 in the morning. It was raining cats and dogs (or lions and hyenas as we use to say in Tanzania, but that is a different post about our preparations that we still have to write

We had booked with Condor airlines, but the first leg (Amsterdam to Frankfurt) is executed by Lufthansa. It was a messy check-in, but while we were busy preparing our bikes for the transport, we were pleasantly surprised to meet up with our friend Bas. He works on a project at the airport, heard we were leaving and came in a few hours early to boost our sense of humour as always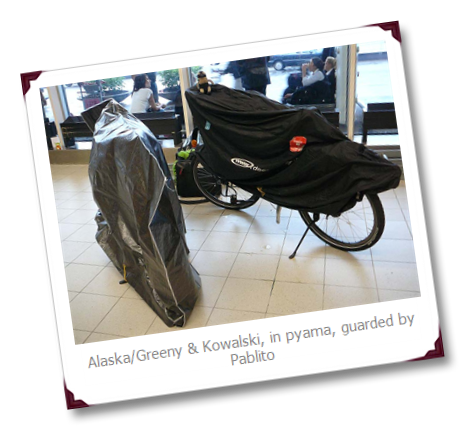 Condor had been nice to us by allowing extra luggage, free transportation of our bicycles and the lowest ticket price.
One of the best things they offer is cheap international one way tickets. somehow all major airlines charge more for a one way ticket than a return ?!? Anyway, as we try to minimize our flying because of environmental impact, we were also happy to find out that Condor flies directly from Europe to Canada/Alaska instead of going through major hubs in the lower 48. This makes the trip shorter and therefore cleaner.
The Lufthansa part was great, the check-in easy and the on board service friendly. We could check our luggage all the way through to Fairbanks, so at the huge -and customer unfriendly- Frankfurt airport, all we had to do is get new boarding passes for the 2nd flight. Well, it turned out that is was lucky that we had a 3 hour lay-over, as we needed it between walking from one end to another and queuing up at Condor..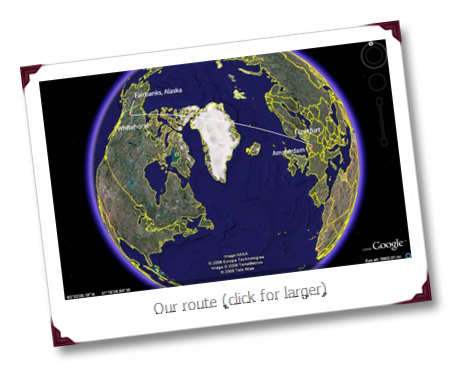 The flight itself was basic, no personalized TV, but I can live with that in exchange for a few hundred euros saved. Besides, we crashed (no pun intended) in our seats the moment we sat down and only woke up for drinks and meals… The food was nice and the views (perfectly announced by the friendly pilot when applicable) were outstanding, seeing the Norwegian coastline, Jan Mayen island & volcano, Greenland and Northern Canada, before we stopped for a while in Whitehorse, Canada. Another hour later we touched down in Fairbanks, Alaska, just a few degrees south of the polar circle.
We were delighted to see that not only our bikes, but also our bags made it. Less happy I was when I noticed that some baggage handler along the way had roughly turned my front wheel in such a rough manner that it had scratched my frame and destroyed my front light. Immigration was very friendly here and very interested in our trip and gave us no trouble.
While we were reorganizing our gear and fixing our bikes a huge rainshower passed and Ivana and I looked at each other with a frightened look and started looking for our Vertical raingear. Our bikes were heavy and we were both grumpy, until we saw the campy roadsign that welcomed us.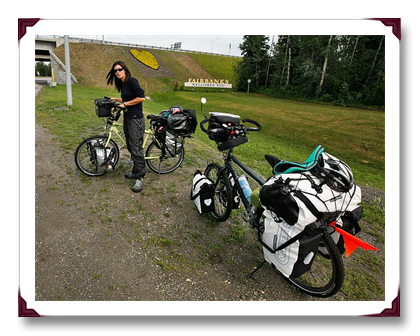 We had been in contact with Ericka *& Miles through the excellent Couchsurfing community, offering hospitality between/to travellers. Her house was easy to find and we were welcomed to our own room where the packages I had ordered were already waiting: a new lens for my camera, some memory cards, a new stove and a big box from Big Agnes/Honey Stinger with our new tent and a lot of energy gels and bars.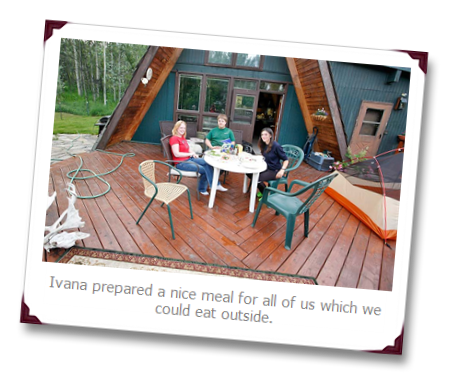 Ericka let us call to Matt at the Northern Alaska Tour company and we were pleased to hear that one of their vans was leaving the next morning, and they were offering us free seats for us and our bikes and gear, all the way to Deadhorse! This is the name of the community near Prudhoe Bay, close to the Arctic ocean as we could get and the start of the Dalton Highway. This was perfect!
Ericka helped enormously by driving us from one store to another to get some last minute supplies lie some spare inner tubes, dinner and breakfast and bearspray! (As I mentioned in my first post, they did not have after-bear..).
Fairbanks is 10 hours later than Amsterdam, so our day was already 34 hours long. We were tired after all the lack of sleep but as we would leave in a few hours, time to sort our stuff again: what would we not need the first 2 weeks? Mistakes can be fatal for us or our bikes on one of the roughest roads imaginable…