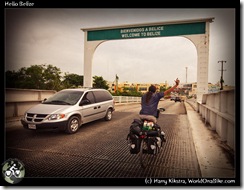 After crossing the bridge that separated Mexico from Belize, we still had to do some formalities. I could just ride my bike into the office and get a free stamp, valid for 4 weeks, but Ivana had to pay.
Sometimes being an Argentine helps dodging costs: for some unknown reason she does not have to pay for visa for for example turkey & India, whereas I do. But in order to enter Belize, she needed to pay B$100, 100 Belize Dollars, equalling USD $50! It must have something to do with the old ties to the Argentine archenemies, the Brits (Islas Malvinas, anyone?).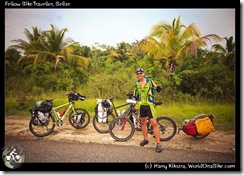 We also had to state where we wanted to exit Belize, which we had not expected. As there are only 3 options and we did not want to exit the way we just came in, we had to choose between the land border close to Tikal, Guatemala and the Southern sea-port of Punta Gorda. We opted for the latter and so the basics of our time and route through Belize were fixed more than we would have liked to: maximum 4 weeks, in through the North, out through the South.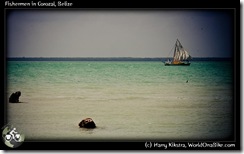 We continued on a flat road through muggy mosquito-filled fields and even met another cyclist headed North, who showed us his bike with mono-wheel trailer. he said it was very strong, but while demonstrating how to get on the bike, it came off, which did not seem too secure to us..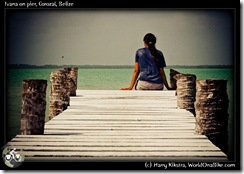 Some miles later, we rolled through neatly trimmed lawns –seems the Brits left another legacy here- topped with old and worn houses into the fisherman's town of Corozal. We liked the relaxed and friendly place, enjoyed some nice hand-made ice-cream and went to look for a cheap place to stay.
The cheapest rooms were in this non-touristic town where still more than B$25, which was more than our daily budget. We started to believe the scary stories of costly Belize that other travellers had told us.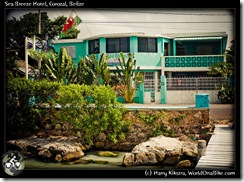 Finally we came upon a nice classic-looking hotel, named the sea-breeze hotel. We asked owner Gwynn if we could camp in his yard but he insisted we camp within the gate and under shelter of his sea-view bar instead. A while later he even offered us to stay for free in the spare room that was normally used by the cook, thanks Gwynn!
Later it turned out that it was not only the most economical place in town (B$40 or USD $20 for a room which could fit 3 or even 4 persons), but also most recommended by Lonely Planet and we planned to come back later with my sister.
Some more pix of Corozal:
Day 381: 27th July 2009, Corozal – Carmelita, 60km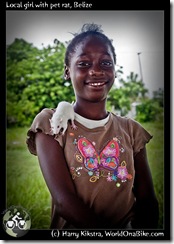 There are only 3 real roads in Belize, aptly named: The Northern Highway, The Western Highway and the southern Highway, all ending/starting in centrally located Belize City. Even so, there was almost no traffic on the Northern Highway that we were on, and we followed the gentle lines of the landscape without much bother of diesel-powered machines.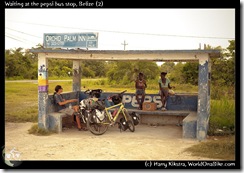 It was becoming a bit of a game to guess what language the people spoke and understood.
Though the official language is English, a large part of the population (the Maya) still only speaks Spanish and the ones that do speak English (mostly the dark-skinned Creole and Garifuni population) have their own pidgin variation of it, which would pass no teacher's test.
Then there are the Mennonites, who speak their own tongue (with elements of German as well as Dutch) and are important part of the population as they create about 45% of the nation's food supply; dressed as if they were starring in the video clip of Weird Al's Amish Paradise or stepping out of a 16th Century Dutch master's painting.
We found that bananas were still affordable here (8 for a B$) and discovered a new treat: ideals. Frozen bags of hyper-sweet lemonade in different flavours, well worth the 25cts the small shops charged.
Some Mayan kids at the ideal shop, enjoying their own goods as much as we did:
Belize hospitality
We passed around the larger city of Orange Walk and ended our day in a small town of Carmelita. The shops and restaurants were closed, save one, but the 2 dark-skinned guys were so unfriendly that we rather went hungry than giving them business. When asking for a place to camp, a nice young guy named Junior insisted we would join him to his family's house, and thus we went.
We cooked our emergency spaghettis and pitched our tent inside a small building next to their home, to ward off the hordes of mosquitoes. The night was incredibly hot and we did not sleep much. Outside one of the poor dogs was doing a constant and sad 'silly walk' as a result of a wrongfully executed injection.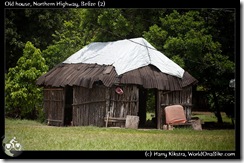 The chip-sealed road did not change much all the way into Belize City. We passed some small towns, old houses that were mostly looking like they could collapse any day, while the lawns were trimmed neatly as for a garden contest. It was a strange mix of poverty and a spacious country.
We were surprised that though Belize offers all kinds of fruit and food possible, none of it is being sold on the side of the road, as happens everywhere in Mexico.
The shops –and many restaurants- in the towns are mostly Chinese owned; the tasty pupusas on the streets are made and sold by Salvadorians, the handicrafts by Guatemalans, the food produced by the Mennonites and the 'eco-resorts' owned by imported Europeans and US-Americans. The 'Belizeans' seem to prefer to just swing around in their hammocks instead.
None of the rich mix of fruits and vegetables that is still somehow produced in Belize seem to make it to the local shops though and the restaurants mainly serve a variation ('fry' chicken, 'fry' beef or 'fry' fish) of 'Rice & beans'.
Belize City, not so relaxed
We were warned that though most of Belize country is quite relaxed, Belize City is where all the criminals of the country seem to congregate. Though it was not as bad as foretold, it was definitely annoying to walk and cycle in a city that will turn everybody into a racist within moments.
All the shops seem to be owned by Chinese who try to make an honest living and are generally friendly.
The streets in front of the shops are filled with young black males though, many of them either stoned or drunk (this is during day time) and most (!) of them trying to take my sunglasses, bicycle, money and whatever they could get their hands and eyes on. At least they did not use any violence, but simply 'asked' for it.
'Hey man, lemme try those shades man', while already reaching with both hands for my sunglasses which I was, well, wearing.
'Gimme that bike man, it looks expensive my friend', 'Gimme some money man..'; 'MMhheuuyww, yyeahh, hhmm?' and similar Creole expressions.
Others tried to touch/grasp/take us and the few things we were carrying without saying much, which is just as annoying.
We were staying with a friendly CouchSurfing host named Jorge, a dermatologist, originally from Nicaragua. He took us to a nice area of town in the evening, but the moment we got our of our car, we were immediately approached and harassed by yet another 'relaxed' dude and apparently this was 'normal'.
When walking back to his house the next night we felt not just annoyed, but threatened when two young guys on bicycles circled around us and then tried to block our way on the sidewalk without saying anything. Fortunately we were already in front of Jorge's house by then, and could slip through his front gate without confronting them.
All in all, nothing bad actually happened, while we walked and cycled around town several times, so I guess you could say that it is a 'safe' city. But the general atmosphere is negative and threatening and too many young black males seem to live of 'being relaxed' and are trying to make easy money.
At least we did not encounter any violence as was reported in the local newspapers, where armed robberies, rapes and muggings were daily stories even in a small city like this (with only about 70,000 people living there). Maybe it was not me who was being racist, but the 'homeless people themselves are', as the great Chris Rock once pointed out in yet another inventive display of his inverted logic, 'as somehow there are no Chinese or Gay homeless people'…
It was time to pick up my sister and nice from the airport as they were going to stay 2 weeks with us. Let's see if the rest of the country would be friendlier than this seedy city.
I am about to post several wonderful images of Oregon State, USA. A truly beautiful place. But first I have to get something else off my chest:
<rant> Imagine cycling along one of the most beautiful stretches of coastal nature in the US, maybe even in America. Dunes, forests, cliffs and rough waves. So nice they declared it a 'National Recreation Area'!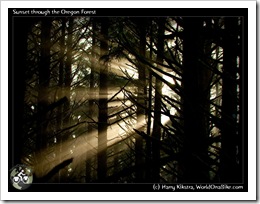 I enjoyed the scenery, but got more and more annoyed with the trash that was on the side of the road. It got so bad that I could not focus on the nature or even on the traffic, but just on the next piece of plastic that had been thrown out of a car window, or maybe I should say truck window?
Besides the ugliness of the trash, the chemicals that are slowly released into nature (by decomposing and by getting eaten by animals), it also creates dangerous situations for cyclists, as many times we have to go around heaps of glass or large pieces of trash, forcing me onto the car lane (assuming there is a shoulder to begin with).
At one point, at the bottom of a steep hill, I decided to take some photographs.
About one mile later, I had about 75 pictures of discarded trash, all taken within 45 minutes of uphill cycling (some more were shot after lunch, one hour later). Please take the following facts in account:
I only started shooting after I got really annoyed by all the trash, so there were hundreds pieces more, just before this series.
All first 75 shots were taken within 45 minutes; this includes cycling uphill, getting off the bike, releasing the flap of my handlebar-bag, getting the camera ready, taking a picture and getting moving again. Mostly I could do only a few pedal strokes before stopping again.
Many pieces are missing. Only halfway up I started to shoot 'doubles', before, I passed items if I already had shot them. Missed Doubles (or triples) include red Bull, Coca Cola, Camel cigarettes, all Beers Of Idiots (see below) and more
I did not shoot most unrecognizable and/or unbranded pieces of trash, such as random car parts, plastic wrappers of all kinds and sizes, unrecognizable glass items and much, much, much more…
The road was steep on my side, the side of this trash, so likely a multitude of trash was to be found lower down the slope
It was busy and there was no good shoulder, so I could not stop for every piece.
Image #27 is the one in the middle: Scenic Byway… Besides this sign, there had also been a 'Adopt-A-Highway sign before I started shooting.
I only shot one side of the road.
Here is it: all the glory of Mile 207, Oregon (click image for larger version)
Conclusions:
Not all of the below are scientifically proven or valid, but it after cycling several thousand kilometers along the US highways, it is reasonable safe to assume that:
There are hundreds pieces of trash per mile of US Highway, even though it is in a 'National Recreation Area'
Coors & Bud (especially light) are the choice of beer for trash-throwing idiots
There is just as much 'healthy' trash (waters such as Dasani, Aquafina, ArrowHead (with 'Eco-Shape bottle'!), V8, VitaminWater etc) as there is stuff that was already trash to begin with (KFC, McDonalds, Taco Bell, BurgerKing etc etc)
Drive-thru coffee creates throw-away empty coffee trash.
Adopt-a-Highway seems nothing more than a scam where local businesses get some advertising and never look at 'their' road again. There were some exceptions in the US (especially notably when the Adopter was a Bikeshop or Eco-market etc), but generally those signs only seemed to attract trash as the idiots throwing things out of their car, seem to need something to aim for..
I assume that the crazy fools that throw these things out of their car window (trust me, they are NOT cyclists…) have zero respect for nature also have no respect for others or even themselves, as they are messing up their own planet. Is is just education? lack of proper values taught by their parents? Or just plain stupidity? I really wonder what goes on in their minds if anything at all.
Some places have a sign that says: '$1000 fine for littering'. This means that if one person was stationed here, he could have raised at least $80,000 in fines (likely a multitude) on this one mile alone. I think that will cover his salary? How's that for job creation?
< / rant>
'I have been living in Wiseman since 1971, when I was 13. I have to go to Fairbanks to get supplies every 3-4 months, but hate it.'
Jack Reakoff is one of Wiseman's famous faces and voices. he seems to know a lot about a lot and works part-time as a tourguide, showing busloads of tourists around Wiseman and telling all about its history. Whenever there is a radio discussion about a current topic, Jack calls in and he has been featured in books, videos and guides. he sells fur from animals he hunts and traps and beads to make necklaces and jewelry.
He has a clear opinion about the oil industry and the thoughts behind the pressure to start drilling in the last remaining wilderness in the arctic:
'It's all political. Due to new drilling methods there is actually more oil in the North Slope available than there was when they started drilling a few decades ago. But they have to lower the output, which serves them for several reasons: firstly, the pipeline will not break. It is old and corrosion has lowered the maximum pressure that can go through. Read more
14th July
Happy B-day Shaunie Shiny Shoes and PJW!
The first hour was flat but muddy, which made it hard going and slow. At least, there were not too many mosquitos while cycling, so we could leave the headnets off. Suddenly the hils were back in full force.
Dalton Highway Rule #8 for cyclists: if a hill has a name, it is mostly bad news as it will be very steep..
We were definitely nearing the Brooks Range now. The vague shapes we had seen in the distance were coming into focus and turned out to be nice mountains. The road meandered through but was already slowly going up as well. The road looked friendly, but the many remains of exploded tired reminded of what the Information booklet had told us: Read more
People who know me, know that I am generally quite laid back. I hate a few things though: intolerance, dishonesty, general stupidity. And mosquitos. Especially mosquitos.
The wind was gone and the air was filled with a low but constant buzzing noise. Millions of mosquitos were hovering above the tundra. In Alaska the mosquitos are not just annoying, they are annoying in very large quantities and sizes. We were warned about them and fortunately Peter from Outdoordacht had supplied us with some Sea to Summit head nets. It might sound excessive, but unless you have experienced this, you have no idea how crazy these bugs can drive you.
We had our breakfast inside our tent and then packed quickly and headed off. We noticed that as long as you were cycling, it was still reasonably doable, but when stopping, even for a moment, the mozzies would attack. we almost wished for the wind to return, not sure yet, which of the two makes the cycling the hardest. Read more
You lose all sense of time when it doesn't get darker at night. The sun doesn't set at 70 degrees North, but just circles around you like a vulture above a fresh kill. As we do not have watches, only our cycle computers and Lenny could tell us what time it was. The other cyclists were buys packing as they were on the 08.00 tour, but as our tour only started 6 hours later, we enjoyed the extra hours to relax for the first time in weeks.
When we finally headed over to the Caribou Inn, they had already finished and were preparing for their trip. As a biketraveller, you have to take care with your money, as you never know where you might need it. That is why we were hesitant to attack the $18 lunch buffet that the cyclists had raved about. Once we took our group picture outside and said goodbye to the others, we had made up our mind to feast; but we were too late as lunch was over.
Only then we found the hidden secret of the Caribou Inn: the packed lunch. For $10 you could take a quite large paper bag and fill it with whatever you like. I am sure they had no idea how many salmonburgers, hamburgers, ham/cheese & salami sandwiches, chocolate cake, yogurt, fruit juice and potato salad a pair of cyclists could fit in just one bag

Read more
Nowadays a cycle trip is so much more than just a way to go from A-B. We make photos, maintain blogs, and film. All this digital material can get lost, broken or stolen, the nightmare of a photographer/filmer & writer like me.
I do have a small external harddrive, but likely it will get broken or stolen together with the gear it was trying to back-up. If you have sensitive data (who hasn't?) the first thing to do is to download security software to Lock folders in Windows Vista, XP, NT, ME and 98 – this will prevent stolen data/drives being abused.
But then you still lost it yourself, so you will also need an additional back-up. After searching (and testing a few that did not work very well) I found the easiest and best online back-up solution.
Michael Fisher from ElephantDrive was intrigued with our trip and offered me a free Elephant drive for a year. I love how the system works and how you can just use your online drive as if it was part of your laptop.
I have no problem making some more promotion for it as it is a great solution for everybody and I definitely think that ElephanDrive is the best there is.
ElephantDrive is a simple, secure, and powerful online backup and storage service. Here is how it works:
First – Create an Account
You begin to use ElephantDrive online backup and storage first by creating your
ElephantDrive account
Second – Download the ElephantDesktop
Once you've created your account, download the easy-to-install
ElephantDesktop.
Third – Access and Manage Your Data
You can use the ElephantDesktop to quickly, easily, and securely upload or backup your files and folders.
Your uploaded files are protected by strong encryption and stored in hardened, professionally managed datacenters with state of the art security and environmental protections. You can access your files from
anywhere in the world, at anytime.
Learn more about our security policies and practices!
Learn more about the pricing and features of Home users!
Learn more about the pricing and features of Business Users!
My hard drive failed. I freaked. I had all the pictures and video of my
son on that computer. Thank God for ElephantDrive – I was able to get them all back.
— Inge I.
Marina Del Rey, CA
SIMPLE, SAFE AND SECURE BACK UPS
How we keep your data safe and secure

How we keep it moving fast

How sub-accounts work

Do more than store!

Secure 128-bit SSL transferInformation sent from you to ElephantDrive is protected by the same
system that banks and financial institutions use to secure their
transactions.
Advanced 256-bit AES encryptionBefore transfer, your files are encrypted with the preferred algorithm of the U.S. government (approved for "Top Secret" use by the NSA).

Innovative delivery technologyOur engineers have designed an advanced, proprietary system for
maximizing your available bandwidth while minimizing the effects on
your system
Differential backupsElephantDrive recognizes which files are new or have been modified so
that after your first backup competes, all future backup will go much
faster.

Workgroup Sub-AccountsThe Workgroup sub-accounts are ideal for sharing information among a
small team or organization. Each one has its own credentials but
all can see the shared data.
Independent Sub-AccountsThe Independent sub-accounts are totally private. They draw from
the same storage allocation, but only the Independent account holder
can see the data.

Secure SharingUse ElephantDrive to transfer large files securely to your colleagues, friends, and family.
Universal accessEvery file you store at ElephantDrive is available in real time, all
the time. Unlike other services that archive your data away, you
can get anything you need immediately!

1GB Free storage. No credit cards, no monthly payment, no expiration.
Unlimited Online Backup and Storage
For Home Users


Unlimited online storage for your photos, music, video, documents, and all other valuable files you have! Pre-made categories and our simple wizard make sure that all your important data gets automatically backed up!

Plans start at $4.95/month
Learn More


For Business Users
Leading solution for automating the protection and secure access of critical data for businesses. Pro Edition is ideal solution for firms that need to the security of off-site backup or the flexibility of multiple accounts.

Plans start at $34.95/month
Learn More
We are very busy preparing for our trip and as we start in Alaska, we are focusing on all that awaits us there. We are already aware of the bears, wolves and moose that might want to taste or maul us, but now there is a quite different type of threat.
Apparently, the Alaska state is giving our hunting permits for the blind. Though I have always supported blind people as much as I can, but the thought of a blind guy or gal legally carrying a gun around and enthusiastically shooting any approaching object does frighten me 😉