'I have been living in Wiseman since 1971, when I was 13. I have to go to Fairbanks to get supplies every 3-4 months, but hate it.'
Jack Reakoff is one of Wiseman's famous faces and voices. he seems to know a lot about a lot and works part-time as a tourguide, showing busloads of tourists around Wiseman and telling all about its history. Whenever there is a radio discussion about a current topic, Jack calls in and he has been featured in books, videos and guides. he sells fur from animals he hunts and traps and beads to make necklaces and jewelry.
He has a clear opinion about the oil industry and the thoughts behind the pressure to start drilling in the last remaining wilderness in the arctic:
'It's all political. Due to new drilling methods there is actually more oil in the North Slope available than there was when they started drilling a few decades ago. But they have to lower the output, which serves them for several reasons: firstly, the pipeline will not break. It is old and corrosion has lowered the maximum pressure that can go through. Read more
August 15, 2008 by Harry
Filed under
Where and When
Where are you going?
The plan is to cycle through America, from the North of Alaska to the South of Tierra del Fuego, Argentina. Note that America is not the same as the USA. We want to see America and the USA is one country on these two continents.
Straight down?
Well, straight down is impossible, you would hit water already in Alaska, but even in a straight line is not possible. The fastest route would be more or less straight to Panama, fly or sail to Colombia, then down the west coast of South America, over the PanAmericana.
So how far is that, 16.000km, about 10,000 miles?
It might be if you could go straight down. We think we will have cycled at least double that distance (about 35000km) as we want to visit every country on the mainland, so including all the small countries on Central America and all the larger countries in South America.
How much do you cycle every day?
Usually between 50 & 100km, depending on the wind, road surface, health, bike problems, interesting places and people.
We will not cycle every day, we will take longer rests in interesting places, so our average will likely be around 50km/day or even less.
How long will this trip take?
We think about 2.5 years, give or take a few months.
Why 2.5 years, why not 2 or 3 years?
We have to start in Alaskan summer, so July (June is considered Spring, August Fall, the rest is winter in Alaska). As the Southern hemisphere has reversed seasons and we want to arrive in summer as well, we need either 1.5, 2.5 or 3.5 years. 1.5 is too fast, 3.5 a bit slow…
Who & what
Who are you?
Argentina & The Netherlands? So where did you meet?
In Tibet. She was cycling from Malaysia to India, I was climbing Mt Everest. We got engaged two years later on the summit of Kilimanjaro, 3 weeks before the start of this cycle trip.
Tibet? Kilimanjaro? Eh, ok. So you like travelling. Where else have you cycled before?
Ivana has made one very long trip: first around New Zealand, then from Malaysia to India, passing Thailand, Cambodia, Vietnam, Laos, China, Tibet & Nepal on the way. Then she cycled for a month in Turkey and has also cycled in France.
Together we cycled in Italy for a month.
I (Harry) was raised in the Netherlands, so was practically born and raised on bicycles. Previously I have not made any very long cycle trips, but have done some shorter touring of 2-3 weeks per trip (Belgium – Normandy – Jersey -England; Wales, Ireland, Northern Ireland – Scotland; Amsterdam – Zermatt on a tandem).
What bicycles do you use?
We ride on the perfect travel bike: Dutch made to order Santos Travel master, aluminium frame, 26″ wheels. Tubus racks and Ortlieb bags see for more details the gear pages.
Website:
How does this website work?
well you found the FAQ, so you seem to have some idea already. On the homepage you see 4 tabs with a photo and shortcuts to the last 4 posts.
You can check older trip reports in may ways: check archives, trip reports, search for words, browse by categories (the second/lower top menu) or use the tags system, which is a bit more detailed than the categories.
You can contact us through the contact form and we love feedback on our posts, so please leave some comments when you read the posts. You will be asked to verify that you are a human being (and not a spam robot) by typing some random code. Though this might be difficult and annoying, it saves us hours of time and helps to control spam.
Will you write reports every day?
We will try but already know that it will not be possible as we will be too tired, to grumpy, too out of battery power, or too far away from any internet connection. So likely we will write in batches, whenever we have a few hours or day off and post them when needed.
So do I need to check every day to see if you updated something?
No, you can make it much easier to follow us: either add our RSS feed to your feed reader, so you get a notice when a new feed is available
If you have no idea what RSS is, just subscribe to our mailinglist and get a maximum of one email every day new updates are posted. You can do this on every page, see the box at the right side, near the top of the page or just click here.
Why does http://WorldOnABike.com change to http://harry.biketravellers.com ?
World On A Bike .com is just easier to remember and to tell people. It automatically forwards to the real website which is located at harry.biketravellers.com. On http://BikeTravellers.com everybody that cycles can open a free weblog (yourname.biketravellers.com), try it yourself, many others have already done so.
Where are Ivana's reports?
What are those 'Google Ads' I see on many pages?
These are small advertisements, supplied by Google. We do not choose them, the content is based on the content of the page, so a page about Alaska will give you ads about Alaska tours or land. It might show things we do not support, like drilling for oil in Alaska.
Every time somebody clicks on them, we get a few cents, which helps to pay for our website costs. So if you are interested in the ads, please check tem out as you are helping us.
Do not just click a lot of ads just to help us, as Google might ban our account if some people repeatedly click our ads from the same computer/IP address. So only check the ones that are interesting to you.
How & costs & support
How can you afford such a trip?
We spend much less than you think, we saved some money the past years and might make some more on the way.
So, how much will you spend?
North America will be the most expensive: until we reach Mexico, we will spend about $15 per day (together). This means less than $3000 in the first 6 months.
Then from Mexico down it will probable be less than half of that.
In total should be less than $10,000 together for the entire trip.
That is less than my parents spent on a luxury 2-week safari trip last year! How come you can live so cheap?
We do not need much. We have our tent, so we do not need to pay for hotels. We camp out in the wild or at people's lawn's, so do not pay for expensive campsites. We will stay in cheap hostels in cities -in central America, you can get these for a few dollars-, but will also do a lot of Couchsurfing/Hospitality clubbing/ WarmShowering: staying with people for free, in return we will host them later.
We cook ourselves, so all we need is some pasta, some veggies and some candy bars to get us through the day. We drink water we get from people or take it from streams and purify it with our Steripen. We recharge our batteries using our SolarSupra solar panel. We never buy bottled water, that is a waste of money and plastic.
We do not have an expensive taste and have no space for souvenirs on our bikes, so all we take home are pictures and memories.
Our sponsors supplied us with most of our gear, so we had little costs up front.
It is still a lot of money, don't you have any other costs as well?
We do not have kids, we do not have a car and have no debts, we never bought and will not buy anything we cannot afford. We have a house, but that is rented out so almost pays for itself.
So things we need to pay are: food & drinks. Sometimes camping fees (mostly we camp in the wild or on people's lawns); Internet connections along the way, spare parts for our bikes; replacements for clothes we wore out; park fees; visa fees; entry fees for places we want to visit etc.
It is hard to plan exactly how much we will spend, but we want to see things along the way and will buy some dinners or breakfasts along the way when we are too tired or lazy to cook or think we deserved it after cycling another 1000km or a tough day. Basically we are on a tight budget, but will not let this stop us from enjoying the places we visit.
Is there any way we can support your trip?
Yes! Many ways, first of all you can sign up for our newsletter or RSS feed. Forward them to others that might enjoy reading travel stories, stories about people and culture, cycling, environmental issues, America.
Leave comments on the posts. We love to read them, they keep us going. Small notes from friends and strangers are huge boosts for our confidence and can help us through rough and difficult times.
Just think of this website as a free interactive travel magazine subscription. If you enjoy reading our stories and seeing our photos, you can thank us by donating some money using the form on the right side of every post and page, using PayPal or credit card. Every small amount is welcome, just think what you would spend on a magazine or book.
Check out the Google ads if there is something interesting for you (do not click them all just to help, see notes above).
Link to our websites or specific reports or photos from your own website or blog. Add us to Stumble Upon, ReddIt, Digg etc. get the word out that it is possible to travel by bicycle!
Invite us to speak in your town. We can give presentations about our trips, about climbing the 7 summits, cycling Asia, Bike Travelling or a photo presentation of the culture and nature of the 7 continents . We can charge admission fees or just ask for donations. We love to tell about our trips and spread knowledge about cycling and the environment.
Buy something from our shops, see the links above. We get a small percentage of every item sold and you promote cycling!
Invite us for dinner or to stay at your place or recommend addresses to sleep (friends, family) or even just places to pitch our tent
Start cycling yourself!
after we woke up in our church, we noticed that it was actually dry! Not only that, but the weather improved during the day. Oh, how life is so much easier with some sun. I know we will curse it later when in the heat of central America, but for now it was very welcome.
We passed quite a few roadhouses and motels, that were either closed for the season or closed altogether. Seems that the combination of higher gas prices (increasing the costs for the generators and heating) and lower number of tourists (also partly because of higher gas prices) already has put many businesses out of business. Still some smaller business like the Cappucino house at the Gakona Junction seemed to survive. Shame that most clients never leave their car and stop to talk with the friendly ladies that run the wildly decorated place. Louise warned us for the many wild bears that were on the coming stretch and showed us some photos of a bear on the side of the road that apparently was not afraid of humans at all, taken a few days before…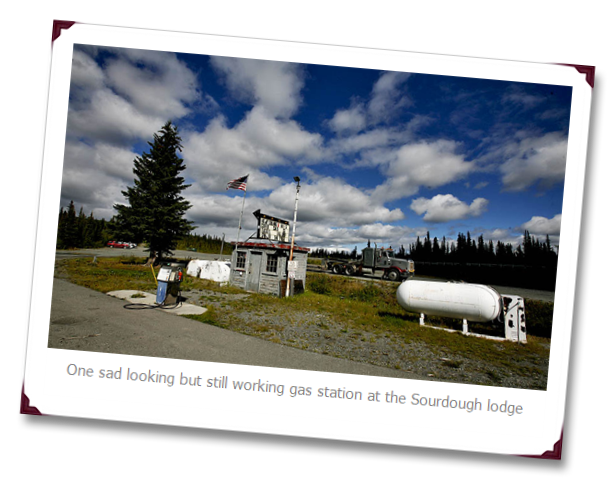 We had stopped for some internet at Gakona Roadhouse, a nice historic place in a beautiful setting. It was comfortable to stay there, but the late evening sun convinced us to go a bit further and so we managed to see the beautiful sunsets over the Wrangell-StElias national park, with its 2 dominant peaks (from this side) Mt Drum and Mt Stanford. Read more
July 8, 2008 by Harry
Filed under
Lenovo Computers
Lenovo is part of IBM computers. Their Thinkpad series is well known all over the world. When researching our optimal road warrior's laptop, we stumbled upon a pressrelease announcing the new X300. It was light (3 pounds/1.5 kgs), had a solid state disk (so no spinning harddisk), but still managed to pack 3 USB ports, a DVD-reader/burner, a 1400x900px screen, 2gb RAM, a core duo processor, a fingerprint reader, an integrated webcam and much more under the hood (go here to see a full list of specifications). Connectivity is important and the combination of a HSDPA modem, WIFI and an Ethernet connection will be vital for us.
We noticed Lenovo also in another positive way. They are leaders in green computing:
Read more about the green program below.
When Bernie Pruissen, head of Marketing Europe, heard of our plans, he immediately supported us as lenovo is dedicated to 'green computing'. The result: Lenny, our faithful recipient of thoughts and rants and hardworking processor of photograps and videos. This is what others say about Lenny
Beyond thin and light
Lenovo's amazing new ThinkPad X300 ultraportable notebook is the thinnest ThinkPad ever – less than
19mm at its thinnest. It's light too, just 1.4 kg.
But the X300 is more than ultra-thin and ultra-light. It's
ultra-functional, too, thanks for available performance and convenience
features like these:
Integrated DVD burner – Hard to find in an ultraportable

Extended-life batteries –
Get up to 10 hours unplugged

Easy connectivity –
Advanced wireless options plus Gigabit Ethernet

Convenience – 3 USB ports, line in/line out, and more
Advanced
components on the X300 include Solid State storage drives (with no moving parts, they consume less power and are considered less likely to break down than traditional hard drives). The X300 also offers several wireless connectivity options including integrated Wireless WAN and Wlan.

Style-wise, the X300 is closer to the size of an actual paper notebook than a ThinkPad notebook has ever been. And it offers numerous design flourishes including a glossy bottom bezel, select illuminated buttons, and – for the first time in X Series – an integrated camera option and stereo speakers.
'Greenest' ThinkPad ever
In addition, ThinkPad X300 is the first Lenovo notebook rated EPEAT Gold
for low energy use and minimal impact on the environment. It also
meets the European Union's Reduction of Hazardous Substances
standards. And it is Energy Star 4.0 qualified.

The X300 uses 25% less energy than previous X Series models. What else makes the ThinkPad X300 so "green"?

Energy-saving low voltage processors, LED backlit displays and solid state storage drives
Arsenic-free glass / Mercury-free displays
90% recyclable packaging (by weight)
And much more
Why choose energy efficient products
Environmental issues are becoming important to organisations and individuals alike. Energy efficient choices can reduce greenhouse gas emissions and save energy costs for the user, without sacrificing features, style or comfort.
Lenovo's role in combating climate changes
Lenovo is committed to providing environmentally responsible, energy-efficient technology choices. In 2007 Lenovo joined the Board of Climate Savers Computing to support the efforts in reducing the IT CO2 emissions by 50% by 2010¹.
Move your mouse over the arrows to learn more

This is how we do it:

All Lenovo ThinkPad notebooks, ThinkVision monitors and many ThinkCentre products launched from 2008 are Energy Star 4.0 compliant and have up to 70% energy efficiency improvement compared to older generation PCs.
Lenovo systems that achieved EPEAT Gold rating also contain up to 90% re-usable and recyclable materials and their packaging is 90% recyclable.
Lenovo Power Manager and BatteryStretch² technologies provide adjustable power management for better performance and longer battery life.

Our end-to-end solution

Lenovo in partnership with our alliances offer a complete environmentally responsible solution from buying back and recycling customers' old PCs to providing them with new energy efficient Lenovo systems that help reduce energy consumption and electricity costs.
Energy efficient products
Lenovo has a range of energy efficient EPEAT Gold systems and monitors to suit the requirements of different types of customers.
Your choice
A small office network of just 2 PCs can use as little as 130 kWh or as much as 1300 kWh annually³. Consider the environmental impact and achievable cost savings by switching older generation PCs to the Lenovo Energy Star 4.0 compliant products.
By choosing to purchase more energy-efficient PCs, consumers and organisations can do their part to reduce carbon emissions and combat climate change while also saving money.
July 4, 2008 by Harry
Filed under
Outdoordacht/Technolyt: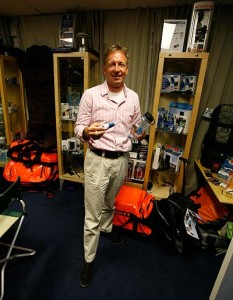 Peter Wayper is the boss of Outdoordacht. The name is a Dutch play on words: "Outdoor" is clear, but "doordacht"  means: well thought through. And so it is. All the gear Peter imports and sells is smart and useful. From famous brands like Sea to Summit to newer products like Steripen and Dobermann.
Peter is an avid cyclist himself and couldn't wait to leave his desk to take a spin on our Santos bikes. He has cycled in many countries and know what cyclists need and want.
One of the most interesting items he imports are Solar Supra solar panels: foldable solarpanels, that come with a smart battery. You can use the solarpanel directly (it comes with a range of adapters and plugs), or you can charge the battery first and then take power off it later, offering a voltage switcher, to use it with many appliances.
This is not only an excellent way to conserve solar energy, but offer many new possibilities: even with a relatively small solar panel, we can generate enough power to charge our laptop, batteries for the water purifier, headlamps, bike light, but also all cameras and mp3 player. It s a great feeling to be able to use the solar power and to be independent from any other power source for a long time.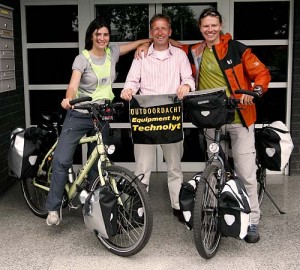 One other interesting product Peter supplied us with is the Steripen. We used to drag large water filters and pumps with us or all kinds of bad-tasting drops to purify the water of viruses & bacteria. Now we just take water from any source (we tested tab water everywhere in Zanzibar and Tanzania), press a button, stick the pen in and stir for 2 minutes. Ready to drink immediately!
A great weight saver and as the batteries are rechargeable, we can use it for a long time. One charge will purify about 100 liters/26 gallons and the light will last for about 4000 liters/1000 gallons.
For this and much more useful travel and cycle gear, go to www.outdoordacht.nl
Thanks Peter and we will definitely report back in detail on all the great gear.
Some of the products Outdoordacht sells:

OUTDOORDACHT
MARSOOPS
www.marsoop.com
SOLAR CHARGER