'I have been living in Wiseman since 1971, when I was 13. I have to go to Fairbanks to get supplies every 3-4 months, but hate it.'
Jack Reakoff is one of Wiseman's famous faces and voices. he seems to know a lot about a lot and works part-time as a tourguide, showing busloads of tourists around Wiseman and telling all about its history. Whenever there is a radio discussion about a current topic, Jack calls in and he has been featured in books, videos and guides. he sells fur from animals he hunts and traps and beads to make necklaces and jewelry.
He has a clear opinion about the oil industry and the thoughts behind the pressure to start drilling in the last remaining wilderness in the arctic:
'It's all political. Due to new drilling methods there is actually more oil in the North Slope available than there was when they started drilling a few decades ago. But they have to lower the output, which serves them for several reasons: firstly, the pipeline will not break. It is old and corrosion has lowered the maximum pressure that can go through. Read more
after we woke up in our church, we noticed that it was actually dry! Not only that, but the weather improved during the day. Oh, how life is so much easier with some sun. I know we will curse it later when in the heat of central America, but for now it was very welcome.
We passed quite a few roadhouses and motels, that were either closed for the season or closed altogether. Seems that the combination of higher gas prices (increasing the costs for the generators and heating) and lower number of tourists (also partly because of higher gas prices) already has put many businesses out of business. Still some smaller business like the Cappucino house at the Gakona Junction seemed to survive. Shame that most clients never leave their car and stop to talk with the friendly ladies that run the wildly decorated place. Louise warned us for the many wild bears that were on the coming stretch and showed us some photos of a bear on the side of the road that apparently was not afraid of humans at all, taken a few days before…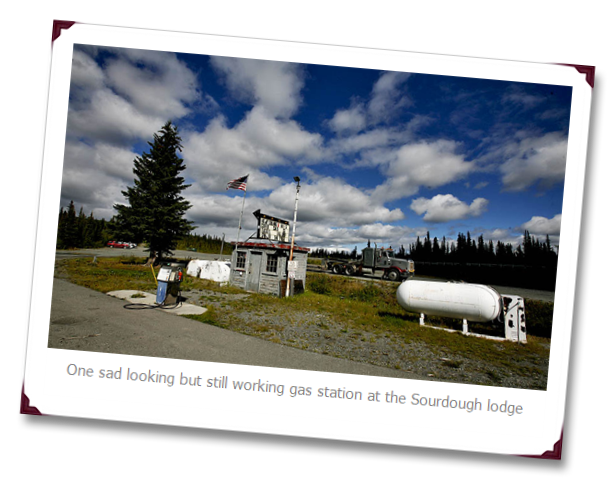 We had stopped for some internet at Gakona Roadhouse, a nice historic place in a beautiful setting. It was comfortable to stay there, but the late evening sun convinced us to go a bit further and so we managed to see the beautiful sunsets over the Wrangell-StElias national park, with its 2 dominant peaks (from this side) Mt Drum and Mt Stanford. Read more