Day 32-34: August 12-14 2008: Tok Cutoff to Tok: About sun, mountains, lost pants, life in a bus..
after we woke up in our church, we noticed that it was actually dry! Not only that, but the weather improved during the day. Oh, how life is so much easier with some sun. I know we will curse it later when in the heat of central America, but for now it was very welcome.
We passed quite a few roadhouses and motels, that were either closed for the season or closed altogether. Seems that the combination of higher gas prices (increasing the costs for the generators and heating) and lower number of tourists (also partly because of higher gas prices) already has put many businesses out of business. Still some smaller business like the Cappucino house at the Gakona Junction seemed to survive. Shame that most clients never leave their car and stop to talk with the friendly ladies that run the wildly decorated place. Louise warned us for the many wild bears that were on the coming stretch and showed us some photos of a bear on the side of the road that apparently was not afraid of humans at all, taken a few days before…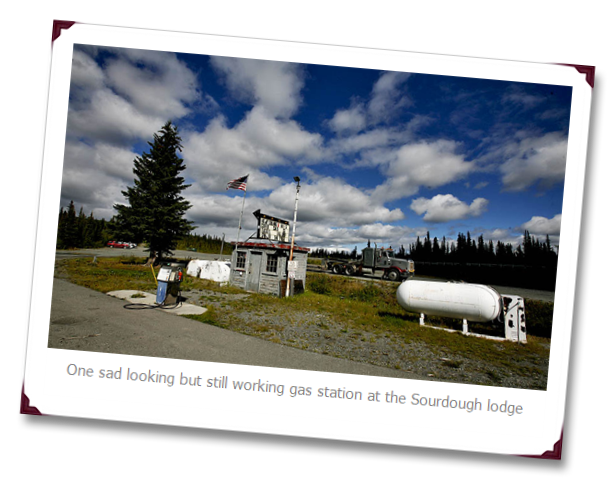 We had stopped for some internet at Gakona Roadhouse, a nice historic place in a beautiful setting. It was comfortable to stay there, but the late evening sun convinced us to go a bit further and so we managed to see the beautiful sunsets over the Wrangell-StElias national park, with its 2 dominant peaks (from this side) Mt Drum and Mt Stanford.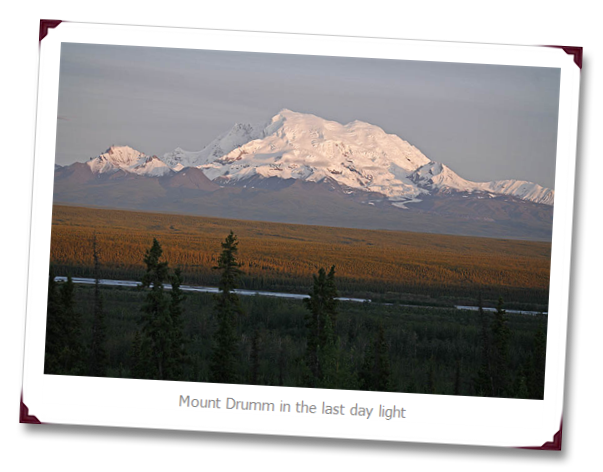 We arrived late at our destination, a roadside pullout at Mile 24, which had toilets and nice free camping sites. When we arrived we saw a table with two open Ortlieb bags, but nobody around, even after I shouted in all directions! I called Ivana, who came running. She was already scared as it was getting dark and because of the many bear stories on the way. 'Oh, is that all that is left of him?' She asked in panic.
But soon a young US boy came out of the bushes, named Thimble. He had been watching the sunset and had forgotten to close his bags. His bike and tarp were a bit father away. We learned that he had been travelling with Nico and Jason, our Dalton Highway cycling buddies, but that both Nico and Thimble were sent back at the border because of previous minor arrests in the US. Nico had been nervous and ignored the STOP sign and then their backgrounds were checked as well as their bags. Jason was let through, but the others were denied access to Canada and had no option but to cycle back towards Alaska…
Of course this made Ivana more nervous, but we still managed to have a good sleep. The next morning, the weather was still nice and we headed in the direction of Slana, halfway on the so-called Tok-Cutoff highway. Just before leaving Ivana remembered that a bit earlier she had left her lightweight Vertical rain pants in the toilet and went to get it. we had been having breakfast just behind the toilets, but apparently one of the few RV's that had stopped to use them, had taken the pants as they were gone! That was very bad news, not only were these pants very light and dried fast, but with the current rains and dropping temperatures, one wet day would be enough to get her soaking wet and hypothermic.
We passed a small place called Chistochina and asked in the first big farm if they had any spare rainpants that we could buy. They did not, but the owners of the Redeagle Lodge, Richard and Judy were very friendly and showed us around their new collection of wonderfully decorated lodges, to be opening next season. What impressed me most were the enormous solarpanels, heating all the water for the showers.
We continued to Slana, where the rain began to fall again when we arrived late. Slana had been a controversial place as the subsistence and hunting-gathering lifestyle of the community was threatened when the National park was formed. Suddenly the local people were not allowed to do what they had been done for centuries and many angry faces were created, resulting in the burning of the brandnew Ranger station (twice!). Now some kind of agreement that gives both parties freedom has been arranged and things have cooled off.
Just past Slana is a small 'mom-and-pop-store' called Midway Services. It is a very nice grocery with very reasonable prices, the first time we could get Snicker bas (the cyclist's staple diet) for 65cts! When we entered the store, we saw 3 people, 2 men and one woman, looking tired, smoking on some benches.
'Do you want to sleep here tonight?', the man asked.
'We are not sure yet', we replied. We had seen the Campsite site outside and were looking for a protected place to camp, but as always we were also very careful about our budget.
'Cause if you do, you can pitch your tent outside or you can sleep in the old bus in the back of the yard. And the price of the staying in the bus is…' he paused a bit. 'Free!'.
We looked at each other in disbelief and told him that we would love it. He took us to the old bus that was parked in the back, which was turned into a campervan. It was great, it had 3 beds, many seats and a table and even a 4-burner gas stove. He checked the gas, saw it was empty and refilled the bottle for us. Then he turned it on.
'To make it a bit warmer'…
It was wonderful. They left the store open for us, so we could wash some clothes, charge some batteries and even take a shower. We were warmed by their generosity and trust, something we had encountered so many times by now in Alaska. We ended up staying 2 nights, resting on the day in between, writing updates, cleaning stuff. We spent some time in the store, listening to to many stories of all the locals coming in for their groceries and ice-cream (apparently the Rangers and many tourists never visit or even know of the place). The story of the week was the bear that had entered a few people's back yards, taking some groceries. One guy had shot it once, but with a small gun only that had jammed after one shot. The bear was wounded but got away and now everybody was on the lookout and shared stories about guns and bears.
it is so wonderful to be away from the world politics for a while and get immersed in the local stories. Just like the people in flooding Nenana a few weeks before (though Nenana definitely was informed about Climate Change!), the Slanans did not care about Iraq or Zimbabwe. Their life was basic and community based, which was a delight to experience.
After our resting day we headed towards Tok, with the promise of restaurants and more shops 🙂 The road was nice and we made good time as we even had some tailwind! This made the dozens of small hills a pleasure to climb as most downhills would get us far up the next uphill. We even saw a very rare animal (see photo below), though none of the feared bears entered our view.
We had already heard about the all you can eat breakfast at the Sourdough campground in Tok, but as they wanted to charge us $15 for a gravel campsite (discount, normally $20!), we headed into town and found out that you can camp for free in the back of the 24/7 Chevron gas station, perfect for cyclists! Only one more road to go in Alaska, this time to Canada, but would we be admitted?
Kowalski, Status report!
It was great to have a sunny day and catch a glimpse of Alaska's beauty. We can only imagine what was hidden under the clouds the rest of the trip… Not too many tough hills this time, though it is never flat up here.
You might also like