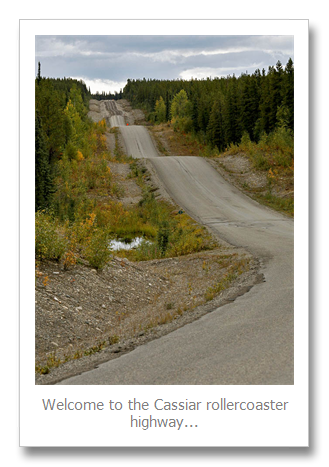 Of course we took the road less travelled 🙂 Highway 37, The Stewart Cassiar Highway, or simply The Cassiar Highway. All names for this infamous road, almost 1000km long, known for the lack of services, bad weather, bears and gravel patches. The latter issue had been solved we had been promised, but the other?
2nd September: Nugget City – French Creek, 58km
The adventure started sunny, but dark clouds appeared, especially on Ivana's face when she noticed the first set of hills. "is this going to be like that for the rest of the road?" she asked. I truly did not know, but suspected that this was just the beginning…
Fortunately some nice people made our day by donating a full bag of cut-up watermelon, just what the doctor ordered as the sun had come out. Unfortunately the wind had come to and after a week of tailwind, we were not happy to have it in our face again, slowing us down.
Ivana spotted a black bear, right beside the road, I must have raced right past him on the downhill. At least that made her a bit happier and when we also found a nice deserted rest area called French Creek where we -after hanging our foodbags in the trees- could relax near a good campfire.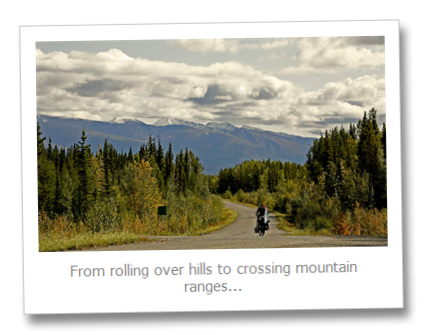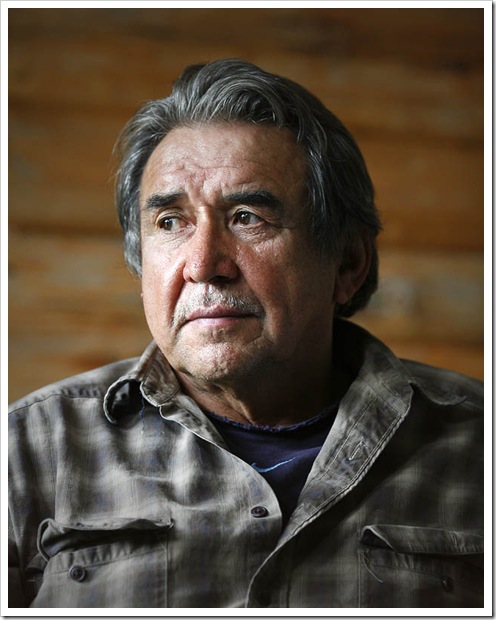 Holly Eden from Dease Lake had told us to visit Willie if we had the opportunity.
Willie is one of those persons that can fill a documentary all by himself. We arrived late, uninvited but were welcome and spend hours talking about his history, present and future. We talk about the history of the Tahltan people and the fights with the other first nations.
We verbally travel from the horror stories of the missionaries taking the First Nation children away to religious experiences of his friends, fights about lands and property to sharing very personal stories and advice about love & life. He lets us sleep in the first house he built, filled with more memories.
Besides being the host for a yearly 3-day gospel music festival at his ranch, Willie organises horseback riding trips through the wilderness of the nearby provincial parks: Stikine River, Spatsizi Plateau & Mount Edizia. Every trip is different and some clients come back regularly.
Willie showed us a book from a german photographer, about the area, almost completely shot during the trips he guided. No website, no email. "How do you get your clients?" I asked him. "I don't know, somehow people seem to find me", he replied.
More than a week later we would meet Willie again, in Smithers where we also met his wonderful wife Grace. Thanks for letting us into your life for a short moment Willie, it will last much longer than just the few hours we spent together.
ps: To make it a bit easier to get a special adventure that might just change your outlook on life, call Willie or Grace Williams in BC: 250-771-4301. Trips can take anything from a few hours to a few weeks.
"I went fishing with my sister one day. Day was my one day off in 26 years…"
"So what gun did he use on that bear? That's stupid. A wounded bear is dangerous."
"if you want to stay for the night, you can camp or you can stay in the old bus in the back. And the price is… free!"
"The rangers have no idea about the real people living here. I have never seen any of them in our store".
"I like biketravellers. They are not as snotty as those guys with their half-a-million-dollar motorhomes".
Some quotes by Jay, a wonderful guy. Stop by, one mile NE of Slana town, midway on the Tok Cutoff highway. They have a great general store, with very good prices and selection and are just a pleasure to be spending some time with. Debbie gave us a big chunk of halibut, she had caught it herself a week ago. Still 'small fish' compared to the bear, moose and other wildlife she had shot. Not just to kill like some part-time hunters, but for food or protection.
Oh, and people can stay for free in the great bus, turned into a campervan.
Thanks so much, jay & Debbie, you are wonderful.
after we woke up in our church, we noticed that it was actually dry! Not only that, but the weather improved during the day. Oh, how life is so much easier with some sun. I know we will curse it later when in the heat of central America, but for now it was very welcome.
We passed quite a few roadhouses and motels, that were either closed for the season or closed altogether. Seems that the combination of higher gas prices (increasing the costs for the generators and heating) and lower number of tourists (also partly because of higher gas prices) already has put many businesses out of business. Still some smaller business like the Cappucino house at the Gakona Junction seemed to survive. Shame that most clients never leave their car and stop to talk with the friendly ladies that run the wildly decorated place. Louise warned us for the many wild bears that were on the coming stretch and showed us some photos of a bear on the side of the road that apparently was not afraid of humans at all, taken a few days before…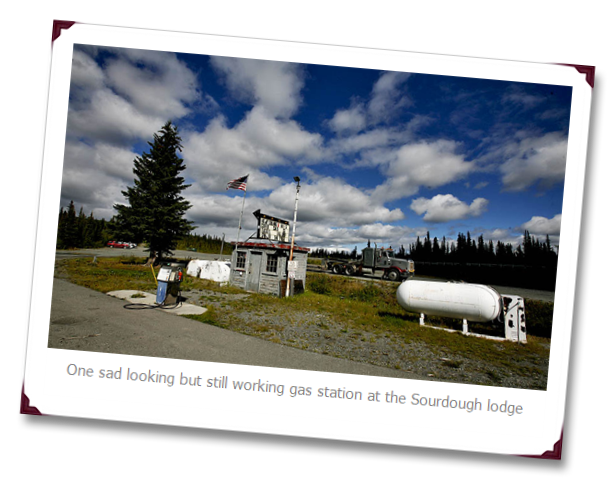 We had stopped for some internet at Gakona Roadhouse, a nice historic place in a beautiful setting. It was comfortable to stay there, but the late evening sun convinced us to go a bit further and so we managed to see the beautiful sunsets over the Wrangell-StElias national park, with its 2 dominant peaks (from this side) Mt Drum and Mt Stanford. Read more