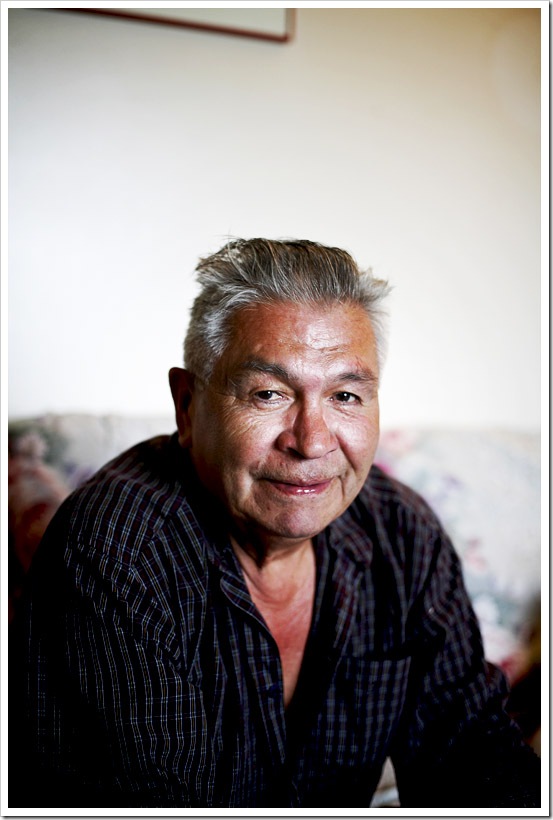 For the First Peoples, the land is the source of Life- a Gift from the Creator. "Mother Earth" is the center of their universe, the core of their culture , the origin of their identity as a people, the provider of their material needs.

"The land cannot be given or taken away, we belong to the Land; our birth does not sever the cord of life which comes from the Land, our spirituality, our culture, and our social life depend on it".

Respect for all life – animals, insects, plans, mountains, rivers, skies & seas are inseparably interconnected. First peoples do not consider the land merely an economic resource. Their land depends on lives, and in relationship to the environment around them. They know that the land is to be shared. If you misuse the land, you are killing yourself. Remember the earth will survive long after you're gone.

Traditional people think the land is there for everyone to use, the way our hand is there, the grass, the trees and animals are our flesh. nature is our religion, thank the Creator for what he has given us all."

Roger A. Johnson, 30 august 1991.
'Nii t'am lax ooks by', is Roger's original Gitxsan name, meaning 'care for the people' as well as describing 'a frog on a lily pad'. His generation was influenced by residential schools, church and government, making them loose their mother tongue and culture. Roger still speaks the old language and works as a interpreter in discussions and court cases between government, mining companies and the First Nation elders.
Nowadays the Gitxsan youth is depressed and suicide rate is very high.
"We can't cry over spilt milk! We must maintain our culture and our language. We need a huge cultural center to teach our culture and language to young and old."
While we were talking with Roger, a car drove up. A very conservatively woman stepped out and gave Roger a booklet and drove off again. The others in her car did not come out. The cover of the booklet depicted a nice drawing of a traditional Indian sky burial. But the rest of it basically said that that was nice in the old days, but against the bible and all First Nations should switch to 'modern' Christian values and culture…
"I remember my Grandparents often saying to me, 'You are my cane, You are my sunshine, You are my flower".
Roger gave me a Gitxsan First nation flag, which has been on my bike since. Then he waved us goodbye from the stairs leading up to his frontdoor. 'Do not forget to wake up every morning, and shout to the world: Good Morning Canada!'.
(Sources: our meeting with Roger; Partly quoted from the local article 'Wisdom of the Elders' by Zanna Ove; Speech of Roger A Johnson transcribed by Julian Burge)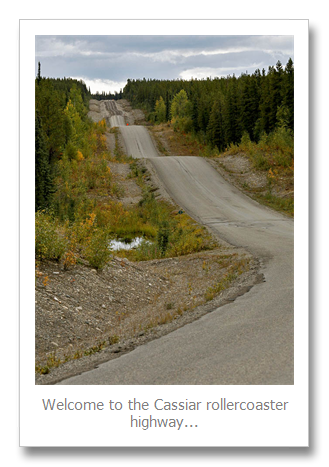 Of course we took the road less travelled 🙂 Highway 37, The Stewart Cassiar Highway, or simply The Cassiar Highway. All names for this infamous road, almost 1000km long, known for the lack of services, bad weather, bears and gravel patches. The latter issue had been solved we had been promised, but the other?
2nd September: Nugget City – French Creek, 58km
The adventure started sunny, but dark clouds appeared, especially on Ivana's face when she noticed the first set of hills. "is this going to be like that for the rest of the road?" she asked. I truly did not know, but suspected that this was just the beginning…
Fortunately some nice people made our day by donating a full bag of cut-up watermelon, just what the doctor ordered as the sun had come out. Unfortunately the wind had come to and after a week of tailwind, we were not happy to have it in our face again, slowing us down.
Ivana spotted a black bear, right beside the road, I must have raced right past him on the downhill. At least that made her a bit happier and when we also found a nice deserted rest area called French Creek where we -after hanging our foodbags in the trees- could relax near a good campfire.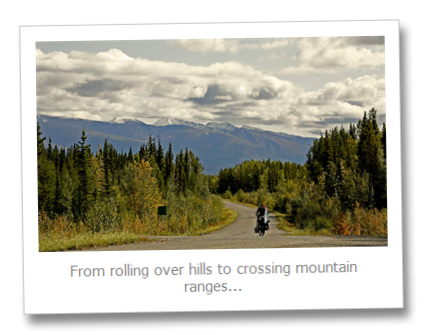 Hi all, apologies for not posting before, we were too busy cycling, getting fed by friendly Canadians, watching bears and visiting doctors. I wil write about all of that soon, but first as promised, our day in Champagne:
We woke up to a nice day, which means: no rain 🙂 Before heading out towards the seductions of Whitehorse, we decided to cycle around in Champagne, which appeared to be a ghost town. We spotted some good campsites near the community hall, wondering why our 'hosts' had not pointed these out. Just when we were turning around to start our trip towards Whitehorse, noticed some smoke coming out of a building. We checked it out and found a few ladies cooking in a large kitchen.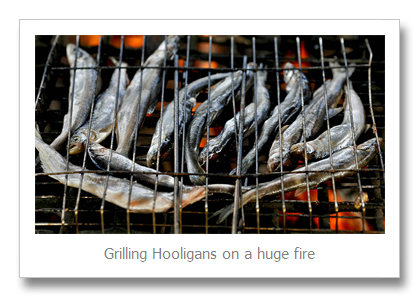 'Do you want some breakfast?' One asked.
Letmethink-yes!
'Sit down, you can stay for the Potlatch.'
We had no idea what the Potlatch (often called Potluck) was, but we found out during this wonderful day. It was one year ago that one elder of the Champagne-Aishihik First nation had died. Now, one year later, a spirit house was built on her grave and all friends and family came together for the celebration of this occasion and to remember her.
So during the day a row of people came into the huge community hall, from very young to very old.. We were happy that we could help out during the day. I helped making al the tables and chairs ready for 200 persons and grilled several hundred of 'Hooligans': some small type of fish. Ivana helped serving the people, there were many courses. We got fed ourselves as well: from Moosejaw soup to fish eggs to salad and salmon. Ivana convinced teh shy children that she could turn them into animals by painting their faces. We talked with the elders as well as the younger generations. It was all great.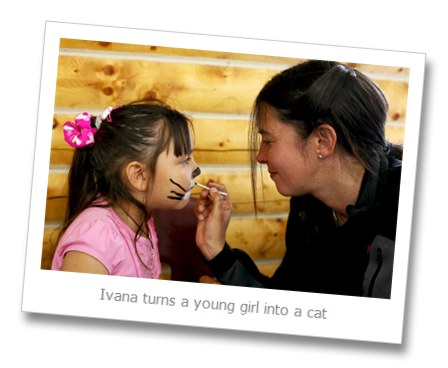 I spoke a while with Yoyo, one of the elders.
'So you can tell your friends that you were with the Indians and that they all wore feathers and such', Yoyo remarked.
I told him that that stereotype was not my impression of the First Nation people we had met so far. He looked at me, decided that I was good and started to talk about his past.
'You know, the younger generation cannot speak our language anymore. I am one of the last ones to speak it. Our language is lower to the ground, closer to the earth. If I forgot my gloves near a tree in a big forest 60 miles away, I could explain a friend where to look for them in a few minutes. In the high speech, this is impossible'. Read more
Ivana poses with the two lovely ladies at the Teslin National Wildlife refuge info center. They talked Athabascan between them, while working on some nice handicrafts. Visit the center if you can and say hi from us 🙂