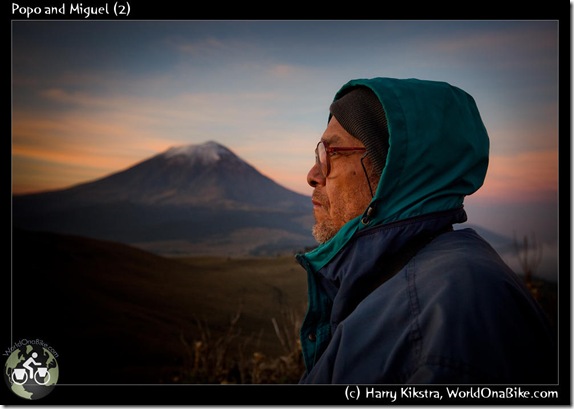 Popocatepetl is the active volcano close to Mexico City.
Miguel has been living close to the volcano for many years and has captured the many eruptions as well as the beautiful flora and fauna surrounding the volcano with his camera, rising before dawn in the hut he is guarding and living in, at 3800m/13,000ft altitude.
(C)opyright
To be clear: all information, texts and images are copyrighted by me and no image can be copied, published, altered, distributed or otherwise used commercially without a prior agreement.
Just ask if you are non-commercial, I am quite a nice guy

If given permission and only then, the image can be used, just as long as all following points are met:
The use is non-commercial. We particularly promote use in classrooms, photography and other (non-commercial) educational purposes, but also other (non-commercial) websites and blogs can re-use the images, as long as they are not hotlinked. Non-commercial also means that prints you may make, cannot be sold.
The work is attributed to Harry Kikstra, ExposedPlanet.com. This is done by placing this text with a link to the image page if the image is used online, or just the text when used offline (in presentations, print, broadcasts) etc.
No derivative works are made. This means that the images cannot be altered, so the border and texts (titles, URL) must remain as they are part of the image; the images can not be changed in any way.
As an addition to the above general license the following conditions must also be met:
– The images cannot be used to promote any single religion as no specific religion -or even any at all- is endorsed. I am a strong supporter of both freedom of as well as from religion.
– No images may be used in any hate- or other objectionable context (racism, sexism, breach of human rights, pornography, gambling, drugs, alcohol etc.)
Links back to http://ExposedPlanet.com & http://WorldonaBike.com from any website are very much appreciated, even when not using the images.
---
Stock and prints sale, presentations, copyright, publications & contact
---
Prints

All images are available as stock image or as enlargements for private use. A selection of the images can currently be ordered online on Imagekind as poster prints, with or without frame and in different sizes and paper types. See the available categories and images below, click here to buy them:

Contact me if you want others and I will add them, so they can be bought as posters and/or cards.

Stock & Limited edition Fine art prints

Please contact me at info-at-exposedplanet.com for any special requests, like stock, book covers etc. All images are rights-managed and fee will depend on the usage, so please let me know: purpose, circulation, geography (country vs worldwide) etc.

Note that all poster and fine art prints do NOT have the URL in the picture as here on the site.

This is just to prevent image theft and illegal copying and distributing of my online versions of the images, the prints will have the URL & image name printed on the coloured border only, not in the image, so if you want you can cut it off or put a matte over it.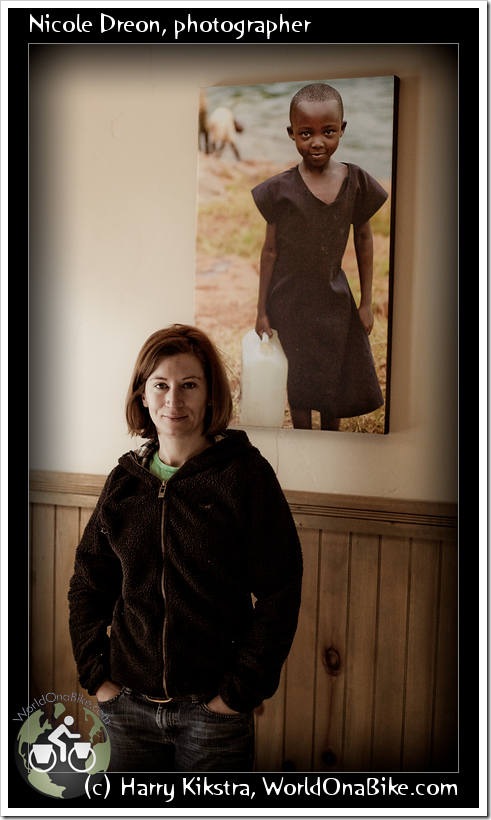 Nicole –Colie for friends- Dreon has been working behind the scenes for the sports TV channel ESPN for a long time, but has done quite a bit of sporting herself, still living near Ski and Snowboard resorts in Lake Tahoe.
She is one of the few persons in the world that has skied in Uganda and besides being an overall great person, she is a great photographer as well, posing in front of one of her images.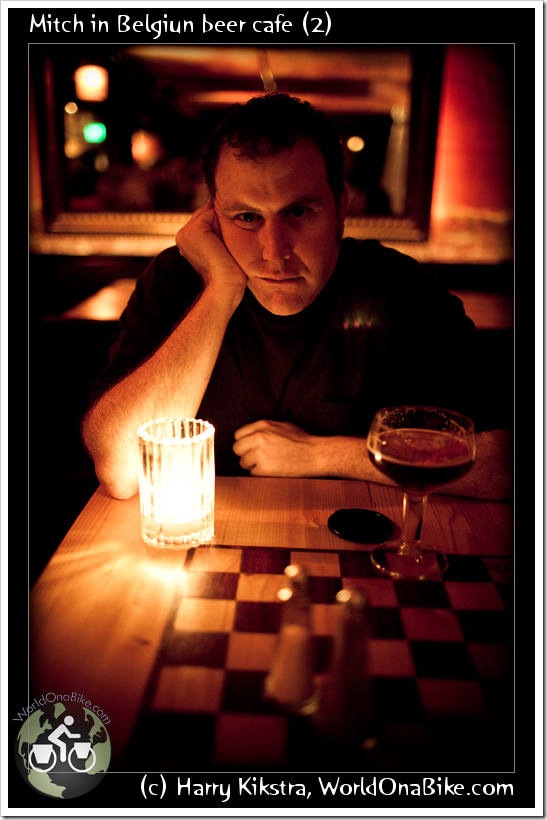 Maximum Mitch, as he likes to call himself is an IT-er with a passion for photography, or maybe a photographer with a passion for IT is more accurate as he loves to shoot and edit more than anything.
He has shot some great series in San Francisco, see his photostream here on flickr or visit his website http://www.aidelbaum.com/.
He shoots great weddings as well as travel, but his speciality is portraits and events and if you hang out with Mitch (he is a well-visited CouchSurfing Host as well), you get to know San Francisco through his eyes!
Thanks Mitch!
We had camped in the cold Redwoods & enjoyed the rest of the Avenue of the Giants leisurely. After no more than 35km we ended up in Redway, where we called Johnny, our host for the night for directions to his home and he picked us up and took us far into the curvy hills.
He told us how basically everybody in the entire county was somehow involved in the growing of marijuana, either for 'medical' or for business reasons, and that even the local radio had special announcements when 'the helicopter' would be on patrol.
This got confirmed by Todd, our host for the next night and was amazing to hear as we thought that with the 'war on drugs' and all, easy targets (like very citizen in a 50 mile radius) would be focused on first, but apparently it was just part of life here.
We had been told about Todd by our friend Kristen from Vancouver, who had cycled and met him here a few years ago. But before we could sit down at the fire and listen to his stories we had two encounters.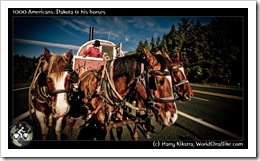 When going slowly uphill I noticed some fresh looking scat on the side of the road. It didn't really look like Grizzly material and I thought we had left the wildest bear country by now.
Soon I saw more and with the sun in my face, I viewed a dark shape halfway up the hill. Even though I was only going about 8km/hr (5mph), it was the first thing I encountered on a hill that was slower than me and soon I caught up with a strange sight: A large wooden horse cart, pulled by 3 horses -with a 4th on the side- was slowly making its way up the hill, completely blocking one of the two lanes.
An old man with was standing proud. he was not too friendly and didn't say much, but I found out that his name was Dakota and he had been travelling like this for 25 years, all west of the Mississippi…
Our next encounter was with a dreaded place: the Leggett Hill. Actually it was much easier than feared beforehand, steep but constant, narrow, but zero traffic. We did not have to walk and Ivana arrived at the pass as well without much problem.
A Short downhill later we arrived at a level part, called Haley's Grove, where we spent the night inside a trailer. Read about our chance meeting with Todd here on 1000 Americans.
12-14 Dec: Breaking a knee and viewing a lion between Hales Grove – Jenner, via Mendocino. 74km + 78km + 70km. Plus 3km  up and down..
A long downhill through the woods brought us back to the coast, but there was one more surprise, the Rockport Hill. When going up, my knee started hurting and we both pushed up several parts as it was too steep in places.
Back at the California coast, the road kept on oscillating between sea level and a few hundred meters above it for the next days. In 5 days we had climbed more than 5000m, so 1km vertical per day. My knee started hurting more, even on the flatter parts and at the end of the day I could barely walk as my knee would not bend.
Probably the best thing to do would be to rest or see a doctor, but we were on the 'Lost Coast', far away from any medical assistance. Besides, we were only a few days from San Francisco, se we decided to continue and seek help there. Also, not only my knee was bad, our multi-charger had broken down and I had no more batteries for my cameras, which made me feel even more handicapped than the fact that I stumbled more than I walked…
We had stayed with Barry in Mendocino, who was about to embark on his own bicycle trip. as happens often with our hosts, he called some friends, Chuck & Maria, to ask them if we could stay with them the next night. Some hours before we arrived, I was waiting on the side of the road for Ivana to catch up so I could point out a large group of deer, when a car pulled over.
It took only a few days of cycling to get down the Oregon Coast from Otis, with an average of 72km (45 Mi) we covered it in 6 days. The area is very impressive, even though it was quite rainy and windy, we enjoyed it a lot. Below is a picture overview of some of the scenery we saw along the way.
We also saw some less pretty things, as explained in my previous 'trash rant', but overall it was another highlight.
We camped a few days in the rain but also stayed with some wonderful people: Linda & Gilbert, Terry & Lily, Nicole & 'Jim-Bob' Brian on Couchsurfing and Ken Neeley, who celebrated our last night in Oregon with us in the local Pizza Place…
Next stop: California!
(click on the images and a larger version will appear automagically!).
Kowalski! Status report!
After 6300km (almost 4000 miles), our Santos Travelmaster bikes are great as ever. Ivana got another flat tire (her 3rd I think), I am still at one!
My back hurts at times and some of the steeper hills I could feel my knees, but so far, so good…
Next stop: California!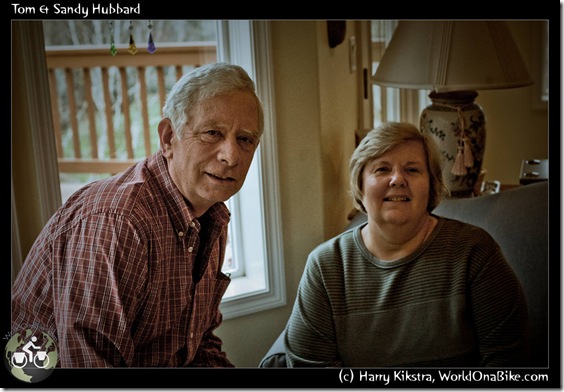 When I found out that Tom Hubbard and his wife Sandy were living on our path, I wanted to meet them.
As a photographer, it is a pleasure to talk to Tom, who has decades of experience as a photographer and has worked with all the other great photographers during his work as Director of the Time-Life Photo and Digital Image Lab. Most recently, he was the Pro Photo Business Development Manager for Hewlett Packard's new line of professional photographic pigment printers in North America.
Currently he is looking for new challenges. I told him that he should either start writing (e-)books or teach as he is filled with valuable information for beginning as well as professional photographers.
He has a –slightly confusing mix of- very useful websites, which are useful for BikeTravellers and other photographers:
And he is not finished, having many more ideas to share the wonderful world of photography.
He also finally got me to start organizing thousands of photos and was kind enough to give me a legal copy of Adobe's LightRoom, which after some learning curve already is making my photo life much easier and my images much more interesting

Thanks Tom & Sandy, for your hospitality and sharing your knowledge!