Day 332-335: 8-11 June: Mexico City-Cholula, canals, interviews, city and volcanoes
Cycling through the outskirts of Metepec was still ok, but when we reached the main road from Toluca to Mexico, we had to use all senses we had to stay alive. We stopped at a gas station 20km out of town, as it was no use to try to cycle into the city any farther. There was a big climb ahead, the toll roads was completely full with cars and the free road even fuller, but then with trucks as well, neither having a decent shoulder for cycling.
We got a ride from a nice guy who worked for a TV station in the city. He took us over the high pass and down to one of the biggest cities in the world: depending on your definition, around 20 million people live in the valley!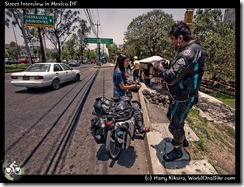 He dropped us off at his office, conveniently situated near the 'periferico', the huge highway, circling all around the centre of Mexico City. We were on our way to Ulises, yet another CouchSurfing host. According to the map, it was only about 10km to his house.
The periferico was the logical and fastest way, but filled with fast traffic as well, which we were not. Luckily, there was another road right beside it, with traffic lights and less hurry. As we still had some leftover free miles, we made it to Ulises' area quickly, only interrupted by a taxi strike that had blocked some roads. Just after passing the blocked area, a TV reporter on a motorcycle did a quick interview with us, right on the street, not sure if it made it to the evening news.
We made it safely to Ulises' house, but could have had some serious trouble as several metal drain covers were missing on the road, exposing holes without visible bottom, and 60cm/2ft across.
Ulises and his family welcomed us with open arms and treated us to some more Mexican dishes. Forget about Taco Bell, if you love real food (duh), you need to visit Mexico sometimes, as every region has its own different tasty specialties.
Ulises is studying engineering, specializing in the movements of the earth underneath the large buildings in the historic centre. he could as well been a professional guide if he wanted, as he shared his encyclopaedic knowledge about the culture and history of the City.
It was a shame that we had to rush, as there are many things to see in the city, that actually consists of many smaller towns and neighbourhoods, all absorbed into the giant metropolis, but with their own character and attractions.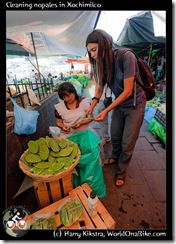 We ate a great and cheap lunch at the huge UNAM University complex, actually a city in itself, where the future of Mexico is being shaped. In the afternoon we visited the market and historic centre of Xochimilco, in the South part of the city.
Ivana took a quick lesson how to prepare the nopales, the flat cactus leaves that is a popular vegetable. We relaxed and took a Gondola tour through the ancient canals that are still open and of course enjoyed more paletas and drank a 'pulque, the ancient fermented drink that is still popular.
For about USD $10 you get a private boat for an hour, complete with a gondolier slowly pushing the boat through canals lined with nice houses & lush green trees.
It was low season and not busy, but besides a few other boats with tourists, there are usually also boats selling food, drinks and souvenirs, and even some Mariachi boats with a complete orchestra that will play a song for a small charge. There are party boats where the youth come to drink and dance and complete families have reunions and a good and relaxed time, while floating slowly on the ancient waters.
You would have no idea that you are in one of the largest cities in the world, that was completely shut down a few weeks before because of fear for the 'swineflu'.
Life in the city
There are enough sights, museums and monuments to keep you busy for weeks, if not months in Mexico City. The centre is well-known, the main square (where photographer Spencer Tunick once captured a record 18,000 nude people, a shock to the Catholic country) with the nearby ruins, government buildings, huge flag and the grand cathedral. As we had little time to do the city justice, we opted to see some of the lesser known pretty places where people actually live and work. There are parks, a small Chinatown, many big office buildings and all kinds of museums and interesting buildings.
We walked and rode the bus and the infamous subway between all of them and noticed that:
nobody was wearing the mouth covers we saw in the news, just some people serving in restaurants &
we did not get robbed, pick pocketed, kidnapped or molested once, how weird is that!
In the evening we visited some older towns that had been swallowed by the city. Friendly Tlalpan was as quiet as any small country town and beautiful Coyoacan should be one of the Pueblos Magicos, as pretty and relaxed as it is. Nope, again, no robberies and the air was clean.
10th June 2009: Interview and into thin air!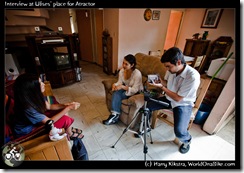 The next morning we were interviewed by some nice guys, for a new online magazine, called Atractor; the interview can be seen online here.
We had told Ulises that we wanted to see the Paso de Cortez, the famous mountain pass between the mountains Izta & Popo, where Cortez made his way to the valley. Ulises advised against cycling out of the city and as he loved the place, he offered to bring us there with his small car.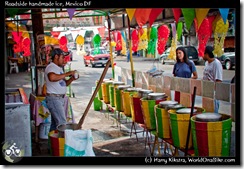 After lunch (Chicken with green mole!) we loaded our bikes on the bike rack, just fit all the bags inside and headed out the city. We stopped at one of the many handmade ice-cream stalls and continued up and over several nice little towns, situated on grassy fields.
The actual road up to the pass was steep, but paved and even though it rained, we slowly rose above most of the clouds, feeling happy we were not cycling/pushing our bikes through the rainy forest. The pass and a visitor centre are at about 3500m/12,000ft altitude, but the huts and camping spaces are higher.
We continued on a slippery and rocky unpaved road and made it all the way up to a large hut. It seemed deserted, but after knocking repeatedly, the guardian Miguel opened up and let us in. We had brought our tent, but for a few pesos, we could stay in the cozy hut, so we opted for that instead, enjoying the sunset behind Popocatepetl ('Popo'), with 5452m/18,000ft the 2nd highest mountain of Mexico.
Miguel enjoys living between the mountains and had taken thousands of pictures of the mountains and the wildlife on it and showed us many great ones on his laptop, while we ate some snacks together for dinner.
Popo, the warrior and Izta, the sleeping woman
Popo can no longer be climbed, as it is still very active and the constant fumes are lethal. Popocatepetl means 'smoking mountain' and only 4 years ago a large eruption shot 5km into the air keeping 30 million people that will be impacted by a larger blast awake…
Iztacihuatl ('Izta') on the North side of the pass and with 5220m only a few hundred meters lower, is dormant and still climbable, though the glaciers are shrinking. We did not have any glacier gear so just stuck to enjoying the magnificent mountains from the pass.
There are a lot of variations on the legend of Popo & Izta. Basically warrior Popo was in love with Izta, but was told by her parents that she had died when he was in battle. Izta was told the same about Popo and died of grief. Popo returned to find his loved one dead and laid her on the land, while resting sadly besides her.
This is why Iztacihuatl is known as 'The Sleeping Lady', as on clear days after snow, the mountain scarily resembles a woman lying down on her back, with the classic Volcanoe-shaped Popo at her feet. The several summits are known as the Knees, the Head and the breast.
The next morning we woke up early to see the sunrise with Miguel. It was cloudy, but far away we could see the perfect shape of the summit of Pico de Orizaba, the highest mountain of Mexico (and 3rd of North America, after Denali & Mount Logan). As to salute the sun, Popo shot a small eruption into the multicoloured sky.
We love seeing the cities and how the people live in faraway countries, but natural shows like these always impress more than anything else…
.
To protect the bike as well as the car, we mountain-biked down to the pass while Ulises drove the car with the luggage down. We loaded our bikes up at the pass and said our goodbyes and thank-you's to Ulises who had helped us out so much.
The east side of the Paso de Cortez is unpaved but the first few kilometres the smooth volcanic road was gentle enough. However, once we entered the forest again the road became horrible, slowing us down to protect the bikes, luggage and our spines. Big rocks were on the road and it was impossible to go fast, even though it was so steep we had to brake constantly. This lasted an hour or so, and if you ever are thinking about it: do NOT try to cycle up this side unless you are a professional mountainbiker without luggage…
We had lost a lot of altitude, but luckily there were a few free miles left when we hit the pavement and we zoomed through the fields towards Cholula. Usually we aim for the church if we want a place to have lunch as usually the Catholics have claimed the best and culturally richest parts of all Latin cities and normally the places are very beautiful.
In Cholula we had to search a bit for the pretty zocalo as Conquistador Cortes had almost 40 churches built after taking the city, but we ended up in the park, eating and relaxing from the downhill, only disturbed by a series of processions that came with terrible music and loud bomba's, very noisy explosives shot into the air.
We had aimed to get to Puebla but stayed in Cholula that night with another CouchSurfer that offered a last-minute couch. We almost passed the giant Piramida Tepanapa, unnoticed as it is so big and covered with grass, that it looks like a huge hill. As often, there is a Catholic Church built on top, but they also might not have known that there was the largest pyramid on earth underneath.
Cholula is nowadays connected with Puebla, but in order to see more of the latter, we decided to move to Puebla, to see the often acclaimed city with our own eyes… We still had to rush, but my feet had started itching when I had seen the highest mountain in Mexico from afar… Would there maybe be time to… ? Tune back in to WorldOnaBike next time 🙂
Kowalski! Status report!
Our bikes survived the downhill, though Ivana got a flat tire on the sharp rocks there.
Knees and back are ok, but we are getting a bit nervous as we have to be in Cancun within 2 weeks…
Total km cycled (excluding rides): 10,370 (about 6500 miles)
More pictures of Xochimilco and Popocatepetl can be found on the picture page: http://harry.biketravellers.com/photos . as always, larger versions of the images appear automagically when clicking on the small versions (when reading this on http://WorldOnaBike.com). Try it!
You might also like