Day 325-331, 1-7 June 2009: highland magic in Morelia
We were dropped off in the morning at our favourite pick-up spot: the tollbooth of the quota. For once we were not the only persons there without a car, as a demonstration of angry teachers was about to commence.
The toll roads in Mexico are very expensive, most truck drivers and definitely the underpaid teachers cannot afford to use them, so they were going to occupy the booths and let everybody go free as a protest.
Unfortunately the guy that Ivana asked to give us a ride to Morelia had already paid. When he stopped to load our bikes in the back of the truck, he noticed the few dozen of people waiting and carefully asked 'How many people need a ride again?' 🙂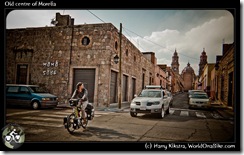 We had not expected to get to Morelia so soon, but it was nice to have some time to cycle through the old city. Morelia is one of the reasons people should visit Mexico: it has a wonderful historic centre, full of culture and with loads of buildings that are older than anything in the US. The university city is full of young people and there are plenty nice places to eat, drink or party if needed.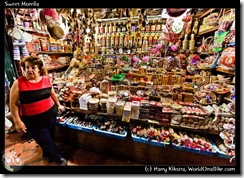 We had been invited by our new CouchSurfing friend Monica to stay with her family, we were already the 3rd cycling couple they had hosted. Monica and her family took great care of us and we stayed much longer than planned. We still had a deadline to meet, but the generosity of Monica, her mother Yolanda, father Juan and brother Juan Pablo kept us relaxed.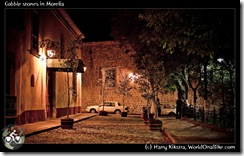 Yolanda is not just a great conversationalist with a lot of knowledge about history, culture and politics, but also a great cook. She surprised us every day with new local dishes, made with fresh and tasty natural ingredients only.
A welcome relief from the fast-food stores that are popping up everywhere in Mexico and from the pre-processed chemical packages that are sold as 'food' in the many small supermarkets. She even gives free classes about nutrition in schools and every meal was a feast.
We got to rest and recover from the hot Mexican coast My cut healed well and left only a small scar in the shape of a '7', which is actually pretty cool 🙂
Patzcuaro, the magic town
When we mentioned that we would have to leave soon, they said that we could not go without seeing Patzcuaro, and they took us to this historic town between Uruapan & Morelia: one of the few dozen 'Pueblos Magicos', a list of less than 30 'magical cities' of Mexico. Places that give you that special feeling…
We enjoyed the lake, ate real quesadillas on the market, had handmade ice-cream at the main square and admired the historic buildings and culture. Many local artists are producing and selling their artesanias on the streets and in little shops around town.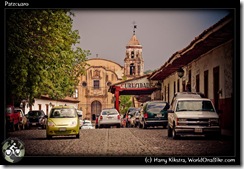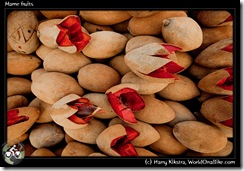 .
As in more historic places in Mexico it is illegal to have big loud advertising in the centre. All shops have the same colours and use the same fonts to advertise their name outside, which secures a wonderful low-key relaxed feeling.
So even though Burger King might have infiltrated in the main square commercial zone, you won't know it is there until you are almost inside. But why eat there anyway, when there are delicious huge quesedillas for USD$0,50 and tons of unknown but cheap and tasty fruits instead?
Goodbye to Morelia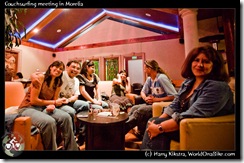 Monica had already taken us a few times to some nice dinners and walks in the historic centre of Morelia and even organised a CouchSurfing meeting for us.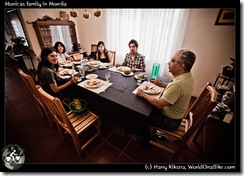 It was hard to say goodbye to this generous family, as many times before we felt we had taken more than we could give in return. We felt privileged to be a part of the family for while and to see yet another side of the diverse Mexican culture.
Back on the road again, heading for DF. Paletas & hills.
If you are in another country and you are heading for 'Mexico', you are heading for the country. Once you are there and you are still heading for 'Mexico', everybody knows you are going to the capital with the same name. I must admit that I knew nothing much more about Mexico City than that it is one of the largest cities in the world, with accompanying pollution and crimes. Recently, it was known as the 'Swine flu capital', though all news sources in Mexico report that the flu originated in the US, so who should you believe?
Anyway, as we always like to see things for ourselves rather than trusting media copycats, we decided that we should at least try to visit the Capital.
Monica & Yolanda guided us out of Morelia and pointed us to the new toll road. Unfortunately the arrogant boss of the accompanying complex would not let us cycle, nor leave us waiting for a ride. All the guards said that once the chief would be away, we would be fine. In the end we managed to ask for a ride and get our bikes loaded on a truck while the driver was paying his toll.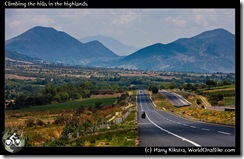 The car dropped us off at Zinepecuaro, where we enjoyed the first of many 'paletas', locally made ice-lollies made with big chunks of pure fruit, like Guanabana, coconut, pineapple or my favourite, mango with chile: cold, sweet and spicy!
A steep road headed up to the main toll road between Guadelajara & Mexico city. The toll booth attendant did not even see us when we sneaked past. We could try to catch a ride here, but decided that we try some highland cycling instead. We regretted that soon as the next 15km was constant and very steep uphill.
Even though we were at about 2400m/8000ft, it was hot and we had run out of water on the long climb. At the summit we got a bag full of sweet strawberries from a street vendor, which we enjoyed between the pine forests of the highlands.
After an initial downhill there was another smaller hill to climb but then we could enjoy our well-earned 'free miles', all the way down to the city of Maravatio. We cycled into town and saw the sign of the Cruz Roja, the red Cross.
If you are ever cycling in a town and have no idea where to stay safely and cheaply, here are some recommended choices, in no particular order, but generally valid all over the world:
The fire station (Bomberos in Latin America). They usually have nothing much to do and enjoy the company, usually have some extra rooms or at least a safe place to camp
The Red Cross: same as the Bomberos, + benefit of providing medical help if needed
The Police: even though sometimes they have a bad name, generally speaking it is a lot safer to stay between police men than between the thieves they are trying to catch 🙂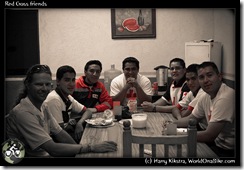 We got some water from the friendly nurses at the Cruz Roja and cooked our spaghetti outside the main entrance. Just after had put up our tent, the team leader cam out and offered us to stay inside instead and use the WiFi as well, which was of course gladly accepted.
It was nice to see young (most were between 16 & 20) volunteers, trying to help out in the community, while being educated.
The following day we still had some free miles saved and the kilometres passed quickly through gentle hills and green fields passing over small towns.
It was still a long way to the City and so we stopped at the next tollbooth, where we got a ride fairly quickly. Fortunately we passed the busy madness of Toluca city, and got dropped off right in Metepec, where Monica's aunt & uncle live.
When we cycled to the charming main square to call them for directions, a group of young cyclists came up and started asking questions about our trip. They were really interested and also used the opportunity to practice their English. They guided us through the small streets, stopping cars to let us pass easily and even called Monica's family when needed. It was great to have such a young and enthusiastic cycling escort!
We were received with open arms by Laura & Roberto and their son Beto in their house outside of town. To the west we could see the impressive massif of Volcan de Toluca, to the east were the high mountains separating us from one of the largest urban zones in the world, currently feared by the world because of some strange virus… Mexico City, here we come!
You might also like