Day 47- 52: Aug 27 – Sep 1: Anarchy, Argentineans & gasguzzlers in Nugget City
It was hard to leave Tracy & Sylvester as we had felt so much at home in their place, but we had to hit the road, winter was catching  up…
We managed to delay ourselves until about 16.00 in Whitehorse and then left in a terrible downpour, and as the first few km were steep uphill to get out of the valley, we were feeling down. But the sky stopped dumping water on us and soon we found ourselves going up and down over rolling hills besides more Wonderful Lakes. We had set ourselves a new goal: get to Scott's Anarchy Farm! We had met Scott in the Potlatch (see previous post here) and he had invited us to visit him when we would pass.
Unfortunately he was not in the Greenhouse: a big plastic covered collection of wonderful smelling flowers and vegetables. We waited outside for some moments and cycled around in the area, but as we did not had the directions to their house, we returned to the greenhouse. The rain started again, and we decided to sleep inside the greenhouse, setting up our inner tent only. It was by far the best smelling campsite on our entire trip.
In the middle of the night we heard some noises and Scott came in. He did not seem to surprised to see us sleeping in the middle of hundreds of flowers and added one more log to the slow burning woodstove, so the temperature stayed above freezing.
The next morning he came back with coffee. A few weeks later he sent us a great poem, please check it out here on his 1000 Americans page. We stayed close to the warm fire all morning and only after noon, we packed our tent and continued riding through the rainy Yukon lake District. The wind was friendly and even with our late starts we did over 100 km, ending up late at a deserted state campground, close to Teslin lake.
August 28 – 30: through the lake District with Mate & tortas
We had promised ourselves to start earlier, and actually managed to get on our bikes before 8 'o clock! We arrived quickly at the small place of Teslin, where we spend several hours in the library. We were surprised at the many small libraries we met, there is so much great stuff to see and hear, most offer Internet access and the ladies running them are without exception all nice and friendly, so support your local Library and get your kids to read!
We spend some time in the Teslin Motel, working on our reports and chatting with Heather, who was on her way North, on a big BMW motorbike (see her picture here). We fixed her iPhone for her and chatted with this lovely woman, who was in great spirit.. Do not pass the Motel without seeing the hidden gem: a small museum with stuffed animals in the gift shop (some of Ivana's images are on Flickr here). This sounds much worse than it is, they have done a wonderful job. Oh, and the Wifi is free at the Motel 🙂
Ivana managed to cross the scary and long bridge, which had a steel bottom, through which you could see water below. As with most rivers, we had to climb a steep hill to get out of the valley it had created, but during the climb a van stopped.
'Hola!' Ariel & Claudia stopped besides Ivana in their van which was totally covered with pictures of Patagonia and maps. Ivana started chatting away in turbo-spanish, but I reminded her that we wanted to get to a rest area for the night before dark, 17km ahead, so we had to keep going. No problem, they said, we will wait for you there with mate & tortas fritas. These words had a wonderful effect on Ivana. She started cycling faster then ever before and raced up and over hills with a determined look on her face, it was very hard to keep up!
When we reached Claudia an hour later, she was surprised to see us already, but immediately invited us in their van. I heard a hissing sound and noticed that Ivana's rear tire was making the noise. A staple was stuck in it: our 2nd flat tire! I quickly fixed it and set up the tent together with Ariel, while it slowly dawned on me that he really did not speak any word of English 🙂
We drank several rounds of mate and Claudia made her tortas fritas as promised. We had such a great time, they were so happy to travel and see the world and eachother. Ivana was happy to speak Spanish again and drink and eat the taste of home, even though she was so many miles away…
In the morning we said goodbye to them and headed up more and more. Fortunately the wind was still good as we kept on climbing until we actually crossed a continental divide, where rivers on one side were draining into the Arctic Ocean, while water that falls just a mile back makes its way into the Pacific via the Yukon. Logically this meant some downhill as well and we raced towards our stop for the night: a rest area next to the nice Rancheria Falls, where we ate our spaghetti next to a big campfire we managed to get going, though all wood was soaked.
31st August: Frost, bear & Nuggets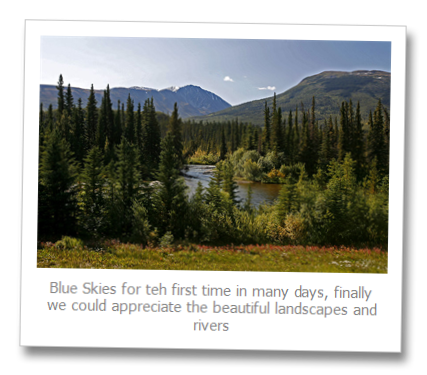 We woke up by a strange sensation: a yellow light came into our tent. Sun! I got up quickly and took off the tent to dry off the condensation. When I noticed that some small pools were actually frozen, I checked the temperature: it was only 2 degrees and it had frozen in the night! We had not noticed it in our cozy warm Carinthia sleeping bags, but when outside it was crispy..
We headed out early for probably the first time in, well, almost ever 🙂 and got rewarded right away; not just with a deserted Highway, but with our first sighting. Ivana and I both heard some cracking noises in the trees left of the Alaska Highway. We stopped and looked. A black bear looked at us, hesitated and then ran up a steep hill, out of sight. Our first Black bear! We had thought that we would be scared, but we were both so happy to see the beautiful animal and had not thought about the usual precautions, though the bearspray was always within reach. We celebrated our first bear with a breakfast in the first restaurant, and as they had Wifi, we – as usual – managed to limit the actual cycling hours drastically by typing and reading..
Soon it got warm enough to take of my jacket, we were in T-shirt again! It was great, with the wind in our back and sun in our face we hardly noticed the many rolling hills and did our 2nd longest day so far: 110km. We ended up at Nugget City, a huge RV campground just before the junction of the Alaska Highway and the infamous Cassiar Highway. The friendly host allowed us to camp for free next to a picknick table in the trees, while the endless line of RV's (Recreational Vehicles) lined up on the boring, empty and soulless patch of gravel. We have never understood why people need to take such large vehicles: the typical set-up is as follow:
– A 30ft or longer RV (Recreational Vehicle)
– With a Jeep, Truck or similar 4 wheel drive behind (the RV is towing it!)
– With (sometimes) some muddy bicycles on the back of either vehicle, usually too dirty to ride and clearly only dirty from the transportation, not from using it..
– Often a senior citizen is peering over the steering wheel, controlling (?) a 15 meter long combination, for which you only need a regular driving license… We are not afraid of the trucks in North America, these are professionals and know what they are doing, but these RV's scare us, however friendly the people inside may be.
Some quick calculations tell me that they burn about $1/km, but I need some confirmation here. Anybody know how many calories there are in a couple of Snickers bars and a pound of pasta as apposed to a tank of gasoline? Then we can calculate the relative efficiency of moving two people and their belongings over 100km..
This was our last chance to change our plans as the two roads/routes would only meet up over 1000 km ahead: should we continue over easier ground with much more services or take the road less travelled? Choose the comfort of lighter loads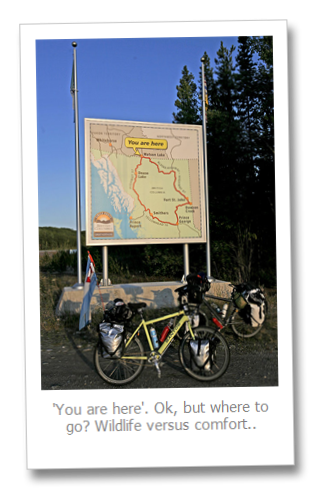 or choose the chance of more wildlife? What would you do if you were on a bicycle?
Kowalski! Status report!
We had some very nice long days, and the distances seemed not so long as feared. Still quite a few hills adding up to an average of almost 750 meters up and down per day… Almost 3000km on (and off) the road: Kowalski is still puncture-less, Greeny had her second, but otherwise the Santos Travelmasters have no problems!
You might also like