We did not want to leave without seeing the marvellous natural wonders of the South-western US. It would take more than 6 weeks to visit all the places on a bicycle, which would probably ruin my knees and we would be in trouble as our visa was running out.
So we opted to rent a car instead. It was a tough trade-off: polluting the nature because we wanted to see the beauty of it… Let's hope that my images can inspire some people to realize that these and other grand places still exist and that they need to be respected, preserved and protected for future generations.
23 February 2009: Death Valley
Often overlooked, yet so close to LA. I had been here before while working on the Dutch TV show the PlanetRace and I like it. It takes a while to get used to the place, but then the barren beauty will grip you. It is best to visit in winter as in summer it can get over 50 degrees Celsius (122 degrees F) easily…
28 February – 1March 2009: Las Vegas
We had stayed with Steven, a CouchSurfing host that works as a biologist in the park. After breakfast we went to see 2 more viewing points, Zabriskie Point (see pix above) and Dante's View (left).
It is only a short ride through the desert from Death Valley to Las Vegas. Suddenly this huge city pops up, in the middle of dry mountains.
After meeting our new host, CouchSurfing Michael, we decided to drive to the famous Hoover Dam first. It was not so impressive, the new bridge they were building high in the sky (to take the loads of the dam road) was actually much more interesting.
We stopped for a moment to eat our lunch at Lake Mead, the artificial lake that was the result of the Hoover Dam, now a popular boating place. It was clear that the water level had been slowly falling, not sure if it will fill up again…
We headed back into Vegas and did a small tour of the casinos as Ivana had never seen anything like it. All places are kept dark (no windows) and the exit is the hardest thing to find. Everything is designed to keep you glued to your seat so you gamble and lose more.
We never gamble, but Ivana had saved up some quarters in change so we thought we'd give it a try. But though 5 years ago, you could hear the familiar (and stimulating!) sound of quarters in all slot machines, they had now all been changed. All machines only accepted paper money, credit card or paper vouchers. The latter was also the only thing you could win!
We checked several casinos, but no machine would accept our handful of quarters! Finally, in the MGM Grand we discovered that the small 'Horseracing' table would accept it and we spent an hour chasing plastic horses to the finish.
Every time we won, even for just 3 or 4 quarters, we paid out, so we could hear the 'dink-cling-ting' of the quarters. You could see from the faces of all the visitors that everybody thought this was much more fun than feeding credit cards underneath computer screens, but apparently Vegas is not about having fun.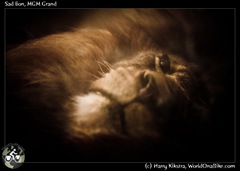 It turned out that the MGM Grand had a real live lion inside, though it looked so sad and drugged that 'live' maybe was an exaggeration, it was a pain to watch.
In the evening we went to visit Michael, as he works in a bar Downtown. He told us about the lightshow in the pedestrian zone, and it was great to see and hear.
A huge projection screen covering the entire street showed images of Queen and musical symbols, while 'We are the Champions' played from speakers everywhere.
We ended with viewing the famous light and fountain show at the Bellagio and headed back into the suburbs where Michael lives.
Here is a little overview of 'Sin City':
25-26 February 2009: Las Vegas – Zion national Park
The next morning we visited the Venetian Hotel, which was beautiful in some ways, but –especially if you have been in the real Venice, and I do not mean LA- it was just grotesque and terrible..
We managed to find our way out and entered the dry dusty desert again. It was already late and we were too late to buy our park permit for Zion National Park, so we decided to camp out and headed for the campsite. It was quite pricey, so we drove around to see if we could find some small tent, which we could share a place with. Just when I pointed out a small blue tent, Ivana said: Hey that are Fanny & Didier!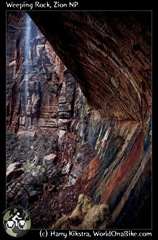 She was right, it was the cycling couple we had met a few weeks ago in Ano Nuevo.though they were supposed to be in Phoenix Arizona by now, they had been on such bad roads (the traffic was bad and there were no shoulders or other places to cycle), that they turned back and decided to rent a car instead…
However sad the reason, it was fun to see each other again and we made some nice pasta together before heading into our tent.
The next morning we bought our Annual National Park Permit pass. It costs about $80 but allows entrance into all parks and though it easy to dodge the entrance fees by arriving after dark, the money is well spent so we were happy to contribute a bit back.
Zion is a small park, but with a very nice quiet dead-end road, offering many routes for hiking or just to sit and watch the mountains. Due to my knee we could not do a longer hike, so we went out through a long tunnel and enjoyed a few stops on the East side of the park, admiring the orange and red rock formations.
Next: Part 2: Bryce Canyon, Horseshoe Bend and Wire Pass Slot Canyon!
The next park was only a few hours away, Bryce Canyon was waiting for us, see the pix in the next report, coming up very soon…