Again, we had no sleep, but our bodies seem to have gotten used to that by now and anyway, it doesn't get dark here!
We left Ericka's place at about 4.30 in the morning as we wanted to be sure we would arrive in time and cycled through the empty streets of Fairbanks. It is strange but nice to be in a place where it never gets dark, it makes many things so much easier. We cycled past the airport until we found the office of the Northern Alaska Tour company. We were welcomed by a bunch of very friendly people, who were all interested in our trip. They mostly do trips to the Arctic circle and places like Wiseman & Coldfoot, but also regularly all the way to Deadhorse.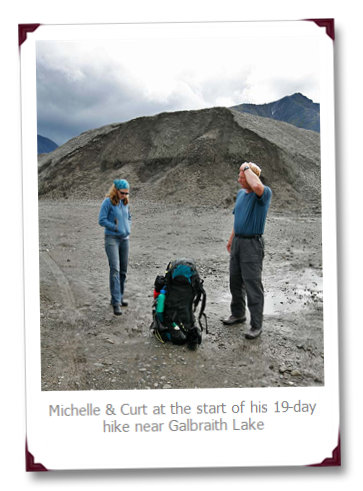 Our driver was Michelle, a great girl with much knowledge about everything. she had been driving the roads for many years and was a joy to talk to. Our other passengers were Dan & Curt. Dan was a politician, working for Condoleezza Rice -so unemployed soon- going to his family's cabin ear he Yukon River.
Well, we are not able to stop running it seems :), we are off to the start in a few minutes!
But already we have our choice of Good People to mention. First Romke helped us out so much (again) yesterday by dropping us at the schiphol Airport. Thanks for all your horpsitality Rom & Anouk, and sorry for the mess we made in your wonderful house!
We were greeted at Schiphol by Bas who helped with the check-in as we were too sleepy ourselves to do it!
To our amazement, all our gear arrived in Fairbanks with usm meaning all 12 bags and two bikes! Shame my headlight was busted by some aggressive bagage handler, but the good news is that we do not need to worry about it as it does not get dark here for the next few weeks 🙂
We found our way to the CouchSurfing hosts Erick and Miles who helped us out by taking us around the shops for the last minute shopping: inner tubes, mosquitonet-gloves and bear-spray! I asked about 'after-bear', but that did not really get any useful answers, just some blank stares…
They let us stay in their house and we had a nice dinner together. Ericka had also accepted the packages we sent them, so now we have a brandnew Big Agnes tent and plenty of Honey stinger bars to test!
Matt Atkinson from the Northern Alaska Tour Company had already been great by email and confirmed it by phone: we are going with them to Prudhoe Bay today, free of charge! Thaks Matt & Katie. Does this mean we have slept last night: no, but that is ok, we had not for the past weeks. But we are happy and are going out right now. We will try to start cycling down from Prudhoe bay tomorrow, which will probably take at least 12-14 days before we get back to Fairbanks and the real world, so we can post updates and images.
So see you then, lookin forward to your reactions,
All teh best from the last Frontier,
Harry & Ivana