Day 75-84: 24 Sep-3 Oct 2008: Pain in Prince George, reflections, and rain in the desert.
"emmm, I have a problem"
"Que paso?"
"My back hurts so much now, I cannot get up…"
We had arrived at Richard & Maggee's place the day before. The pain in my back had become slowly worse during the past days, but at this moment it was so bad, I could not move. We were sleeping in the Yoga room, on comfortable, but thin mats, so I could not 'roll' out of bed either. It took about 10 minutes of painful balancing and slow finger movements before I could leverage myself into a semi-upright position. Ouch.
Once up, the pain was a bit less, but a cough and especially a sneeze made me grimace in pain. It shot sharply in unexpected moments from my right shoulder, all around my chest. I needed pills, a doctor or both..
After trying different types of pills the next days, Richard called a doctor and I could see him the same day. First pay $60, then talk to the doc. Once I told him that I had been cycling from Alaska the past months, he was convinced it was muscle pain, even though I told him that I could not pinpoint any specific muscle that hurt. I tried to convince him, but all he said was, that if I thought it was something inside my chest, it might be my lungs, and that I maybe should get an X-ray in the hospital.
Still the doctor wrote a prescription for a muscle pain reliever. As Ivana showed him that we used ibuprofen & diclophenac the past days and that it might have helped a bit, he said that that could not hurt either. We felt unsatisfied with this and went to the hospital. It was great to have Richard with us, he helped us all the time.
The ER room of the hospital was a bit messy. People in far more pain than me (it's not called Emergency Room for nothing) were waiting several hours to get assisted. Once asked we found out that we will have to pay about $700, then another doctor would look at me and maybe take an x-ray. Waiting time would depend on the number of new patients coming in… They told us about another clinic, where we could walk-in, but when we arrived there, it appeared that we had to pay another $60, just to see a general physician, who would refer us back to the ER if anything was wrong…
We still had a nice time with Richard & Maggee; we rested, Ivana joined them for a field trip with the school kids; they took us to their friends for a great dinner, and we enjoyed their company. well-known writer of children's books, (see them here on Amazon)
, even signed a couple of books we sent to Jelte & Kira, Romke's kids. You can check out Romke's blog to see how they reacted!
Somehow the combination of rest & pills had made it possible to cycle again, and as winter was still on our heels, we headed South, but limited our days distance-wise.
27th/28th September: To Quesnel via Hixon, 62 & 63km
We had left the Yellowhead Highway and were now on route 97, the Cariboo Highway.
The 27th we only rode about 62km through sunny weather until we found the small town called Hixon, where Mr Toma invited to pitch our tent behind his restaurant. There was a Bluegrass festival right next door, which was fun to see and in the morning Mr Toma even invited us in for a huge breakfast!. He also told us to look up his friend Ted Martindale when we got to Quesnel.
That was another nice and short day and we found Granville's Coffee as directed. Ted turned out to be a cyclist himself and not only invited us for a lunch in his diner, but also to pitch our tent in his garden and drove me in his Unimog to get some Heineken, so I almost felt at home 🙂
In the middle of the night Ivana heard something outside and when she touched the side of the tent, she screamed and almost jumped on top of me as something grabbed her from the outside! It appeared that the unknown monster was the cat, playing with .. read more about Ted, his dogs team and their tricks, Granville's and his version of the cat-attack here on 1000 Americans.
29th/30th September: to 150 Mile House, via McCleese Lake, 85 & 63km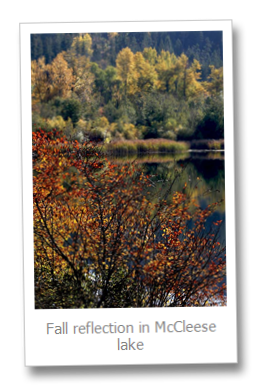 The weather stayed incredibly nice and we were happy not to have taken the shortcut via Vancouver island. it was a pleasure to see all the different landscapes, especially when we went into the Fraser valley, which we basically would follow all the way to Vancouver as that is where the Fraser River ends up.
I felt a lot better and had little trouble cycling the route to McCleese Lake, though the last climb out of the Fraser valley was nasty, but Jackie and her family made up for it, read and see them here.
When we woke up in the campervan next morning it was chilly but sunny and the McCleese lake looked beautiful.
We stopped for an extended lunch at William's House after quite some hills. It was a busy, messy place, but as with many smaller cities and towns, the visitor centre was very nice and offered free Wifi, so great to catch up on email while enjoying peanut butter sandwiches in the sun. Life on a bike is not too bad after all 🙂 We camped behind a half-closed restaurant and were not only offered a place to pitch, but also some drinks and cooked our pasta next to some horses, while V-shaped line of geese crossed the purple sky, heading south like us, only faster…
1-3 October 2008: 150 Mile House – Cache Creek, via 108 Mile House & 83 Mile House; 63, 39 & 93km..
Surprisingly it was not just warm today, but hot… There was a hot wind in our face and we had to look for a shaded place to have our lunch as we were getting toasted by the October sun! We felt like taking a dip in the long Williams Lake, but decided to make some more miles instead, as the wind finally settled down a bit. After our good experiences with the restaurants the past week, we tested our luck at Vida's Restaurant in 108 Mile House. We were surprised a few times, not only with 2 delicious pieces of home made pie and another cat suddenly attacking (playing with) Ivana, but also by waking up the next morning by some footsteps.
I was awakened after I heard some soft noises. Then the sound of slow footsteps was to be heard just outside our tent. I opened the zipper a bit and looked right into the face of a deer, just a few feet away, his silhouette sharply against the dark morning sky. Another one was  next to it, and they seemed very surprised to see 2 humans looking at them and decided to take off quickly..
Finally the weather gods thought it was enough. Not only the wind picked up to storm speeds, but it also started raining, just when we had stopped at the Visitor's center in 108 Mile House (thanks Brigitte!). After a long day of emailing, it cleared up a bit and we headed slowly up the long hill outside the town. When I reached the top and was waiting for Ivana to show up it was dry again, though still windy. I suddenly heard a soft hissing sound: a small and very sharp rock had caused my first flat after more than 4500km!
Just when we were starting to look for a place to camp that night, we were passed by a landrover, covered in stickers. It waited on top of the hill and we met Jose Jimenez, who had been driving his car for the past 8 months, all around America, 80,000km in total. He made some yerba mate for us and we enjoyed each other's stories. But it was getting dark and we discovered the difference between travelling by car and by bike. He was going to try to reach Vancouver this night, something that was weeks ahead in our planning…
After camping behind some deserted roadhouse we climbed up some more and then finally we were dropping off the main plateau, and dramatically so. First a long downhill to the odd town of Clinton, then a small hill up followed by about 20km of downhill, lovely!
of course, what goes down, must come up, so there were some hills to follow, but in general gravity was on our side. The rain caught us just before Cache Creek, where even some lightning appeared. Apparently this was a phenomenon that was unheard off as this area is know to be extremely dry… We managed to camp on the lawn of Scott & Tina's family, even though they had some medical emergencies in their family, as all Canadians we met they were very friendly and helpful. Let's see if this was going to stay this way, once we were going to arrive in Vancouver, the infamous Fraser Canyon was waiting for us!
Kowalski! Status report!
I had my first flat, Ivana was doing fine and so are our bikes. My back seemed to hold out, though it was still very painful to get up and coughing/sneezing are not fun things to do… for those of you who like it: here are the altitude profiles for Prince George to Cache Creek:
You might also like