Day 85 – 90, 4-9 Oct 2008: Cache Creek to Vancouver: tunnels, rain and big cities: through the canyon to the urban jungle!
It was time to finish our journey through Canada and get back to sealevel. Just one last section to go, which had been promised to be beautiful, windy & dangerous…
4th October: Cache Creek – Lytton, 78km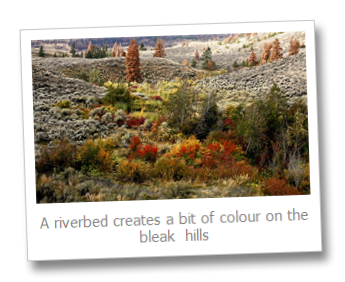 Cache Creek is a bit of a weird city, or maybe it was just that we were there in rainstorms, while it is one of the driest parts in the country.. Anyway, the sun welcomed us again when we left the row of fastfood chains behind us and the dry landscape showed itself.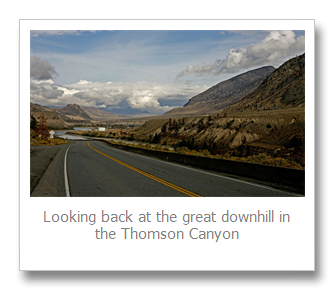 It was a fun day of cycling, as we were treated with some verrry nice downhills.
I have felt that one of the things that makes me most happy is cycling downhill fast: the wind in my face, the mix of speed, fear and excitement and the resulting cocktail of endorphins and adrenaline. Many physical and mental bystanders think that this borders to suicidal behaviour, but they have no idea about how much you can enjoy and celebrate life even in just a split second; it makes you want to scream and sometimes you just do 🙂
Halfway down I noticed some fruit stalls alongside the road and stopped at the biggest one and got some apples. After Mike, the owner showed us around and told us he had too much fruit and not enough pickers, we were tempted to stay a while and make some extra money. But with my back it would not be a good idea and we were still being chased by winter, so we headed back on the road instead, loaded with a bag of fruit and veggies that Mike had let us pick..
The rain suddenly came back in full-force showers and we stayed a while in a nice small lodge and bakery in Spences Bridge. We saw more of the huge freight trains passing and twice I counted over 210 wagons per train…
We planned to get to Lytton, where the Thompson River merges with the might Fraser river, but the small uphills and upcoming winds made us stop a few miles before. We ended up pitching our tent behind the house of an old and very deaf lady and were happy that we had not chosen some of the deserted campsites, as we were now completely sheltered from the wind, which started blowing with hurricane force, howling through the canyon…
5th October: Lytton – Spuzzum, 77km: wind & tunnels…
Unfortunately the next day the wind had not dropped much in force and we fought our way into it in our lightest gears. It was getting ridiculous when I was going downhill at 8km/h (5mph), having to push hard. Ivanas face was showing her frustration and tiredness, she is much lighter than me and almost got blown off the road by the winds.
After getting into the true Fraser Canyon, the winds slowed down a bit, but our idea that cycling in a canyon would mean no hills was definitely wrong. We were already quite close to sealavel, while about 250km away from Vancouver. Jackass mountain, named after the mules and donkeys hauling supplies up the Canyon in the days of the gold rushes, was a nasty climb and the resulting downhill was windy. The skies cleared a bit though and when we stopped in Boston Bar to buy some supplies, it actually got sunny and the wind dropped.
Next in our Adventure obstacle course were some unexpected dangers: tunnels! We had been warned about them but in reality only the first one was very scary. As a cyclist you are supposed to push a button, which will light some warning lights above both entrances of the tunnel, alerting drivers of our presence. That was very nice, but none of the drivers slowed down, and passed us with sometimes just centimeters to spare, while the huge roars of the diesel engines of the trucks and oversized RV's reflected against the concrete tunnel walls, creating a deafening mix of noises. Ivana panicked as she is lighter and cannot cycle as fast, but we made it through…
There were more tunnels to follow, but at least the others had small elevated sidewalks, where we could cycle or just walk our bikes, which was definitely much safer.
Our map showed a small dot called 'Spuzzum' and when we got there it turned out to be only one parallel street with some houses. Some were messy, others well taken care of. We were looking for people when we noticed a large trailer, parked on a  nice green lawn next to a vegetable garden. Tips for Biketravellers: somebody who messes up his own house and garden might mess up your night as well, but somebody who spends energy in creating a vegetable garden usually is a friendly person and therefore a great host 🙂
This street wisdom definitely was true as when we rode our bikes onto the grass an elderly, but young and very friendly looking man came out, surprised to see any visitors. "Hi I am JP!"
It was no problem for us to pitch our tent on his lawn, he even started raking the dead leaves, while apologising for the 'mess' on the grass!'
'You are the first cyclists I have ever seen! Wait, are you sleeping in that tent? You need a light!' And with those words, he went into his trailer, then into his toolshed ('The Shop') and came out with a bedside table lamp and an extension cord. So that night we had the luxury of reading without head lamps and could even recharge the laptop.. Ivana tried to wake me up in the middle of the night as she heard some noises outside, but was not successful.
JP & his girlfriend Christy took us for a tour of the town the next morning. We passed a very nice piece of land, which belonged to his town-mate and friend Pete. We found Pete and his son watching over the Fraser River and they showed us around on their great land, filled with fruit trees. While we were eating some of the best tasting apples Pete had given us, we noticed a few piles of apple pieces on the ground. 'Yeah, those damn bears. They eat all apples and shit them out right away!'.
Back at JP's place we noticed the same piles of bear-scat and Ivana suddenly remembered that she had heard all those noises, right next to our tents. JP already had let us use the shower in his small campervan, the style you place on the back of a pick-up. when he saw Ivanas fear and the rain that had just started pouring down again, he told us that we could sleep inside his campervan if we wanted? (see JP & Christie here on 1000 Americans)
7 October: Spuzzum – Agassiz
It was great to be warm and cosy, while the rain and wind were pounding on our roof, but the next day we had to continue, the big city was waiting! The weather was terrible again, lots of wind and rain and some smaller tunnels and hills to top it off, so we did not see much of the fabled vistas in the Southern Fraser Valley. When it cleared up a bit, we did notice that the snowlevel was actually not so far above us, which made us pedal just a bit faster… We were now heading straight west for the first time since, well, since ever 🙂 The winds playfully changed directions as well and tried to keep us from getting anywhere, but we made it to a small city called Agassiz. One of the best things of Agassiz is that they have a Dutch store! Yeah, we bough a small bag of Dropjes! Another bonus is the library, where we could not only get free Wifi, but were also surprised by a friendly woman who emerged from the building, just when it got dark and we were packing our stuff.
'Hey, are you travelling on those bicycles?'
'Yes, we are on our way from Alaska to Argentina'
'Great, do you already have a place to stay tonight? Come with me, I live close, I hope you are not afraid of dogs?'
It turned out that Barbara was a traveler and a dog (and cat) lover, who had adopted several dogs she found on the streets in India. She was also a great cook and host and treated us on stories and a very yummie breakfast!
8 & 9 October: Agassiz – Vancouver via Mission: 50 + 60 km
After leaving Agassiz we were treated on a very steep hill. the sign said only 11%, but it was definitely more at the steepest, as even pushing was near impossible and a truck couldn't make it. We continued on the highway 7, which was also know as the Sasquatch Highway. various sighting of the infamous Sasquatch/Bigfoot have been recorded in this area, including one in Spuzzum!
The roads were getting very busy now, the shoulder disappeared completely at times and we called it a night when evening traffic started to form ne big noisy polluting line on the Highway 7. We got permission to camp in a garden of an elderly couple, who were hesitant at first, but brought us breakfast at our tent the next day. It is nice to know that we can spread the knowledge that not all cyclist and travellers are scary people…
The final part into Vancouver was frankly not nice. Even though the city is known for its bike routes, parks and positive attitude towards cycling, there is no real way to get into the city on a bike, and it the entire last day we spent on busy roads leading into the real Vancouver, marked only by a small sign alongside the road. We managed to use some parks and after a nice lunch we were stopped for the first time by a police officer:
'Is there any reason you are not wearing helmets?' he asked
I pointed to my rear pannier and told them that they were in there. 'You better wear them, people drive like crazy over here…' , and with those words he took off, without actually checking if we had put on our helmets. We did though, as there was a lot of traffic and we only put them off when we reached the house of Kirsten and her friends, our host for the coming days. After 5000km we were back at sealevel. We had traveled from 70 degrees North to about 49 degrees North. Vancouver. It had a magical ring to it: the start of the cities, the start of maybe a mix of easier (more shops and organisation) and harder (traffic, more roads to choose from) cycling… I was happy that I could take a little rest, so my back could recover a bit and I could work on the website, that had been on- and offline constantly the past weeks. There was work to do…
Kowalski! Status report!
Amazingly, even after 5000 overloaded km, our bikes, panniers and Computer are still without any problems. My back is hurting again, hopefully the rest will do us good.
Here is a little visual overview of the sections above, unfortunately the last days are missing as the memory was full…
You might also like