Tips from the road: Couchsurfing, WarmShowers & Hospitality Club
This post is a thank you to all the wonderful people that have hosted us on the way and offers advice for travelers as well as hosts.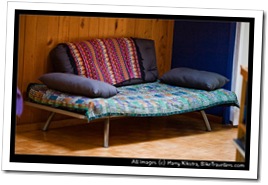 For those new to Couchsurfing, WarmShowers.org and the Hospitality Club, these are networks of people opening their house and/or local knowledge up to other travellers, supplying them with free lodging (a 'couch', though it can be a spare room, a sofa or just a spot on the floor or in the garden).
Couchsurfing is the largest , currently there are almost a million members inviting strangers into their homes, following the mission of Couchsurfing:
"CouchSurfing seeks to internationally network people and places, create educational exchanges, raise collective consciousness, spread tolerance, and facilitate cultural understanding."
WarmShowers.org is an older, but much smaller organisation (less than 10,000 members), but it is especially focused on BikeTravellers.
"The Warm Showers List is a list of Internet cyclists who have offered their hospitality towards touring cyclists. The extent of the hospitality depends on the host and may range from simply a spot to pitch a tent to meals, a warm (hot!) shower, and a bed."
This has some advantages:
the hosts generally have cycled themselves, so you do not have to explain why or how you do it 🙂
They usually have storage space for your bike
They might have spare parts, but at least useful tools
They know all the local cycle routes and the best way to get out of cities etc
They are very friendly 🙂 and almost always will answer positively to any requests
The disadvantage is of course that there are fewer members, but usually the 'quality' is more important here than the 'quantity'.
The Hospitality Club is the second largest organisation, with currently about 330.000 members. Their mission is similar:
Our aim is to bring people together – hosts and guests, travelers and locals. Thousands of Hospitality Club members around the world help each other when they are traveling – be it with a roof for the night or a guided tour through town.
The club is supported by volunteers who believe in one idea: by bringing travelers in touch with people in the place they visit, and by giving "locals" a chance to meet people from other cultures we can increase intercultural understanding and strengthen the peace on our planet.
Joining any of these 3 organisations is free, takes just a minute and everyone is welcome. Members can look at each other's profiles, send messages and post comments about their experience on the website. Of course you can become a member of all of them, it will increase your chance of finding a host and to meeting new travellers. You can be very clear about what you can offer and what you request: if you only want to meet up for a drink, that is ok. If you have a backyard where people can pitch a tent, that is perfect as well. if you want to offer a spare room and serve dinner that is wonderful, but not required. if you need a week's notice, that's no problem (though many travelers, especially BikeTravellers, cannot tell exactly when they arrive as it is dependent on wind..)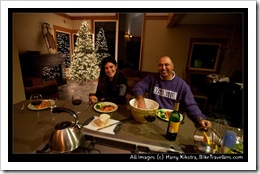 We had only 'Couchsurfed' a few times so far, but Samir was a professional. Even though they had surfed only a few times themselves, he gave us all kind of tips about how to find hosts and how to use Couchsurfing more effectively, though these are mostly true for the others as well:
Samir's CS tips:
Sign up for local CS groups (the 'Amsterdam' or 'California' group etc, any group of the place you are travelling in), so you can easily get in contact with members and post message in the group.
Check for people who are online in your area (CS shows where you recently logged in from). This is actually how Samir found us, he just checked which CS-ers where near him and checked our profile!
Of course, if you want to be hosted, you will need a complete profile, so add much information about yourself.
Try to meet other CS-ers locally if you are new. This way they can see you face to face, and vouch for you.
Why would you sign up with any of these organisations?

To give
You can help travellers finding a safe place to stay, or even just help them out with useful information or just a cup of tea or a warm shower & a washing machine. Travellers do not need fancy places, just a roof can be great.
You can save travellers a lot of money, they otherwise had to spend on expensive hotel rooms. This money is much better spent on travelling more, food, a museum etc!
You meet many different people: travellers with great stories about their hometown/-country, travelling tips and much more. It is a free way to get a good bite of 'strange' culture!
You can show the world, that not all strangers are bad people and that it is easy to help a fellow human being; even though the media will try to convince you to believe the 'fear culture' (don't trust anybody, axis of evil, discrimination etc). Fear is big business, with the weapons industry leading the way…
To show that the Internet is a great thing. Our generation is empowered by it and can use it to make the world a better place.
To receive
To find hospitality in unexpected places by unexpected people and restore faith in humanity.
To get first-hand knowledge about the place and area you are staying in.
To save a lot of money which is much better spent otherwise 🙂
To see how people are really living in the place/country you are staying in. No Hotel can teach you about local breakfasts, the way people talk to their kids etc in foreign countries!
If you are a cyclist, it is a great way to have a day 'off': when you know your gear is in a safe place, you can go for a ride, without luggage, or walk into town, without a bike for a change. If you do not have to watch your bike, you can visit museums, shops, a swimming pool, library, or simply have a siesta in the park. You would see cities, you would otherwise have to pass.
You might be able to freshen up (a Warm Shower) or even do some laundry and generally load up your energy levels.
If you like pets, you will love the chance to play with the dog or cat (hosts generally have pets, unless they travel a lot themselves :))
We already met so many wonderful people, many of them are mentioned in the '1000 Americans' Category. Most of them we would never have met, if it was not for the 3 initiatives mentioned here, and without them we would have camped more, but also learned and seen a lot less…
Of course you must always use your own mind when deciding to stay with somebody as in culture, both online as well as offline, there are a few less good people trying to spoil it for the rest. Whatever you do, in the end it is always your own responsibility/choice, but do not let this stop you from travelling and meeting new people.
Unaware hosts 🙂
We have stayed at several people, who either had no internet connection, and/or no idea about the organisations above. Still they invited us into their homes, becase they wanted to help us out, dry us, feed us, listen to our stories or share theirs.
They found  us on the street, in front of a library, looking for a place to camp, or stumbled upon our website and invited us: spontaneous Warm Showers!
They are great hosts, who offer help from their hearts without even thinking about the huge internet resources. As one host said: 'You know, they should make a website to connect travelers!'. When we told them about the 3 mentioned above he was pleasantly surprised 🙂
You might also like