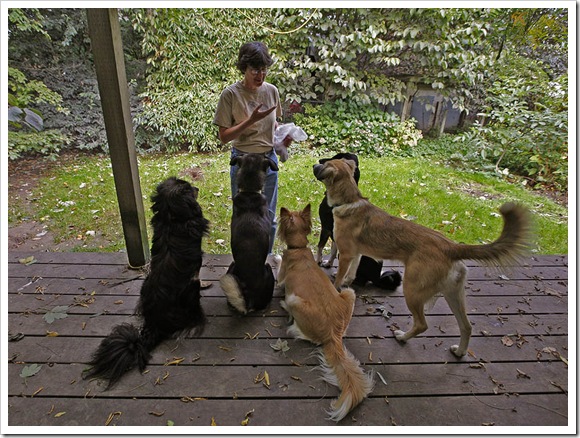 'Hey, are you travelling on those bicycles?'
'Yes, we are on our way from Alaska to Argentina'
'Great, do you already have a place to stay tonight? Come with me, I live close, I hope you are not afraid of dogs?'
It turned out that Barbara was a traveler and a dog (and cat) lover, who had adopted several dogs she found on the streets in India. She was also a great cook and host and treated us on stories and a very yummie breakfast!
She was a Couchsurfer & WarmShowers host extraordinaire, without even knowing about the organisations, but just because of being a traveller herself she knew the value of good company and a safe place to stay, one of many angels along the way that were watching over us and our trip…
After I had asked the noisy neighbour to shut off their generator (which was outside their big RV!), we had a peaceful night, without any bears. Even the wind had stopped and in the morning we had a great view over the Meziadin Lake.
The way to Stewart is only about 65 km and with the sun in our face, it was a pleasant ride. The scenery is very impressive, with huge glaciers hanging on to steep walls. The road itself climbed steep for a while, but leveled out in front of the famous Bear Glacier.
Not only well-known for being one of the most accessible glaciers (the road passes right in front of the lake), but also as a backdrop in the movie Insomnia (with Al Pacino & Robin Williams). Though even in the short period since, it has retreated visibly and for the first time the glacier is no longer touching the lake directly.
The strong headwind was pretty cold and soon we continued our way: downhill! Through beautiful scenery, we freewheeled all the way back to sealevel, the first time since we started at Prudhoe Bay, Alaska, a few months before.. Read more
I saw Jesse coming out of the bush when we were cycling on the Elliot Highway. He waved and I noticed his dog jumping in the back of his car.
An hour later we stopped for lunch and he passed and stopped to chat. Jesse had been picking blueberries and offered us many handfuls of the delicious fruit. He had been scouting for a place to spend the winter. He will pass the dark days in a shelter or tent, together with his dogteam, of which Minto is one of his best buddies.
Jesse did not have much, but shared his berries and also his place in Fairbanks with the other biketravellers.