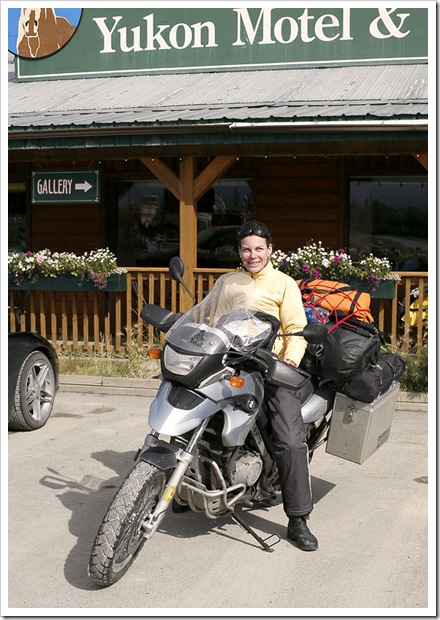 Heather was on her way North, coming from Vermont. Though I only know one person in Vermont (hyperactive Joe from the Riverside Wedding, overall Great Guy) she knew him as well, guess it's a small world after all…
She was carrying a helmet cam and almost fell over laughing when she spoke of the people she filmed and photographed on the way. Looking forward to seeing them on YouTube Heather!
We had spend another night in Champagne, hung over from all the food! We headed out on the old Alaska Highway and took a look in the old Indian Village nearby. It is more like a museum, with some examples of how the people lived before the days of the Highway and the 'white men'. Though it was closed for the season, we wandered around, through the different huts. It had a very high 'Blair-witch-project' -level and Ivana wanted to leave quickly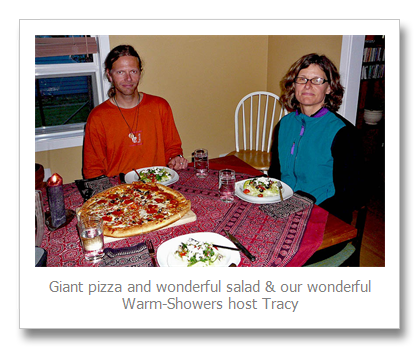 It had started raining again and though it stopped for a while, it came down with full force when we were about 30km away from Whitehorse. I was freezing, but Ivana -who did not have any rainpants- was even worse. We went to the first open store and asked if we could make a call. 10 minutes later, Tracy picked us up and took us to her house..
Tracy is one of the 6000+ people on the Warm Showers list. These are biketravellers from all over the world, opening their house for other cyclists. This can mean anything from a place to pitch our tent to a spare bed. No money is exchanged, as in the end most hosts will get some Warm Shower elsewhere. As the host are cyclists, they know what other cyclist need: mostly a warm shower (hence the name), a place to wash and dry laundry but also a lot of food

If you want to meet some nice people on a bike, usually filled with stories, sign up yourself and host us or other biketravellers.. Read more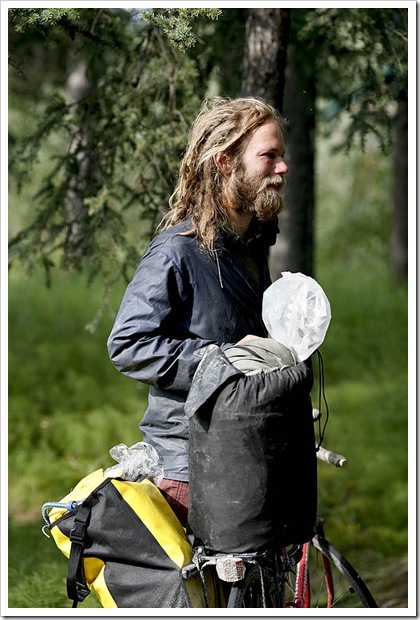 "I was arrested once in a demonstration. So the canadian customs would not let me enter their country! 'How can somebody like you be a teacher', they asked."
Thimble was on his way back to Anchorage, after being sent back at the border…