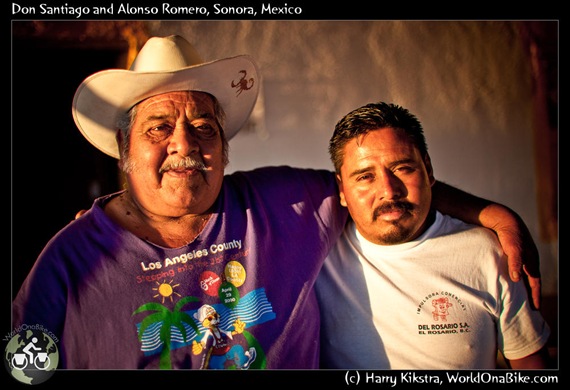 Don Santiago is in his sixties and lives with his mother in a small lone ranch in the desert of Baja California. They sell animals carved out of marble and onyx.
His son Alonso (one of 9 kids) lives South in Guerrero Negro and visits him when possible.
We stayed a few days in Ensenada. Gerardo, who lives in the US, came down for a day, to resupply the local bikeshop ('TNT') with new bikes and parts and took us out for breakfast in the centre of Ensenada, where we visited a nice coffeeshop with Wifi. The town was virtually deserted, no tourist in sight.
Ivana's knee was still hurting a bit, but we enjoyed the little house that Gerardo has opened up for cyclists passing South. We visited his friends Delia & Jose Antonio often and enjoyed just walking around the neighbourhood.
15th April, Ensenada – Santo Thomas, 35 km
It was time to hit the road again and we made our way across busy streets. We noticed a lot of 'Yonke' signs and realized that it one more Mexicanisation of an English word, 'junk'!
After I took a photo of the Romero Yonke, for my friend Romke Jonker :), I turned to take a photo of Ivana approaching and almost shot her being run over by a truck that passed way too close for comfort.
It was going slow, but we were warned…
On top of a hill we saw our first of several military checkpoints. They check for weapons going South from the USA to Mexico and beyond and drugs going the opposite way, but never once did we have to stop, nor were our passports or bags checked.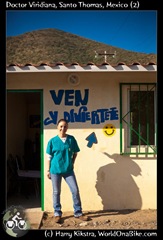 We did more climbing than expected and as Ivana started feeling some pain, we decided to call it a day in a small town of Santa Thomas. The local campsite wanted more cash than the hiker-biker sites in the USA, so we continued down the road to ask for a suitable place to pitch a tent.
We found a small local hospital where a nice doctor was teaching the local and rural population about birth control, AIDS, nutrition and more.
She did not only share a nice 'sopa de mariscos' (seafood soup), but offered us the office to put our mattresses, so we did not even have to pitch a tent.
16th April, Santo Thomas – Colonet, 76km
We got our first taste of Baja climbing today, slowly climbing over a 450m high slope. The road was not too busy, but once we hit the steepest part, the road curved and we realized that although we could hear them coming from a kilometre away, the big trucks could not see us, so mostly we waited on the side of the road to let them pass.
We had seen many signs depicting 'campsite' along the way, but they never had any direction, explanation, name or distance attached to them, so we never actually saw one.
The town of Colonet seemed to be nothing more than just a few dusty convenience stores along the highway, but when we went in one of the side roads we found a nice central Plaza, where we could ask the Police for a place to camp.
We entered to see about 5 guys lounging lazily in comfortable chairs, watching some soap opera on TV. One managed to get up and showed us a place in the backyard, where we could sleep. When we headed to a nearby mini-market to buy our totopos (nacho chips!) and salsa and to refill our water bottles (cheaper and more ecological than buying bottles), we got a lot of positive comments from kids and elders.
One family that apparently already had seen us on the road got so excited that they invited us to their house for dinner. As they could not explain much more than 'up and behind that steep hill', we decided to put our bikes in their van and -after letting the police know that we wouldn't be staying- off we went.
Gerardo and his family lived outside of town in a small place, erected by a church group. Around it a few dogs were keeping the cows away from the food for the pigs and the chickens. They also had a campervan, which was normally reserved for his 3 girls to study, but now they insisted that we use the bed inside after we shared our totopos and some quesedillas, sharing mutual stories, 7 people around the light of 2 candles…
17th April 2009: Colonet – past san Quintin
Gerardo, his wife and 2 daughters left at 6 in the morning to catch the bus that would take them to work on the fields, paying about $10 per person per day. We spent some time with the 3rd daughter, Areli and then headed out on the bumpy road, back to Highway 1.
Mexico Highway 1 is just a two lane-road, exactly 2 trucks wide, divided in half by a mostly uninterrupted non-passing line. As with all traffic signals (stop signs, speed limits and even distances to the next town), this is merely a polite suggestion, and rarely appreciated.,There is no room for a bicycle if two vehicles are passing each other, so we had to be watchful all the time and our little rear-view mirrors were lifesavers.
Fortunately a large part of todays trip, a small part beside the road was paved, creating a narrow shoulder as wide as 1-2 feet, just enough to make cycling a bit more relaxed.
We passed some busy parts, the area called San Quintin was full of large and small trucks, but right after, traffic was much rarer and the wind was finally in our back for a while. We noticed some regular patterns around the road: trash every meter, ripped car tires every 10 meters and a memorial sign looking like a grave amidst car debris every kilometre or so…
This area was home to many tomato & strawberry growers and we ended up camping at a rest area between big farms, while big trucks were roaming around non-stop.
Tomorrow: Part 2 of Baja California Norte!
Ed 'Eduardo' Lusk is married with a Mexican woman and they run the well-known Baja's Best restaurant together.
His neighbour and friend Duffy also originates from Ventura, California, but both like the climate and atmosphere in Northern Baja California much better.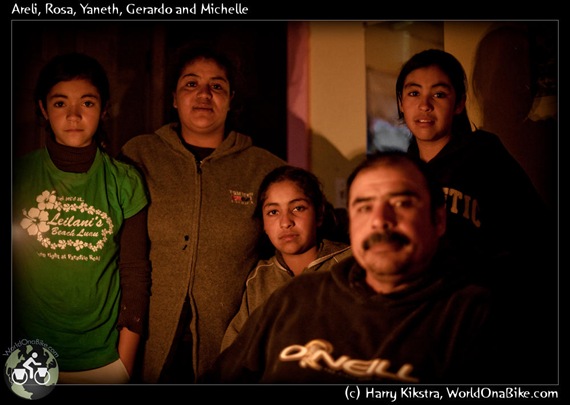 Gerardo thanks his Lord every minute for his life and the challenges in it. Having been a fisherman and now a small farmer and land worker, he trust completely in his faith and his family to make ends meet.
Shot by candlelight in his small house outside Colonet, built and donated by a church group.
Viridiana is a young doctor, teaching the rural population about sexually transmitted diseases like AIDS and prevention of it, birth control and nutrition. Her small clinic helps many poor people from the area.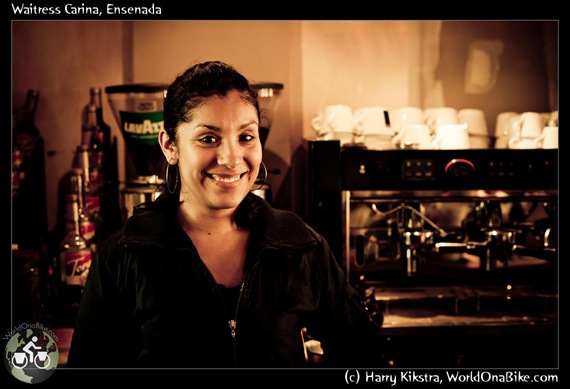 Carina works in a nice small coffee shop in the centre of Ensenada, a city where many young people from the US come to 'party' as the age restrictions on drinking and drugs are more flexible than in the US.
Meanwhile Carina creates her coffees and pours a wonderful chai to more relaxed guests.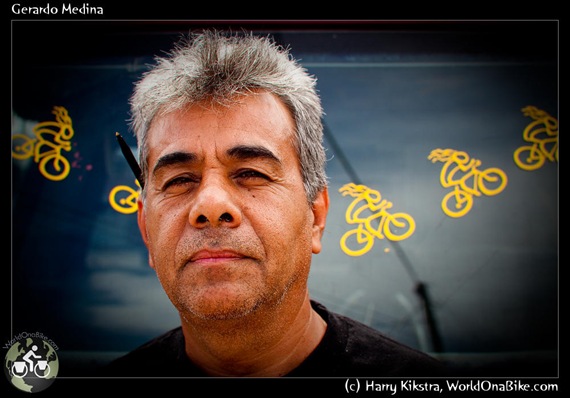 Actually, Gerardo lives in Riverside, California. But he has a small place in Ensenada that he does not real use himself, but he allows biketravellers to use it as a WarmShowers place.
Even though he is a doctor, he could not revalidate his certification in the US and is making signs now. Every now and then he comes down to Ensenada, Mexico to stock the biggest bicycle store with great bikes and parts that in the US are often simply discarded.
Delia and Don Jose Antonio are in their seventies and have been married over 50 years and live in a small house, South of Ensenada, with their dog Canica.
5th April: Point Loma, San Diego – Tijuana, Mexico
It took only a few hours to get through San Diego, over some bike paths and then into San Isidrio, the border town. We had been warned that we should not try to use the pedestrian crossing at the border, having read horror stories about crunched bikes and bags.
So we were happy to see a sign that basically said: Bikepath to Mexico, not for pedestrians. That sounded like a plan, but alas, the short path ended up in front of the pedestrian turnstiles. Se we headed back up the 'one-way' short path and decided to take the final 100m of the busy Highway 5 instead. We cycled over some empty lanes and waited until we were stopped by either a human or physical barrier.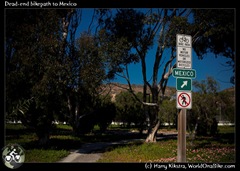 100 meter later, we saw only Spanish signs and saw people walking everywhere. Apparently we had entered Mexico, through a one way border: no luggage check, no passport check, no questions, no sign 'You are Leaving the US, please call again' nor 'Welcome to Mexico'!
This was not only very weird, but also posed two practical problems:
We had to leave the white slip of our temporary visa at US customs, to prove we had left within the allowed time.
We needed to get a Mexican tourist cad, kind of like a visa, which would allow us to stay for 180 days and go further South than Ensenada (100km South, the furthest most US citizens go and where this card is not needed).
You would think that there would be more people crossing the border with a visa, but apparently not. After asking several people, we were told to cross the Mexican side of the Highway on a footbridge, follow the stream of Mexicans trying to get into the US.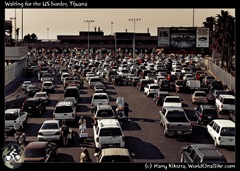 And lo and behold, just before the border entering the US again there was one young guy looking cool in a US uniform on the other side of a big gate. I handed him our passports, he ripped out the 2 small pieces of paper and added them to a larger pile already in his other hand. That was it. No exit stamp, no receipt, just a guy collection visa papers and who knows where they end up. Guess we will find out whenever we want to enter the US again.
Next problem to solve was to find the place to buy our tourist card. We crossed the highway again, noting the hundreds of waiting cars, seemingly not having moved an inch since we crossed the bridge before. Guess that entering the US is a whole lot harder than leaving it.
The funny (as in funny, interesting, not funny, haha) thing was that last night we watched 'The Day after Tomorrow', the apocalytic movie about the freezing effect of Global warming. In it, the US basically freezes overnight and the Mexicans have to close he border as everybody tries to flee South. Only after relieving Mexico from all debt, the US citizens are let in (meanwhile, many already cross illegally..).
We were told to go back on the highway, to we cycled back, against traffic to the 'border' and only about 50m before we were about to cycle back in the US (without being checked?). The last of a series of small offices contained a bored man who, after repeatedly asking, was going to sell us our 'card', which was basically a receipt. They had put the standard '90' days, but some penstrokes of the official quickly turned this into 180 days.
It had taken us 1.5 hours to arrange these things that in any other border would have taken 2 minutes and 5 meters of travelling, and we made it just in time to the local McDonalds. Not that we were planning to eat there. We had stayed clear of all fastfood (besides Subways) during our 6 months in the US, and after seeing 'SuperSize Me' a few days ago at Martin's place we were very happy we did!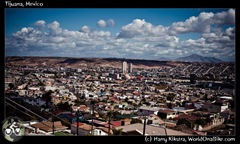 No, we had arranged to meet our new hosts here. CouchSurfing knows no borders and we were picked up by two young guys in a car, who guided us through some busy and some not so busy but very steep streets to their house on top of a hill. 5 more flights of stairs and we were in the room, looking out over the odd bordertown.
From the room you could see the border. Not physically, but the line and difference between the houses on both sides is clearly visible (tip: check Google Earth, you will be amazed).
A few days in Tijuana, an over-feared and underrated city
We stayed a few days with Paul (pronounced Pah-ool here) and 'Chino'. It gave us the time to see a bit of the city that is feared so much in all US media, (even South Park calls it 'hell' ;-)).
It is all exaggerated, which is doing the Mexican economy a lot of harm. There is a drug war going on with quite some murders, but unless you are a heavy user, dealer or police officer, you will not be involved. Yes, we saw some police lights and heard some sirens in the night, but not more than in any US city of this size (1.5 million people). We never felt unsafe, even in darker areas, at night, in the suburbs, on the beach. Nowhere.
You notice that you are in a poor country, but what we did see were a lot of happy people, cheering us on on our bikes, asking questions.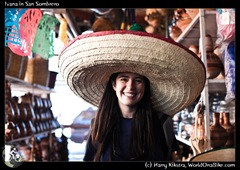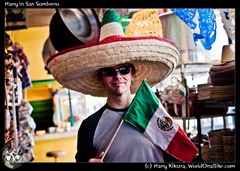 We were so surprised to hear that many US citizens, even those living in San Diego never had visited Mexico.
They are living so close that taking one wrong turn basically would get them across the fictitious line!
I would invite everybody to enjoy the proximity of such a great and different place instead of getting scared by the remnants of the fear–economy…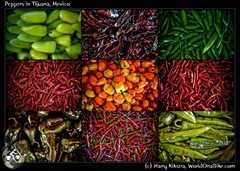 It is actually quite nice place, relaxed with many things to see and do.
And I do not mean the popular red light district that seems to attract the most Americans, but the Museum of Modern Art complex we visited (with a nice cinematic photo exhibition), many great taquerias (taco shops) and a nice central market with delicious food, snacks and other stuff.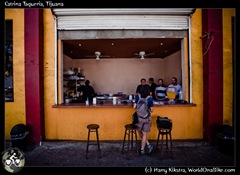 Our new friends had just opened a tacoshop themselves, close to the market. They hade some special flavours including a great 'Chile relleno' (slightly spicy pepper stuffed with cheese).
Paul had two passports and works as a teacher on the US side. As he has a small motorcycle, he can avoid the waiting lines at the border and can go to work in the US in only 15 minutes…
In the evening they took us to have a tea and see the beaches and the border. It was sad to hear that until recently there were 'border-dinners, where Mexicans that had been allowed into the US, would come to the North side of the border, to see, touch and eat with their relatives and loved ones South of the border. The new fence, planned all the way to Texas makes it impossible.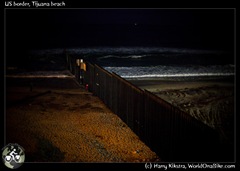 We could see the fireworks of the San Diego aquarium from our side of the fence. A small boy walked up to it, while on the other side a patrol car was waiting silently.
Just a few miles away, but worlds apart. Again we felt thankful for the liberties we both enjoy, something that the many people that can but never do travel abroad never seem to realize.
9th April 2009: Tijuana – Primo Tapia, hill, fall, flat, toll. 42km.
After they guided us to the start of the Highway, we said goodbye to the guys and started climbing up the 250m (800ft) high hill. It was steep and hot and there was much traffic, but they kept a safe distance. What cycles up must freewheel down, so we enjoyed a nice downhill into Puerto de Rosarito, the tourist place at the beach, lined with new condos and junk food places.
We only stopped to eat our peanut butter sandwiches and then headed onto the toll road. There are 2 roads from Rosarito, the toll road ('Cuota') and the free road ('Libre'). The toll road already starts near Tijuana, but they will not allow cyclists there and taking it would mean many extra miles anyway.
Just past Rosarito we could enter the toll-road without problems. I was slowing down near an exit for Ivana to catch up with me when two cars passed really close without signalling their exit. There was a very small but vertical ramp along the road which kept me from being able to move out of the way.
I managed to keep my balance for a second, but then tumbled over the ramp, down the slope behind it. Kowalski followed a second later, also doing a nice tumble, coming to a halt next to me. My arms were bleeding a bit and I had itchy, pointy things sticking in me all over my body.
After Ivana caught up ("did you fall?" Duh..) and helped me get the bike back on the road we continued up a small hill, but soon I noticed that the going was tough and saw my that my front tire was almost empty.
So on the shoulder of the Toll-Road, I fixed my 2nd flat tire in over 8000km. Yet another staple. Of the 5 flat tires we have had between us, 3 were caused by staples, one by a nail and one by a sharp piece of rock.
We approached the toll booths and were going to pass one lane with a giant red 'X' on top, but the attendant/guard came running towards us, rifle loosely over his shoulder. He pointed us towards the sidewalk and asked if we could walk there and then ride again once passed. They do not mind that cyclists use the road, but do not want to get in trouble as all lanes are monitored by video.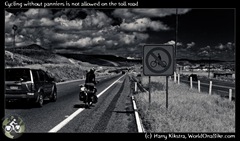 It was a pleasant ride, sunny but not too hot, and the traffic was not too bad. we passed many areas in development, the Fox studios (where Titanic and Pirates of the Caribbean were filmed, the pirate ship was still there) and a giant Jesus statue looking out over the houses of the new rich.
We could use the shoulder all the time, passing those strange signs with a cyclist crossed out..
We turned off at a small place called Primo Tapia, where a WarmShowers host named El Lobo lives. he greeted us and we had a nice evening with him, discussing life in Mexico and the US and enjoying one of Ivana's curries…
10th April: Primo Tapia – Ensenada, 60km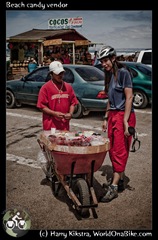 We said goodbye to El Lobo and headed back onto the toll road. It was Semana Santa and many Mexicans were on holiday, enjoying eating sweets on the beaches.
There was one long climb and when I waited for Ivana to come up, she looked worried.
'My knee is hurting a lot'. her left knee was very painful and she could hardly cycle, even though yesterday, on a similar hill, she had no problems, so maybe she twisted it somehow.
We continued slowly until we reached Ensenada, passing cliffs and hidden beaches. Sometimes we could see the 'Libre' road below and were happy that we were not riding on that shoulder-less road.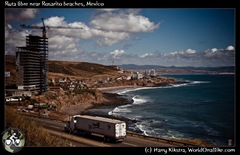 At the end of the toll-road was another big toll-booth and another armed guard came up to me and started talking in Spanish.
'Did you get permission to ride the Toll Road?' he asked.
'Yes, in Rosarito', I replied truthfully, and then showed him the scars and dried blood on my arm. 'Besides, yesterday a car cut me off the free road, so the police told us the toll road was safer and better', I added less truthfully.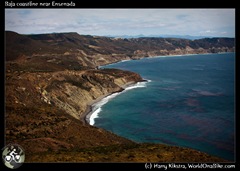 He was intrigued and made no problems and told us to be safe. Ivana was going very slow, even though a strong wind was almost pushing us forward. even though we just started cycling Baja California, it might be time to take another break…