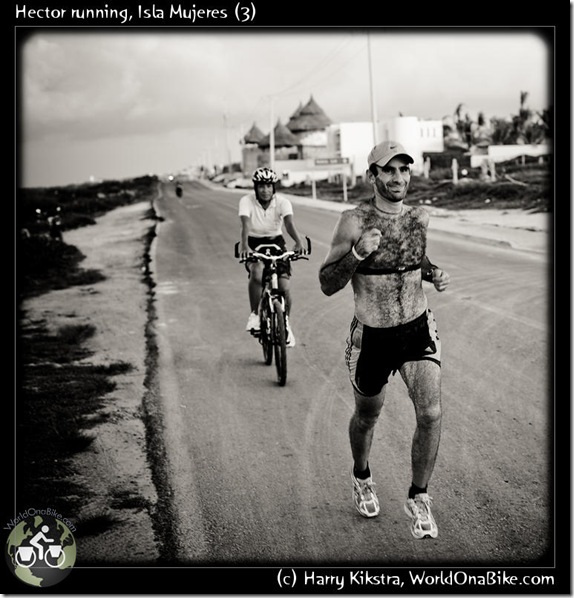 Hector works during the days, in computer repair, fixing laptops and desktops, both hardware as well as software. But late at night, when the heat of Cancun takes a rest, he goes out to run on the bike path leading to the Zona Hotelera.
Hector was part of the Mexican Mountain Bike demonstration team during the Atlanta Olympics and has biketravelled in India, but now he focuses on running. Not just for fun or to stay fit, he actually earns part of his income by competing –and finishing 1st, 2nd or 3rd- in the many prize runs on the Yucatan Peninsula.
(Read Hector's blog (in Spanish) here.)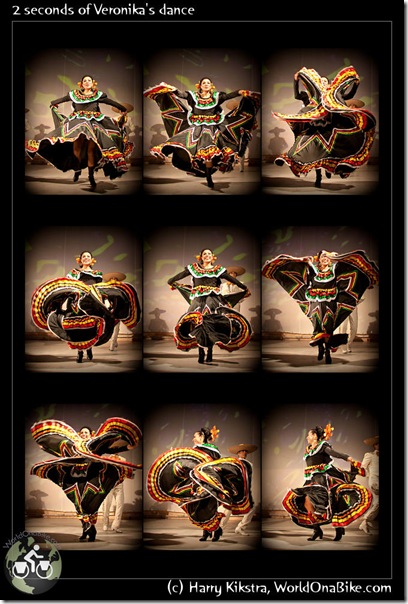 Veronika is not only a massage therapist, she is also a dancer in the Maria Felix dance company. Together with her colleagues she performs several times per week in exclusive resorts around Cancun, whirl-winding through many Mexican regions in Dance and clothing.
Off stage, she is a timid, quiet woman, but the moment the lights shine and the music starts, she is like a tornado.
I have managed to capture 2.5 seconds above…
(Read Veronika's blog (in Spanish) here)
18 June 2009: Election tricks, graffiti & handwork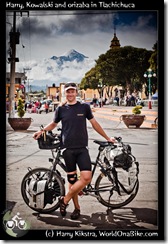 We did a quick tour around the central Plaza in Tlachichuca for some Wi-Fi search and some posing for pictures. I noticed a huge truck unloading hundreds of boxes with a growing crowd gathering around.
The boxes contained live chickens and were handed out to the villagers. The magazine salesman that had just treated us to some tacos viewed the scene with a look of disgust.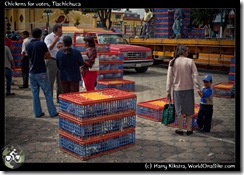 "It is the PRI, buying votes. People sell their right to vote for the short term benefit of a chicken. Afterwards they will endure another 4 years of suppression by the rich folks that run the party."
Welcome to the Mexican elections, where votes are bought with live chickens!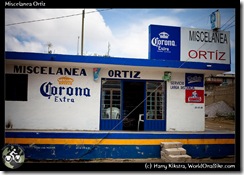 We had already seen signs of the election everywhere. Mexicans in general seem to have a morbid fear of white surfaces, as every wall, of every house, compound or fence always contains graffiti, without exception.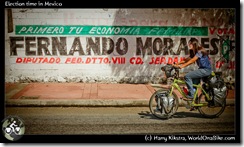 Some times it is just marketing, with the name of the shop or the biggest brands they sell, many times it is just defacing stupid graffiti.
But in the last months before the general elections in July, the majority of all walls have been taken over by the election marketeers promoting their candidates with populist slogans: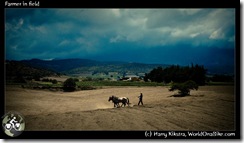 "Your Household Economy comes first!", "Only we want more jobs for you!" and the classic "Cheaper gasoline for everybody!".
We cycled through fields of corn, where old famers were working without any motorized means. All waved when we passed them, on our way to one of the biggest downhills of our entire journey…
After rounding the Ciudad Serdan and climbing some minor hills, we reached the main highway again. The tollbooth attendants did not even see us and so we found ourselves back on the 'Quota'!
From the highlands to sea level: 400m up, 2500m down in 133km!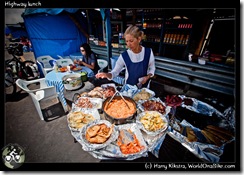 After a quick roadside lunch we started our descent. It was not as relaxed as imagined beforehand as the road was busy and the shoulder filled with rocks and debris of tires and other car parts. Worst of all, we headed into a chilly thick fog, limiting the view in front and behind us to about 40 meters, so we had to brake all the way, wearing our reflective jackets for safety and our rain jackets for warmth.
The drop-off is so steep that when the highway had to be expanded due to increasing traffic, they basically had to built a new highway as the existing one could not be broadened in most places. The only times when there was some extra room, long emergency gravel pits were built, to save truckers going down with faulty brakes.Fortunately when going down we followed the original one, which went just straight down instead of up, down, around and over like the new variation.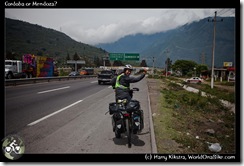 Ivana wanted a picture with the turn-off to Cordoba and Mendoza, both two cities near her province in Argentina and soon after we got the first of several flat tires.
During the downhill Ivana had not managed to avoid al exploded tires and her tires were punctured with several thin but strong parts of steel wire that strengthen the truck tires. Fixing tires on the side of a busy highway is not my favourite thing to do, but there was no other option.
We had lost enough altitude to be in the warmer air of the tropics again. We also got treated to our first heavy tropical rain shower. Actually, when thinking about it, it was the first rain since Central California, USA!
The slope eased, but still we were going down. The view of mighty Pico de Orizaba must be wonderful from this side, but all we could see behind us was a big pile of tropical clouds. We ended our day after 133km, about 4 flat tires and 2500m of downhills in a wet garden next to the highway, with mangos falling from the trees and chickens scaring Ivana.
19/20th June: the long ride to Cancun: World On a Truck
The downhill had ended and we rollercoastered to the junction of the toll roads. Ahead was Veracruz, we turned right towards the east, as we had to get to Cancun with a few days, so we needed some good place for our hitchhiking.
It took about 50km, but we found a gas station where we could ask refuelling pickups for a ride. Then things went fast.
The first ride took us about 200km down the road. We cycled a few minutes to a toll booth and got another ride quickly, which took us 60km. When we left them we noticed a big truck we had seen before. The friendly driver, who had waived at us when he had passed us before, asked us where we were going.
We replied that we were trying to get rides to get North-East.
"I am going to Cancun, want to join?".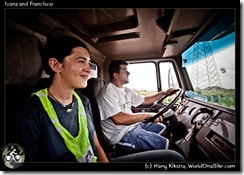 Cancun! It still was about 1100km/700miles away. We introduced ourselves properly to Francisco, a gentle man who runs a moving company from the border with Texas. He has a fleet of about 20 trucks and regularly drives himself as well. His truck was already half empty, with 2 loads left to drop off: one in Merida and one in Cancun!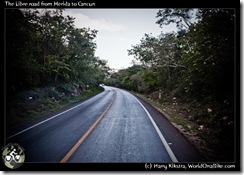 We put our bikes in the back and joined him in the cabin for a long ride to the Yucatan peninsula. After a roadside dinner he parked the truck at a truck-stop and while he slept in the cabin, we slept in the back of the truck, inside the tent against the mosquitoes, but the sweaty heat kept us awake.
As the toll roads are too expensive, Francisco took the 'libres', meaning extra kilometres and much extra traffic. We slowly passed through the states of Tabasco & Campeche and ended up in Merida. The city is known for it beautiful centre, but we had to unload the possessions of a family that had worked in the US for a while in a less scenic part of town, where the roads were littered with trash.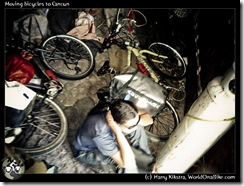 Francisco hired a few guys at the entrance of the city to help us unload in the heat. After getting paid, they bought 6 bottles of beer, which were emptied and thrown out of the window before we could take them back to where we had picked them up.
It was time to cross the Yucatan state. There is a huge and expensive new quota, so we took the dark and windy libre instead. The road passes through every little town and we had to stop hundreds of times to carefully cross the many 'topes', speed bumps.
We arrived late at night but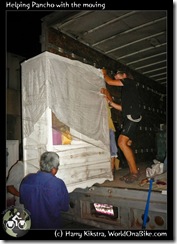 still had one load to deliver before we could find a place to sleep.
After we finished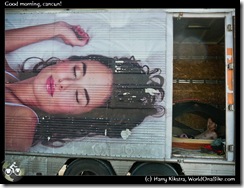 Francisco parked the car in the centre and went to sleep in a friends house, while we erected the tent again, inside the truck.
We had been rushing the past weeks, but now we had made it to Cancun a week earlier than planned. It took a huge load off our shoulders as we now had some time to check out the city and prepare the visit of our mums.
Cancun
Francisco came back to his truck in the morning, and his friend Daniel invited us to come over and stay in his house. We had friends in Cancun, but as we had arrived so quickly, we had not been able to contact them and gladly accepted Daniel's offer.
He not only put us up for the night, but also gave us some tours, which helped a lot to understand the city. We visited the touristic places as Francisco had to buy some jewellery for his wife and drank some "raspados", shaved ice with sweet fruit flavours.
Cancun proper: the beach!
The city were we were is actually not the Cancun that is so famous. The downtown area is where the people live and go for their Sunday dance, the tourists go to a 25km/16mi long peninsula, totally covered with big expensive hotels, clubs and restaurants.
Though all beaches are public and thus open to everybody by law, in practice it is very hard to get to them, as the hotel properties are private and they are all built next to each other.
Daniel had worked in the hotel business before and took us to see the "Zona Hotelera".  We visited a few of  the smaller public beaches, with did have easy  access, but we also checked out a large hotel. It was something we will never be able to afford, but it was fun to pretend 🙂
Kowalski! Status report!
All is well. We will park our bikes soon as our mums will arrive and we will be semi-proper tourists for a while. But still there are plenty of things to show, so stay tuned…
Francisco –Pancho for friends- is a gentle man who runs a moving company, near the border with Texas.
He has a fleet of about 20 trucks and regularly drives himself as well and knows every road in Mexico.
14th June, From Puebla to Tlachichuca: dust devils and up the slopes of the volcano. 52km, about 500m up
After our goodbyes to Hiram's family, we found our way through the busy streets of Puebla, heading North East to to the exit of the city, the main highway towards Veracruz on the Gulf coast. Our mums would arrive in Cancun, more than 1600km away via busy highways, in 2 weeks and we had to be there several days before to arrange accommodation, trips etc. We needed to make at least 150km per day, either cycling or taking a ride. Still there was one thing left to do, before heading for the Mexican Riviera Maya…
The toll road was busy and noisy as was to be expected and during the day we took 2 rides until we arrived at a slightly less busy road heading North (no!!!). After turning East again, we headed in the direction of a huge pile of clouds. The road looked flat, but in reality it was gently but constantly sloping up. It felt like we were cycling with our brakes stuck, or with a flat tire.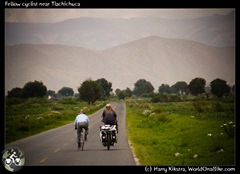 Ivana was just 100m behind when I stopped in a small town to wait for her, but she got right in a path of a dust devil, sweeping through the streets and depositing Madre Tierra all over her. There were dust devils everywhere on the fields and we had to sprint a few times to avoid one.
At about 2400m altitude we reached our goal for the day: Tlachichuca, a slightly depressing town, with just one real benefit for us: it is the starting pint for ascents of the highest mountain of Mexico: Citlaltepetl, better known as Pico de Orizaba! Depending on the source, it is between 5611 & 5700m (approx 18,700ft) high.
This makes it not only the highest point of Mexico, but also after Denali (Alaska) and Mount Logan (Canada), the 3rd highest peak in North America. It is not a technical climb, merely a long hike, but still crampons and ice-axe are needed as even though it is shrinking rapidly, there is still a glacier on the upper part.
As I have many US clients for my organised 7summits.com expeditions to Kilimanjaro, Aconcagua & Elbrus, the summits of Africa, South America and Europe, it would be nice to offer a climb of Pico de Orizaba as well. It is very close to the US, affordable and a good way to test how you are doing on ice, and at a similar altitude and you can use it as pre-acclimatisation, making the other climbs a lot easier.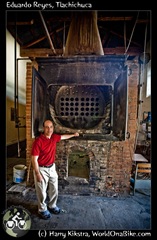 I had gotten in contact with the best-known local organisation, led by the Reyes family. For many generations, this family has been an important factor for the town of Tlachichuca as well as for the exploration of the Pico.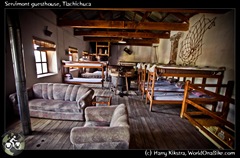 I met up with Gerardo Reyes, who showed me around their family mansion, a former soap factory, where we spent the night.
Though he could not arrange a guide at short notice, we arranged that his driver would take us to and from the base camp hut the next day, so I could climb it by myself.
15th June: Tlachichuca – Base camp Pico de Orizaba, 2400m – 4200m (8000-14,000ft)
Gerardo was kind enough to borrow me some climbing gear as I had almost nothing with me besides our camping gear. Ivana had decided that she would not climb the mountain, but she would accompany me in to the base camp for support.
The huge 4wheel drive took us through small mountain towns, through pine forests over a very bumpy sandy road. I had read that sometime people attempt to drive up here in regular cars, but it seemed completely impossible to me. It would make a nice downhill, but only on full suspension bikes; Kowalski would get a heart attack here and maybe even break something.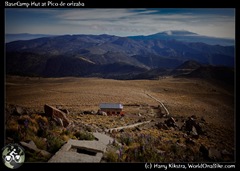 The main climbing season is in winter when the hut is often completely packed with people camping outside as well. Now the hut was totally empty, leaving us to choose from the few dozen wooden spaces. We felt the altitude difference and I only went for short hike up the remains of the old defunct concrete aquaduct before heading down to the cold hut, removing several Coca Cola cans from the trail on the way down.
The driver had shown us a small source of fresh and clear water and we spent the rest of the afternoon reading, cooking, eating and drinking tea and soups to hydrate well in order to prevent altitude disease.
16th June: Base camp to the glacier: 4200-5100m (14,000-17,000ft)
I woke up early for a hike up the mountain. The route description I had read and heard were very broad and vague and also outdated as the glacier had retreated considerably in recent years. For the climb to the summit I would have to find my route in the dark in order to come safely down during the day time, so today I was going to find my way up to the glacier.
The start was very easy as the concrete remains and the well-beaten path were clear. But then the path split several times forcing me to check several variations before deciding on the best one.
The last section before the glacier had been covered by ice not so many years ago, but now it was a rocky mess. There were little 'stone men' and other route pointers everywhere, rendering all of them useless. This section is now called The Labyrinth, as it is easy to loose the way; that is, if you know it in the first place 🙂
Still it was not to steep and with some scrambling I found a quite straightforward way up to the plateau, where some soft sandy ridged led me to the glacier. It looked sad, more like a thin crusty snowfield than a mighty glacier. I guess that in only a matter of decades, maybe even years, it will be reduced to some scattered snow patches before disappearing forever.
It felt good to be in the mountains again. Even on a relatively easy mountain like the Pico, the fresh air, the views, the excitement, the thin air and the exercise all made me feel very alive as always. It was nice to be the only one on the mountain, the solitude makes the experience stronger.
The strong cold wind and the upcoming clouds reminded me of the force of the mountains and I hid behind some rocks to eat some sandwiches and drink more, staying as long as possible without cooling down too much, to maximise the acclimatisation effects of this reconnaissance trip. Even with searching it had taken less than 3 hours to the glacier, and from here the route would be straightforward to the summit, so I felt good about trying for the next day.
The way down through the cloudy Labyrinth turned out to be difficult to find than the way up. Several times I found myself on top of a steep drop, before the not so obvious, but much easier route down opened itself up for me.
Later that afternoon I heard a car coming and soon we were surprised by 3 new visitors: Anabel, a young climber from Spain, her boyfriend Victor and a local guide named Guadalupe.Victor was not climbing, but Anabel and her guide were going to try for the summit this night as well, so we decided to climb up together for safety and for the company.
17 June 2009: climbing in the dark
We woke up at 01.00, had our breakfast, packed everything and headed into the dark night before 2Am. It was cold outside, but at least the rainy clouds from the day before had disappeared, making way for thousands of stars. We chatted about our climbs and the mountains and time passed quickly. We went slower than I had done the day before, but as Guadalupe knew his way without any hesitation, we made it to the start of the glacier in about the same time as the day before.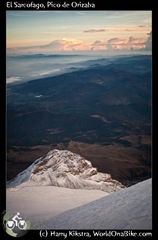 Anabel was feeling the altitude and was slowing down. After we had put on our crampons, Guadalupe tied her to his rope and went first. I followed shortly after, but did not go on the rope. I liked the feeling of climbing alone and it gave me time and space to stop for pictures without bothering anybody.
The climb up the glacier was straightforward as expected. We slowly switch-backed our way up, while the sky in the east slowly turned purple, then orange as the sun rose behind the storm clouds of the Gulf coast, showing the mountains, clouds, cities and fields around us.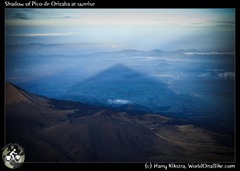 Anabel was almost grinding to a halt and was not sure if she was going to make it, but with encouragement from two sides, she continued slowly but steadily.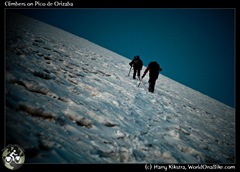 The shadow of Pico de Orizaba projecting on the fields appeared on our right when the sun made it above the clouds and with the sun came a new energy, pushing us up the glacier to the rocks of the crater rim.
The summit of Mexico!
It was almost 07.20 when we walked along the Crater edge to the mangled iron that once was a summit cross.
Even with the many stops on the glacier, it had taken less than 5.5 hours, which was very good.
We congratulated each other with being the highest people between Alaska & the Andes.
The weather was great and we took our time to eat, drink and take plenty of pictures, before heading down the glacier, here is a selection ( click to enlarge, more photos are in the photo section here).
Running down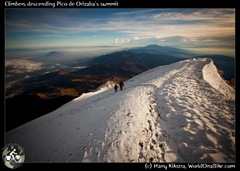 It was a quick walk down, as the snow already was softening and with the thicker air, Anabel's energy returned. We sped down the rocks and were greeted outside the hut by Ivana & Victor, who were barely awake. They wondered if we had made it as it was only 10 'o clock!
The others went down quickly, but we had to await our ride back, that was scheduled for the afternoon. After another bumpy ride down we arrived back at the Reyes mansion, where a warm shower was our reward.
18th June: to the lowlands!
I would not have liked to miss the great days in the mountains, but now we really had to hurry to get to Cancun in time, we had to get moving! We need to get a lot of rides or take a bus, but still there was one more section to cycle that we did not want to miss: downhill 🙂
Kowalski! Status report!
Knees are doing quite ok, and with the upcoming break in Cancun I am positive that we are able to continue cycling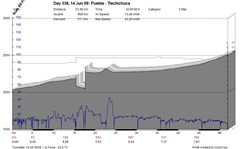 .
Here are some figures you might enjoy:
Distance cycled: 10,241 km (6363 Miles)
Days on the road since Prudhoe Bay, Alaska: 341
Days actually cycling (riding days: more than 25km/15miles): 146
Time really spent cycling (not including stops, waits, lunches etc): 695 hours for Harry, probably 750 or so for Ivana, as she cycles a bit slower.
Average real riding time on the riding days: 4 hours and 46 minutes per day
Average speed for Harry since Alaska: 15km/hr or 9.3mi/hr
Flat tires: we did not really keep count, but I think about 6 for Ivana and about 5 for Harry
Roberto lives in the highlands, on the slopes of Volcan Pico de Orizaba. He travel on bicycle and cycled with us for a while, from his home in a small town, all the way up to Tlachichuca, so he could enjoy the nice long downhill back home.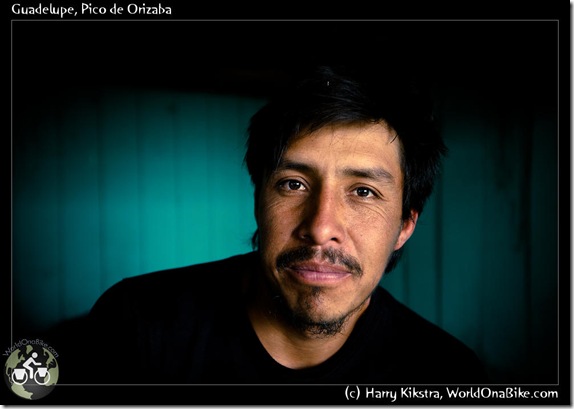 Guadalupe is a mountain guide and has climbed the highest mountain of Mexico, Pico de Orizaba, more than a hundred times. Still he enjoys the climb and the views from the mountain and is always cautious when climbing up, knowing that the conditions on any mountain can change quickly.
This picture was taken in the base camp hut after yet another successful climb to and from the summit.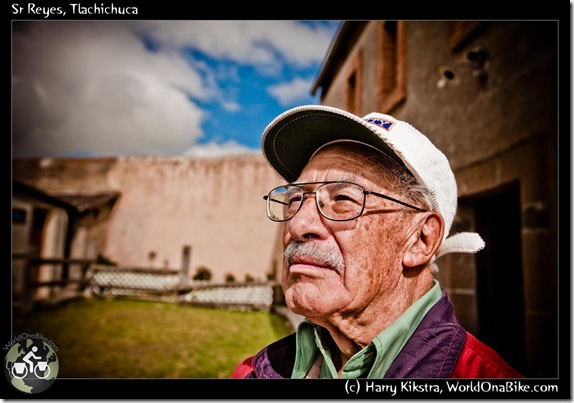 Don Francisco Reyes is looking at the summit of Pico de Orizaba, from the yard of his mansion, the former soap factory in Tlachichuca.
The family Reyes has been involved with the exploration of Pico de Orizaba, the highest mountain of Mexico, for decades and is still offering services for climbers, both commercial as well as rescue services, using their Red-Cross Unimog.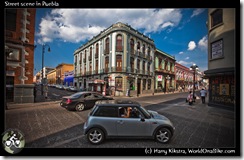 It was less than 10km from Cholula to Puebla and the cities are basically connected. With 1.5 million people the city is huge (3rd largest of the country), but the historic centre has remained largely intact and is very attractive.
We had been invited by CouchSurfing host Hiram and his family, who own and run a very popular Mexican restaurant together. Still he had time to do a quick city tour with us and gave us a lot of tips of where to go while he was at work.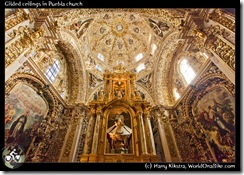 One impressive place he pointed out is the fully gilded Rosary Chapel of the Templo de Santo Domingo, which is so shiny, you almost need sunglasses.
The zocalo or main square is the courtyard of the huge Cathedral, with Mexico's highest towers. Rich people see it regularly as it appears on the 500 pesos note (about USD$ 40, more value than most Mexicans see in one bank note).
But maybe the best part of Puebla is just strolling around the centre, through colourful streets lined with colonial houses, with patios and balconies.
Tourists and locals are enjoying themselves everywhere on the terraces and restaurants and in the many shops lining the streets.
Fiesta
Puebla has always been a Catholic stronghold and this has resulted in many religious celebrations, many of which have the benefit that a lively street market will take place, just a few blocks away from the zocalo.
We enjoyed the different foods for sale, the fair rides for kids, the artesanias, the music and the general positive atmosphere. Had I said before that everybody should visit Mexico? Just in case I'll do it now: do not let biased political media scare you away from a wealth of culture, nature, gastronomy and friendliness, visit Mexico.
There, I said it.
Now, I invite you to take a look at some impressions of the market and the city. (Click for a larger version, these and more photos of Puebla are also in the photo section here).
Mexican treats in El Balcon
We arrived back late at 'El Balcon', the restaurant of Hiram's family. Late at night it was still completely packed and several people were waiting outside. No, it is not (yet) in the Lonely Planet as it is (just) 7 blocks away from the centre, but the locals clearly know where to go. Even when they changed locations a while ago, the clients followed for the clear and honest food.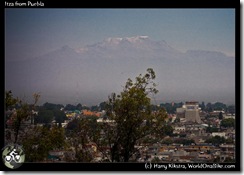 Hiram also took us up the Cerro de Guadeloupe, which is not only the place where the French were defeated on 5th may 1862 (hence all the street names all over Mexico named 5 de Mayo), but on clear days you can also see the silhouette of Izta, the mountain known as the sleeping woman.
He introduced us to his friend and fellow CouchSurfer Leandro. We did not have time to visit his place, but had some good discussions about life and saw some more hidden gems of the city together.
Hiram's parents were worried about our trip and hugged us close and shed some tears when praying for our safe journey. We are not religious ourselves, but the care and love of people that were strangers 3 days before keeps on surprising and warming us. So maybe the prayers do help as we will take care, so we can meet more great people like them and maybe one day return the favour.
Back on the road again..
Fortunately we found the way around the steep hill when we left Puebla, sooner than we would have liked. If we'd hurry, we would maybe have time for one more activity before we really had to get to Cancun.
Our mums were already getting very worried that there would be nobody to pick them up when arriving in 2 weeks. But before we would leave the Mexican highlands to get back down to sea-level, there was one place far from it that I wanted to visit…
More soon 🙂
Hiram manages the family restaurant, together with his brothers, parents and uncle. 'El Balcon' is widely known by the local customers and they line up every weekend, not minding a long wait to be seated.
Hiram also plays guitar in his church and loves to travel, having backpacked through Europe with his friend Leandro. He is a wonderful CouchSurfing host as well 🙂