When cycling down from Alaska, we often asked passing RV's for some water. We noticed that most of the time, people were carrying trays and trays of small 0.5l (16oz) bottles of water, which we normally refused. It appears that not many people are realizing that:
You need about 3 liters/ 96oz of water per day, this means 6 empty bottles per person, so a lot of trash
They pay much more for their water than they should
Though many say bottled water is 'safer', they have no idea if the water is better than that from their taps as 'sourced' water does not have to disclose the ingredients…
'Recycling' is merely downcycling (see the excellent book 'Cradle To Cradle'): the bottles are not reused, they are just used as a low quality source for other products that also cannot be recycled, so just a few steps away from being landfill where they will end up..
It has become a habit to buy and take bottles of water ('hey, water is healthy, right?'), promoted by the powerful marketing machines of Pepsico & Coca-Cola and the shallow promise of 'recycling'.
I can tell you that I have been using the same 2 bottles: 1 PolarBottle & 1 1liter waterbottle all the way from Northern Alaska to California. That's right: just refills, with pure, delicious water. No trash needed… Here is some information that might educate and even surprise you a bit. Most of it is also sponsored by commercial companies like Nalgene (refillable bottles) & Brita (waterfilters), but I rather support those companies that try to pevent more trash.
On the side of this post is a small set of images; all shot within 20 minutes, while cycling uphill, all empty waterbottles, thrown out of cars by 'healthy' people…
Facts
| | | |
| --- | --- | --- |
| | | In the United States in 2006, bottled water consumption reached a record 8.3 billion gallons, 185 million gallons of which was imported. The total amount spent on bottled water was over $11 billion. (Beverage Marketing Corp.) |
| | | |
| | | In contrast to tap water, which is distributed through an energy-efficient infrastructure, transporting bottled water long distances involves burning massive quantities of fossil fuels. Nearly a quarter of all bottled water crosses national borders to reach consumers, transported by boat, train, and truck. (Earth Policy Institute) |
| | | |
| | | It costs more money to drink bottled water than to put gas in your car–up to five time more–due mainly to its packaging and transportation.(Earth Policy Institute) |
| | | |
| | | Bottled water companies do not have to release their water-testing results to the public, whereas municipalities do. (Natural Resources Defense Council) |
Links
(from http://www.refillnotlandfill.org/facts.html)
Learn the Facts
(from http://www.filterforgood.com/learn_the_facts.php)
Why is bottled water waste a concern? Here are just a few reasons…
Americans used 50 billion water bottles in 2006 and sent 38 billion water bottles to landfills, the equivalent of 912 million gallons of oil.1, 2, 3, 4
If laid end to end, that's enough bottles to travel from the Earth to the Moon and back 10 times.5 If placed in a landfill or littered, those bottles could take up to 1,000 years to biodegrade.2
The energy we waste using bottled water would be enough to power 190,000 homes.6
In 2006, the average American used 167 disposable water bottles, but only recycled 38.1
Americans used about 50 billion plastic water bottles in 2006. However, the U.S.'s recycling rate for plastic is only 23 percent, which means 38 billion water bottles – more than $1 billion worth of plastic – are wasted each year.1
Ditching bottled water keeps Mother Earth and your wallet green.
One Brita pitcher filter can effectively replace as much as 300 standard 16.9-ounce bottles. So you can get great-tasting water without so much waste. Talk about refreshing.
The average Brita pitcher filters 240 gallons of water a year for about 19 cents a day.7 Put in perspective, to get the same amount of water from bottled water would require 1,818 16.9-ounce water bottles a year.8
For about $10 each, you can purchase a 16-ounce or 32-ounce Nalgene bottle, saving you hundreds of dollars a year on bottled water.
Hydration at its best – carry the water you need and reduce your impact on the environment – one Nalgene bottle can last for decades, making it easy to stop buying single-serve bottled water to fulfill your everyday hydration needs.
Many people drink bottled water because they believe it to be of a higher quality, cleaner and better-tasting, but that's not necessarily true.
In the United States, 24 percent of bottled water sold is either Pepsi's Aquafina (13 percent of the market) or Coke's Dasani (11 percent of the market). Both brands are bottled, purified municipal water.1
If you don't like the taste of your tap water, try Brita. Nine out of 10 consumers say "Brita clearly tastes better," according to an in-home usage study. They preferred the taste of Brita water – filtered through pitchers – to tap.9
Dr. Gina Solomon, a senior scientist at the Natural Resources Defense Council, an environmental advocacy group, told The New York Times that "there is no reason to believe that bottled water is safer than tap water."10
In the U.S., public water is regulated by the Environmental Protection Agency (EPA), which requires multiple daily tests for bacteria and makes results available to the public. The Food and Drug Administration, which regulates bottled water, only requires weekly testing and does not share its findings with the EPA or the public.10
Notes/sources:
1. Fishman, Charles. "Message in a Bottle." Fast Company Magazine July 2007: 110.
2. Arnold, Emily, and Janet Larsen. " Bottled Water: Pouring Resources Down the Drain." Earth Policy Institute. 2 Feb. 2006. 28 June 2007.
3. Larsen, Janet. "Bottled Water Boycotts:Back-to-the-Tap Movement Gains Momentum." Earth policy Institute. 7 Dec. 2007.
4. One oil barrel = 42 gallons (Energy Policy & Planning Office, Ministry of Energy, Thailand)
5. The average 16.9-ounce bottle of water is 8 inches, or .67 feet, tall, meaning 38 billion bottles would cover 25,333,333,333.33 feet, or 4,797,979.80 miles. The distance from the Earth to the Moon is 238,987 miles, so 38 billion bottles could travel from the Earth to the Moon and back more than 10 times.
6. "Not Disposable Anymore." P.O.V.'s Borders. 2004. PBS.
7. This cost assumes the purchase of a $25 pitcher (one filter included), plus 5 replacement filters at $9 each, for a total yearly cost of $70, or $0.19 cents a day.
8. Each filter produces 40 gallons of water and the average Brita owner uses 6 filters in a year, to produce 240 gallons, or 30,720 ounces, of fresh-filtered water. 30,720 ounces is equivalent to the water found in 1,818 16.9-ounce water bottles.
9. Brita Pitcher System In-Home-Use-Test compared to tap water. 2005
10. Burros, Marian. "Fighting the Tide, a Few Restaurants Tilt to Tap Water." The New York Times [New York City, NY] 30 May 2007: Section F, Page 1.
This post is a thank you to all the wonderful people that have hosted us on the way and offers advice for travelers as well as hosts.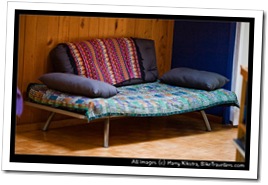 For those new to Couchsurfing, WarmShowers.org and the Hospitality Club, these are networks of people opening their house and/or local knowledge up to other travellers, supplying them with free lodging (a 'couch', though it can be a spare room, a sofa or just a spot on the floor or in the garden).
Couchsurfing is the largest , currently there are almost a million members inviting strangers into their homes, following the mission of Couchsurfing:
"CouchSurfing seeks to internationally network people and places, create educational exchanges, raise collective consciousness, spread tolerance, and facilitate cultural understanding."
WarmShowers.org is an older, but much smaller organisation (less than 10,000 members), but it is especially focused on BikeTravellers.
"The Warm Showers List is a list of Internet cyclists who have offered their hospitality towards touring cyclists. The extent of the hospitality depends on the host and may range from simply a spot to pitch a tent to meals, a warm (hot!) shower, and a bed."
This has some advantages:
the hosts generally have cycled themselves, so you do not have to explain why or how you do it 🙂
They usually have storage space for your bike
They might have spare parts, but at least useful tools
They know all the local cycle routes and the best way to get out of cities etc
They are very friendly 🙂 and almost always will answer positively to any requests
The disadvantage is of course that there are fewer members, but usually the 'quality' is more important here than the 'quantity'.
The Hospitality Club is the second largest organisation, with currently about 330.000 members. Their mission is similar:
Our aim is to bring people together – hosts and guests, travelers and locals. Thousands of Hospitality Club members around the world help each other when they are traveling – be it with a roof for the night or a guided tour through town.
The club is supported by volunteers who believe in one idea: by bringing travelers in touch with people in the place they visit, and by giving "locals" a chance to meet people from other cultures we can increase intercultural understanding and strengthen the peace on our planet.
Joining any of these 3 organisations is free, takes just a minute and everyone is welcome. Members can look at each other's profiles, send messages and post comments about their experience on the website. Of course you can become a member of all of them, it will increase your chance of finding a host and to meeting new travellers. You can be very clear about what you can offer and what you request: if you only want to meet up for a drink, that is ok. If you have a backyard where people can pitch a tent, that is perfect as well. if you want to offer a spare room and serve dinner that is wonderful, but not required. if you need a week's notice, that's no problem (though many travelers, especially BikeTravellers, cannot tell exactly when they arrive as it is dependent on wind..)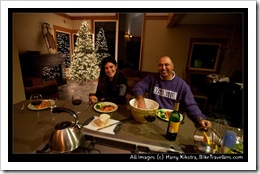 We had only 'Couchsurfed' a few times so far, but Samir was a professional. Even though they had surfed only a few times themselves, he gave us all kind of tips about how to find hosts and how to use Couchsurfing more effectively, though these are mostly true for the others as well:
Samir's CS tips:
Sign up for local CS groups (the 'Amsterdam' or 'California' group etc, any group of the place you are travelling in), so you can easily get in contact with members and post message in the group.
Check for people who are online in your area (CS shows where you recently logged in from). This is actually how Samir found us, he just checked which CS-ers where near him and checked our profile!
Of course, if you want to be hosted, you will need a complete profile, so add much information about yourself.
Try to meet other CS-ers locally if you are new. This way they can see you face to face, and vouch for you.
Why would you sign up with any of these organisations?

To give
You can help travellers finding a safe place to stay, or even just help them out with useful information or just a cup of tea or a warm shower & a washing machine. Travellers do not need fancy places, just a roof can be great.
You can save travellers a lot of money, they otherwise had to spend on expensive hotel rooms. This money is much better spent on travelling more, food, a museum etc!
You meet many different people: travellers with great stories about their hometown/-country, travelling tips and much more. It is a free way to get a good bite of 'strange' culture!
You can show the world, that not all strangers are bad people and that it is easy to help a fellow human being; even though the media will try to convince you to believe the 'fear culture' (don't trust anybody, axis of evil, discrimination etc). Fear is big business, with the weapons industry leading the way…
To show that the Internet is a great thing. Our generation is empowered by it and can use it to make the world a better place.
To receive
To find hospitality in unexpected places by unexpected people and restore faith in humanity.
To get first-hand knowledge about the place and area you are staying in.
To save a lot of money which is much better spent otherwise 🙂
To see how people are really living in the place/country you are staying in. No Hotel can teach you about local breakfasts, the way people talk to their kids etc in foreign countries!
If you are a cyclist, it is a great way to have a day 'off': when you know your gear is in a safe place, you can go for a ride, without luggage, or walk into town, without a bike for a change. If you do not have to watch your bike, you can visit museums, shops, a swimming pool, library, or simply have a siesta in the park. You would see cities, you would otherwise have to pass.
You might be able to freshen up (a Warm Shower) or even do some laundry and generally load up your energy levels.
If you like pets, you will love the chance to play with the dog or cat (hosts generally have pets, unless they travel a lot themselves :))
We already met so many wonderful people, many of them are mentioned in the '1000 Americans' Category. Most of them we would never have met, if it was not for the 3 initiatives mentioned here, and without them we would have camped more, but also learned and seen a lot less…
Of course you must always use your own mind when deciding to stay with somebody as in culture, both online as well as offline, there are a few less good people trying to spoil it for the rest. Whatever you do, in the end it is always your own responsibility/choice, but do not let this stop you from travelling and meeting new people.
Unaware hosts 🙂
We have stayed at several people, who either had no internet connection, and/or no idea about the organisations above. Still they invited us into their homes, becase they wanted to help us out, dry us, feed us, listen to our stories or share theirs.
They found  us on the street, in front of a library, looking for a place to camp, or stumbled upon our website and invited us: spontaneous Warm Showers!
They are great hosts, who offer help from their hearts without even thinking about the huge internet resources. As one host said: 'You know, they should make a website to connect travelers!'. When we told them about the 3 mentioned above he was pleasantly surprised 🙂
Gerrit Nyland has Dutch ancestors, though he does not speak the language. His wife is a doctor and Gerrit is now a full-time home-dad, creating wonderful meals (!) and taking care of the household and kids.
Thanks Gerrit!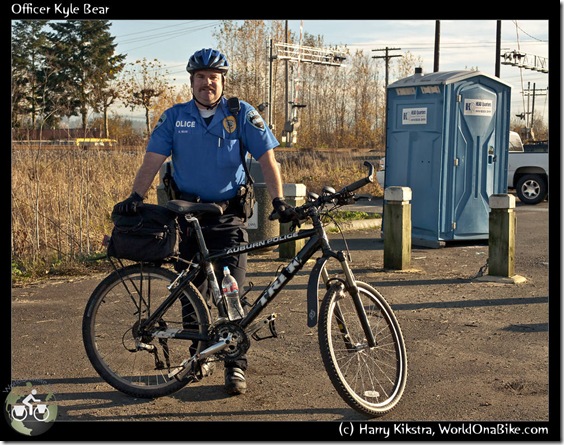 It was great to meet somebody who works on a bike! Officer Kyle was patrolling the interurban trail in Auburn, Washington State, South of Seattle.
He was very friendly and interested in our trip. We were jealous of his light bike, especially when he tried to lift mine and couldn't 🙂
See also the tripreport about the speed ticket he gave me!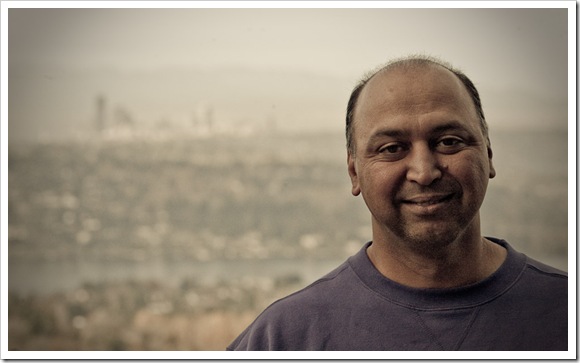 Samir works in construction, designing complicated road and intersections. He is also an avid fan of Couchsurfing and loves to spend time in Snoqualmie pass, skiing with his wife and daughter and is a very hospitable and helpful man.
Thanks Samir, for your hospitality and friendship!
When walking around Seattle, we found a strange sight: a group of people dressed up in medieval clothing, hitting eachother with weapons from the same era… (see also our picture on our Seattle tripreport).
One of them –introducing himself as 'Avalon' if I recall well- came up to me and explained that they were a mix of Role Playing games, warfare-re-enactments and just letting of steam. He invited me to try it, but I thought it might not be such a good idea with my back already inured and in pain…
First of all: did you know that if you click on the images in the posts, that a larger version will appear on top of the page, all automagically? try it, it is quite cool (pictures need some time to load as they are now 1000pixels wide!).
We had planned to stay maybe a week in Seattle, but it turned out we would stay for 2.5 weeks… Seattle is mostly known for Grunge, Microsoft, Boeing & coffee and it generally considered a nice place to live. I hade been working for a small company in Bothell, close to Seattle, about 8 years ago and had been in the area a few times. The great thing is that the city is huge, but spread out over several peninsulas and islands and that the mountains and nature are never far away…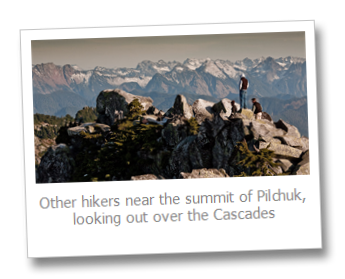 It was great to see Andy again, after meeting in Uganda and Amsterdam before. He was very busy filming a documentary, connected to the upcoming elections, but still he took us out to see some live music and we went for a great hike up Mt Pilchuk. Not a difficult climb -though it was quite icy & slippery near the top-, but very rewarding, with nice views over the  Cascade mountains. It is wonderful to live so close to the nature and especially snow-capped mountains, something I miss in Amsterdam.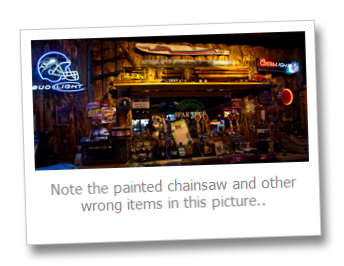 On our way out we stopped for a beer in a typical loggers bar. Neither the beer, nor the people and especially the decoration wasn't very tasteful 🙂
Time flies when you're having pain..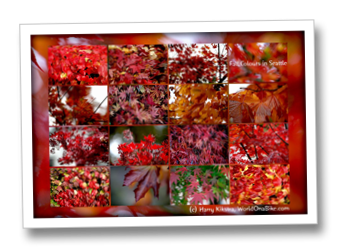 The days went passed quickly. We had a lot of rain, but also some nicer days. We walked around the neighbourhoods and went for some short rides. Only once we went out for a real ride; even though there are some biketrails, you really have to look for them and most are not so scenic, mostly just designated parts of the road.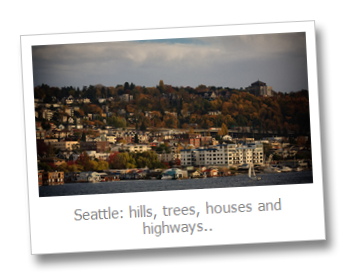 We had been travelling in fall colours since the Yukon, 3000km north, and Seattle was no different. The shots that make up this image were shot in just one street, close to Andy's place.
My back was starting to hurt again and as my diclophenac pills were finished and I could not get more without a prescription, I switched to an Ibuprofen-rich diet… Read more
Gary is an avid traveller and has seen many of the world's nicest places.
He host people in his house through the Hospitality club and enjoys interaction with other travellers as well as introducing is big dog!